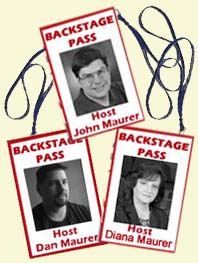 Backstage Pass is a podcast that provide an exclusive behind the scenes look at community theatre in Central New Jersey. Hosts John, Diana and Dan Maurer will bring you interviews with actors, directors, musicians and others actively working in the local theater community. Look for discussions about upcoming productions, how to get started in community theater, the NJACT Perry Awards, and much more.

Episode 65:
Cat on a Hot Tin Roof

Episode 64:
Meet Me in St Louis

Episode 63:
Alfred Hitchcock's The 39 Steps

Episode 61:
A Night in the Theatre & The Actor's Nightmare

Episode 60:
Love!, Valour!, Compassion!

Episode 57:
Legally Blonde the Musical

Episode 55:
The Miracle Worker

Episode 54:
Sunday in the Park with George

Episode 53:
A Little Murder Never Hurt Anybody

Episode 51:
The Drowsy Chaperone

Episode 49:
Death of a Salesman

Episode 48:
Laughter on the 23rd Floor

Episode 47:
The Pirates of Penzance

Episode 46:
Urinetown the Musical

Episode 45:
Elton John and Tim Rice's AIDA

Episode 44:
And Then There Were None

Episode 40:
Dirty Rotten Scoundrels

Episode 38:
A Little Night Music

Episode 35:
It's A Wonderful Life the Radio Play

Episode 34:
Seussical the Musical

Episode 31:
Children's Letters to God



Episode 30:
Annie at Arts YOUniveristy



Episode 29:
A Christmas Story



Episode 28:
The Producers - The Mel Brooks Musical



Episode 27:
Groucho: A Life in Revue



Episode 26:
Equus



Episode 25:
Hollywood Arms



Episode 24:
Jekyll & Hyde the Musical



Episode 23:
The Musical of Musicals (the Musical)



Episode 22:
Assassins



Episode 21:
Joseph and the Amazing Technicolor Dreamcoat



Episode 20:
Talking About The Most Fabulous Story Ever Told



Episode 19:
Talking About Sweeny Todd



Episode 18:
Talking About High School Musical



Episode 17:
Talking About the Wiz



Episode 16:
Talking About The Sunshine Boys



Episode 15:
Talking About Arts YOUniversity's Romeo & Juliet



Episode 14:
Talking About Man of La Mancha



Episode 13:
Talking About NJACT

Episode 12:
Talking About Who's Afraid of Virginia Woolf?

Episode 11:
Taking About Rumplestiltskin is My Name

Episode 10:
Talking About Twas the Night Before Christmas

Episode 9:
Talking About The King and I

Episode 8:
Talking About The Rocky Horror Show

Episode 7 (Part 2):
Talking About Children in Theatre

Episode 7 (Part 1):
Talking About Children in Theatre

Episode 6:
Talking About Dames at Sea

Episode 5:
Talking About the production of The Skin of our Teeth

Episode 4:
Talking About the 2008 Perry Awards

Episode 3:
Talking About Moon Over Buffalo

Episode 2 Contains Adult Language and Situations
Talking About the Wild and Crazy Late Night Series


Episode 1:
Talking About Brighton Beach Memoirs