Episode 33:
Sordid Lives
Recorded May 26, 2010
Hosted by John Maurer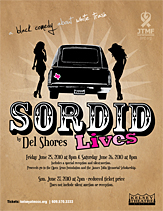 In this Podcast we talk with the director and some of the cast from Sordid Lives being presented by the James Tolin Memorial Fund. Our Guests include Producer Tracy Antozzeski, Director Brian Bara, actors Tracy Hawkins and Nicole Patrick and Assistant Stage Manager Matty Daley.

Running time: 16:54 min.

www.JTMF.org

Listen to more podcasts.