Share on Facebook
OnStage News & Notes - July 2017

In July we play catch up and try and cover all the things we were busy doing and didn't have the time to tell you about. We discuss the awards won, (Around the World in 80 days) the shows we have produced (City of Angels, Jake's Women and the Glass Menagerie); reveal what keeps us busy when we aren't bringing amazing shows to the Kelsey stage; and look into the future with audition info on our fall mystery Sleuth and next season's line-up.
---
Open Auditions for Anthony Shaffer's "SLEUTH" at the Kelsey theatre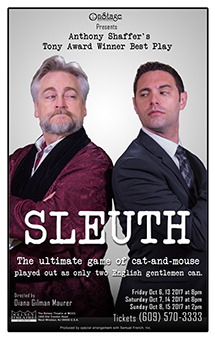 Open Auditions
Maurer Productions OnStage, the company that brought you the Perry Award winning Laughter on the 23rd Floor, Neil Simon's Jake's Women, Driving Miss Daisy and the Glass Menagerie is holding open auditions for its upcoming production of Anthony Shaffer's Sleuth on Saturday July 22nd from 12pm to 5pm and Sunday July 23rd from 12pm to 5pm.
The ultimate game of cat-and-mouse is played out in a cozy English country house owned by celebrated mystery writer, Andrew Wyke. Invited guest Milo Tindle, a young rival who shares not only Wyke's love of the game but also his wife, has come to lay claim. Revenge is devised and murders plotted as the two plan the ultimate whodunnit. Shaffer said the play was partially inspired by one of his friends, composer Stephen Sondheim, whose intense interest in game-playing is mirrored by the character of Wyke.

* 2 Men

This production will be presented at Kelsey Theatre on the West Windsor campus of Mercer County Community College.
The show will require 2 actors*. The production will be directed by Diana Gilman Maurer.
Visit our Audition Page to get all the info.

> TOP >>
---
Travel is it's own reward,
But a few Perry Statues are nice as well.
---
Tennesee Williams' The Glass Menagerie is but a memory.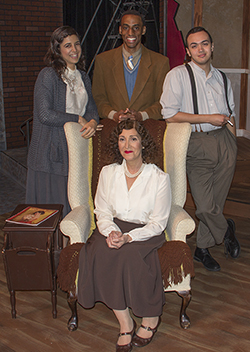 Glass Menagerie closes
at the Kelsey Theatre

"It's no tragedy. Glass breaks so easily no matter how careful you are." When Tennessee Williams wrote The Glass Menagerie, he was aiming at finding a "penetrating and vivid expression of things as they are." Perhaps it was his personal connection to the material, perhaps it is the poetic language and various stage devices he implores throughout the script, but Williams' classic remains one of the most iconic examples of Williams' dramatic style. Williams would go on to be one of the most celebrated American playwrights of all time, and The Glass Menagerie would remain one of his most respected works.
In the "Author's Production Notes" of The Glass Menagerie, Williams addresses the play's many elements; from the music, to the set, to the lighting. By commenting on all of these elements, Williams was attempting to conceptualize a new style of theatre – something he called the "plastic theatre." In his opening notes, Williams imagines a theatre where "reality is an organic thing which the poetic imagination can represent or suggest."
In the MPO production of this classic, we tried to find a balance between Williams' conceptualized style and what works for today's audiences. We stayed with the time period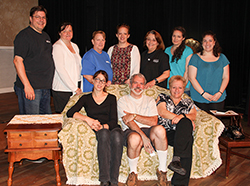 invoked by the play and kept the set and props as minimal as possible, guided by Williams' own notes. All of the design team worked to create the atmosphere inspired by Williams' production notes. All of the pieces meshed seamlessly together, from the set, the lighting, sound design, the props, the costumes, and make-up, everything gave the structure upon which the 4 actors plied the words of Tennessee Williams. The script is thick with poetic language countered with complex dialogue. And while we might not have succeeded at every turn of a phrase, the actors poured their hearts and souls into this challenging play.
It is also a sad play, without a satisfying or clear resolution. There are as many questions at the end as there are throughout. In the end, if the audience leaves talking about the play we've succeeded. If they leave indifferent, we missed an opportunity. From the comments and discussions I heard from several audience members, they were talking about the production. That is all one can ask!
Judi Parrish - Director
> TOP >>

---
Neil Simon's Jake's Women Fades from the Kelsey Stage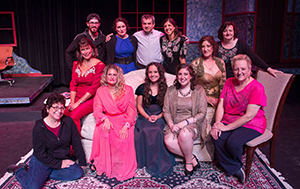 Jake's Women closes
at the Kelsey Theatre

Neil Simon's Jake's Women was an absolute pleasure to direct. We often called it one of Mr. Simon's "hidden gems" because it is. Although not as well-known as The Odd Couple, Bright Beach Memoirs or Laughter on the 23rd Floor, it one of his most poignant.
What happens when a man loses his wife and tries to replace her? He turns to his imaginary therapist, sister and late wife for help.

The actors took the challenge head on and gave some of the most amazing performances I've seen on the stage. Kurt Penney as Jake had a lot to do and I was thrilled at his commitment to the roll and his ability to show Jake's vulnerability.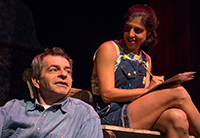 Erin Leder as his wife had to bounce between the happy new love and the beleaguered wife fighting with ghosts of the past. Gina Migliaccio and Makenna Katz as daughter Molly had to bring reason and calm to Jake's crazy life and both ladies performed with class and style. Michele Kallman took on the crazy sister with gusto and was the perfect Karen. Laurie Hardy did an amazing job as the new age therapist Edith who tried her best with Jake's neurosis. Cathy Liebars had the unenviable task of being the woman caught between Jake and his desperate desire to keep his current marriage together.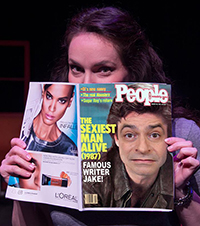 I couldn't have asked for a better cast and I am honored to have worked with each and every one of them.

It was a challenge to direct because one had to keep in mind who was real and who was in his head. Kitty Getlik's lighting helped immensely with setting the scenes and letting the audience know when Jake was talking to a real person or not. Since the show takes place over several decades, Anthony Remer's costuming helped give a sense of where Jake was in his timeline. Jeff Cantor's set was simple so that the audience could focus on the story and the story tellers. And I couldn't have done it without Rosie Karlin at my side as Stage Manager.

Two short weekends was not enough with this cast and I would do it again in a heartbeat!

Diana Gilman Maurer - Director

> TOP >>

---
MPO Announces our 2017-2018 Season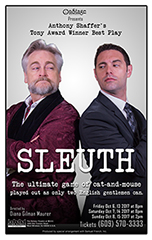 Anthony Shaffer's SLEUTH-span>
When Sleuth made its first appearance on the London stage in February 1970, it saw instant success. Moving to Broadway the following November, it won equal praise, even winning a Tony Award in 1971.
Two movies were created from the play -- in 1972 with Laurence Olivier as Wyke and Michael Caine as Tindle; then in 2007 with Michael Caine as Wyke and Jude Law as Tindle.
It is the ultimate game of cat-and-mouse is played out in a cozy English country house owned by celebrated mystery writer, Andrew Wyke. Invited guest Milo Tindle, a young rival who shares not only Wyke's love of the game but also his wife, has come to lay claim. Revenge is devised and murders plotted as the two plan the ultimate whodunnit. Milo and Andrew match wits with the delicacy of cats inching around their prey. The audience is brought to points of both laughter and terror as the two men play, exchanging roles as cat and then as mouse, until their eventual downfall.
---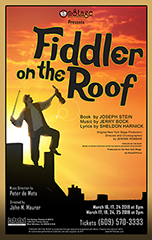 Fiddler on the Roof
The much beloved musical comes to the Kelsey theatre for a limited engagement. Fiddler on the Roof is the brainchild of Broadway legends, Jerome Robbins and Harold Prince; songwriters, Jerry Bock and Sheldon Harnick; and bookwriter, Joseph Stein.

Set in the little village of Anatevka, the story centers on Tevye, a poor milkman, and his five daughters. With the help of a colorful and tight-knit Jewish community, Tevye tries to protect his daughters and instill them with traditional values in the face of changing social mores and the growing anti-Semitism of Czarist Russia. Rich in historical and ethnic detail, Fiddler on the Roof's universal theme of tradition cuts across barriers of race, class, nationality and religion, leaving audiences crying tears of laughter, joy and sadness.

Performance Dates:
March 16, 17, 24, 2018 at 8pm March 17, 18, 24, 25 2018 at 2pm
Auditions: Dates to be announced
---
John M. Maurer, Artistic director of Maurer Productions OnStage to Direct Irving Berlin's White Christmas with M&M Stage Productions.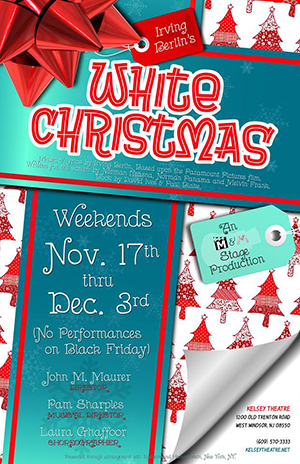 "Directing White Christmas has allways been a dream of mine and now M&M Stage Productions is giving me the oportunity to do just that," said Maurer.

This Novemember for 3 weekends the little inn in Vermount will be invading the Kelsey stage with a cast that will be dancing into your hearts.
Based on the beloved, timeless film, this heartwarming musical adaptation features seventeen Irving Berlin songs and a book by David Ives and Paul Blake.

Veterans Bob Wallace and Phil Davis have a successful song-and-dance act after World War II. With romance in mind, the two follow a duo of beautiful singing sisters en route to their Christmas show at a Vermont lodge, which just happens to be owned by Bob and Phil's former army commander.

Music Director: Pam Sharples

Choreographer: Laura Ghaffoor
AUDITIONS:
August 26 & 27 Click for Details
PERFORMANCE DATES ​ ​
November 17, 18, and 25, 2017, at 8 PM
November 18, 19, 25, and 26, 2017, at 2 PM
December 1 and 2, 2017, at 8 PM
December 2 and 3, 2017, at 2 PM

Tickets:
Adults, $20, Seniors, $18, Students/Children, $14

Tickets can be purchased online at: http:www.kelseyatmccc.org, or by calling the box
office at (609) 570-3333, or at the box office window, Monday - Friday 9:00 AM - 12:00 pm.

Theater Info:
Kelsey Theatre
Mercer County Community College
1200 Old Trenton Road
West Windsor, NJ 08550
To order tickets click here >>>
---
Jeff Cantor, Master Builder for MPO takes his talents back to school.
Giving back to the community.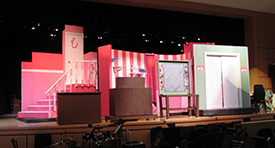 The act of building a set varies little from one show to another regardless of the production being mounted or the company doing it: review the design, convert it into a list of needed components and materials, buy what is needed, and assemble. The process, as I have discovered, can be very different.

Over the last eleven plus years, I have built sets for twenty-five MPO shows and four additional shows at Kelsey Theater for other companies. Due to the very condensed schedule at Kelsey, all of these sets have been built in much the same way over a very hectic four days. Within MPO, we have a core group of four or five people with extensive experience building sets so my task is usually simply to coordinate who will tackle which part of the set and then we work independently until multiple hands are needed on a certain task. And even after all these shows, I still learn something new from the others.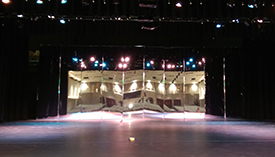 My perspective changed at the beginning of 2015 when Kathy Slothower, a past MPO cast member and costumer, approached me in a bit of a panic. As producer for the West Windsor Plainsboro High School – South drama club, she had just lost their set designer and builder due to scheduling conflicts. Would I be interested in helping out? Could I both design and build their set for an early March performance of Legally Blonde that was already behind schedule? Having seen a production of that show at Kelsey, I was generally familiar with what would be needed and agreed to come on board.

Working with Kathy, and the show's director Marilyn Stoddard along with the students and their parents, was a completely different process than the hectic four days of living at Kelsey during tech week. I worked weekday evenings and weekends with a very dedicated crew of cast parents (and a couple of cast and crew members) over about ten weeks. In addition to engineering the various set pieces and developing the build schedule, I also had to develop most of the design itself, which was new for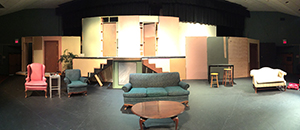 me. The build process was also very different and not just because of the more relaxed schedule. I also took on the role of teacher and mentor as few of those helping me had experience doing similar construction. The enthusiasm of the students was infectious and motivated everyone to get the very complex set done for opening night.

Since then, I have become the default set designer and builder for WWP-HSS, building sets for both spring musicals A Chorus Line and 9 to 5 as well as the fall dramas Brighton Beach Memoirs and Rumors. The additional challenges of set design and teaching others rather than doing it myself and learning from others have been a wonderful experience.
--- Jeff Cantor, Master Builder
> TOP >>
---