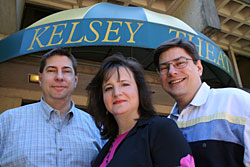 Maurer Productions OnStage is a completely volunteer-based, non-profit theatre company. It was founded with the mission to support the commmunity by offering creative opportunities to actors, artists and theatre craftsmen. The company is also dedicated in equal measure to making the Arts more accessible to Central New Jersey residents by providing high-quality productions at family-friendly prices.
OnStage is based at the Kelsey Theatre on the campus of Mercer County Community College. It produces contemporary theatre in the form of dramas, comedies, musicals, original works, staged readings and children's entertainment. The company's first full-length production, The Foreigner, opened in January of 2005. Since then, OnStage has grown both in size and out-put, as the company now mounts three productions each season.
OnStage was originally founded by theatre veterans John Maurer and Diana Gilman Maurer. Today, the company is managed by an active board of directors made up of talented people representing various areas of theatre production.