Episode 55:
The Miracle Worker
Recorded January 10, 2013
Hosted by John Maurer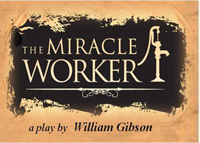 In this Podcast we talk with The director and the cast of The Miracle Worker being produced by The Pennington Players. at the Kelsey Theatre on the campus of Mercer County Community College. Our guests include Director Judia Parrish and cast members Jennifer Nasta Zefutie, Isabel Kinney, Moot Davis and Morgan Petronis.
Tragically deaf, blind and ultimately mute due to a childhood illness, Helen Keller, the wild child, meets her match when Annie Sullivan. A teacher with passion, resilience and cunning wit, Sullivan teaches Helen her greatest lesson: the gift of communication. Powerfully told by playwright William Gibson, this century old story of fortitude and friendship still stirs audiences today. The Pennington Players prove that one determined person can make a world of difference, even save a life.

Running time: 18:25 min.





Listen to more podcasts.