Episode 54:
Sunday in the Park with George
Recorded December 11, 2012
Hosted by John Maurer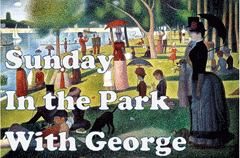 In this Podcast we talk with The director and the cast of Sunday in the Park with George being produced by Pinnworth productions. at the Kelsey Theatre on the campus of Mercer County Community College. Our guests include Director Lou J. Stalsworth and cast member John Zimmerman and Laurie Gougher
When her lover would rather paint dots on a canvas than pay attention to her, what's a gal named Dot to do? The Pinnworth Production artists invite you to join them on a dramatic journey through this visual and musical masterpiece – Stephen Sondheim's Pulitzer Prize and Tony Award-winning musical about a painter's struggle between creating art and living life. Inspired by Georges Seurat's masterpiece painting "A Sunday on La Grande Jatte," this musical is a deeply moving love story that connects the past to the future through passionate and intensely personal struggles that are not unlike ones we all face at different times in our lives.

Running time: 26:42 min.





Listen to more podcasts.