Episode 53:
A Little Murder Never Hurt Anybody
Recorded September 25, 2012
Hosted by John Maurer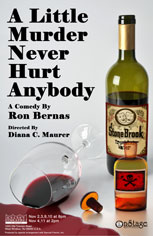 In this Podcast we talk with The director and the cast of A Little Murder Never Hurt Anybody being produced by Maurer Production Onstage Inc. at the Kelsey Theatre on the campus of Mercer County Community College. Our guests include Director Diana Maurer and cast member Jennifer Barron, Peter Bisgaier, Megan Sherow, Justing Mancini, Fred Bartlett and John Pinto.
It's New Year's Eve at the Perry mansion, and family matriarch Julia Perry has a problem. Her bumbling husband Matthew has made it his New Year's resolution to murder her before the year is out. She vows to stay alive for her daughter Bunny's upcoming wedding to the dashing Donald. So, let the games begin – as a hilarious year-long battle of wits ensues. But, while Julia dodges Matthew's feeble attempts, friends and staff start mysteriously dying all around them. Will Donald and Bunny get married? Will Plotnick, the detective with the loose screw be able to solve the case? And, did the butler do it? Is this a Murder Most Foul … or Most Fouled Up? Find out when Award-winning Maurer Productions presents this fun and funny show.

Running time: 15:32 min.





Listen to more podcasts.