Episode 51:
The Drowsy Chaperone
Recorded May 29, 2012
Hosted by Dan Maurer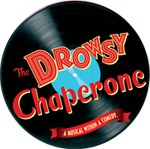 In this Podcast we talk with The director and the cast of The Drowsy Chaperone being produced by Maurer Productions Onstage at the Kelsey Theatre on the campus of Mercer County Community College. Our guests include Director John M. Maurer, Choreographer Jane Coult, and cast member Mark Applegate, Michael Fario, Kimberly Suskind, Rob Gougher and Cindy Chait.
Originally created as a wedding gift to a newlywed couple from their theater friends, The Drowsy Chaperone eventually became a 5-time Tony-winning musical and one of the most original works to hit Broadway in decades. It is both an homage and a loving send up of the musicals from the Jazz Age.

Running time: 16:13 min.





Listen to more podcasts.