Episode 56:
Avenue Q : Warning Adult Content
Recorded February 19, 2013
Hosted by Dan Maurer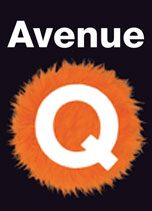 In this Podcast we talk with The director and the cast of Avenue Q being produced by Maurer Productions OnStage Inc.. at the Kelsey Theatre on the campus of Mercer County Community College. Our guests include Director John M. Maurer, Musical Director Laurie Gougher and cast members Zach Mazouat, Kyla Mostello Donnelly, Kyrus Westcott and Mark Applegate.
AVENUE Q is a gut-bustingly hilarious modern musical focusing on a group of unique 20-somethings making their way in the big city, seeking their purpose in life. Although the show addresses humorous adult issues, it is similar to a beloved children's show; a place where puppets are friends, Monsters are good and life lessons are learned. Winner of the Tony "Triple Crown" for Best Musical, Best Score and Best Book, AVENUE Q is part flesh, part felt, and packed with heart. AVENUE Q is a laugh-out-loud musical that tells the timeless story of a recent college grad named Princeton who moves into a shabby New York apartment all the way out on Avenue Q. He soon discovers that although the residents seem nice, it's clear that this is not your ordinary neighborhood. Together, Princeton and his new-found friends struggle to find jobs, dates, and their ever-elusive purpose in life.

Running time: 13:59 min.





Listen to more podcasts.