Episode 34:
Seussical The Musical
Recorded September 9, 2010
Hosted by John Maurer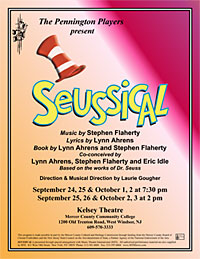 In this Podcast we talk with the cast and crew of the Pennington Players production of Seussical to see what the Doctor has in store for his audience. Our guests for this podcast were Director Laurie Gougher, Producer Judi Parrish and actors Kyrus who plays the Cat in the Hat, Steven Anzuini who plays Horton, Kim Cupo who plays Gertrude and Simon Hamilton who plays JoJo.

Running time: 13:57 min.


Listen to more podcasts.