Episode 60:
Love!, Valour!, Compassion! :
Recorded December 26, 2014
Hosted by John Maurer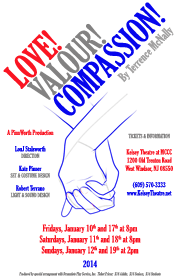 In this Podcast we talk with The director, and some of the cast of Love!, Valour!, Compassion! being produced by Pinnworth Productions at the Kelsey Theatre on the campus of Mercer County Community College. Our guests include Director Lou Stalsworth, and cast members Mark Applegate, Lynn Baskin and Jonathan Polanco.
PinnWorth Productions brings us the story of eight friends, who gather at a home in upstate New York over three summer holiday weekends. Flirtations, love, mortality and the nature of friendship are explored against the idyllic country setting of the lakeside house, where the drama of the real world is never far from mind. At turns poignant and hilarious, Terrence McNally's Tony Award-winning story of these eight gay men was described as "...a big, generous, haunted comedy...both very funny and filled with intimations of time's passage, of loss and death..." by the New York Times.

Running time: 14:51 min.





Listen to more podcasts.