Episode 61:
A Night in the Theatre & The Actor's Nightmare :
Recorded January 05, 2014
Hosted by John Maurer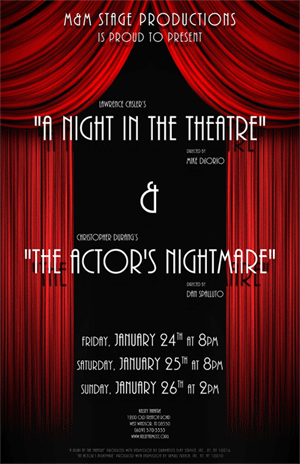 In this Podcast we talk with The director, and some of the cast of A Night in the Theatre & The Actor's Nightmare. Two one acts being produced by M&M Productions at the Kelsey Theatre on the campus of Mercer County Community College. Our guests include Directors Mike DiIorio & Dan Spalluto, and cast members Peter Bisgaier, Dave Christoferson, Tim Moran, Gina Rose Tiso and Jennifer Nasta Zefulte.
In "The Actor's Nightmare," an accountant wanders on stage, where he meets the stage manager. Who tells him that he is the understudy for the lead actor and the performance is about to start. Totally confused he cannot remember attending any rehearsals or being an actor at all. And is it a Noël Coward play, a Samuel Beckett play or Hamlet. Literally shoved on stage, George tries to improvise his lines, through shifting plots and plays He tries to convince himself that he is merely in a dream…but is he?
"A Night at the Theatre" features two couples who are at the theater for their weekly dose of culture, this time in the form of Shakespeare's "Hamlet." What ensues between the two couples is incessant chatter about themselves, their children, dead friends, hunger – and even occasionally Hamlet. Secrets emerge and friendships unravel. Audience members will recognize these obnoxious theatergoers as the people who sometimes sit behind them!

Running time: 17:40 min.





Listen to more podcasts.