Episode 62:
Master Class :
Recorded January 18, 2014
Hosted by John Maurer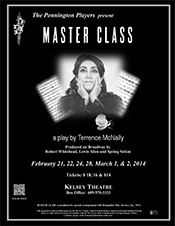 In this Podcast we talk with The director, and some of the cast of Master Class. being produced by The Pennington Players at the Kelsey Theatre on the campus of Mercer County Community College. Our guests include Director Judi Parrish and cast members Laurie Hardy, Andrew Monath, Eileen Cooper and Tim Walton
The Pennington Players bring Maria Callas back to life in all her temperamental, tempestuous glory. Inspired by a series of master classes the great opera singer conducted toward the end of her career, She is Alternately dismayed and impressed by the students who parade before her, she coaxes, prods and inspires These students into giving the performances of their lives while revealing details about her own, retreating into recollections about the glories of her own life and career. Including her younger years as an ugly duckling, her fierce hatred of her rivals, the unforgiving press, and her affair with Aristotle Onassis. Master Class soars from the artistic heights to the emotional depths of one of the world's most famous divas. And the sacrifices taken in the name of art.

Running time: 19:01 min.





Listen to more podcasts.