Episode 50:
XANADU
Recorded March 4, 2012
Hosted by John Maurer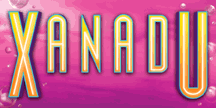 In this Podcast we talk with The director and the cast of XANADU being produced by The Pennington Players at the Kelsey Theatre on the campus of Mercer County Community College. Our Guests include Director and Choreographer John Boccanfuso, Stage manager and Costume designer Mechelle Rittmann, assistant Choreographer and cast member Dominick Sannelli and actors Jaclyn Dixon and Matt Rehe.
Based on the film starring Olivia Newton-John and Gene Kelly, "Xanadu" is the perfect blend of satire, parody and drama - all adding up to an electrifying, moving tale about following one's dreams, no matter what the obstacles. The show follows the journey of a beautiful Greek muse, Kira, who descends from Mt. Olympus to Venice Beach, California. Her quest is to inspire a struggling artist, Sonny, to achieve the greatest creation of all time: the first Roller Disco!

Running time: 20:23 min.





Listen to more podcasts.