Episode 65:
Cat on a Hot Tin Roof
Recorded January 31, 2014
Hosted by John Maurer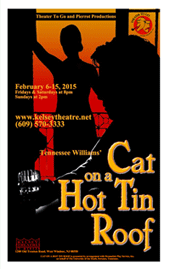 In this Podcast we talk with The director, and some of the cast of Cat on a Hot Tin Roof produced by the Theater to Go and Pierrot Productions at the Kelsey Theatre on the campus of Mercer County Community College. Our guests include Director Ruth Markoe and cast members Robert Lanchester, Ray Fallon and Mariel Rosati
Set in a plantation home in the Mississippi Delta, Tennessee Williams' Pulitzer Prize-winning classic examines the relationships among a Southern family in crisis. Passion, desperation, jealousy and cruelty are on display and, in its own way, love. With language that's fuel-injected with emotional intensity and insightful wit plus the explosive conflicts of Big Daddy, Brick, and Maggie the Cat, this innovative and re-imagined production by Theater to Go and Pierrot Productions will leave you breathless! Not recommended for children.

Running time: 13:04 min.





Listen to more podcasts.