Episode 59:
Working :
Recorded October 16, 2013
Hosted by John Maurer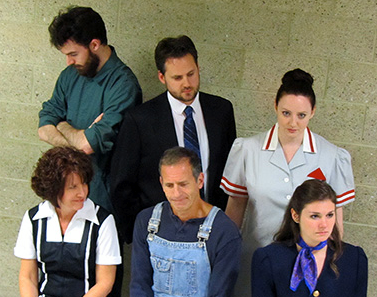 In this Podcast we talk with The director, Music Director and the cast of Working being produced by Playfull Theatre Productions at the Kelsey Theatre on the campus of Mercer County Community College. Our guests include Director Jarad Benn, Musical Director Michael Glich, and cast members John Wishnie, Fred Gropper, Hannah Shaffer, Vicky Czarnik and Lisa Ernst.
Based on Studs Terkel's best-selling book of interviews with American workers, which was published in 1974, this newest version of the "Working" musical celebrates the lives and contributions of the men and women who are so often overlooked: the school teacher, the parking lot attendant, the waitress, the millworker, the mason, the trucker, the fireman, and the stay-at-home mom, to name just a few.
This highly original look at American workers features 26 songs by an all-star list of composers including Micki Grant, Craig Carnelia, Lin-Manual Miranda, Mary Rodgers, Susan Birkenhead, Stephen Schwartz and Grammy Award-winning folk legend James Taylor.

Running time: 20:00 min.





Listen to more podcasts.