Episode 63:
Alfred Hitchcocks The 39 Steps :
Recorded January 19, 2014
Hosted by John Maurer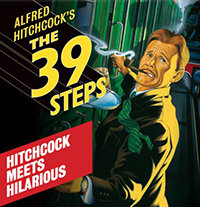 In this Podcast we talk with The director, and some of the cast of Alfred Hitchcock's The 39 Steps. being co-produced by Theatre to Go and Pierrot Productions at the Kelsey Theatre on the campus of Mercer County Community College. Our guests include Director Ruth Markoe and cast members Casey Woods, Mariel Rosati, Jennifer Barron and Andrew James Gordon
Sound Design for the 39 steps is by Nick Mastalesz.
Mix a Hitchcock masterpiece with a juicy spy novel, add a dash of Monty Python - and you have this fast-paced mystery for anyone who loves the magic of theatre! this Award-winning treat is packed with nonstop laughs and over 150 zany characters (played by a ridiculously talented cast of 4), throw in an on-stage plane crash, handcuffs, missing fingers and some good old-fashioned romance. Mix it up with A riotous blend of virtuoso performances and wildly inventive stagecraft, and you have unforgettable evening of pure pleasure!

Running time: 15:07 min.





Listen to more podcasts.