Episode 49:
Death of a Salesman
Recorded February 12, 2012
Hosted by John M. Maurer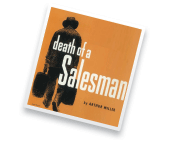 In this Podcast we talk with The director and the cast of Death of a Salesman being produced by Pierrot Productions at the Kelsey Theatre on the campus of Mercer County Community College. Our Guests include Director Ruth Markoe, and actors Tim Anderson , Peggy Waldron, Chris Scheid, Tim Liu
Written by the Pulitzer Prize-winning playwright Arthur Miller, the play is a tragedy of Shakespearian proportions. It follows the waning days in the life of Willy Loman, a simple man who has striven for the American Dream as a traveling salesman while fighting economic forces and his own personal demons. In addition to facing his own increasing obsolescence, Willy struggles with a strained marriage and his failed dreams for his two sons, Biff and Happy.

Running time: 17:06 min.





Listen to more podcasts.