Maurer Productions OnStage makes it home at the Kelsey Theatre in West Windsor, NJ.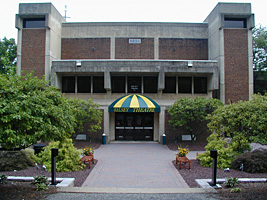 The Kelsey Theatre is an intimate 385 seat venue located on the campus of Mercer County Community College. It is a modern facility with comfortable seating and no obstructed views. The furthest seat in the house is only 60 feet from the stage, assuring all patrons a wonderful theatre experience.
From a patron's point of view, the Kelsey Theatre is known as the premiere family theatre in Central New Jersey. It offers a full season of live cultural events: family theater, children's theater, and adult events - both professional and semi-professional. The Kelsey Theatre is also handicap accessible. 10 choice seats are reserved for wheelchair-bound patrons, and assisted listening devices are available. The theatre is centrally located with shopping and restaurants in the area and secure parking is available right next door.
From a performer's point of view, Kelsey Theatre is one of the best venues to work in the Mercer County area. Professional dressing rooms, a green room, and a spacious backstage area help keep performers comfortable and focused. And the friendly professional staff create a supportive atmosphere.
The Kelsey Theatre is located at 1200 Old Trenton Road, West Windsor, NJ 08550, U.S.A.