Share on Facebook
OnStage News & Notes - February 2015

In February we look forward to Ken Ludwig's Lend Me a Tenor, look back at Count Dracula, Discuss MPO's involvment in the small screen, Find out what Clementine the Dragon has been up to and see what some MPO alumni are up to.
---
Ken Ludwig's Comedy Farce Lend me A Tenor set to open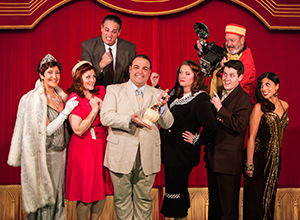 The Chianti is poured, the champaign is chilled and the stage is set for all the mayhem to come when Maurer Productions OnStage brings Ken Ludwig's comedy Farce "Lend Me A Tenor" to the stage. Set in the 1930's, Saunders, the general manager of the Cleveland Grand Opera Company, is primed to welcome the world famous Tito Merelli, Il Stupendo, the greatest tenor of his generation, to appear for one night only as Otello. The star arrives late and, through a hilarious series of mishaps, is given a double dose of tranquilizers and passes out. His pulse is so low that Saunders and his assistant Max believe he's dead. In a frantic attempt to salvage the evening, Saunders persuades Max to get into Merelli's Otello costume and fool the audience into thinking he's Il Stupendo. Max succeeds admirably, but Merelli comes to and gets into his other costume ready to perform. Now two Otellos are running around in costume and two women are running around in lingerie, each thinking she is with Il Stupendo. A sensation on Broadway and in London's West End, this madcap, screwball comedy is guaranteed to leave you teary-eyed with laughter.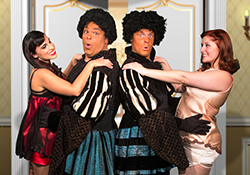 MPO's Artistic director, John Maurer, is helming this production. A versatile theatre producer and director whose credits include large scale musicals like Singin' in the Rain, Man of La Mancha, Avenue Q and Monty Python's Spamalot, Maurer's first love is comedy.
"I am always comfortable doing comedy, helping people laugh is always a great joy. Give me a good script and some talented performers and we can make a wonderful evening's entertainment," says Maurer. "Our cast is filled with local comedy and acting veterans who have been working the material for weeks and are just itching to get in front of a live audience."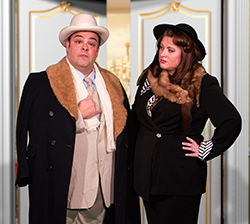 WATCH THE ONLINE COMMERCIAL FOR
KEN LUDWIG'S LEND ME A TENOR
AT THE KELSEY THEATRE.

The show's cast features Andrew Timmes of Lawrenceville, NJ as Max, Alysia Toscano of Mercerville as Maggie, Peter Bisgaier of Princeton Jct as Saunders, Roman Sohor of Manalapan as Tito, Stephanie Zimmerman of Hamilton as Maria, Matthew Cassidy of Morrisville, PA as The Bellhop, Maria Aromando of Bridgewater as Diana and Laurie Hardy of Hamilton as Julia.

This hilarious salute to the 1930's comedies will run at Kelsey Theatre in West Windsor, NJ February 20 - March 1, 2015. A public reception, with an opportunity to meet the cast and crew, will be held on opening night. The Kelsey Theatre is on the West Windsor Campus of Mercer County Community College. The college is located at 1200 Old Trenton Road. Free parking is available next to the theatre. To order tickets, go online at www.kelseytheatre.net, call 609-570-3333, or stop by the Kelsey Theatre Box Office. Tickets are $18 for adults, $16 for seniors and $14 for students and children plus a $1 service fee. The Kelsey Theatre is wheelchair accessible. More information about this production of Ken Ludwig's Lend Me A Tenor can be found online at www.mponstage.com.

> TOP >>
---
TICKETS FOR Ken Ludwig's "Lend Me a Tenor"
NOW ON SALE!

PRICE: All Tickets $18

DATES:
Feb 20, 21, 27, 28 2015 at 8:00pm Feb 22 & March 1 2015 at 2pm

VENUE: Kelsey Theatre



Maurer Productions OnStage presents this hilarious farce of mistaken identities when a meek but helpful assistant manager tries to take the place of the unconscious (over-imbibed) world-famous tenor "Il Stupendo" Tito Morelli in an important performance of Otello. But Morelli in the meantime comes to, dons his other costume, and now two Otellos are running around on all cylinders. Come and see the uproarious ending!
---
Dracula Closes the Coffin for the last time at Kelsey.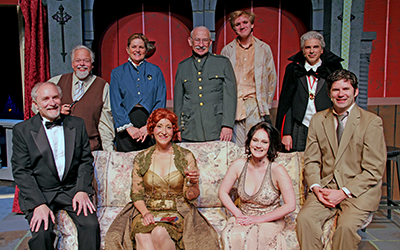 Maurer Productions OnStage began its 10th season by sending shivers into the night with the Bram Stoker classic Count Dracula. A reletively small cast show it involved 15 actors, production staff and crew and was based on Bram Stokers original novel. "This show was very traditional," explains director John Maurer. "There were no sparkly vampires, no drenching piles of blood. The show did offer some lighter moments to break the tension but the story is rooted in Bram Stokers original text."
The show brought a classic flare to this Halloween season and under the creative guidence of director John M. Maurer added a magical quality to the Kelsey
stage. Regina Deavitt Beaucheane, who reviewed the show for Stage Magazine wrote. "MPO's production features a few ingenious technical feats, which this review will not spoil for audiences! But be assured there are at least two particular moments in the show that are truly impressive in technical achievement." She goes on to write "Kudos, also, to MPO for its beautifully appointed set, costumes, and lighting design."
With a script by Ted Tiller the cast featured Joe Grosso as Count Dracula; Michael Lovett as Jonathan Harker; Stephanie Moon as Mina Murray; Sean McGrath as Heinrich Van Helsing; Scott Fishman as Dr Arthur Seward; Laurie Hardy as Sybil Seward; Paul Phalen as Renfield; Susan Galli Miss Hennessey; and Jeffrey E Milstein as Wesley.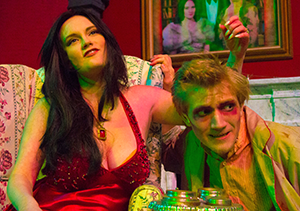 The cast and crew worked very hard on the production. Judi Parrish's sound design with original underscoring by Brandon Franks helped build dramatic tension. Kittly Getlik's lighting design beautifully highlighted the mood. John M. Maurer's set design with construction by Jeff Canter and scenic painting by Amy Bessellieu brought the audience to london in the 1930's. Diana Maurer's props illustrated the glamor of London aristacrates and Anthony Remer's cotumes featured not only his handywork with a needle but included some actual 1930 clothing that was aquired for the show.
---
Maurer Productions Names Judi Parrish to the MPO Board of Directors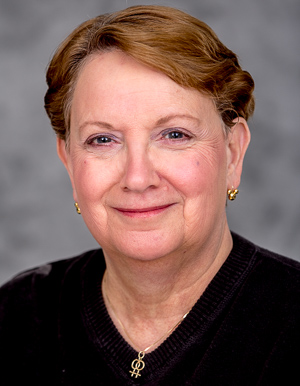 The award-winning production company Maurer Productions OnStage is pleased to announce Judi Parrish as the newest member of the MPO Board of Directors. As one of seven board members, Judi will have a voice in the direction of the company, how the group manages its productions, and will play an integral role in show selection. Judi is also an accomplished local director and may also be seen directing shows for MPO from time to time. Maurer Productions OnStage is an award-winning production company known for staging musicals and plays at the Kelsey Theatre in West Windsor, NJ. Over the years, MPO has mounted productions resulting in over 26 NJACT Perry Award nominations and 5 wins.
"We're very excited to have Judi join the team," said John Maurer, MPO's co-founder and Artistic Director. "Judi is a regular fixture at the Kelsey theatre and we've worked with her for several years on both our productions and her own. She's is always ready to lend a hand or her experience to anyone who needs it and has been an valuable resource on several of our productions. We're lucky to be able to have her join our team.
Judi has more than 45 years in community theatre, with credits as a director, musical director, producer, stage manager, set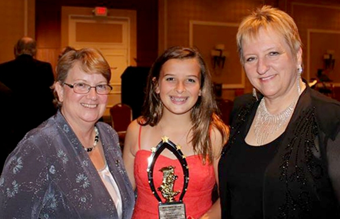 designer, lighting designer, sound designer and actress. She has a total of 10 Perry nominations, including nominations for set design, sound design, lighting design, directing and acting. She is a Perry award winner for her role as the Superintendent in the MPO production of The Drowsy Chaperone.
Judi keeps very busy with projects at Kelsey Theatre and other theaters in the central New Jersey area. She most recently assisted with the set construction and scenic painting of the Pennington Players' production of Into the Woods. She is also the Vice President for Production with the Pennington Players and has directed several of their productions, including Master Class, The Miracle Worker and Steel Magnolias. She has also directed Agnes of God, The Musical of Musicals, and A Streetcar Named Desire at Villagers Theatre.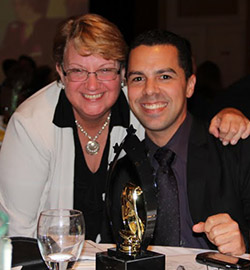 Her next endeavors will be as the sound designer for the MPO production of Lend Me A Tenor and as the producer and sound designer for the Pennington Players' upcoming production of Picasso at the Lapin Agile. Next season, she will be directing The Diary of Anne Frank for the Pennington Players.
Judi holds a Bachelor's Degree in Music Education and worked for the NJ Department of Transportation for more than 30 prior to retiring a few years ago. She is the resident lighting designer for Kelsey Theatre's Tomato Patch summer program and recently taught vocal solos for Tomato Patch. She is also adjunct faculty at Mercer County Community College, teaching Entertainment Technology, and is on the technical staff of Kelsey Theatre.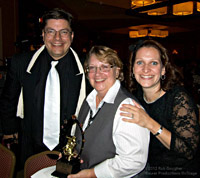 Judi joins a very talented and dedicated board that includes NJACT Perry Award winners and nominees such as Choreographer and Director Jane Coult, Musical Director and Director Laurie Gougher, Technical director and Master Carpenter Jeff Cantor, Photographer and web-developer Rob Gougher Director and Producer Diana Gilman Maurer, and the company's Artistic Director and Executive Producer John Maurer.
---
Tenor Celebrities Promote the kelsey season.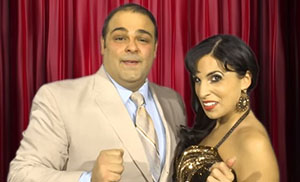 Who hasn't seen actors or sports figures in commercials extoling of the virtues of everything from luxury cars to shaving cream? Marketers know that people connect with their favorite celebrities. It's almost like an old friend telling us how great their product is. Well the Kelsey Theatre has some celebrities ready to tell you about it's winter/spring season… well almost.
It all started with our friends at PinnWorth productions and their presentation of A Man for All Seasons. Dr. John M. Shanken-Kaye, who played Sir Thomas More had to shave his beard for the part. He video taped his de-bearding and placed it on Facebook for friends. Since Roman Sohor, who plays Tito Merilli in Lend me a Tenor, also had to shave his beard for his role we decided to handle it with a little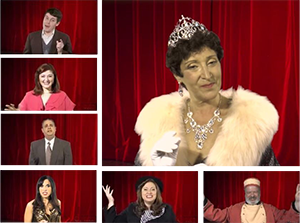 comic flare with a wink and a nod to Dr John and PinnWorth. Thus Tito Merilli, the greatest opera tenor of our age did a commercial for "Shank-n-Blades by Stalsworth".
The video was so well received that we thought this could be an opportunity to help market the rest of the Kelsey season.
So a series of 7 short commercial spots were written by John and Diana Maurer and skillfully acted out by the cast of Lend me a Tenor. Each actor, using the character they developed for Tenor in rehearsal, talk about Kelsey Theatre sponsorships, or why you should see Cat's, The Music Man or A Winter's Tale. The spots are running on the Kelsey Theatre lobby display screen and can be seen on Youtube.
You can Visit the MPOnStage website to see all the videos listed on one page.
---
Maurer Productions OnStage Goes from Stage to Screen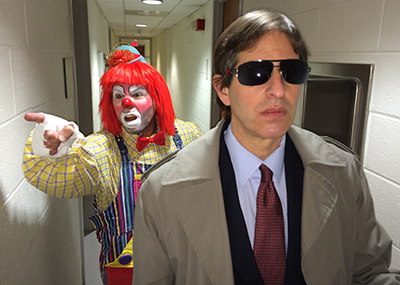 Maurer Productions OnStage, as its name implies mainly produces shows for the stage. But occasionally we have been asked to help with video productions being produced or shot around the state. Over the years we have been approached to help find actors for a BBC documentary that was shooting re-enactments in the US as well as find actors for educational and training videos.
Recently we were asked to help with the creation of a new opening for the "Breezin' with Bierman" program from Princeton TV. MPO Board members and several cast members visited the Adam Bierman show several times last season while promoting Shrek the Musical. This year the popular Princeton TV show is being rebranded as "ADAM". Retired board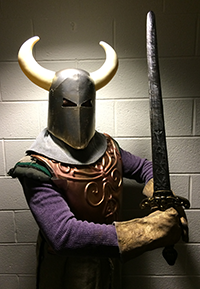 member Dan Maurer was helping to write the new open and called upon MPO to help with costumes and props.
"In the end, it was really about helping out a friend and strengthening relationships in the artistic community," said Dan, "but it was also about something else. Since its inception, MPO has had a philosphy of paying it forward. Over the years, a lot of people have stepped up and pitched in to help MPO, and the theater company is always happy to give back. And while I may no longer be an active member of the company, the company's ideals are still in my blood. So not only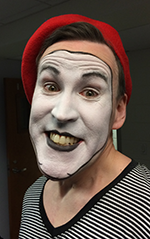 did I want to help Lawrence and Adam, but I felt it was natural for MPO to get involved as well. When I called MPO's President and Artisic Director, John Maurer, he agreed."
The shoot was spread out over one evening and a Saturday afternoon and featured an odd assortment of guests in the show's green room waiting for their turn on camera. MPO supplied props and all the specialty costumes and makeup for the shoot with a short turn around. This included a Knight with helmet and sword, a large Chinese dragon, a mime, concertina playing priest and a sexy puppet. We were also responsible for one of the featured characters in the video, Adam's clown "stage manager." MPO designed the makeup for the character and supplied the wig, costume and big clown shows. We also turn day into night by covering the large green room window with curtain blacks to help keep continuity. Several past MPO alumni and their families took part in the shoot playing guests. William Mercado as the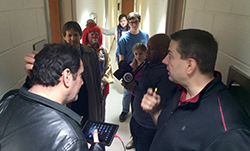 Circus Clown, Charlotte Gougher as Young Autograph Seeker, Diana Gilman Maurer as Woman in Hallway, Mark Applegate as the Mime, Robert Gougher as the Priest and E. Nicole Spadafino as the Puppeteer.
"The vibe on set was super positive," said Dan. "Old friends reconnected. New friendships were established, and by the end, everyone had some new Facebook connections. The shoot went very smooth, started and ended on time, and Lawrence got all the shots he needed to edit together a great new intro for the show they now call "ADAM." I'm glad I had a chance to help the ADAM team, and I'm grateful to the MPO crew for all their support."
See the new open and a message from Adam Bierman and Kurt Tazelaar the shows hosts.
---
Where in the World is Clementine Now!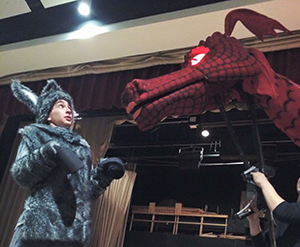 Well she is at it again. Clementine, the 24 foot long dragon created for the Maurer Productions OnStage presentation of Shrek the Musical last May has once again gone on the road. After her last time out at Downstage Center Dance Studio, she's been resting, but now she is ready to go and this time it was to West Windsor-Plainsboro High School North.
"We had a wonderful experience with MPO and it was a welcome change working with a local theater group," remarked director Robert Corriveau. "John Maurer bent over backwards to help us out. We are very appreciative of the time that John spent with our high school students and we are excited to have Clementine (the dragon) featured in our show."
But Clementine wasn't the only one to make the trip to the forests of Windsor. According to Robert; "The costumes made by Kathy Slothower and provided by MPO have added a very professional look to the production of Shrek." Costumer Muriel Rand agrees. "We are delighted to have the support of MPO in supplying costumes for our production of Shrek: The Musical. The high school students will have the rare and wonderful opportunity to use professional costumes. It has been a joy to see their smiles and their faces light up when they are visually transformed into their characters! We also appreciate all the insider tips, information, and strategies that you've shared to make our production a success. Many thanks!"
And there is no rest for the fire breather yet! Right after her visit with West Windsor-Plainsboro High School North, she will be flying over the Collingswood, NJ to visit Collingswood High School for their production of Shrek the Musical. If you would like Clementine to be part of your production or event please contact Info@MPOnStage.com
West Windsor High School North
90 Grovers Mill Road
Plainsboro, NJ 08536
Tickets can be purchased at the door or download this form
---
Talking About Cat on a Hot Tin Roof



In this Podcast we talk with the director and some of the cast of Cat on a Hot Tin Roof co-produced by Theater to Go and Pierrot Productions at the Kelsey Theatre on the campus of Mercer County Community College. Our guests include Director Ruth Markoe and cast members Robert Lanchester, Ray Fallon and Mariel Rosati
---
Alumni Happenings for February and March
Sweeney Todd, Villagers Theatre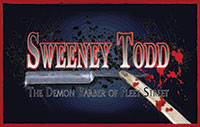 Shron Underberg (Dirty Rotten Scoundrels) will be playing in Sweeney Todd at Villagers Theatre this month.
Synopsis: The rare instance of a musical thriller, Stephen Sondheim and Hugh Wheeler's chilling, suspenseful, heart-pounding masterpiece of murderous barber-ism and culinary crime tells the infamous tale of the unjustly exiled barber who returns to 19th century London seeking revenge against the lecherous judge who framed him and ravaged his young wife. His thirst for blood soon expands to include his unfortunate customers, and the resourceful proprietress of the pie shop downstairs soon has the people of London lining up in droves with her mysterious new meat pie recipe!
Dates and Times: Performances run from February 6 through February 22. Fridays and Saturdays: 8 pm Sundays: 2 pm
Tickets: Adults, $20; Senior/Student, $18.
Box Office: 732-873-2710 Online purchase: https://app.arts-people.com/index.php?show=44509
Theater Info: Villagers Theatre 475 DeMott Lane Somerset, NJ 08873
Website: http://www.villagerstheatre.com
---
Born Yesterday, ActorsNet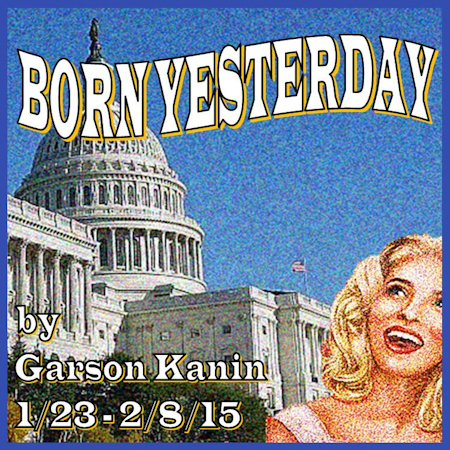 Marty Berrien (It's a Wonderful Life, A Winnie the Pooh Birthday Tale) will be performing in Born Yesterday at ActorsNet.
Synopsis:
A rich but thuggish junk dealer dabbling in Washington politics hires a writer to educate his girlfriend, and the results are not exactly what he hoped for, in this classic American comedy from the 1940s.
Dates and Times:
Now until February 8.
Friday and Saturday at 8 pm
Sunday at 2 pm
Tickets:
$20 adults
$17 seniors 62 & up
$15 WHYY Cards
For reservations: 215-295-3694 or email actorsnet@aol.com
To purchase tickets in advance: http://www.brownpapertickets.com/event/1168120
Theater Info:
The Heritage Center Theatre
635 North Delmorr Avenue (Route 32)
Morrisville, PA 19067
Website: http://www.actorsnetbucks.org
Directions: http://www.actorsnetbucks.org/directions-parking.htm
---
Amadeus at Playhouse 22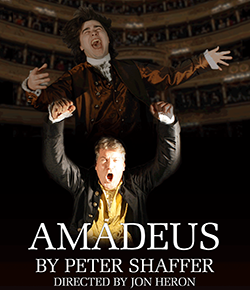 John Bergeron (Man of La Mancha) and Elizabeth Rzasa (Man of La Mancha) will be performing in Amadeus at Playhouse 22.

Synopsis: In the court of the Austrian Emperor Josef, Antonio Salieri is the established composer. Enter the greatest musical genius of all time: Wolfgang Amadeus Mozart. Salieri has given himself to God so that he might realize his sole ambition to be a great composer. Mozart is a foul-mouthed, graceless oaf who has that which is beyond Salieri's envious grasp: Genius. Amadeus won the Tony Award for Best Play in 1981.

Dates and Times:
February 13 through March 1
Friday and Saturday evenings at 8 pm and Sunday matinees at 3 pm.

Tickets:
Adults, $22; Seniors/Students, $20

To purchase tickets: Go to https://app.arts-people.com/index.php?ticketing=pla22l

Theater Info:
Playhouse 22
East Brunswick Community Arts Center
721 Cranbury Road (Middlesex County Route 535 South)
East Brunswick, NJ 08816

Phone: 732-254-3939
Website: http://www.playhouse22.org

Directions: http://www.playhouse22.org/directions/

> TOP >>
---
Andrew Lloyd webber's Cat's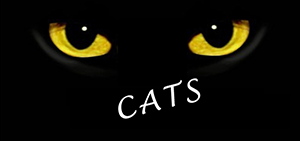 Jaimie McMillin (Shrek the Musical) is Grizzabella, Roman Sohor (Lend Me a Tenor) is Deuteronomy, James Petro (Singing in the Rain, Man of La Mancha) is Munkustrap, Nicholas Pecht (Drowsy Chaperone and Shrek the Musical) is Bustopher Jones/Gus, John Boccanfuso (You're a Good Man Charlie Brown) and Sally Page (Drowsy Chaperone, Spamalot) in the Playful Theatre Production of Cats.

Synopsis:
There is no better way to introduce your family to the wonders of live theater than with the magic, mystery and memory of CATS. Playful Theatre's awesome presentation of this legendary musical phenomenon, based on T.S. Eliot's classic collection of children's verses, peels rubber as it transports the audience into a stunning fantasy world.

Performance Dates:
Fridays, Mar. 13 & 27, 2015 at 8pm
Saturdays, Mar. 14, 21 & 28 at 8pm
Saturday, Mar. 21 at 2pm
Sundays, Mar. 15, 22 & 29 at 2pm

Theater Info:
Kelsey Theatre at Mercer County Community College
1200 Old Trenton Road
West Windsor, NJ 08550
Telephone: (609) 570-3333
Directions to Theatre: http://www.mccc.edu/welcome_directions_wwcampus.shtml

Tickets:
$20 for all
To buy tickets: For information and online ordering: http://www.kelseyatmccc.org/ticket_info.shtml Or call (609) 570-3333.

> TOP >>
---
PICASSO AT THE LAPIN AGILE by the Pennington Players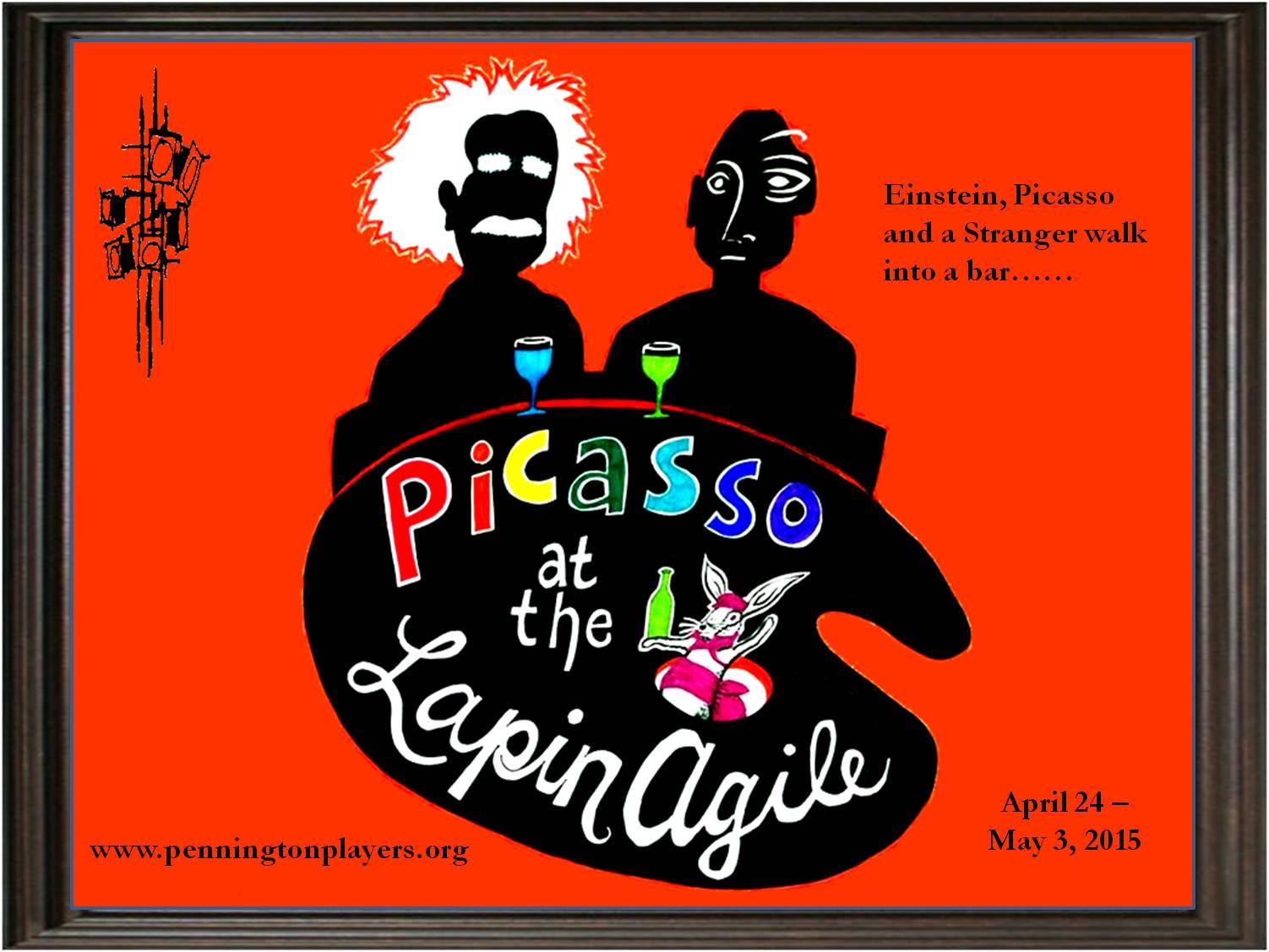 Peter Bisgaier (A Little Murder Never Hurt Anybody, Spamalot, Lend Me a Tenor) Directs and Matthew Cassidy (Lend Me A Tenor), Nicole Farina-Machin (Singing in the Rain), Sean Downing (Spamalot), Justing Derry (Spamalot, Shrek the Musical) and Kevin Palardy (Spamalot) Perform in the Pennington Players Production of Picasso at the Lapin Agile at the Kelsey Theatre

Synopsis:
So, Einstein and Picasso walk into a bar, and… The punch line to this joke is in The Pennington Players' production of this imaginative comedy, written by comedian Steve Martin (yes, that Steve Martin.) While the play is not exactly a classic, you can't get more museum quality than these two classic visionary figures, one who is on the verge of publishing his Theory of General Relativity and one who is close to painting Les Demoiselles d'Avignon—his ground-breaking foray into modern art. And you can't get funnier than this imaginary meeting between the two in a bar at the turn of the 20th Century. Join us, faster than the speed of light, for a Post-show Talkback on Friday, May 1st.

Performance Dates:
Fridays, Apr. 24 & May 1, 2015 at 8pm
Saturdays, Apr. 25 & May 2 at 8pm
Sundays, Apr. 26 & May 3 at 2pm

Theater Info:
Kelsey Theatre at Mercer County Community College
1200 Old Trenton Road
West Windsor, NJ 08550
Telephone: (609) 570-3333
Directions to Theatre: http://www.mccc.edu/welcome_directions_wwcampus.shtml

Tickets:
$18 Adult, $16 Seniors, $14 Students and Children (plus ticketing fee)
To buy tickets: For information and online ordering: http://www.kelseyatmccc.org/ticket_info.shtml Or call (609) 570-3333.

> TOP >>