Share on Facebook
OnStage News & Notes - October 2014

In October we look forward to Count Dracula, look back at Shrek the Musical, announce audtions for Lend Me a Tenor and announce upcoming upcoming Kelsey, Robbinsville High School and MPO alumni shows.
---
Shrek the Musical was one big ugly ogre of fun!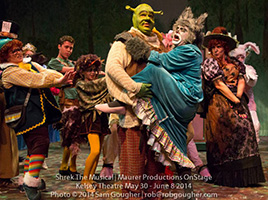 Children laughed, dragons flew and a happy ending was had by all as the curtain finally came down at the Kelsey Theatre on Maurer Productions OnStage's presentation of Shrek the Musical.
The show, which involved over 50 actors, production staff and crew, is based on the Oscar-winning DreamWorks film, this live stage version of Shrek was nominated for eight Tony Awards including best score and best book for a musical when it originally opened on Broadway in 2008. It is set in a faraway kingdom turned upside down, where an unseemly ogre — not a handsome prince — shows up to rescue a feisty princess. Throw in a donkey who won't shut up, a bad guy with a short temper, a cookie with an attitude and over a dozen other fairy tale misfits, and you've got the kind of mess that calls for a real hero. Luckily, there's one on hand...and his name is Shrek. Full of all-new songs, great dancing, and great scenery, the show even features a 24-foot dragon.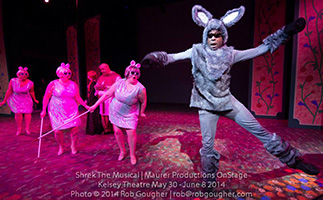 Under the steady creative hand of director Laurie Gougher the show took the Kelsey theatre audience on a winding fantasy trip from the swamp to Duloc to the dragon's keep and beyond. "This show was a massive undertaking," says Laurie. "The show was still relatively new to community theater you just can't get the costumes, props and makeup 'off the rack'. Our costumer, Kathy Slothower, and her team had to design and make most of the costumes from scratch.
Vicky Czarnik, our makeup artist, had to design all the fairytale creature faces and handle the monumental task of applying Shrek's makeup every performance."
"This show ended up being one of the largest we have ever done" said producer/designer John Maurer. "We ended up using every inch of the Kelsey theater stage, backstage, the workshop even the storage and paint areas. Every inch was filled with scenery, costumes, props, makeup stations and actors. With all the quick changes in makeup and costume the cast really stepped up to help support each other. The bonding of the cast, their energy, camaraderie, and passion was evident on stage."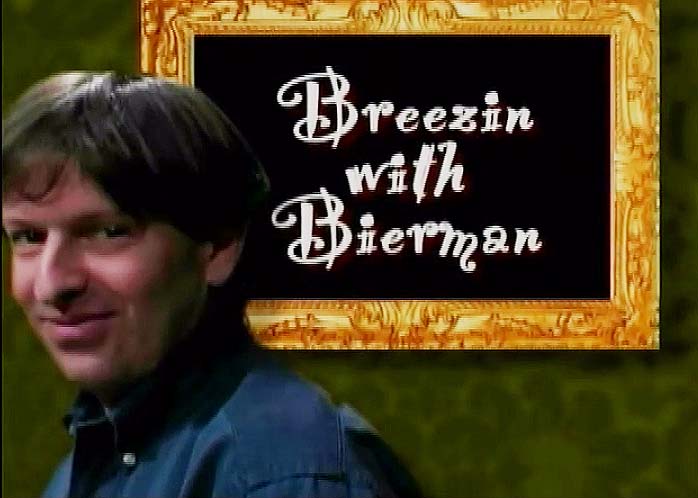 The MPO Marketing department also went above and beyond to get the word out about Shrek the musical. They produced a series of mini documentaries featuring interviews with cast and crew that aired on the Breezin' with Bierman program from Princeton TV. The videos are also available on the MPO YouTube Channel.

As always the cast was made up of actors who were new to the Kelsey stage as well as MPO Alumni. Maurer Productions OnStage would like to thank these new comers and the entire cast and crew of Shrek the Musical for delivering a stellar production. Keep an eye on the MPO Alumni Happenings in this and future newsletters to see where these wonderful actors will be working next.

Shrek featured music direction by Peter de Mets, choreography by Stephanie Venanzi, stage management by Beverly Kuo-Hamilton, costume design by Kathy Slothower, set design by John Maurer, lighting design by Kitty Getlik. Makeup Design by Vicky Czarnik and props by Dottie Farina. The show was produced by John Maurer, Diana Gilman Maurer, and Dan Maurer.

> TOP >>

---
TICKETS FOR MPO'S 'Dracula' NOW ON SALE!

PRICE: All Tickets $18

DATES:
Oct 24, 25, 31 & Nov 1, 2014 at 8:00pm
Oct 26 & Nov 2 2014 at 2pm

VENUE: Kelsey Theatre



Maurer Productions OnStage brings Bram Stoker's ground breaking novel "Dracula" to the stage for Halloween. Our award-winning team is ready to make the dead rise and and bring the magic back to your haunted holiday. In this thrilling production, inspired by Bram Stoker's original text, MPO offers a fresh and exciting new introduction to classic characters like Jonathan Harker, Dr. Seward, Professor Van Helsing and the prince of darkness -- Count Dracula.
---
Dracula Ready to take a bite out of the Kelsey.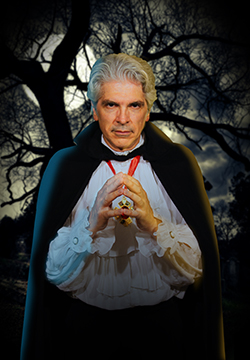 Maurer Productions OnStage begins its 10th season by sending shivers into your night with the Bram Stoker classic Count Dracula at the Kelsey Theatre on the West Windsor campus of Mercer County Community College. Dates and times for this production are Fridays, Oct. 24 and 31 at 8 p.m.; Saturdays, Oct. 25 and Nov. 1 at 8 p.m.; and Sundays, Oct. 26 and Nov. 2 at 2 p.m. A reception with the cast and crew follows the opening night performance.

Maurer Productions OnStage brings Bram Stoker's ground breaking novel Count Dracula to the stage for Halloween. The award-winning team that brought you dramas like Driving Miss Daisy and Hollywood Arms, and stage spectacles like Shrek the Musical and Singin' in the Rain, is ready to make the dead rise and bring the magic back to your haunted holiday. In this thrilling production, inspired by Bram Stoker's original text, MPO offers a fresh new introduction to classic characters like Jonathan Harker, Dr. Seward, Professor Van Helsing the lovely Mina Murray and the prince of darkness -- Count Dracula.

"This show is very traditional," explains director John Maurer. "There are no sparkly vampires, no drenching piles of blood. The show does offer some lighter moments to break the tension but the story is rooted in Bram Stokers original text."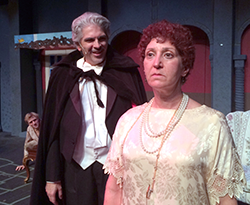 The cast of Count Dracula includes Joe Grosso of Hamilton Sq., NJ as Count Dracula; Michael Lovett of Ewing, NJ as Jonathan Harker; Stephanie Moon of Yardville, NJ as Mina Murray; Sean McGrath of Churchville, PA as Heinrich Van Helsing; Scott Fishman of Newtown, PA as Dr Arthur Seward; Laurie Hardy of Hamilton, NJ as Sybil Seward; Paul Phalen of West Windsor, NJ as Renfield; Susan Galli of Hopewell, NJ as Miss Hennessey; and Jeffrey E Milstein of East Windsor NJ as Wesley.

The show is Directed by John M. Maurer, Produced by John M. Maurer and Diana Gilman Maurer, Costumes by Anthony Remer, original underscore Music by Brandon Franks, Sound Design by Judi Parrish, Lighting Design by Kitty Getlik, and Set Construction by Jeff Cantor


Tickets are $18 for adults, $16 for seniors and $14 for students & children and may be purchased by calling the Kelsey Box Office at 609-570-3333 or online here. Kelsey Theatre is wheelchair accessible. Free parking is available next to the theater. For tickets go to The Kelsey Theatre website. (http://www.kelseyatmccc.org/Count_Dracula.shtml)
---
Open Auditions for Lend Me a Tenor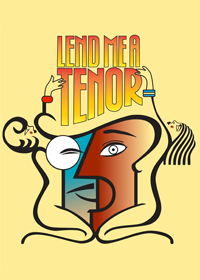 Presented by MPOnStage
Written by Ken Ludwig
Directed by John M. Maurer
Award-winning producer and MPO Artistic Director John Maurer brings you the Tony Award winning farce Lend Me A Tenor.

Set in the 1930's, Saunders, the general manager of the Cleveland Grand Opera Company, is primed to welcome world famous Tito Morelli, "Il Stupendo," the greatest tenor of his generation, to appear for one night only as Otello. The star arrives late and, through a hilarious series of mishaps, is given a double dose of tranquilizers and passes out. His pulse is so low that Saunders and his assistant Max believe he's dead. In a frantic attempt to salvage the evening, Saunders persuades Max to get into Morelli's Otello costume and fool the audience into thinking he's "Il Stupendo." Max succeeds admirably, but Morelli comes to and gets into his other costume ready to perform. Now two Otellos are running around in costume and two women are running around in lingerie, each thinking she is with "Il Stupendo." A sensation on Broadway and in London's West End, this madcap, screwball comedy is guaranteed to leave you teary-eyed with laughter.

Auditions are November 15th & 16th 2014 and the performances are February 20, 21, 27, 28 2015 at 8:00pm - Feb 22 & March 1 2015 at 2pm. Visit our online casting page for all the information and to sign up for an audition slot.

MP OnStage CastMe 1-2-3 System

You can now upload your resume and headshot, as well as any additional information you feel would be appropriate and helpful, into the MPOnStage Cast Me 1-2-3 system. This can save you the time and expense of downloading and filling out forms, having headshots printed, and copying resumes. The only thing you will have to bring with you once you have created your profile on the Cast Me system is your one page audition form and the calendar for your conflicts during the rehearsal/run period.
---
Where in the world is Clementine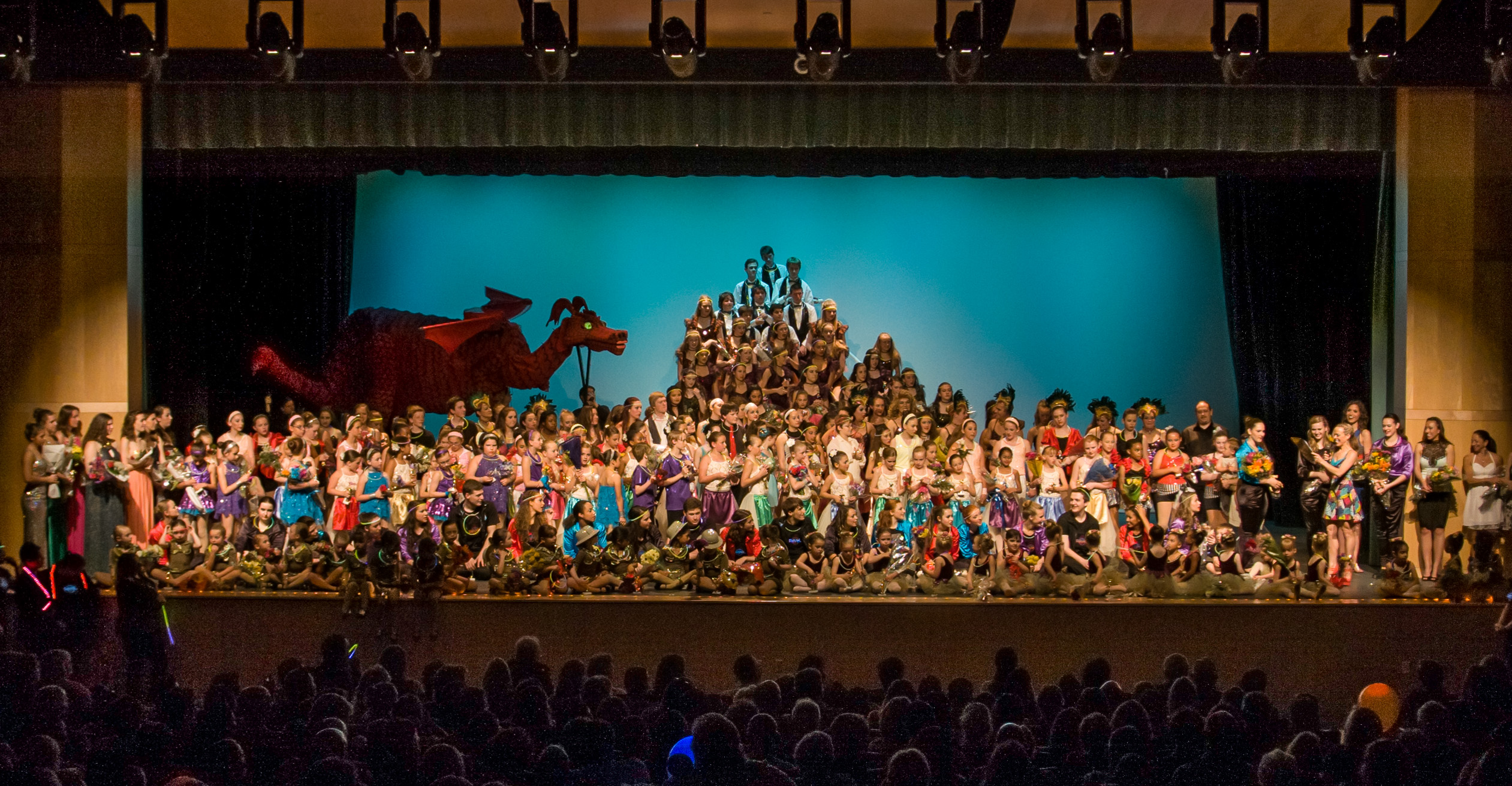 Have you seen a 24 foot dragon that breaths smoke, has glowing eyes and a passion for singing? If you do… could you let us know? Clementine, the 24 foot long dragon created for the Maurer Productions OnStage presentation of Shrek the Musical last May has been very busy. Since finishing up her stint on the Kelsey stage, in our very successful production, she has decided not to rest on her laurels but to take her act on the road. A week after Shrek closed, she was seen partying on stage with dancers from the Downstage Center Dance Studio in Pennsylvania. "For our 7-9 year old tap dancers, Clementine was their reward for working so hard all year! The tap dancers surprised the audience with her entrance at the end of their 3 minute dance. The Maurer's beautiful beast really helped our dancers shine!" remarked Dani Tucci-Juraga, owner/operator Downstage Center Dance Studio.

Clementine then felt like visiting old friends so she flew on over to the Bucks County School for the Performing Arts for their production of Shrek the Musical. Since that time she has been resting in her cave, dreaming of the day she may be on stage again and entertain her adoring public. If you would like Clementine to be part of your production or event please contact Info@MPOnStage.com
---
A Season of Classics at MCCC's Kelsey Theatre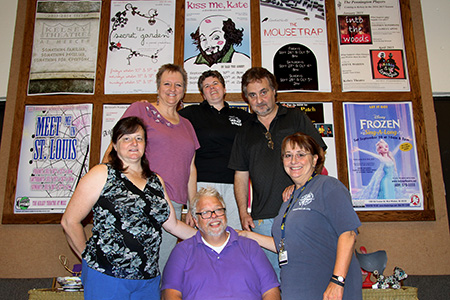 Clockwise from top left, Kelsey Theater Artistic Director M. Kitty Getlik, Amy Bessellieu, Dan Spalluto, Jane Coult, Sean McGrath and Diana Maurer.
The Kelsey Theatre season is in full swing and is rolling out the classics. Long-time theater lovers can revisit their favorite musicals and dramas, while younger audiences will have an opportunity to see the greats for the very first time. Sixteen full-length dramas and musical productions come to the Kelsey stage, along with eight shows offered through the Kelsey Kids Series performed by traveling professional troupes and local companies. Kiss Me, Kate (Pinnworth Productions), based on Shakespeare's Taming of the Shrew, kicked off the season Sept. 12th.

In addition to Kiss Me Kate, the fall scheduled includes: Agatha Christie's The Mousetrap from Sept. 26-Oct. 5 (The Yardley Players); The Secret Garden from Oct. 10-19 (Pierrot Productions); Count Dracula from Oct. 24-Nov. 2 (Maurer Productions OnStage); Jesus Christ Superstar from Nov. 7-16 (Playful Theatre Productions); and Miracle on 34th Street from Nov. 21-30 (M & M Stage Productions).

Family events in December will add to holiday merriment. Children and their grown-ups will enjoy 'Twas the Night Before Christmas from Dec. 5-7 (The Kelsey Players) and The Nutcracker from Dec. 19-21 (The New Jersey Youth Ballet). El Sueno, the Nutcracker-inspired Latin and Spanish dance spectacular, will be presented for two shows only on Saturday, Dec. 13 (Alborada Spanish Dance Theatre).

More classics are in store in the new year: A Man for All Seasons from Jan. 9-18 (PinnWorth Productions); Into the Woods from Jan. 23- Feb. 1 (The Pennington Players); Cat on a Hot Tin Roof from Feb. 6 to 15 (Pierrot Productions); Lend Me a Tenor from Feb. 20-Mar. 1 (Maurer Productions OnStage); a concert tribute to "1971's Concert for Bangladesh" on March 7 and 8 (Reock & Roll Revue); Andrew Lloyd Webber's CATS from Mar. 13-29 (Playful Theatre); Mamma Mia! The Movie Sing-A-Long on March 14 and 20 (Theater to Go); Romeo and Juliet from April 10-19 (MCCC Theatre and Entertainment Technology students); Picasso at the Lapin Agile from Apr. 24-May 3 (The Pennington Players); The Music Man from May 8-17 (The Yardley Players); Modern Classics May 23-24 (Mercer Dance Ensemble); They're Playing Our Song from May 29-June 7 (Pierrot Productions); and The Winter's Tale from June 12-21 (Shakespeare '70).

Children's shows include: Pocahontas on Oct. 11 (Kaleidoscope Theatre); Disney's Frozen Movie Sing-A-Long on Oct. 25 (Theater To Go); Charlotte's Web on Nov. 1 (Theatreworks/USA); The Lightning Thief on Jan. 17 (Theatreworks/USA); Dog Loves Books on April 25 (ArtsPower); and Junie B. Jones on May 30 (Theatreworks/USA).

Ticket prices for full-length musicals are $20 for adults, $18 for seniors, and $16 for students/children; non-musicals are $18 for adults, $16 for seniors and $14 for students/children. Ticket prices for the Kelsey Kids Series are $10 for children and seniors, and $12 for adults. Group discounts are also available. Subscription packages are also available.

Kelsey Theatre is conveniently located on the college's West Windsor campus, 1200 Old Trenton Road For the complete events schedule and more at Kelsey Theatre, visit the Kelsey Theatre website
---
Baby Wants Candy

COMPLETELY IMPROVISED MUSICAL, TO PERFORM AT ROBBINSVILLE HIGH SCHOOL ON OCTOBER 25 AT 7:30 PM.
Baby Wants Candy originated in Chicago, the home of improvisation in the US. Baby Wants Candy's philosophy is based on the school of long-form improvisation, which has grown to be the most popular in Chicago and now throughout the States. Baby Wants Candy ask for one suggestion and create an entire performance (in BWC's case, a musical!) based on that single suggestion. Everything you see at a Baby Wants Candy show is completely made up on the spot - you are here for, and part of, its creation.
BABY WANTS CANDY has performed over 2,000 completely improvised musicals around the world. BABY WANTS CANDY proves time and time again that the best stuf is spontaneous. The first half of the show will be short-form improv (in the style of "Whose Line Is It Anyway?") featuring members of Robbinsville High School's Raven Players alongside Baby Wants Candy. The second half begins with the cast asking the audience for a suggestion of a musical title that has never been performed before. Accompanied by a full band, the first title that the group hears becomes the title and theme for the evening's long-form show. It's a roller coaster ride of of the cuf choreographed dance numbers, rhyming verses, and witty jaw dropping comedy. Each BWC performance is its own opening and closing night, and by design every show is completely unique and a once in a life time premiere. Start thinking of your title now!
VENUE INFORMATION:
Performance October 25 at 7:30 pm
Robbinsville High School Auditorium
155 Robbinsville-Edinburg Rd, Robbinsville, NJ 08691
Tickets are $8 for students/seniors and $10 for adults.
Available online and at the door.

TOP >>
---
Alumni Happenings for October and November
YOU CAN'T TAKE IT WITH YOU! (The Ravens Players )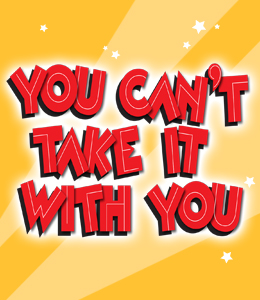 Alumni Caroline Maurer is supporting her schools production of "You Can't take it with you" as part of the stage crew.
Synopsis: A Pulitzer Prize-winning comedy introduces audiences to the freethinking Sycamore family and the mayhem ensues when their daughter's fiancé brings his conservative, straight-laced parents to dinner on the wrong night.
Performance Dates:
November 13-15, 2014
Theater Info:
Robbinsville High School 155 Robbinsville Edinburg Road Robbinsville, NJ 08691 Tickets are available at the door.

Tickets:
Tickets are available at the door.
---
Sweeney Todd at Cranford Dramatic Club
Zach Mazouat (Avenue Q) takes the stage as Tobias in CDC's production of Sweeney Todd.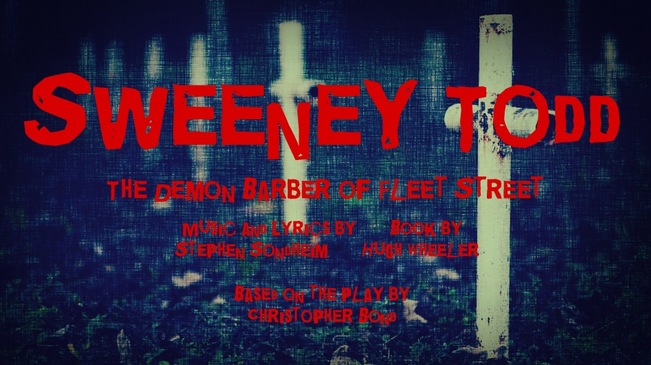 Synopsis: The rare instance of a musical thriller, Stephen Sondheim and Hugh Wheeler's chilling, suspenseful, heart-pounding masterpiece of murderous barber-ism and culinary crime tells the infamous tale of the unjustly exiled barber who returns to 19th century London seeking revenge against the lecherous judge who framed him and ravaged his young wife. His thirst for blood soon expands to include his unfortunate customers, and the resourceful proprietress of the pie shop downstairs soon has the people of London lining up in droves with her mysterious new meat pie recipe!
Performance Dates:
Fridays, October 24, 2014, and October 31, 2014 at 8:00 PM
Saturdays, October 25, 2014, and November 1, 2014 at 8:00 PM
Sunday, October 26, 2014 at 2:00 PM
Theater Info:
The Cranford Dramatic Club Community Theatre
78 Winans Avenue
Cranford, N.J. 07016
Telephone: (908) 276-7611
For directions, go to http://www.cdctheatre.org/directions.html.

Tickets:
For tickets, go tohttp://www.brownpapertickets.com/producer/626869.
Adults: $25.00 ($26.87 w/service fee)
Seniors and children under 18: $23.00 ($24.80 w/service fee)
---



Circle Mirror Transformation at West Windsor Arts Center

Scott Karlin (Shrek, Spamalot, Elton John and Tim Rice's AIDA, Dirty Rotten Scoundrels, A Few Good Men, The Adventures of Tom Sawyer, Singin' in the Rain, The Emperor's New Clothes) will be appearing in Shakespeare 70's production of Circle Mirror Transformation at the West Windsor Arts Center.

Synopsis: One summer in a small Vermont town, five very different people meet at the local community arts center to take an adult acting class. What happens over the six weeks of the class is surprising, funny, and profound. The original New York production in late 2009 won awards and praise.

Performance Dates:
Performance Dates:
Friday, October 24 and 31 at 8 pm
Saturday, October 25 and November 1 at 8 pm
Sunday, November 2 matinee at 2 pm

Theater Info:
West Windsor Arts Center
952 Alexander Rd, Princeton Junction, New Jersey 08550
Telephone: (609) 716-1931
For directions to the venue, go to http://www.westwindsorarts.org/west-windsor-arts-center.html.

Tickets:
General Admission: $18
Seniors and WWAC Members: $15
Student (with ID): $10

---
HAIR at Villager's Theatre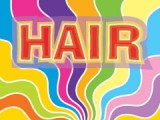 Ben Menahem (Elton John and Tim Rice's AIDA) will be playing Berger in the Villager's Theatre production of HAIR.
Synopsis: HAIR is at once both a joyous celebration of youth and a poignant journey through a tumultuous 1960s America! This exuberant musical about a group of teenagers searching for truth, peace and love in a Vietnam War era America has struck a resonant chord with audiences of all ages. HAIR features an extraordinary and multi-cultural cast singing a long list of chart topping hit songs, including "Aquarius," "Let the Sun Shine In," "Good Morning, Starshine" and "Easy To Be Hard." The themes and struggles in HAIR, although from another era, seem vital and relevant to the times we live in today in more ways than you realize until you experience the show first hand. - See more at: http://www.villagerstheatre.com/viewproductions/hair/#sthash.d4RenRSY.dpuf
Performance Dates:
Performance Dates:
Fridays, November 7, 14 and 21 at 8 pm
Saturdays, November 8, 15 and 22 at 8 pm
Sundays, November 9, 16 and 23 at 2 pm
Theater Info:
Villager's Theatre
475 Demott Lane
Somerset, New Jersey 08873
Telephone: 732-873-2710

For directions, go to http://www.villagerstheatre.com/about/directions/.

Tickets:
Adult: $20
Seniors and students: $18
---
Equivocation at Actor's Net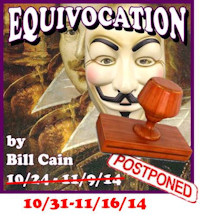 John Bergeron (Man of La Mancha) will be performing in ActorsNET's production of Equivocation.
Synopsis: Shakespeare receives a royal commission to write a play about Guy Fawkes' Gunpowder Plot. He and his company must find a way to keep their integrity...and also keep their heads.
Performance Dates:
Performance Dates:
Friday, October 31, November 7 and 14 at 8 pm
Saturday, November 1 and 8 at 8 pm
Sundays, November 2, 9 and 16 at 2 pm
Theater Info:
The Heritage Center Theatre
635 North Delmorr Avenue (Route 32)
Morrisville, PA 19067
Telephone: 215-295-3694

For directions, go to http://www.actorsnetbucks.org/directions-parking.htm.

Tickets:
Adults, $20; Seniors (62 and up), $17; WHYY cards, $15.
---
Miracle on 34th Street at Kelsey Theatre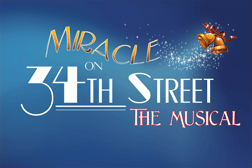 Sally Page (Shrek, Spamalot, The Drowsy Chaperone) will be Doris Walker in M & M Productions Miracle on 34th Street. Joining her will be Dan Slothower (Shrek, Spamalot, The Drowsy Chaperone, Dirty Rotten Scoundrels) as Shellhammer, Eve Connolly (Driving Miss Daisy) as the Judge, Jeffrey Millstein (Count Dracula) as Mr. Sawyer, and John and Diana Maurer (owners of MP OnStage) in the ensemble.
Synopsis: Kris Kringle is the personification of goodwill and holiday spirit. As Macy's holiday Santa, he enchants children and shoppers so completely that he is deemed dangerous by fellow employees who question his competency and plot to ruin him. A small girl's belief in Santa and the magic of the holiday is at stake in a climactic courtroom decision. This hilarious, tender and charming show for the entire family is a Christmas classic by M & M Stage Productions.So squeeze the whole family into your sleigh and race on over.
Performance Dates:
Performance Dates:
Fridays, November 21 and 28, 2014 at 8pm
Saturdays, November 22 and 29 at 2pm and 8pm
Sundays, November 23 and 30 at 2pm
Theater Info:
Kelsey Theatre at Mercer County Community College
1200 Old Trenton Road
West Windsor, NJ 08550
Telephone: (609) 570-3333
Directions to Theatre: http://www.mccc.edu/welcome_directions_wwcampus.shtml
Tickets:
$18 Adult, $16 Seniors, $14 Students and Children (plus ticketing fee)
To buy tickets: For information and online ordering: http://www.kelseyatmccc.org/ticket_info.shtml Or call (609) 570-3333.
TOP >>