Share on Facebook
OnStage News & Notes - May 2014

In May we present Part 3 of the Making of Shrek; Kelsey Summer Season heats up, including the 2014 Kelsey Theatre Awards Ceremony; The Great Amerian Trailer Park Musical opens soon; and The Story of the Brooklyn Bridge opens in May.
---
The Making of Shrek Part III:
Ogres, and Dragons, and Puppets, Oh My!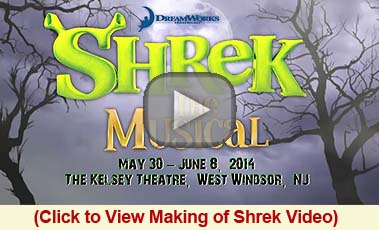 Here there be Dragons...
That's what MPO's President and Artistic Director John Maurer made clear when he and Shrek Makeup Designer Vicky Czarnik recently appeared on Princeton TV's popular Breezin' with Bierman Show to premiere the latest "Making of Shrek" video. Opening at Kelsey Theatre on May 30th, Shrek the Musical features a large cast of fairy tale characters including several puppet characters and a giant 24 foot dragon that sings, blows smokes, and prances about the stage.
While the team is keeping the dragon under wraps until opening night, this month's episode does give you the deepest look yet behind the scenes as the team crafts amazing costumes, brings fantastic makeup designs to life, hand crafts beautiful props, and builds the fairy tale world of Shrek and his friends.
This episode and the Maurer/Czarnik interview premiered on Breezin' With Bierman Friday, April 25. MPO fans can catch encore broadcasts of the show every Friday night at 8 thoughout the month of May. Breezin' with Bierman is broadcast on Comcast channel 30 and Verizon FIOS channel 45. It is also available through the Princeton TV website and through the Roku streaming service (www.roku.com).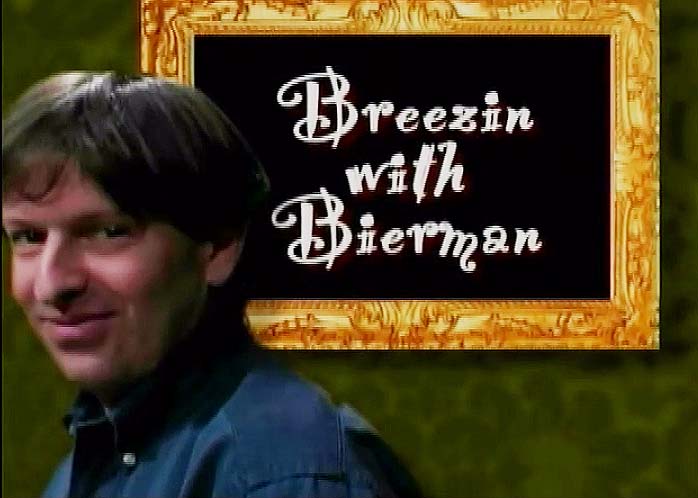 Princeton TV's Breezin' With Bierman features media manipulator and local legend Adam Bierman and his flunky the acerbic but bright Kurt Tazalaar as hosts. The show offers interviews with many notable people from the area along with Adam's insightful and humorous commentary. Through it's relationships with Comcast and Verizon FIOS, Princeton TV reaches approximately 60,000 homes in the Central New Jersey area.
Based on the Oscar-winning DreamWorks film, this live stage version of Shrek the Musical was nominated for eight Tony Awards including best score and best book for a musical when it originally opened on Broadway in 2008. Now, Maurer Productions OnStage, the local theater company that brought smash hits like Monty Python's Spamalot, Avenue Q, and Elton John & Tim Rice's AIDA to Kelsey Theatre, will bring this twisted and hilarious fairy tale to life for your whole family. (Rated PG)
TOP >>
---
TICKETS FOR MPO'S 'SHREK THE MUSICAL' NOW ON SALE!

PRICE: All Tickets $20

DATES:
May 30, 31 & June 6, 7, 2014 at 8pm
May 31, June 1, 7, 8, 2013 at 2pm

VENUE: Kelsey Theatre


Shrek The Musical is based on the Oscar® winning DreamWorks film and brings the hilarious story of everyone's favorite ogre to dazzling new life on the stage. In a faraway kingdom turned upside down, things get ugly when an unseemly ogre — not a handsome prince — shows up to rescue a feisty princess.(more)
---
Kelsey Theatre Awards Ceremony Coming Aug. 16th
The 2014 Kelsey Awards are set to rock the Kelsey Theatre Stage in West Windsor, New Jersey on Saturday, August 16, 2014 – Hosted by Jaimie McMillin, Kimberly Cupo, and Maria Aromando
West Windsor, New Jersey – K2KEntertainment and The Kelsey Theatre are proud to announce The 2014 Kelsey Awards, set to take place on Saturday, August 16, 2014 (8:00PM), live inside The Kelsey Theatre in West Windsor, New Jersey. The Kelsey Awards, an award show that honors community theater professionals for distinguished achievement for productions inside The Kelsey Theatre, has been a community theater staple ever since 2009 as an online event, and a live ceremony event since 2011.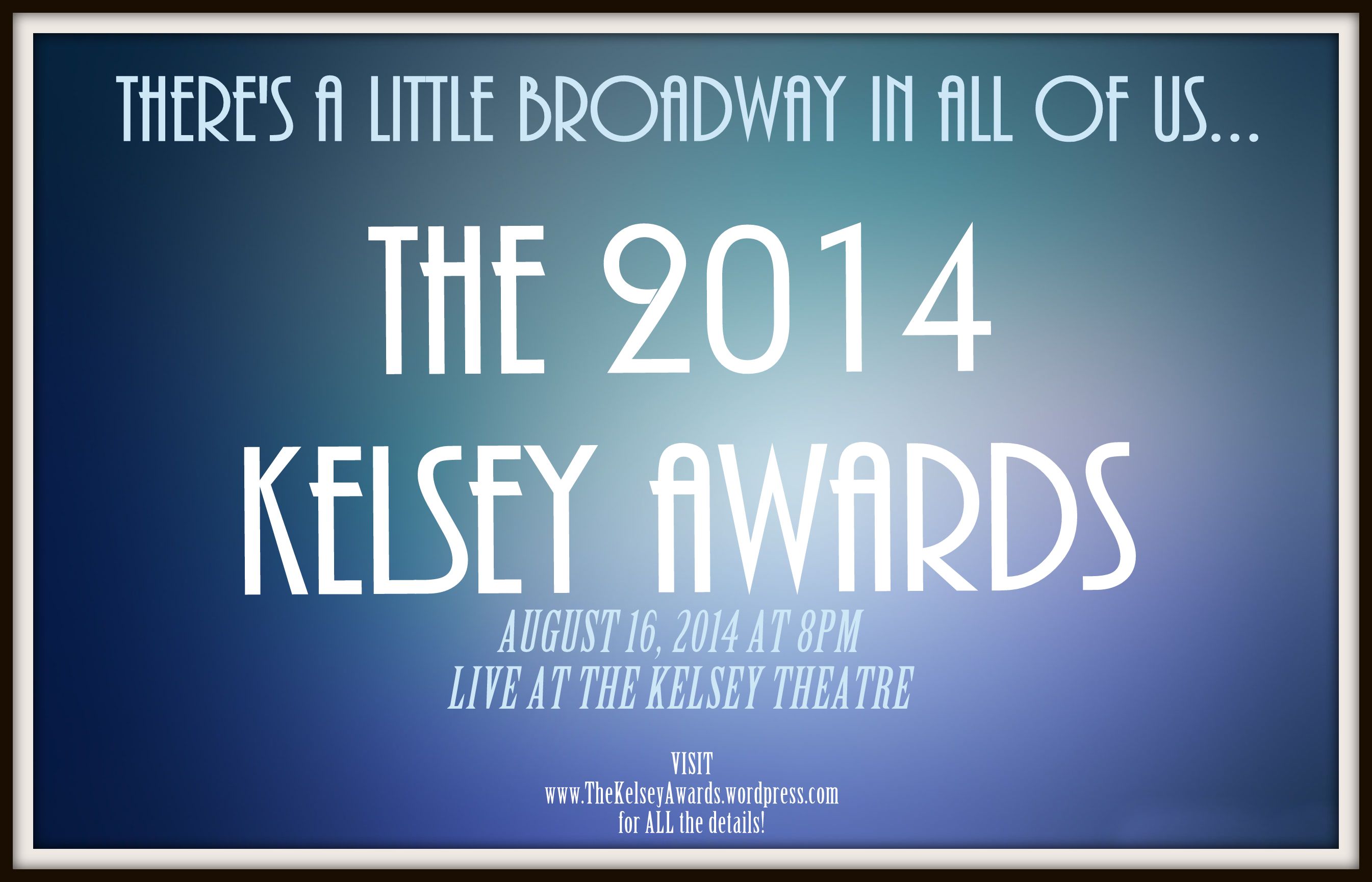 Now in its SIXTH year, what sets this event apart from any other community theater award event is the fact that the general public (YOU!) choose the nominees AND the winners in each and every category. Throughout the summer, you will vote for your favorite productions and performers from the 2013-2014 mainstage season at Kelsey Theatre. Voting will begin June 23rd.
Once the voting has been completed, there will be a live ceremony (August 16th at 8PM), a ceremony in which the winners (which have been kept secret) will be revealed, much like The Tony Awards and The Oscars.
Following the footsteps on Kyrus Keenan Westcott, Dominick Sannelli, and Mark Applegate, this year's live ceremony will be hosted by three women for the first time in the show's history. The 2014 Kelsey Awards will be hosted by Jaimie McMillin ("Paulette" – Legally Blonde: The Musical), Kimberly Cupo ("Princess Fiona" – Shrek the Musical), and Maria Aromando ("Mdm. Thenardier" – Les Miserables).
"Maria, Jaimie, and Kim all have great chemistry with each other on stage and in social situations, and I have personally seen them exhibit expertise and ease being in front of live audiences, thus making them the perfect hosts for this year's Kelsey Award ceremony," Kyrus Keenan Westcott, the show's producer and director, said in a statement.
In addition to special performances by many of the shows that went up during the 2013-2014 season, the live ceremony on August 16 will also feature hilarious cameos and performances from some of New Jersey's best performers, directors, producers, and a bunch of Kelsey's favorite and familiar faces.
Kyrus continues, "If you are a Kelsey Theatre fan, then The 2014 Kelsey Awards are definitely an event that you DO NOT want to miss. Affordable tickets, hilarious cameos and sketches, and memorable musical numbers – you definitely do not want to miss out on this event."
Tickets for The 2014 Kelsey Awards are now on sale for only $16. It is highly recommended that you purchase your tickets as soon as possible, as they sell very quickly.
For more information on The 2014 Kelsey Awards and to purchase tickets, visit the official website at www.TheKelseyAwards.wordpress.com and the official Facebook page at www.facebook.com/KelseyReport.
---
NOW ON SALE!
"A RIVETING, BONE-CHILLING THRILLER THAT I HIGHLY RECOMMEND"
- Midnight Thrillers Book Blog
DETAILS:

PRICE: $1.99
FORMAT: Kindle/Mobipocket
LENGTH: 30,000 wds/100+ pgs
PUBLISHER: Black Rapids Press


It happens each winter, and has for over 35 years. Every time the snow starts to fall late in the evening before a school day, the dreams begin again for Billy Stone. They are always the same — there's a dark tunnel, and there's blood, lots of blood, and someone is screaming... (more)
---
Kelsey Theatre 2014 Summer Season Heats Up
Save 25% When you Buy Four Events, 20% When You Buy Three
Looking for a fun and afordable "stay-cation" this summer? Kelsey Theatre delivers music, laughter and a celebration of local theater with it's 2014 Summer season featuring Reock & Roll's Classic Album Encore Performance, Yardley Players' Meet Me in St. Louis, M&M Stage Productions' Li'l Abner, and the 4th Annual Kelsey Theatre Awards Ceremony. Tickets are available for individual events, but you save 25% when you buy all four shows, save 20% when you buy three. Order online, or call the box office at 609-570-3333.
Reock & Roll's Classic Album Encore Performance
Sat 7/12 at 8pm Sun 7/13 at 2pm
All Tickets $25 each
Putting together the best parts of all the Reock & Roll shows (The Beatles White Album, The Who's Quadrophenia, Crosby Stills, Nash and Young's Déjŕ vu, The Band, The Allman Brothers' Eat a Peach and Eric Clapton's Journeyman) with a video and narrative that ties them all in from the political and cultural issues at the time as well as information about each band.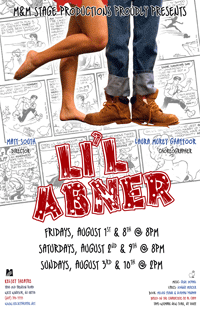 Meet Me in St. Louis
Fri 7/18, 7/25 at 8pm; Sat 7/19, 7/26 at 8pm; Sun 7/20, 7/27 at 2pm
Tickets $20 Adults, $18 Seniors, $16 Student/Child
Travel back to the turn of the 20th century. The World's Fair is coming and so are changes for the Smith family. Lon, Rose, Esther, Agnes & Tootie are so proud of their hometown. They can't wait to enjoy the fair and all the excitement and romance it brings. And... they will do anything to make sure it stays that way when their father is offered a job in... horrors!... New York City! Based on the 1944 Judy Garland movie The Yardley Players will surely warm your heart with the memorable songs "Skip to My Lou", "The Boy Next Door", and of course "The Trolley Song."
Li'l Abner
Fri 8/1, 8/8 at 8pm; Sat 8/2, 8/9 at 8pm; Sun 8/3, 8/10 at 2pm
Tickets $20 Adults, $18 Seniors, $16 Stu/Child
Bringing back memories of reading the "funny papers" on a Sunday morning, M & M Stage makes Al Capp's beloved cartoon characters jump right off the page onto the stage in this rip-roaring, foot-stomping 1950's classic musical. A satisfying mixture of hillbilly nonsense and sharp, critical humor this wild and crazy musical tale of the residents of Dogpatch and their run-in with the Government, will really tickle your funnybone.
The 2014 Kelsey Awards
Sat 8/16 at 8pm
All tickets $16 each
K2KEntertainment and The Kelsey Theatre are proud to bring you The Kelsey Awards, an live award show that honors community theater performers and craftsmen for distinguished achievement in their work at Kelsey Theatre. A community theater staple since 2009, the evening promises song, dance, laughs and a great time for fans of the Kelsey Theatre.
TOP >>
---
The Great American Trailer Park Musical
Comes to Kelsey Theatre May 16-25
It's time for a romp through the trailer park world of Central Florida. Join Pierrot Productions for The Great American Trailer Park Musical at Mercer County Community College's (MCCC) Kelsey Theatre.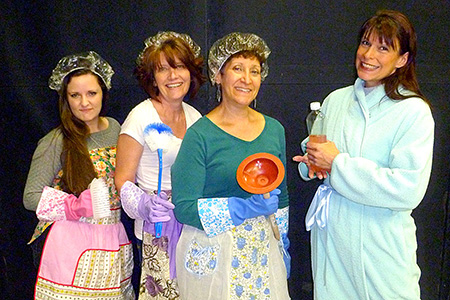 Dates and show times for this hilarious send-up of trailer park culture are: Fridays, May 16 and 23 at 8 p.m.; Saturdays, May 17 and 24 at 8 p.m.; and Sundays, May 18 and 25 at 2 p.m. Kelsey Theatre is located on the college's West Windsor Campus, 1200 Old Trenton Road. A reception with the cast and crew follows the opening night performance on May 16. (This show is NOT recommended for children!)
Written by David Nehls and Betsy Kelso, this campy country-rock and blues musical is set in the Armadillo Acres Trailer Park and stars a colorful cast of tenants – Pippi, a "stripper on the run;" Jeannie, a Dr. Phil-loving agoraphobic; and Jeannie's tollbooth collector husband, Norbert – whose antics are observed and commented on by a Greek chorus of trailer park matrons. First performed at the New York Music Theater Festival in 2004, "Trailer Park" opened off-Broadway at Dodger Stages (now New World Stages) in 2005 and has been performed in traveling productions around the country to popular acclaim.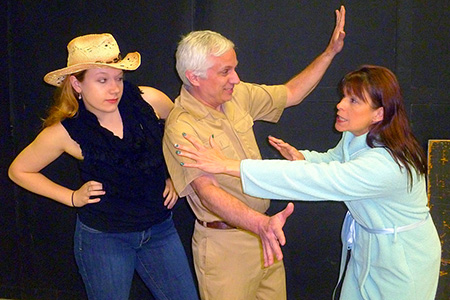 The cast includes Thomas Coppolecchia of Ventnor City as Duke; Alexandra Julian of Eldersburg, Md., as Pippi; Cathy Liebars, of Langhorne, Pa., as Jeannie; Jill Bradshaw of Oaklyn as Pickles; Laurie Hardy of Hamilton as Betty; Dwayne Bailey of Hamilton as Norbert; and Lisa Ernst of Hightstown as Lin.
The director is Pete LaBriola, with musical direction by Pam Sharples and choreography by Haley Ackermann. Costumes are by Ruth Rittmann and props are by Amy Bessellieu.
Tickets are $20 for adults, $18 for seniors, and $16 for students. Tickets are available online or by calling the Kelsey Theatre Box Office at 609-570-3333. Kelsey Theatre is wheelchair accessible, with free parking available next to the theater.
TOP >>
---
ROEBLING: The Story of the Brooklyn Bridge
Opens at the NJ State Museum May 16th
New Play Tells Story of Emily Roebling and the Brooklyn Bridge
Theater to Go is presenting its new play, Roebling: The Story of the Brooklyn Bridge for the first time at the New Jersey State Museum (205 West State Street, Trenton, NJ). Written by Mark Violi and Directed by Ruth Markoe, Roebling is "A Drama about the Men who Built the Brooklyn Bridge… and the Woman Who Finished It." The Woman in question is Emily Roebling (played by Mariel Rosati) and this untold dramatic story is one for the ages.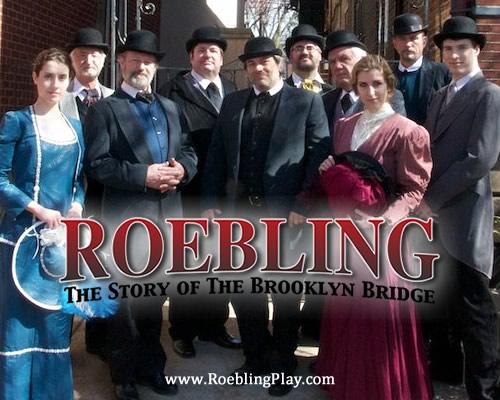 Roebling opens on Friday night, May 16th with a Coffee and Dessert Reception at 7 pm with a Performance at 8 pm. Tickets for opening night are $25. Weekend performances are scheduled for Saturday, May 17th and Sunday, May 18th at 1:30 pm, then Saturday May 24th and Sunday, May 25th at 1:30 pm. Tickets for these Roebling performances are $20 for Adults and $18 for Children and Seniors. Free admission to the New Jersey State Museum is included with each ticket purchase. For tickets and more information, please visit www.RoeblingPlay.com.
Roebling: The Story of the Brooklyn Bridge is the story of the immense challenges faced by the Roebling Family in their dedication to building the Brooklyn Bridge. In building such a true American Icon, John Roebling (Abram Vanderpool) and his son Washington (Jeff Masch) persevered against all odds. The play brings to the stage the human drama surrounding the herculean construction effort to complete one of the most endearing engineering feats in the world. It also tells the story of Emily Roebling, who challenged the accepted role of women to become the culminating force in completing the bridge when adversity called into question the success of the project. This is truly a story of Innovation, Dedication, Perseverance and Family.
Audiences will meet a remarkable, forward-thinking family on the cutting edge of the Industrial Revolution. Roebling shows how this project foreshadowed the 20th century in the huge ambition of the project itself, the revolutionary construction techniques developed by John Roebling, and in the recognition of the vital role that his daughter-in-law, Emily Roebling, played in the implementation of this enormous project.
Roebling is being produced by Theater To Go and is presented in cooperation with the New Jersey State Museum as part of the yearlong NJ350 celebration. Roebling is written by Mark Violi; directed by Ruth Markoe; and includes an original score by Frank Grullon.
Secure on-site parking is available at the New Jersey State Museum. Tickets and more information is available at www.RoeblingPlay.com or (866)-701-2187.
TOP >>