Share on Facebook
OnStage News & Notes - March 2014

In March, the Shrek team appears on Princeton TV's Breezin With Bierman; Kelsey veterans join NJACT Board; Peter Pan and The Vagina Monologues come to Kelsey; Tomato Patch registration opens; Robbinsville High School's Fundraising Craft Fair; and March, April and May Alumni Happenings.
---
Video Series Takes You Behind the Scenes of Shrek
Production Kicks Off with Breezin' With Bierman Appearance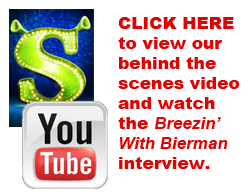 Last Friday, in a live televised interview on Princeton TV's popular Breezin' with Bierman show, Director Laurie Gougher and Executive Producer John M. Maurer premiered the first in a series of behind-the-scenes videos and announced the start of production for Maurer Productions OnStage's Shrek the Musical, opening at Kelsey Theatre on May 30.
With the show's casting completed (click for official cast list) and rehearsals beginning March 2, MPO used its Breezin' With Bierman appearance to premiere the first in a series of short videos giving audience members an exclusive behind-the-scenes look at how MPO is putting this hit musical together for Kelsey Theatre patrons. The first video introduced the show, the production team, and talked about the creative challenges ahead. Next month's video will feature a look at the rehearsal process and include interviews with cast members. Following the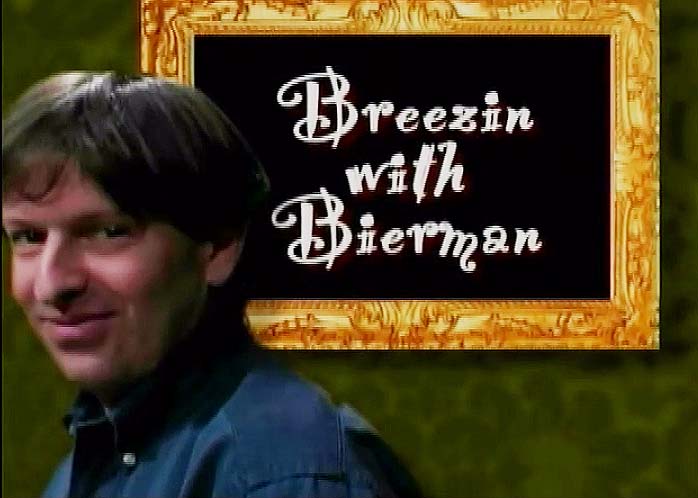 premiere of the video, the pair sat down with show hosts Adam Bierman and Kurt Tazelaar to talk about Shrek the Musical, community theater, and how MPO is giving local actors and artisans creative opportunities.
This episode of Breezin' With Bierman aired live on Friday, February 28 at 8 pm on Comcast channel 30 and Verizon FIOS channel 45. MPO fans can catch encore broadcasts of the show on these channels courtesy of Princeton TV at 8 pm on March 7th, 14th, and 21st. It will also be available through the Princeton TV website and also through the Roku streaming service (www.roku.com).
Princeton TV's Breezin' With Bierman features media manipulator and local legend Adam Bierman and his flunky the acerbic but bright Kurt Tazalaar as hosts. The show offers interviews with many notable people from the area along with Adam's insightful and humorous commentary.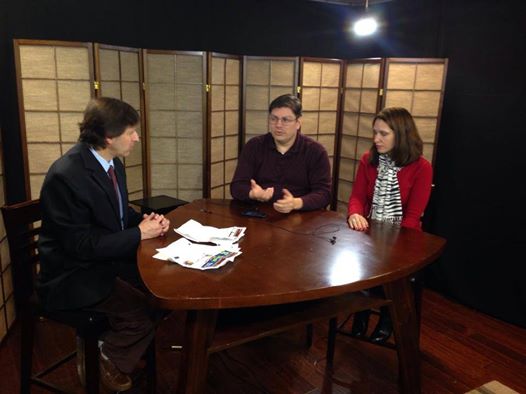 Through it's relationships with Comcast and Verizon FIOS, Princeton TV reaches approximately 60,000 homes in the Central New Jersey area.
Based on the Oscar-winning DreamWorks film, this live stage version of Shrek the Musical was nominated for eight Tony Awards including best score and best book for a musical when it originally opened on Broadway in 2008. Now, Maurer Productions OnStage, the local theater company that brought smash hits like Monty Python's Spamalot, Avenue Q, and Elton John & Tim Rice's AIDA to Kelsey Theatre, will bring this twisted and hilarious fairy tale to life for your whole family. (Rated PG)
TOP >>
---
TICKETS FOR MPO'S 'SHREK THE MUSICAL' NOW ON SALE!

PRICE: All Tickets $20

DATES:
May 30, 31 & June 6, 7, 2014 at 8pm
May 31, June 1, 7, 8, 2013 at 2pm

VENUE: Kelsey Theatre


Shrek The Musical is based on the Oscar® winning DreamWorks film and brings the hilarious story of everyone's favorite ogre to dazzling new life on the stage. In a faraway kingdom turned upside down, things get ugly when an unseemly ogre — not a handsome prince — shows up to rescue a feisty princess.(more)
---
Kelsey Theatre Veterans Sign on to 2014 NJACT Board
Perry Reviewer Training Scheduled for April 19 at Kelsey Theatre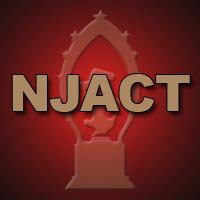 Marie Fiorello, in-coming president of the New Jersey Association of Community Theaters (NJACT), recently announced the annual realignment of the organization's management board via the company's Facebook page. In 2014, NJACT's six-member board will include two long-time members of the Kelsey Theatre community, Jane Coult and Elizabeth Rzasza, while the board bids a fond farewell to several dedicated members including former organization president and 10-year NJACT veteran, Patrick Starega.
NJACT is a volunteer-based organization with the mission to celebrate outstanding achievements in community theater throughout New Jersey. NJACT members review theater productions around the state and once a year conduct an awards dinner and ceremony to bestow the NJACT Perry Awards.

Jane Coult and Elizabeth Rzasa have worked with many of the ten theater companies that work out of Kelsey Theatre. Jane has served as a Perry Award-nominated choreographer, a director, and as an actress. She is a former board member of Yardley Players and a current board member of Maurer Productions OnStage. With NJACT, she will step into the role of Board Secretary, taking meeting minutes and keeping records. She will also have the daunting task of maintaining a data base of NJACT nominees and preparing Certificates of Nomination.
Elizabeth has worked with most of the groups at Kelsey Theatre as an actress, most recently in Yardley Players' upcoming production of Peter Pan, as well as past PinnWorth productions of On Golden Pond and The Pirates of Penzance. This is Elizabeth's second year with NJACT. In 2014 she will serve in the role of First Vice President which will see her train new reviewers.
The other NJACT board members announced for 2014 are Second Vice President PJ Campacci, Treasurer Rita Greco, and Event Planner Wesley Loon.
Meanwhile, the organization will say farewell to Patrick Starega, who dedicated 10 years of service to NJACT, the last several as president and NJACT Perry Award Ceremony host. NJACT also says goodbye to board members Lori Fabian, Jennifer Nasta Zefuti and Greg Louis. Lori remains in an advisory capacity in assisting in the organization's business operations and Jennifer will continue to oversee our IT concerns.
PERRY AWARD REVIEWER TRAINING APRIL 19 AT KELSEY THEATRE
Meanwhile, NJACT has scheduled a Perry Award Reviewer Training session at Kelsey Theatre. NJACT Perry Award Reviewers receive free tickets to community theatre productions around the state in exchange for completing review forms. Each year, these scores are used to help determine the nominees and recipients of the NJACT Perry Awards. There is no cost to become a reviewer, you only need to qualify by demonstrating a strong background in community theater. In order to qualify, download and complete the application form (http://njact.org/documents) and email it to admin@njact.org. You will be contacted about attending the training.
The next training session is scheduled for Saturday, April 19, 2014 at Kelsey Theater on the West Windsor campus of Mercer County Community College. The training will be conducted from 12:00 pm to 3:00 pm in Room CM108 of the Communications Building (behind the theater). Trainees may park in the theater lot.
---
Vagina Monologues Benefit To Be Presented
by MCCC Theatre Program March 7-8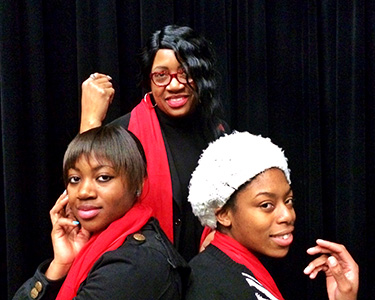 The Mercer County Community College (MCCC) Theatre Program will shine a spotlight on the continuing plague of violence against women during Women's History Month in March. Theatre and Entertainment Technology students team up to present Eve Ensler's The Vagina Monologues at MCCC's Trenton Campus on Friday, March 7 and Saturday, March 8 at 7:30 p.m. in Kerney Hall, 102 North Broad Street.
According to Jody Person, MCCC Theatre Program coordinator, the production is part of the International V-Day Celebration. "We want to do our part to end violence against women. We believe in breaking the silence. This show gives women permission to consider their bodies and their sexuality with more confidence. We believe it can help save lives," he said.
Ninety percent of the proceeds will be donated to Womanspace Inc., which works to prevent abuse, protect families, and change lives through empowerment and a safety net of supportive services. Additional proceeds will be donated to the V-Day Spotlight Campaign, an effort to reduce violence against women worldwide. (One of the group's projects is to enable community groups to perform The Vagina Monologues without paying a royalty fee so that proceeds go mainly to local charities.)
Pictured above from left, Kourtney Treimaine, Princess Hoagland and Zania Barnwell are among ten students featured in the show. The show's emcee is Monica Weaver, provost at MCCC's Trenton Campus. Student performers include Lydia Balogh of Hightstown, Zania Barnwell of Trenton, Margot Bergeron of Hamilton, Paloma Burr of Princeton, Patricia Gates of Trenton, Sydnie Gingles of Trenton, Princess Hoagland of Trenton, Savanti Knight of Lumberton, Kourtney Treimaine of Trenton and Kelly Williams of Yardly, PA. English faculty member Amy Vondrak will also perform.
Person, who did extensive research before proceeding with the production, says he was struck by the current level of violence experienced by women in the United States. "What keeps firing in my brain is that 200,000 women and girls are raped each year. That number is outrageous and hard to believe, but it is true. It is my main reason for putting on this production."
The show has no roles in the traditional sense. It is a series of monologues with poignant and often starkly pointed messages. "We have taken great care to see that each message is appropriately and dramatically expressed," Person said, adding that the cast is multi-generational and ethnically diverse, giving a voice to women of different ages and races.
Tickets for "The Vagina Monologues" are $18 for adults, $16 for seniors, and $14 for students. MCCC students, faculty and staff are eligible for discount tickets with ID.
Tickets are available online at www.kelseytheatre.net or by calling the Kelsey Theatre Box Office at 609-570-3333. Tickets are also available at the Bursar's Office (KC218) at the Trenton Campus. A limited number will be available at the door.
---
NOW ON SALE!
"A RIVETING, BONE-CHILLING THRILLER THAT I HIGHLY RECOMMEND"
- Midnight Thrillers Book Blog
DETAILS:

PRICE: $1.99
FORMAT: Kindle/Mobipocket
LENGTH: 30,000 wds/100+ pgs
PUBLISHER: Black Rapids Press


It happens each winter, and has for over 35 years. Every time the snow starts to fall late in the evening before a school day, the dreams begin again for Billy Stone. They are always the same — there's a dark tunnel, and there's blood, lots of blood, and someone is screaming... (more)
---
Time to Fly with Peter Pan at MCCC's Kelsey Theatre March 8-23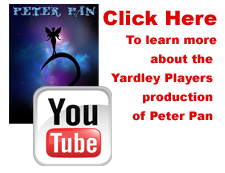 Fly along to the magical world of Neverland when The Yardley Players present Peter Pan, the Musical at Mercer County Community College's Kelsey Theatre. Dates and show times for this timeless adventure are: Saturdays, March 8, 15 and 22 at 2 and 8 p.m.; Fridays, March 14 and 21 at 8 p.m.; and Sundays, March 9, 16 and 23 at 2 p.m. (Note three weekends and shows on Saturday afternoons.) Kelsey Theatre is located on the college's West Windsor Campus, 1200 Old Trenton Road. A reception with the cast and crew follows the opening night performance on March 8. (Photos by John Blazejewski)
Based on the classic book by J.M. Barrie, and famously adapted in stage, film and television productions, "Peter Pan" tells the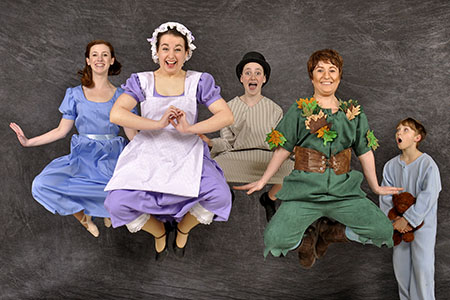 tale of the fearless, mischievous boy who refuses to grow up. We first meet Peter as he searches for his shadow in the London nursery of Wendy, John and Michael Darling. Before long they are all off to Neverland, where the children become immersed in Peter's world of Lost Boys, Indian maidens, fairies and a colorful crew of pirates led by the evil Captain Hook. With no grown-up rules, it's all quite exhilarating until homesickness overtakes the Darlings and they decide to return home – but not before an Indian maiden is rescued, Peter and Hook fight a thrilling duel, and Hook is undone by a crocodile.
Elizabeth Rzasa, of Lawrenceville, stars as Peter Pan and James Zimmerman, of Hamilton, plays the dual role of Mr. Darling and Captain Hook. Featured as the Darling children are Patricia Curley, of Ambler, Pa., as Wendy; Jack Lynch, of Princeton, as John; and Hudson Orfe, of Titusville, as Michael. Stacy Danka, of Allentown, plays Mrs. Darling and Gina Migliaccio, of Hamilton, plays Hook's sidekick, Smee. Kimmy Graham of Yardley, Pa., plays Liza, the Darling's house maid; Alexys Pulsinelli of Bordentown is Wendy's future daughter, Jane; and Mike Dilorio, of Hamilton, is featured as Nana and the Crocodile.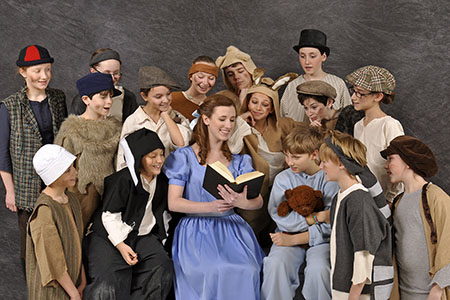 The Indians are led by Taylor Lloyd, of Hamilton, as Tiger Lily. Other Indians are Amanda Bank of Princeton, Katelyn Dunkel of Hamilton, Jordan Hayes of Langhorne, Pa., Courtney Kosman of East Windsor, Marina McLaughlin of Columbus, Julia Patella of Cranbury, and Samantha Phillips of Hamilton. Caroline Purdy of Cranbury is featured as an ostrich and Jeanette Smith of West Windsor is a kangaroo.
Featured as the Lost Boys are Emma Behrens of East Windsor, Teddy Brendel of Cranbury, Sabrina Chevlin of Princeton Junction, Harrison Cohen of West Windsor, Colton Jiorle of Fairless Hills, Pa., Makenna Katz of West Windsor, Fiona Misiura of Hightstown, Alexis Plexico of Levittown, Pa., Christina Pullen of New Egypt, Nicky Torchia of Langhorne, Pa., Mya Rose Tozzi of Columbus, and Ari Weiss of Yardley, Pa.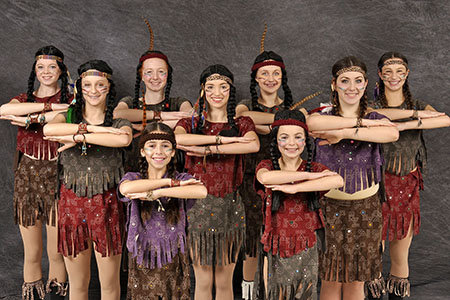 Members of Hook's band of pirates are Quinton Darling of Morrisville, Pa., Jonathan Logan of West Windsor, Connor McDowell of Yardley, Pa., Ron SanGiovanni of Burlington, Ryan Strack of Burlington, Edward Szemis of West Windsor, Stephen Szemis of West Windsor, and Wayne Wood of Fairless Hills, Pa.
The show's production team includes producer Marian Wright, director Amy Zalot, musical director Matt South, choreographer Laura Ghaffoor Murey, and stage manager Chris Szemis. Costume design is by Louisa Murey, set design and sound is by Mike Almstedt, and lighting design is by M. Kitty Getlik.
Tickets are $20 for adults, $18 for seniors, and $16 for students and children. Tickets are available online or by calling the Kelsey Theatre Box Office at 609-570-3333. Kelsey Theatre is wheelchair accessible, with free parking available next to the theater.
TOP >>
---
Tomato Patch 2014 Registration Now Open
Tomato Patch Visual and Performing Arts Workshops, held annually on the West Windsor Campus of Mercer County Community College, is the longest running, most successful summer arts program in central New Jersey, now in its 41st year. Since 1973, over 6,500 students grades 5 through 12 have spent several weeks of their summer exploring the visual arts, dance, theater, and vocal music under the guidance of a highly qualified staff of teaching professional artists.
A few weeks can last a lifetime! - as graduates of Tomato Patch over the years have proven. Many Tomato Patchers are now professional artists, have appeared on Broadway, or have decided to teach the arts as they were taught in Tomato Patch. Many have gone on to fulfill different life ambitions yet maintain lasting friendships formed in Tomato Patch.
Students select a major concentration in either the theater, dance, vocal music, video or visual arts, and spend two morning classes in these areas. After lunch, they are free to choose electives in other areas. Afternoon course offerings for 2014 may include children's theatre, "Who's line is it anyhow?", painting, drawing, jazz dance, musical theatre, children's theater, a cappella singing, hip hop, vocal ensemble, comedy, music video and web video.
SESSION I is a 4-week session designed for students entering grades 8-12 in the fall. Classes will meet Mondays through Thursdays, June 30 to July 24, 2014 from 8:45am to 4:15pm . The camp will conclude with a Festival of The Arts on Wednesday, July 23, 2014 at 7:00pm and Thursday, July 24, 2014 at 7:00pm. Tuition is $700 plus a non-refundable $25 application fee ($725 total).
SESSION II is a 3-week session designed for students entering grades 5-7 in the fall. Classes will meet Mondays through Thursdays, July 28 to August 14, 2014 from 8:45am to 4:15pm. The camp will conclude with a Festival of The Arts on Wednesday, August 13, 2014 at 7:00pm and Thursday, August 14, 2014 at 7:00pm. Tuition is $625 plus a non-refundable $25 application fee ($650 total).
MASTER CLASS 2014: Students entering grades 8-12 in the fall, who have attended Tomato Patch Session I, TP On & Off Screen or had other formal theatre training may sign up for this special 3 week Master Class in Theater, July 28 to August 15, 2014, Monday through Thursday, 9am-4pm. This Master Class will focus on preparing a polished audition piece for each student, as well as scene work. Students will learn all the ins and outs of show business; how to find jobs and how to audition for theatre, television, and movies. A final performance will feature their work on Friday, August 15, 2014 at 7:00pm. Master Class Tuition is $575 plus a non-refundable $25 application fee ($600 total).
For more information, click here, email projects@mccc.edu or call (609) 570-3566.
TOP >>
---
Handcrafted Craft Fair Coming to R'ville March 15
to Raise Funds for RHS Theatre and Band Students

Back for its eighth year and bigger than ever; the RHS 100% Handcrafted cutting edge arts and crafts fair will take place on Saturday, March 15, 2014, from10am - 3pm at Robbinsville High School in Robbinsville, New Jersey.
This year's event has expanded to include over 110 unique crafters and artisans. This always anticipated juried event prides itself in hosting only the finest crafters in the area. Previous crafters have ranged from wood, pottery, and glass to jewelry, scarves and candles. On tap for this year are repeat crafters such as EDZ Turns, Keystone Kettle Corn, Krilly Creations, and many more! We will also feature new and unique crafters such as ABC Letter Art, Oddgirl Enterprises, and Clean Bean Soaps, as well as others! With expanded advertising, we anticipate attracting well over 700 shoppers to this event.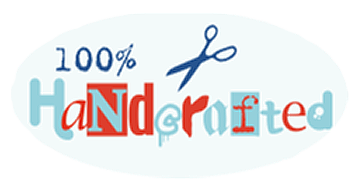 Shoppers come from various states in the area not only to shop, but also to enter our door prize giveaway and take a chance with our crafters' raffle. While the event has no admission fee, shoppers can get a free raffle ticket for the crafters' raffle in exchange for a toiletry item which will be donated to the Robbinsville Food Pantry.
Shoppers come from various states in the area not only to shop, but also to enter our door prize giveaway and take a chance with our crafters' raffle. While the event has no admission fee, shoppers can get a free raffle ticket for the crafters' raffle in exchange for a toiletry item which will be donated to the Robbinsville Food Pantry.
The event benefits the RHS Raven Players theater students and the Raven Regiment band students. These programs are extracurricular and sponsored by parent groups Friends of the Raven Players and Raven Regiment Booster Club. This 100% Handcrafted event raised over $5000 last year! Planning for this annual event starts a year in advance with committee members planning, organizing, updating websites, compiling vendors, advertising for shoppers, recruiting volunteers, etc. Vendor applications are voted on by several members at our committee meetings.
We will also have members of the Raven Players doing face painting for a small donation. Don't miss this annual 100% Handcrafted Craft Fair! For more information please contact Cindy Rosen at friendsoftheravenplayers@gmail.com or 609-575-2001 and check out our Facebook page at https://www.facebook.com/100handcrafted
TOP >>
---
Alumni Happenings for March, April and May
August: Osage County at Actor's Net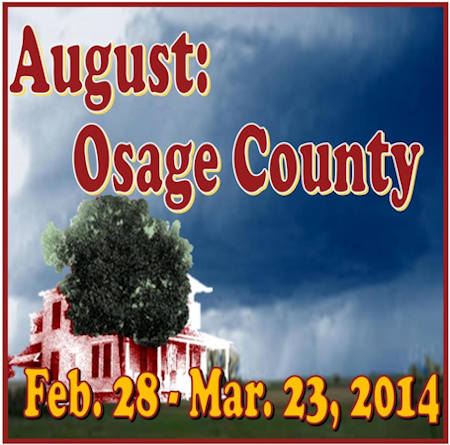 Cathy Liebars (Dirty Rotten Scoundrels) is appearing in Actor's Net's production in Morrisville, PA.
Synopsis: August: Osage County is a Pulitzer- and Tony-winning play by Tracy Letts. An Oklahoma family's crisis leads to an explosion of repressed feelings and old secrets. Despite the plot dealing with revelations of drug-addiction, broken marriage, incest, strained parental relationships and other dark subjects, the playwright mines laughs along with keen insights. In eye-opening fashion, this family explores the fun in dysfunction!
NOTE: This production is rated PG-13 and may not be appropriate for young children.
Performance Dates:
Playing now until Sunday, March 23.
Performances Fridays and Saturdays at 8 pm and Sundays at 2 pm.
Theater Info:
The Heritage Center Theatre
635 North Delmorr Avenue (Route 32)
Morrisville PA 19067
Telephone: 215-295-3694

Tickets:
Reservations: 215-295-3694 or email actorsnet@aol.com
Ticket Prices: $20 adults, $17 seniors (62 & up), $10 children (12 & under); $15 WHYY Cards. Group rates available. Advanced tickets available for purchase with credit card online at Brown Paper Tickets.
---
Into The Woods at The Axelrod Performing Arts Center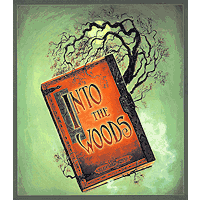 Ben Menahem (Elton John and Tim Rice's AIDA) is performing at the Axelrod Performing Arts Center in Into the Woods
Synopsis: This Tony Award winning musical brings together the classic fairytales of Cinderella, Rapunzel, Jack and The Bean Stalk, and Little Red Riding Hood and combines with a new one about a baker and his wife. The characters cross paths in the woods and tell a story you'll want to watch and listen to again and again!
Performance Dates:
Performance Dates:
Friday, March 7 at 8 pm
Saturday, March 8 at 8 pm
Sunday, March 9 at 2 pm

Theater Info:
Axelrod Performing Arts Center
100 Grant Avenue
Deal Park, New Jersey 07723
Telephone: 732-531-9100
For directions to the theater: https://www.google.com/maps/place/Axelrod+Performing+Arts+Center/ @40.2548749,-74.0043098,17z/data=!3m1!4b1!4m2!3m1!1s0x0:0xe90cf0a8677d5530?hl=en
Tickets:
$32 Adults, $28 Seniors, and $25 Groups and Students
ORDER TICKETS ONLINE AT: axelrodartscenter.com
Or Call the box office at: 732-531-9100 Ext. 142
For more info, visit the website at: http://www.axelrodartscenter.com/

---
Ravenscroft at Circle Players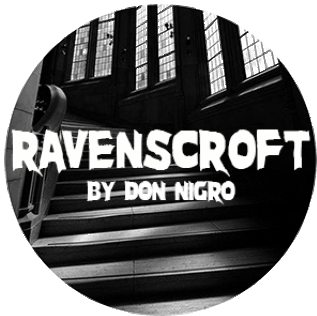 Kristin Bennett (Brighton Beach Memoirs) will be performing in Ravenscroft at Circle Players.
Synopsis: This psychological drama is a thinking person's Gothic thriller, a dark comedy that is both funny and frightening. On a snowy night, Inspector Ruffing is called to a remote house to investigate the headlong plunge of Patrick Roarke down the main staircase. He becomes involved in the lives of five alluring and dangerous women. They lead him through a bewildering labyrinth of contradictory versions of Patrick's demise and that of the late Mr. Ravenscroft. There are ghosts on the staircase, skeletons in the closet, and much more than the Inspector bargained for. His investigation leads into his own tortured soul and the nature of truth itself.
You will not guess the ending, but you will be teased, seduced, bewildered, amused, frightened, and led to a dark encounter with truth … or something stranger.
Performance Dates:
Performance Dates:
Friday, March 7, 14, and 21 at 8 pm
Saturday, March 8, 15, and 22 at 8 pm
Sunday, March 23 at 3 pm

Theater Info:
Circle Players
416 Victoria Avenue
Piscataway, New Jersey 08854

Tickets:
Adults, $18; Students and Seniors, $17
For reservations, call (732) 968-7555.
Buy tickets online at www.circleplayers.com. ($1 per ticket discount online.) Sorry, no credit cards can be accepted at the theater box office, but may be used online.

---
Into the Woods at Somerset Valley Playhouse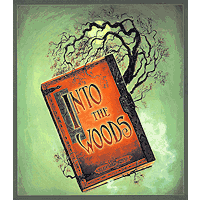 Elizabeth Rzasa (Man of La Mancha) and Sally Page (The Drowsy Chaperone, Spamalot) will be appearing in SVP's production of Into the Woods.
Synopsis: The Brothers Grimm hit Broadway with an epic fairytale where worlds collide. James Lapine and Stephen Sondheim take everyone's favorite storybook characters and brings them together for a timeless yet relevant piece and rare modern classic.
The story follows a Baker and his wife who wish to have a child, Cinderella who wishes to attend the King's Festival, and Jack who wishes his cow would give milk. When the Baker and his wife learn that they cannot have a child because of a Witch's curse, the two set off on a journey to break the curse. Everyone's wish is granted, but the consequences of their actions return to haunt them later with disastrous results.
Performance Dates:
Performance Dates:
Friday, April 25. May 2 and May 9 at 8 pm
Saturday, April 26, May 3 and May 10 at 8 pm
Sunday April 27, May 4 and May 11 at 2 pm

Theater Info:
Somerset Valley Playhouse
689 Amwell Road (Rte. 514)
Hillsborough NJ 08844-3317
Telephone: (908) 369-7469

Tickets:
Adults, $20; Seniors/Students, $18
A $2 per ticket processing fee will be added to all ticket sales.
Purchase tickets online or call the box office (908) 369-7469
Website Address: http://www.svptheatre.org/

---
Les Miserables at Kelsey Theater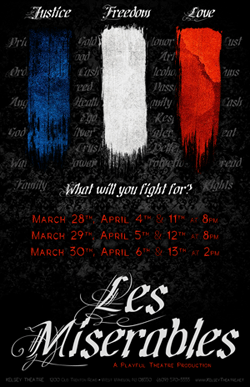 Tom Bessellieu (The Drowsy Chaperone, Spamalot) and Jim Petro (Singin' in the Rain, Man of La Mancha) will be performing in Playful Theatre's production of Les Miserables at Kelsey Theatre.
Synopsis: Relentless policeman Javert pursues escaped convict Jean Valjean over decades through the tumult of revolutionary France. Valjean becomes a mayor, agrees to raise the daughter of dying prostitute and joins the fight for freedom. Based on Victor Hugo's epic novel.

Performance Dates:
Performance Dates:
Friday, March 28, April 4 and 11 at 8 pm
Saturday, March 29, April 5 and 12 at 8 pm
Sunday, March 30, April 6 and 13 at 2 pm

Theater Info:
Kelsey Theatre at Mercer County Community College
1200 Old Trenton Road
West Windsor, NJ 08550
Telephone: (609) 570-3333
Directions to Theatre: http://www.mccc.edu/welcome_directions_wwcampus.shtml
Tickets:
$20 Adult, Senior, Students and Children
To buy tickets: For information and online ordering: http://www.kelseyatmccc.org/ticket_info.shtml Or call (609) 570-3333.
---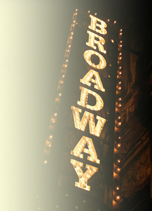 MPO Theater Quiz:

March Quiz

To help distract us from counting the number of inches of snow outside and the number of days until spring, this month's quiz is about song titles with numbers in them, followed by a few questions on sports on Broadway.
Try out our March edition


TOP >>