Share on Facebook
OnStage News & Notes - January 2013

In January, we are pleased to look forward to a top pick of 2013: MPO's spring musical Avenue Q, Sunday in the Prk with George, The Miracle Worker, and promote January and February Alumni Happenings.
Avenue Q
COMING MARCH 2013 to the KELSEY THEATRE
Call or Click for Tickets: 609-570-3333

DATES:
Fri. March 1 & 8, 2013 at 8pm
Sat. March 2 & 9 at 8pm
Sun. March 3 & 10 at 2pm

PRICES:


$18 adults, $16 seniors, $14 students & children




AVENUE Q is the Tony Award winning musical focusing on a group of unique 20-somethings making their way in the big city, seeking their purpose in life. Although the show addresses humorous adult issues, it is similar to a beloved children's show; a place where puppets are friends, Monsters are good and life lessons are learned.

(Rated Shocking Pink for Adult content!)
---
Time-Off Names MPO's Avenue Q One of the Top Picks for 2013.

"Avenue Q at Kelsey Theatre -- Maurer Productions OnStage is a community theater group that has done some great things, and the way I see it, presenting this hit musical is a big challenge that's just perfect for the ambitious company."
-- Anthony Stoeckert Editor, Time-Off
Maurer Productions OnStage, the award-winning team that brought musicals like Elton John & Tim Rice's AIDA and The Drowsy Chaperone to Kelsey Theatre, now delivers a Time-Off Magazine top pic for 2013 – the smash Broadway hit Avenue Q. The show will be performed Fridays, March 1st and 8th at 8 p.m.; Saturdays, March 2 and 9 at 8 p.m.; and Sundays, March 3rd and 10th at 2 p.m. Kelsey Theatre is located on Mercer's West Windsor campus, 1200 Old Trenton Road. A reception with the cast and crew follows the opening night performance on March 1st.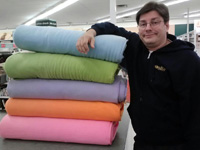 50 Yards of Puppet Fun
Photo:Stacy Maurer
Avenue Q, winner of the 2004 Tony Award for Best Musical, provides a look at real life in New York City, as told by a cast of people and puppets through a hilariously irreverent and adult-oriented book and score. Sitting at the helm of the production is the NJACT Perry Award-winning director John M. Maurer, who is playing the dual role of director and Puppet Master. Under Maurer's supervision, the MPO team will turn over 100 yards of fabric and foam into create 15 puppets specifically for this production. All the puppet patterns and costumes are being created from scratch, modeling the look and feel of the original Broadway characters (created by Rick Lyon) and the puppet designs will sometimes get complex, featuring "Hand and Rod," "Human Arm" and Vent styles of construction.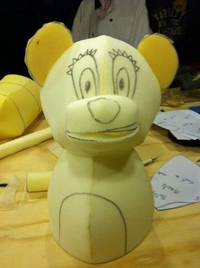 Bad Idea Bear Prototype
"There's nothing we like more than a challenge," said Maurer, after investing over 30 hours of work developing puppet prototypes. "We don't like to shy away from great shows because of the technical hurdles," he added. "We always find a way to deliver the fun." Fun is an understatement when it comes to this show. Through raucous, adult-oriented numbers like "The Internet is for Porn", "It Sucks to be Me", "I'm not Wearing Underwear" and "You Can Be as Loud as the Hell You Want (When You're Makin' Love)", Avenue Q tells the story of Princeton, a bright-eyed college grad who moves to NYC with big dreams and a tiny bank account. The only apartment he can afford is way out on Avenue Q, where everyone's looking for the same things he is: a decent job, a stable relationship, and a "purpose." Eventually, Princeton learns to embrace the ups and downs of city life and realizes that "the real world" isn't so bad, after all!
Maurer Productions OnStage, having been nominated for 57 NJACT Perry Awards and winning 12 times, is uniquely qualified to deliver technically challenging productions. Maurer is working closely with the cast in special puppetry workshops. After several days of workshops, each cast member was given the prototype of their character to take home and practice with. They bring these alter egos to each rehearsal to use in blocking the scenes.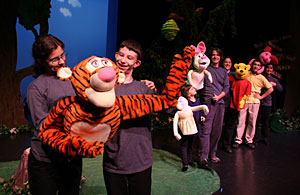 2005 production of A Winnie the Pooh Birthday Tail
Working with puppets and turning talented actors into stellar puppeteers is not new to Maurer Productions. In 2005 the team produced two stage puppet productions at Kelsey Theatre which included Winnie the Pooh and A Winnie the Pooh Birthday Tail. These shows were well received and were used as tests to develop the workflow for designing and creating the Avenue Q puppets, teaching puppetry to the cast and refining the rehearsal process for blocking puppets in a stage production.
The cast of Avenue Q includes Michael Sundburg as Brian, Stephanie Moon as Christmas Eve, Shannan Gonzalez as Gary Coleman, Zach Mazouat as Princeton, Kyla Mostello Donnelly as Kate, Kyrus Westcott as Nicky, Mark Applegate as Rod, Michael Schiumo as Trekkie, Nicole Spadifino as Lucy the Slut, and Bill Mercado as Mrs. Thistletwat.
The show is produced by John M. Maurer, Diana Gilman Maurer and Dan Maurer with Music Direction by Laurie Gougher, Choreography by Jane Coult, Stage Management by Alycia Bauch, Costumes by members of the Perry Award winning team that brought you last seasons AIDA, Lighting Design by Kitty Getlik, Sound Design by Robert Terano, and Set Construction by Jeff Cantor.
Tickets are $18 for adults, $16 for seniors, and $14 for students & children and may be purchased by calling the Kelsey Box Office at 609-570-3333 or online here. Kelsey Theatre is wheelchair accessible. Free parking is available next to the theater.
TOP >>
---
PinnWorth Teams with MPO Alums for a Walk in the Park
PinnWorth Productions Stage's Sondheim's Pulitzer Prize-Winner Sunday in the Park with George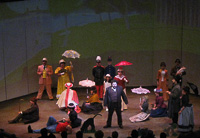 Courage and Passion. That's what audiences will find on stage at Kelsey Theatre when PinnWorth Productions teams up with MPO alumni Laurie Gougher, John Zimmerman, Peter de Mets, Jeff Cantor and others to present Stephen Sondheim's Sunday in the Park with George on Friday, January 11 at 8pm. Audiences will see the courage PinnWorth Productions exhibits in staging one of the most artistically and technically challenging shows in the Sondheim canon, as well as the courage and artistic compulsion of the title character as he makes heartbreaking sacrifices for his art.
One of the most acclaimed musicals of our time, Sunday in the Park with George is a visual and musical masterpiece which tells the story of post-Impressionist painter Georges Seurat, and the creation of his masterwork, "A Sunday Afternoon on the Island of La Grande Jatte." Loosely based on the artist's life, the story follows the painter's struggles between creating art and living life. This deeply moving love story between George and his mistress, Dot, connects the past to the future through passionate struggles both personal and universal.
"It's all about the passion, the dedication, the willingness to sacrifice everything in the name of art," said the show's director, Lou Stalsworth. "I envy and I admire that," he continued, and believes audiences will relate to it as well.
While he was speaking of the show, its title character and its theme, Lou could have just as easily been referring to the PinnWorth team and the passion and dedication they brought to the herculean task of staging the show at Kelsey Theatre.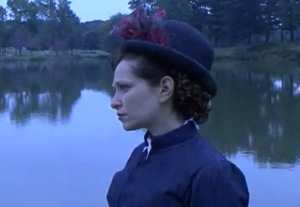 Click Here to see the a preview video for Sunday in the Park with George.
The original 1984 production won the Pulitzer Prize for Drama, two Tony Awards, numerous Drama desk awards and the Olivier Award for Best Musical. Yet, the musical, vocal and technical challenges are so daunting that all but the most skilled companies shy away from attempting the production. But the PinnWorth team -- which features Lou's directing, Kate Pinner's costume and set design and Robert Terrano's sound and lighting design – is uniquely qualified to deliver professional-quality theater, so they courageously jumped at the opportunity to meet the challenge. Assisting them with set engineering is Jeff Cantor (MPO Board Member).
Utilizing projection systems timed to music, along with a beautiful and faithful recreation of George Seurat's master work, PinnWorth will deliver a rare – not to be missed – production.
Lou promises to thrill audiences with the visual effects in the show, right from the opening number, as sweeping brushstrokes move across the stage in tandem with the opening chords of the first song, a concept originated by the British company The Chocolate Factory four years ago. "The effect is breathtaking," Lou said.
But despite the theater magic that Lou, Kate and Bob bring to bear, it is the talent of the cast and the work of the music director and orchestra that makes the show -- and Sondheim's exquisite music, lyrics and characters -- come to life.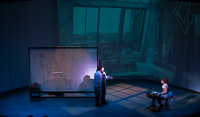 Leading the cast are MPO alumnus John Zimmerman (You're a Good Man, Charlie Brown) of Hamilton as George Seurat and alumna Laurie Gougher (MPO board member) of Newtown, PA as his mistress, Dot. They are joined by Music Director Peter de Mets, also of Newtown.
Additional MPO alumni and alumnae found in the cast include Melissa Geerlof of Mercerville (Elton John & Tim Rice's AIDA, The Drowsy Chaperone), Susan Hoffman of Robbinsville, Nicholas Pecht of Hamilton (The Drowsy Chaperone), Jim Petro of Hamilton (Singin' in the Rain, Man of La Mancha), John Shanken-Kaye of Doylestown, PA (Lucky Stiff), Megan Sherow of Millstone (A Little Murder Never Hurt Anybody), and Dan Slothower of Plainsboro (The Drowsy Chaperone, Dirty Rotten Scoundrels).
Other ensemble cast members include Dwayne Bailey of Hamilton, Susan Fowler of New Hope, PA, Pamela Jorgensen of Franklin Park, Elizabeth Lackey of Hamilton, Julia Lupi of Freehold, Donna Reed of Bordentown, Dave Walter of Allentown, and Jenny Weiner of Robbinsville.
Tickets are $18 for adults, $16 for seniors, and $14 for students and children. For tickets, call the Kelsey Theatre Box Office at 609-570-3333, or click here. Kelsey Theatre is wheelchair accessible, with free parking available next to the theater.
---
Miracle Worker comes to Kelsey

The Pennington Players bring William Gibson's play The Miracle Worker to the Kelsey Theatre stage. The story of The Miracle Worker is one of the most inspiring of our times, relating the triumph of Annie Sullivan and Helen Keller over seemingly insurmountable obstacles.
In keeping with the theme and subject matter of the play, the Pennington Players are offering the audience the experience of an ASL interpreted performance for the deaf, hard of hearing and ASL community at the 8pm performance on Saturday, February 9, 2013. At the American Sign Language interpreted performance, two professional ASL interpreters will use their skills to convey the live theatrical performance. Select seating is available for those who wish to be closest to the ASL interpreters; interested patrons must request to be ticketed in these designated seats. The performance is open to everyone for the same price as the other performances.
The performance will be interpreted by Allwyn Baskin and Lisette Weiland and will be done in conjunction with the actual performance provided by the cast. American Sign Language (ASL) is used for interpreting the performing arts for deaf or hearing-impaired audiences. Two interpreters will located on a corner of the stage will translate the dialogue into American Sign Language. ASL is a visual-gestural language used by many deaf and hard of hearing people in the United States and Canada. It is a complete language with its own grammar and syntax. It is not merely pantomime nor is it English using the hands. It is not universal.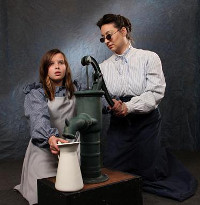 In 1880s Tuscumbia, Alabama, an illness renders 19 month old Helen Keller blind, deaf, and consequently mute (deafmute). Pitied and badly spoiled by her parents, she learns no discipline and grows into a wild, raging creature by the age of six. Desperate, the Kellers hire Anne Sullivan to serve as a governess and teacher for their young daughter. After several fierce battles with Helen, Annie convinces her parents she needs two weeks alone with her if she is to achieve any progress in her education. In that time, she teaches her discipline and language through the use of the manual alphabet, and finally a breakthrough that has a direct effect on everyone's life and the way they live it.
The play centers on the relationship between young Helen Keller and her teacher Annie Sullivan, who, through perseverance and guile, reaches into Helen's world and brings her the gift of language: sign language. "This play is a journey from darkness to light on many levels, and not just for Helen Keller and Annie Sullivan, but also for the entire cast and the audience," says Judi Parrish, director of the production.
Originally a teleplay written by William Gibson, The Miracle Worker premiered on Broadway in 1959, starring Patty Duke as the irascible Helen Keller, and Anne Bancroft as the unyielding Annie Sullivan. The play was then adapted into the famous feature-length film, in which Duke and Bancroft reprised their roles.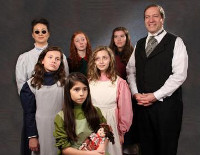 The leading role of Annie Sullivan will be played by Jennifer Nasta Zefutie, of Cranbury, with 11 year old Isabel Kinney of Cranbury playing the role of Helen. Both actresses are making their Kelsey Theatre debuts. They have spent numerous hours learning the American Sign Language Manual Alphabet and working through the several physically challenging scenes between Helen and Annie.
In another connection to the subject matter, Isabel Kinney (Helen) is an official puppy raiser for the Seeing Eye. On November 23rd, she received her first puppy, a black lab named Alu. Until a Seeing Eye dog is ready for training, it spends its time with a "foster family", a family that gives the dog love, gentle guidance, and consistent care. Isabel and her family are happily undertaking their first puppy training. When it's time for the puppy to begin formal training, the dog returns to The Seeing Eye to learn to assist a blind person in leading a more independent, fulfilling life. The Seeing Eye, Inc. is the oldest existing guide dog school in the world. Since 1929, The Seeing Eye has partnered with people who are blind who seek to enhance their independence, dignity, and self-confidence through the use of Seeing Eye dogs.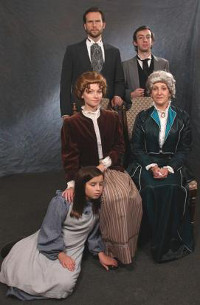 Completing the cast are Morgan Petronis of Delran as Kate Keller; Moot Davis of Hamilton as Captain Keller; Graham Mazie of Ewing, NJ as James Keller; Laurie Hardy (Hollywood Arms) of Hamilton as Aunt Ev; Tia Brown of Lawrenceville as Viney; Justin Saintil of West Windsor as Percy; Isis Henderson of Hamilton Square as Martha and Scott Karlin (The Emperor's New Clothes, Singin' in the Rain, The Adventures of Tom Sawyer, Dirty Rotten Scoundrels, Elton John and Tim Rice's AIDA) of Plainsboro as the Doctor and Mr. Anagnos. The blind girls from the Perkins School are played by Amanda Banks of Princeton, Taylor Buffa of New Egypt, Marissa Marciano of Plainsboro, Julia Patella of Cranbury, and Julia Weingaertner of Princeton Junction. Voice over roles are being performed by Simon Hamilton of Princeton as Jimmie Sullivan, with the adult voice over parts performed by Scott Karlin and Rosie Karlin (The Emperor's New Clothes, Singin' in the Rain, The Adventures of Tom Sawyer, The Drowsy Chaperone) of Plainsboro; M. Kitty Getlik of Hamilton and Laurie Hardy.

The show is produced by Beverly Kuo Hamilton (Elton John and Tim Rice's AIDA, The Drowsy Chaperone) of Princeton, directed by Judi Parrish (Perry Award winner for The Drowsy Chaperone) of West Trenton, stage management by Eliza Burwell (Laughter on the 23rd Floor, The Drowsy Chaperone) of Hopewell; technical direction by Bryan Schendlinger of Langhorne, PA; lighting design by M. Kitty Getlik (All MPO Shows); costume design by Kathy Slothower (Elton John and Tim Rice's AIDA , The Drowsy Chaperone) of Plainsboro and properties by Dottie Farina of Hamilton.

Dates:
Friday, February 1 and 8, 2013 at 8 pm
Saturday, February 2 and 9 at 8 pm
Sunday, February 3 and 10 at 2 pm

Tickets: $16 for adults, $14 for seniors, $12 for students and children, $7 for MCCC Students w/current ID. A ticket fee is added to these prices.

Go to http://www.kelseyatmccc.org/ticket_series.shtml
for information on how to purchase tickets.

Go to http://www.mccc.edu/welcome_directions_wwcampus.shtml
for directions to the theater.
---
Podcasts: Talking About Sunday in the Park with George and The Miracle Worker

Two new Backstage Pass Podcasts are now available.

Sunday in the Park with George
First we talk with some of the cast and crew of Sunday in the Park with George. Our Guests included Director Lou Stallsworth and actors John Zimmerman and Laurie Gougher. Listen to the Podcast.


The Miracle Worker
We also talk with some of the cast and crew of The Miracle Worker. Our guests for this podcast included Director Judi Parrish, actors Jennifer Nasta Zefutie and Isabel Kinney. Listen to the Podcast.
---
Alumni Happenings for January and February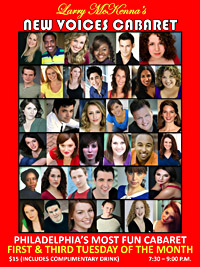 Kyrus Sings at New Voices Cabaret

Kyrus (You're a Good Man, Charlie Brown and Avenue Q) will be singing at the New Voices Cabaret in Philadelphia. He is one of three performers for the night (each singing five songs), and it's bound to be a good time!

When:Tuesday, January 15, at 7:30 pm
Where: Society Hill Playhouse, 507 South 8th Street, Philadelphia, Pennsylvania 19147
Tickets: It's only $15 at the door for a ticket and it includes one drink! (Make sure you mention Kyrus's name when purchasing your ticket)

To make a reservation (don't forget to mention Kyrus's name) or get more information about the cabaret, visit http://www.societyhillplayhouse.org/

For information about the venue, including directions and parking, go to http://www.societyhillplayhouse.org.




Dracula at ActorsNet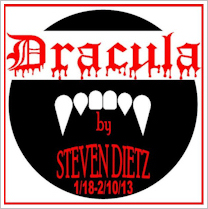 John Pinto (Laughter on the 23rd Floor) will be taking the stage as Van Helsing in Actor's Net's production of Dracula.
An exciting new adaptation of the classic Bram Stoker horror/thriller about the Transylvanian Count who tries to put the bite on everyone!
Show Dates:
January 18 - February 10, 2013
Tickets:
$20 for adults, $17 for seniors 62 & up, $10 for children 12 & under
$15 with WHYY Cards. Group rates available
Reservations: 215-295-3694 or email actorsnet@aol.com
**Parental Guidance Strongly Suggested**

Location:
ActorsNET, aka Actors' NET of Bucks County
635 N. Delmorr Ave.
Morrisville, PA, 19067
---
MPO Theater Quiz: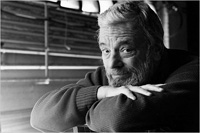 Into the Words - Sondheim Quiz

In honor of Sunday in the Park with George, opening at Kelsey Theatre on January 11 courtesy of PinnWorth Productions, this month's quiz honors Stephen Sondheim.

See how much of a Sondheim fan you are!
Try out our January edition


TOP >>