Jeff Cantor, Senior Board Member & Master Builder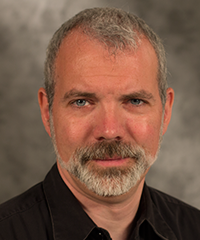 Jeff's exposure to theater began years ago with a brief stint as stage manager for two high school productions. Then came a long hiatus until a friend asked for his help with set construction for Pierot Productions staging of Noises Off! Now officially hooked, Jeff spent the next couple of seasons assisting with sets for Inspecting Carol, Crazy for You, and Best Little Whorehouse. By this time, Jeff was known to several of the production companies operating out of Kelsey Theater and was asked to join the Maurer Productions OnStage back stage crew for You're a Good Man, Charlie Brown (where he was the bus 'driver').
Soon after that, in the spring of 2006 while assisting with set construction and back stage crew for Lucky Stiff Jeff was asked to join the Board of Directors of Maurer Productions OnStage and took on the role of Master Carpenter. Since that time, he has had the privilege to interpret John Maurer's award winning set designs in leading the set building efforts for every MPO since then including: It's A Wonderful Life, Driving Miss Daisy, Singin' In The Rain, Brighton Beach Memoirs, and The Drowsy Chaperone. In addition, Jeff has served as Master Carpenter for other companies at Kelsey and even returned to the role of stage manager Maurer Productions OnStage productions of A Few Good Men, and Aida.

Jeff wishes to thank John Maurer for this opportunity and his continued mentoring. When not building sets, Jeff can be found tinkering with his '56 Imperial or chasing trains. To fund all of these fun activities, Jeff works for the New Jersey Department of Environmental Protection, attempting to minimize the impact of diesel vehicles on the quality of our air.