Laurie Gougher, Senior Board Member & Musical Director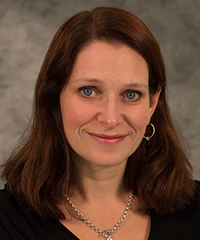 The award-winning production company Maurer Productions OnStage is pleased to announce Laurie Gougher as the newest member of the MPO Board of Directors. She will also serve as the company's in-house Music Director. As one of eight board members, Laurie will have a voice in the direction of the company, how the group manages its productions, and will play an integral role in show selection. Laurie may also be seen directing shows for MPO from time to time. Maurer Productions OnStage is an award-winning production company known for staging musicals and plays at the Kelsey Theatre in West Windsor, NJ. Over the years, MPO has mounted productions resulting in 26 NJACT Perry Award nominations and 5 wins.
"We're very excited to have Laurie join the team on a more permanent basis," said John Maurer, MPO's co-founder and Artistic Director. "We've known and worked with Laurie for several years in different capacities. She's an excellent partner and the work she did onDirty Rotten Scoundrels was second to none. We're lucky to be able to pry her away from all the other great theater companies vying for her talents."
Laurie's slate of projects is insanely full. She recently completed music directing MPO's well-received production of Dirty Rotten Scoundrels in May. Now she's just completed casting her production of the musical 13, which she will director for Pennington Players, and she is gearing up to music direct Pirates of Penzance for Pinworth Productions, which opens in January 2012. After that she starts work on MPO's production of The Drowsy Chaperone slated for June of 2012.
"It's all a bit crazy right now," Laurie said of her full schedule and her recent appointment to the MPO board. "I really wasn't looking to take on so much, but when great opportunities like these come along, it's hard to say no. It was the same way with this offer from Maurer Productions. It kind of came out of the blue for me. But when it did come, I knew it was a good fit."
Laurie holds a Masters Degree in Music Education and has been teaching music in all levels of the public schools for 18 years. She is also a classically trained singer and an experienced director and music director. Over the past few years, Laurie has directed and music directed several shows at Kelsey Theatre. Her recent credits include director and music director ofSeussical the Musical, music director of Joseph and the Amazing Technicolor Dreamcoat and director and music director of Rumpelstiltskin.