Share on Facebook
OnStage News & Notes - April 2011

In our April newsletter, MPO announces the audition dates for its 2011-2012 shows; spotlights "Aida" Music Director Tony Di Dia; announces the Kelsey Theatre Summer Season; serves up the latest Backstage Pass podcast featuring "Dirty Rotten Scoundrels"; offers a round-up of MPO Alumni News; and much more.
COMING SOON TO KELSEY THEATRE
Call or Click for Tickets: 609-570-3333

DATES:


March 4, 5, 11, 12, 2011 at 7:30pm




March 6, 13, 2001 at 2pm



PRICES:
Adults $16, Seniors $14;
Students/Children $12


Based on the popular 1988 film of the same name, this rollicking comedy centers on two con men living on the French Riviera. The first is the suave and sophisticated Lawrence Jameson, the other, a small-time crook named Freddy Benson. The two men compete to see who can be the first to swindle $50,000 from a young heiress.
---
Podcast: Talking About Dirty Rotten Scoundrels

In this Podcast, we talk with some of the cast and crew of Dirty Rotten Scoundrels being presented by Maurer Productions OnStage at the Kelsey Theatre on the campus of Mercer County College in West Windsor, New Jersey. Our guests for this podcast are Jane Coult, Dan Petrovich, William Mercado, Emily Huddell, Scott Karlin and Cathy Liebars.
---
AUDITION UPDATE:
MPO Sets Audition Dates for 2011-2012 Season;
Now Taking Audition Appointments for AIDA
On the heels of announcing its shows for the 2011-2012, Maurer Productions OnStage has now set its audition dates for its entire 2011-2012 season. In fact, auditions for MPO's production of Elton John & Tim Rice's Aida are now open and actors may click here to book audition appointments online.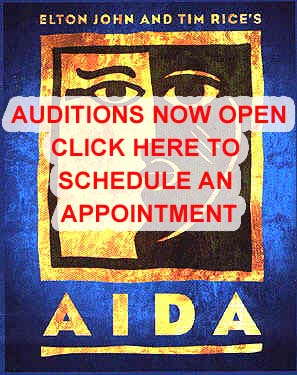 Aida will audition July 16-17, 2011, Laughter on the 23rd Floor will audition October 22-23, 2011, and The Drowsy Chaperone will audition February 25-26, 2012. Click here to see more information. Please note that MPO is only currently taking audition appointments for Aida. Auditions will be opened for Laughter on the 23rd Floor and The Drowsy Chaperone 8-12 weeks prior to their audition dates.
In the past, MPO has announced auditions 6-8 weeks before each audition date, opening their appointment book to actors at that time. In this case, the dates have been set a full season in advance so actors can mark them on their calendars. The audition booking period will be announced separately several weeks before each show's audition.
"We're trying our best to give the theater community more advance notice about our auditions," said John Maurer, MPO's Executive Producer and Artistic Director. "Community theater actors and dancers are busy people. They have jobs, families and commitments. The more advanced notice we can give them, the better they can plan."
Maurer Productions OnStage will also try its best to open the audition booking period for each show earlier when possible. For its production of Aida, the company has already begun taking audition appointments, that's about 3 months ahead of its July 16-17 audition dates. In the future, the team will make an effort to open audition booking 8-12 weeks head of all its show's audition dates. That way, actors will have monologues, story synopsis, character descriptions, vocal ranges and everything else they need to start planning their audition early. Actors, singers and dancers are encouraged to subscribe to MPO's mailing list for announcements when new audition material is going to be made available.
MPO uses the CastMe system, an online theater profile management and audition booking tool designed to support performers during the audition process. The system allows performers to create a profile and upload photos and a resume. They may update their profile at any time and it will be used for all future MPO shows a performer wishes to audition for. Even actors who are not auditioning for a specific MPO show are encouraged to create a profile in the CastMe system in the event they wish to audition in the future.
---
CASE STUDY:
Dirty Rotten Scoundrels Master Carpenter Shares His Stage Secrets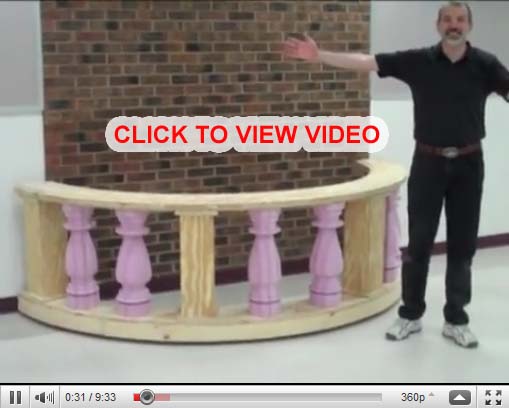 Often audiences are impressed, if not amazed by some of the sets Maurer Productions has been able to feature in its shows. A real thunderstorm in Singin' in the Rain, and a two story apartment with transparent walls and running water in the bathroom in Hollywood Arms, are just a few examples of the what the team has been able to accomplish. The real secret behind the Maurer stage magic has been Jeff Cantor, MPO board member and master carpenter. If set designer John Maurer can dream it up, Jeff Cantor can build it.
Our production of Dirty Rotten Scoundrels is no different. This hilarious musical comedy will feature a number of interesting set pieces including a large winding staircase and a terrace with stone railing. Once again Jeff is tasked with making magic on a shoe string budget and making it look like a million dollars. In part 1 of this 3 part Case Study, Jeff hosts a video how-to in which he demonstrates how he constructs the stone terrance railing from simple and inexpensive supplies he has purchased from Home Depot.
Click here to watch Jeff do his best impression of Norm Abram, but with a Kelsey Theatre twist.
---
Perry Award-Winner Tony Di Dia Tapped to
Music Direct Aida for Maurer Productions OnStage
Tony Di Dia, an NJACT Perry Award-winner for his music direction of Little Women at the Strand Theater in Lakewood, has signed on to music direct Elton John and Tim Rice's Aida for Maurer Productions OnStage, which opens at the Kelsey Theatre November 18. (Click here to learn about Aida Auditions.)
"The whole MPO team is excited to be working with Tony," said Dan Maurer, who will direct Aida. "He's in high demand throughout New Jersey Community Theater so we feel lucky that we were able to land him for our production."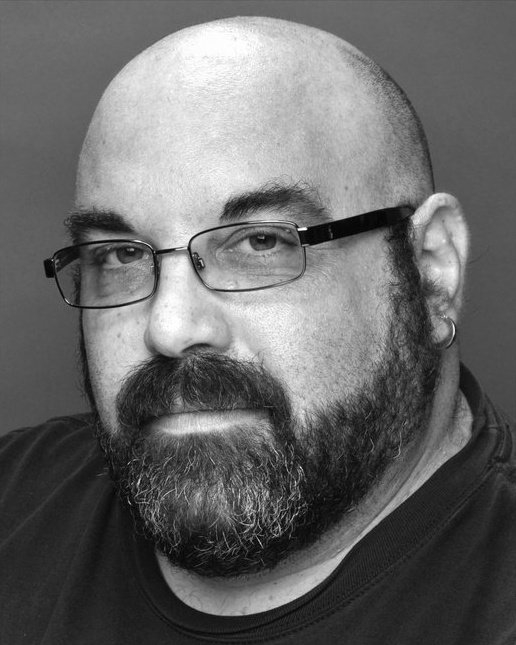 Maurer, a Perry Award-winning director himself, is excited to have the opportunity to inject new blood into the MPO team. "It's always been great to work with a team as talented as ours, but no matter how successful we've been, we can't let ourselves get complacent. We need to keep bringing in new talent. Working with talented new people like Tony Di Dia helps us all get a fresh perspective on our work," Maurer said.
Maurer pointed to the success the company has had with new Music Director Laurie Gougher on Dirty Rotten Scoundrels. He explained that she's brought a new energy to the team and to the cast, and that the show will no doubt be a big success as a result of her partnership with the company. But since Laurie is slated to direct the teenage musical 13 this summer for Pennington Players, and music direct Pirates of Penzance next season for Pinworth Productions, MPO knew they would need to look elsewhere for Aida.
"I've wanted to work with Tony since I saw The Strand Theatre Ensemble's production of Little Women with my daughter, Caroline. I was blown away. The whole show was fantastic, but the music and the vocals were especially amazing," Maurer said. "I think Tony's going to bring the same energy to our team that Laurie has done with Scoundrels. The team can't wait to get started."
With over thirty years of experience in community theatre, Tony has served as a director, music director, vocal director, actor and orchestra musician for many shows. His talents have been showcased at more than twenty of Central and Southern New Jersey's theatre companies, including Plays In The Park (The Buddy Holly Story, The Producers, The Wedding Singer), The Strand Theater Ensemble, (Secret Garden and Little Women), The Villagers Theater (Man Of La Mancha and Sweet Charity), and many others. He is currently working on Godspell with Plays in the Park, which opens in August, and Songs for a New World, which opens at Edison Valley Playhouse in May.
Tony has also performed with the Metro Lyric Opera Company under the direction of the late Madame Era Tognoli, with whom he also studied. Madame Tognoli was the director and motivating force behind the Metro Lyric Opera. Under her tutelage, it became one of the leading American regional opera companies. Tony is also one of the founding members of Shore Repertory Theater Company, a new theater company based in Monmouth County.
Maurer Productions OnStage will present Elton John and Tim Rice's Aida at Kelsey Theatre from November 18-27, 2011. Tickets will go on sale this summer. MPO is now booking audition appointments with actors, dancers and singers interested in performing in Aida. Click here for more information on Aida auditions.
---
Kelsey Theatre Announces 2011 Summer Season
No summer is complete without barbecues, beaches, fireworks, and great theater. That's why Kelsey Theatre is announcing its 2011 Summer Season featuring four great productions that are perfect for the whole family.
Beginning July 1 at Kelsey Theatre, Shakespeare 70 presents Twelfth Night. In this classic piece of Shakespearean theater, the beautiful Viola, cross dresses to take on the identity of a man and enter the service of the Duke Orsino, who longs for the love of a neighboring countess. The lovely Viola, still disguised as a man, soon falls in love with Orsino. The love triangle is made even more complicated when Viola's identical twin brother, Sebastian, arrives on the scene.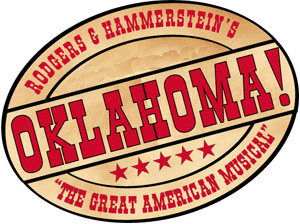 This gender-bending story of love and mistaken identities has become one of the most popular of Shakespeare's comedies. Performances are scheduled for July 1, 2, 8 and 9 at 7:30PM and July 3 and 10th at 2PM. Tickets are $14 for adults, $12 for seniors, $10 for students and children. To order tickets to Twelfth Night call 609-570-3333, or click here to order online.
Opening July 15 at Kelsey Theatre is the classic musical, Oklahoma, presented by Yardley Players. This musical western marked the first collaboration between two theatre greats, Richard Rodgers and Oscar Hammerstein, and is credited with being the first modern musical. Set in the Oklahoma Territory outside the town of Claremore in 1906, it tells the story of cowboy Curly McLain and his romance with farm girl Laurey Williams. Featuring timeless hits like "Oh What a Beautiful Mornin'", "Oklahoma", and "People Will Say We're in Love", this ground breaking piece of family theater was awarded a special Pulitzer Prize in 1944. Performances are scheduled for July 15, 16, 22 and 23 at 7:30pm and July 16, 17, 23 and 24th at 2PM. Tickets are $16 for adults, $14 for seniors, and $12 for students and children. To order tickets to Oklahoma call 609-570-3333, or click here to order online.
Then, beginning July 29, teenagers and adults will laugh and be inspired by the funny, but thoughtful musical, 13, presented by Pennington Players.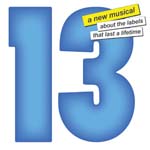 The show, which originally opened on Broadway in 2008, follows the lives of thirteen 13-year-olds as they weave and wind their way through the comic trials and tribulations of being 13. With an unforgettable rock score by Tony Award-winning composer Jason Robert Brown, 13 is a hilarious, high-energy musical for all ages. Directed by Laurie Gougher, with music direction by Peter de Mets, this musical will feature some of the best young talent in the area and is sure to strike a chord with both teenage and adult audiences. Performances are July 29 and 30th and August 5th and 6th at 7:30PM and July 31st and August 7th at 2PM. Tickets are $16 for adults, $14 for seniors and $12 for students and children. To order tickets to 13 call 609-570-3333, or click here to order online.
Coming August 19 to Kelsey Theatre is one of the most popular and successful musical comedies in recent memory, Forever Plaid, presented by Shore Repertory Company. This critically acclaimed show is an affectionate revue of the close-harmony "guy groups" that reached the height of their popularity during the 1950s. This deliciously goofy revue centers on four young, eager male singers killed in a car crash in the 1950s on the way to their first big concert, and now miraculously revived for the posthumous chance to fulfill their dreams and perform the show that never was. Singing in the closest of harmony, squabbling boyishly over the smallest intonations and executing their charmingly outlandish choreography with over-zealous precision, the "Plaids" are a guaranteed to keeps audiences rolling in the aisles when they're not humming along to some of the great nostalgic pop hits of the '50s. Performances are scheduled for August 19, 20, 26 and 27 at 7:30PM, and August 21 and 28 at 2PM. Tickets are $16 for adults, $14 for seniors, $12 for students and children. To order tickets to Forever Plaid call 609-570-3333, or or click here to order online.
---
Alumnae Theater News for April
The Farnsworth Invention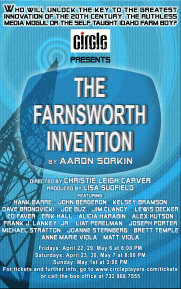 John Bergeron who played Dr. Corrasco in MPO's production of Man of LaMancha is performing in The Farnsworth Invention at Circle Players in Piscataway, NJ. In this play, set in 1929, two ambitious visionaries race against each other to invent a device called "television." Separated by two thousand miles, each knows that if he stops working, even for a moment, the other will gain the edge. Who will unlock the key to the greatest innovation of the 20th century – David Sarnoff, the ruthless media mogul, or Philo Farnsworth, the self-taught Idaho farm boy?
Show dates are April 22-May 7; 8 p.m. Fridays and Saturdays with a 3 p.m. matinee Sunday, May 1. For reservations, call 732-968-7555, or buy online at www.circleplayers.com. ($1 per ticket discount online.) Tickets are $17 for adults, and $16 for students and seniors. No credit cards can be accepted at the theater box office, but may be used online. Circle Players is located at 416 Victoria Avenue, Piscataway, NJ.
Buzz Herman — On the Wind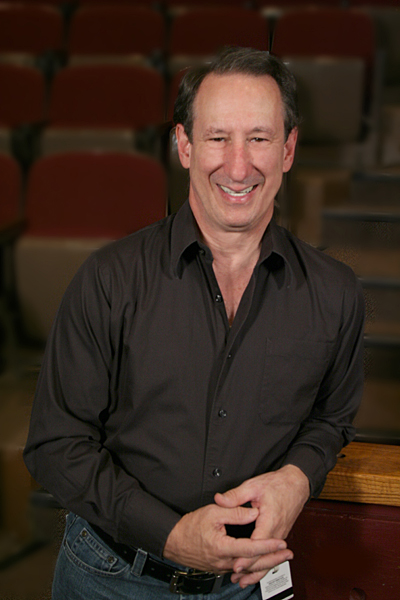 Don't miss MPO Alumn Buzz Herman, he hosts his new radio show "On the Wind" every Saturday at 5pm on classical music station WWFM – 89.1 FM. The show features music for large brass ensembles and concert bands. The program can be heard live over the air, live streaming through the WWFM website, or by listening to the archives hosted on the WWFM website. To hear an audio promo about the show, click here.
With the soon-to-be-completed addition of digital signals in New York City and Philadelphia, The Classical Network can be heard freely over digital radio by more U.S. listeners than any other classical station, public or commercial.

Full Service Stations
WWFM 89.1 FM — Trenton/Princeton, NJ (HD)
WWNJ 91.1 FM — Toms River, NJ
WWCJ 89.1 FM — Cape May, NJ (HD)
WWPJ 89.5 FM — Pen Argyl, PA (HD)

Translator Stations
W224AU 92.7 FM — Allentown, PA
W226AA 93.1 FM — Easton, PA
W230AA 93.9 FM — Atlantic City, NJ
W245AC 96.9 FM — Harmony Twp, NJ
W300AC 107.9 FM — Chatsworth, NJ
K216FW 91.1 FM — Steamboat Springs,CO

WWFM is a 1,150 watt station, broadcasting on 89.1 FM, also broadcasting in HD. WWNJ is a 50,000 watt station, broadcasting on 91.1 FM. WWCJ is a 15,000 watt station, broadcasting on 89.1 FM, also broadcasting in HD. WWPJ is a 100 watt station broadcasting on 89.5 FM from Pen Argyl, PA, also broadcasting in HD. WWFM was established in 1982, WWNJ in 1991, WWCJ in 1999 and WWPJ in 2001. WWFM can also be heard on Blue Ridge cable system serving portions of northeastern Pennsylvania and portions of northwestern New Jersey.
Fully Charged — Ringling Bros. and Barnum & Bailey Circus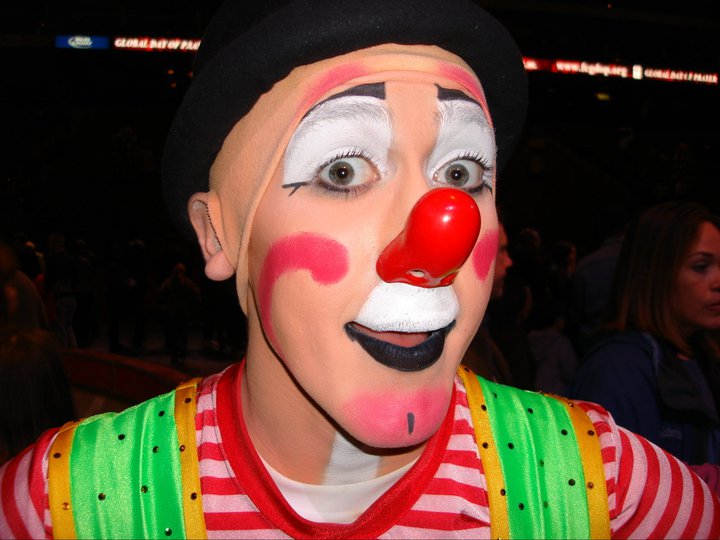 Don't miss professional clown and MPO Alumn Jeff Brannin (Singin' in the Rain) in Fully Charged, the all-new surge of circus entertainment from Ringling Brothers and Barnum & Bailey® where megawatts of thrills explode off of the arena floor with breathtaking dare-devilry, amazing stunts and never-before-seen performances that energize Children Of All Ages! Get Fully Charged Up by the power of performers! Experience unbridled horse power, unparalleled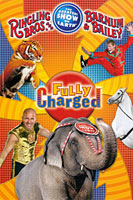 superhuman power, and pachyderm power that generates mega-tons of fun! Feel the electro-magnetism of Tabayara, the world's most thrilling animal trainer. The Human Fuse, Brian Miser, sets the arena sky ablaze as he rockets through the air from his self-made human crossbow. You can only experience this current of excitement at Ringling Bros. Fully Charged! Get your tickets for high-voltage fun today!
Jeff and the rest of the Ringling Brothers and Barnum & Bailey Circus will be perfroming 9 shows at the Sun National Bank Center in Trenton, NJ. Performances will be May, 11 through the 13th. Click here to order tickets online.
An Evening with Sherlock Holmes
Steve Decker, who has performed in several MPO productions including the role of Mr. Potter in It's a Wonderful Life and Captain Julius Randolph (the Judge) in A Few Good Men, will be appearing in Off Broadstreet Theater's production of An Evening with Sherlock Holmes. Steve will be playing none other than the famous detective himself.
An Evening of Sherlock Holmes will run from May 13 through June 5. The Off Broad Street Theater is located at 5 South Greenwood Avenue, Hopewell, NJ. For reservations call 609-466-2766.
Songs for a New World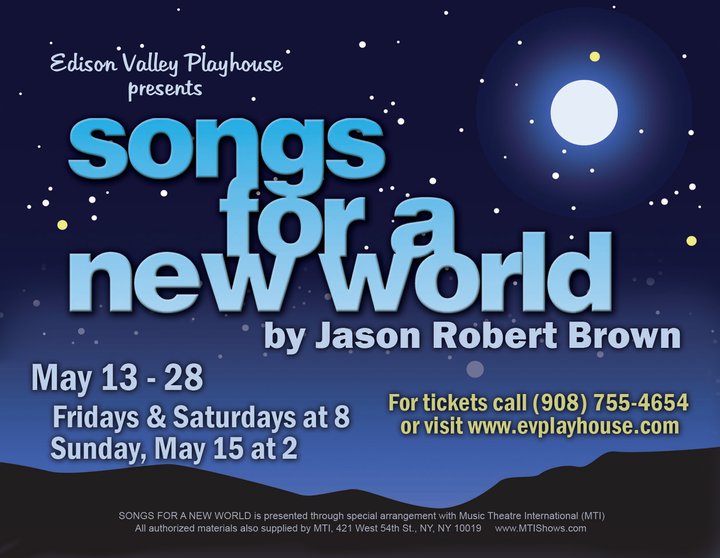 Tony Di Dia, Music Director for MPO's up-coming production of Elton John & Tim Rice's Aida, will be both directing and music directing Songs for a New World at Edison Valley Playhouse.
Featuring music and lyrics by Tony Award-winner Jason Robert Brown, Songs for a New World is about one moment. It's about hitting the wall and having to make a choice, or take a stand, or turn around and go back. Brown transports his audience from the deck of a 1492 Spanish sailing ship to a ledge 57 stories above Fifth Avenue to meet a startling array of characters ranging from a young man who has determined that basketball is his ticket out of the ghetto to a woman whose dream of marrying rich nabs her the man of her dreams and a soulless marriage. These are the stories and characters of today, the songs for a new world.
Songs for a New World will be presented at the Edison Valley Playhouse from May 13 to May 28. The Playhouse is located at2196 Oak Tree Road (Corner of Woodland Avenue), Edison, NJ. For tickets call 908-755-4654, or order tickets online at www.evplayhouse.com.
---

MPO Theater Quiz: What Scoundrels!
In this month's Theater Quiz, we will test your knowledge about the Broadway musical Dirty Rotten Scoundrels and the two film versions that inspired the zaney stage production.
---