Share on Facebook
OnStage News & Notes - February 2011

In our February newsletter, we recap audience reactions to "A Few Good Men"; announce the cast of "Dirty Rotten Scoundrels"; spot light voice teacher and music director Peter de Mets; serve up the latest Backstage Pass podcast (this episode features the cast of A Little Night Music; and offer a round up of MPO Alumni News.
---
To have these and other MP OnStage stories appear in your Facebook news feed, just click the "Like" button below.


---
Audiences Salute A Few Good Men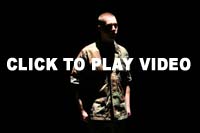 Audiences saluted the cast of A Few Good Men the best way they knew how, with thunderous applause. Despite snow and ice hazards, A Few Good Men wowed audiences at Kelsey Theatre for six performances before closing on January 30, 2011.
The show, which involved over 40 actors, production staff and crew, is the stage version written by Aaron Sorkin, creator of The West Wing, that inspired the 1986 movie by the same name and gave rise to the famous line, "You can't handle the truth!" But the truth won out in director Alycia Bauch-Cantor's staging of this suspenseful story of the military trial of two young soldiers who are accused of murdering one of their peers after following an illegal order.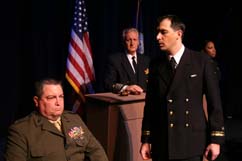 Audiences were kept engrossed throughout the show and emails from fans received days raved, calling the show "brilliant" and saying "'a few good thanks' are in order to [Alycia Bauch-Cantor] and the wonderful men and women [in the cast who] brought their A GAME."
The bonding of the cast and all of their hard work during two months of rehearsal, under Alycia's direction, was evident on the stage. This talented cast presented a gripping, believable story that drew the audience in and gave them a stake in the ongoing drama. Keep an eye on the MP OnStage Alumni news in this and future newsletters to see where these great actors will be working next.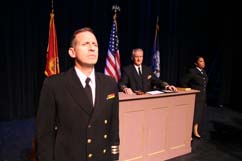 While the cast included many MPO alumni, the company is proud to say that it also included a lot of talent that is new to MPO. The newcomers in this production were Faith Dowgin as Lt. Cmdr. Joanne Galloway, Eric Tow as Cpl Dunn/MP, Brett Molotsky as Major Matthew A. Markinson, Chris Scharnagle as Lt. Jonathan James Kendrick, Shaquille Sanderson as Tom/MP/Sentry, Joshua Waldorf as Lyle/MP/Sentry, Syreeta Washington as Sergeant-at-Arms, Derek Capre as Lt. Ross, Justin Drach as PFC. Downey, Fred Gropper as Commander Stone, Tim Kline as PFC Santiago, and Fred Walker as Colonel Jessep. Maurer Productions OnStage would like to thank these new comers and the entire cast and crew of A Few Good Men for delivering a stellar production.
---
MPO Introduces the Cast of Dirty Rotten Scoundrels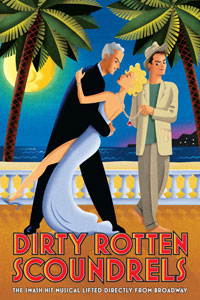 After auditioning over 40 actors, the MPO production team concluded the casting of its upcoming musical comedy Dirty Rotten Scoundrels. Based on the popular 1988 film of the same name, this rollicking comedy centers on two con men living on the French Riviera. The first is the suave and sophisticated Lawrence Jameson, the other, a small-time crook named Freddy Benson. The two men compete to see who can be the first to swindle $50,000 from a young heiress.
Joining the award-winning production team will be a mix of new faces and familiar friends. Rehearsals are already underway and going well. Performances are scheduled for May 13-22. Tickets are on sale now at the Kelsey Box Office. To order, call 609-570-3333, or order online.
We are now pleased to introduce the cast and creative team of Dirty Rotten Scoundrels.
CAST

Daniel Petrovich as Lawrence Jameson
William Mercado as Freddy Benson
Emily Huddell as Christine Colgate
Scott Karlin as Andre Thibault
Cathy Liebars as Muriel Eubanks
Jennifer Barron as Jolene Oakes
Jessica Laynor as Lenore
Jaimie Geddes as Sophia
Sarah Mcilhenny as the Maid
Sharon Underberg as the Nun
Rosie Karlin as the Usherette
Wendy Watt as the Debutante
Judy Berwick as the Croupier
Dan Slothower as the Conductor
Joey McCabe as the Waiter/Bellhop
Ray Murphy as the Hotel Manager
Tim Kline as the Musician/Bellhop
Joshua Waldorf as Nikos
PRODUCTIN TEAM:

Executive Producer, Director & Set Designer -- John M. Maurer*
Producer -- Diana Gilman Maurer*
Producer & Sound Engineer -- Dan Maurer*
Music Director -- Laurie Gougher
Choreographer -- Jane Coult*
Lighting Designer -- Kitty Getlik*
Costume Designer -- Ruth Rittman*
Stage Manager -- Alycia Bauch-Cantor*
Master Builder -- Jeff Cantor*

(* NJACT Perry Award Nominee or Winner for past productions)
---
The Piano Man Offers Voice Lessons;
Steps up to Music Direct 13 the Musical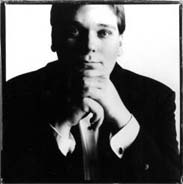 Peter de Mets -- professional singer, voice teacher, composer, music director and MPO alum -- is taking on new voice students and a new theater project this year. An accompanist for many MPO shows including our upcoming production of Dirty Rotten Scoundrels, Peter teaches singing to both adults and children in his Newtown, PA studio, just 20 minutes from Kelsey Theatre.
Peter, who holds a degree in Vocal Performance and Studio Teaching, has worked with countless students in the past. Recently, he was credited with helping young MPO alumna Caroline Maurer (Winnie the Pooh, Emperor's New Clothes) land and prepare for a principle role in her school production of Elton John & Tim Rice's Aida. He is also known to have helped other actors prepare for their successful MPO auditions.
In addition to his vocal teaching and composing work, Peter has recently signed on to music direct the upcoming Pennington Players' production of 13, the musical, slated to open at Kelsey Theatre July 29, 2011. Directed for Pennington Players by MPO alumna Laurie Gougher (Tom Sawyer, Dirty Rotten Scoundrels), this musical, follows the lives of thirteen 13-year-olds as they weave and wind their way through the comic trials and tribulations of being 13. With an unforgettable rock score by Tony Award-winning composer Jason Robert Brown,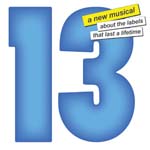 13 is a hilarious, high-energy musical for all ages. Laurie and Peter are slated to hold auditions for 13 in early June. All appropriately aged youth performers are welcome. Keep your eyes on the Kelsey Theatre website in the coming weeks for specific audition dates and details.
Whether you plan to try out for a local production, audition for a college arts program, or just enjoy singing and want to improve your skills, Peter can help you choose appropriate music, learn proper vocal technique and prepare songs for performance. Singers of all skill levels, ages 11 and up, are welcome. For information, feel free to email Peter at voiceteacher@peterdemetsmusic.com.
---
Podcast: Talking About A Little Night Music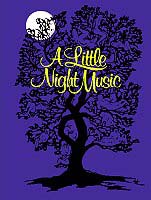 In this Podcast we talk with some of the cast and crew of Pierrot Productions' presentation of Stephen Sondheim's award-winning musical A Little Night Music being presented at the Kelsey theatre. Our guests for this podcast were Producer/Director Peter Labriola and actors Sue Robbins, Mariel Rosati, Tom Chiola and Joe Giglio
---
The Sound of Music at Steinert High School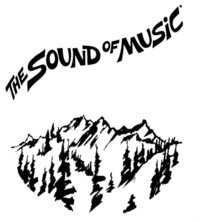 See Danielle Grosso (Tom Sawyer) as Sister Sophia and Kiernan Matts (Tom Sawyer) as Friedrich in Steinert High School's The Sound of Music. This well-loved and well-known story of the postulate who becomes the governess to the seven children of a widowed captain during German occupation in Europe will capture your heart.
Performances are on Thursday, February 24th at 6:30pm, Friday, February 25th at 6:30pm, Saturday, February 26th at 2pm, and Saturday, February 26th at 8pm. Tickets are $10 and will be sold in the conference room next to the main office during the following times: Saturday, February 12th, time to be announced; Tuesday, February 15th, 2:30-4; Wednesday, February 16th 2:30-4; Thursday, February 17th, 2:30-4; Saturday, February 19th, time to be announced; Monday, February 21st, 2:30-4; Tuesday, February 22nd 2:30-4; and Wednesday, February 23rd 2:30-4. The box office will open one hour prior to each performance.
Disney's High School Musical 2 Jr.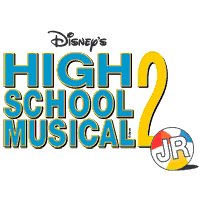 Elizabeth Rzasa (Man of LaMancha) will be musically directing High School Musical 2 Jr. at Kelsey Theatre, opening on February 25. Joining Liz will be Victoria Scialfa (Children's Letters to God, Tom Sawyer) as Gabriella, Cindy George (Emperor's New Clothes), and Jeremy Barson (Children's Letters to God).
This rollicking pop/rock musical based on the hit Disney Channel smash hit movie. The gang's all here for an action-packed summer extravaganza as Troy, Gabriella and the rest of the Wildcats finish junior year and blast onto the summer scene. At the Lava Springs Country Club, Sharpay reigns supreme while the Wildcats get to work - literally! Keeping every ounce of the light-hearted fun that makes High School Musical a household name
Performances are Friday, February 25, and Saturday, February 26, at 7:30 pm, and Sunday, February 27 at 2 and 4 pm. Tickets are $8 for student/seniors/children and $10 for adults. To purchase tickets, call (609) 570-3333 or click to order online.
A Little Night Music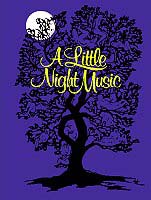 Jim Petro (Singin' in the Rain, Man of LaMancha), Vicky Czarnik (Singin' in the Rain, Lucky Stiff), and John Bergeron (Man of LaMancha) will join two future alums of MP OnStage, Cathy Liebars and Wendy Watt (both in Dirty Rotten Scoundrels opening in May at Kelsey), in A Little Night Music, being produced by Pierrot Productions at Kelsey Theatre.
A Tony award-winning musical from Stephen Sondheim and Hugh Wheeler, A Little Night Music is a delightful musical based on the Ingmar Bergman film Smiles of a Summer Night. The twists and turns of this tale winningly convey the aspects of love among both the young and the old – those who feel they'll live forever and those whose impending mortality colors their actions.
Performances are Friday, March 4 and 11, at 7:30 pm, Saturday, March 5 and 12, at 7:30 pm, and Sunday, March 6 and 13 at 2 pm. Tickets are $12 for students/children, $14 for seniors, and $16 for adults. To purchase tickets, call (609) 570-3333 or visit Kelsey Theatre Online Tickets.
Billy Elliot at the Imperial Theatre, Broadway, New York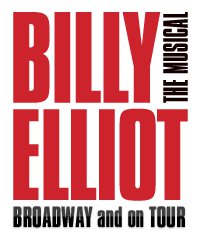 MPO alumna Kayla (Hollywood Arms) is playing Susan Parks in Billy Elliot on Broadway at the Imperial Theatre, 249 West 45th Street, New York, NY 10036. Kayla's contract now lasts through the end of February, so if you want to catch her, act fast!
Based on the hit film of the same name, this is the story of a boy who wants to be a ballet dancer, even though his father wants him to be a boxer. Performances are Tuesday at 7 pm; Wednesday, Saturday and Sunday at 2 pm; and Thursday, Friday, Saturday and Sunday at 7:30 pm. Tickets are $41.50 to $141.50. Tickets may be purchased by visiting Telecharge.
Elton John & Tim Rice's Aida

Caroline Maurer (Winnie the Pooh and Emperor's New Clothes) and Cindy George (Emperor's New Clothes) lit up the Robbinsville High School stage last weekend in Pond Road Middle School's production of Aida. With music by Elton John and lyrics by Tim Rice, Aida is the moving story of a love triangle in Ancient Egypt.
Caroline and Cindy, classmates and friends since pre-school, were both cast to play the role of Amneris, the princess who becomes Queen of Egypt. Her intended falls in love with another princess, Aida, a captured slave from Nubia. Amneris, whose biggest concern was what to wear on any given day, discovers the illicit romance. Her struggle to deal with the news, her growth and maturity when faced with adversity, and her humanitarian way of dealing with the lovers as she ascends the throne is inspiring and heartbreaking. An extremely ambitious production for a middle school, with deep emotion and difficult songs, both girls gave strong performances.
---