Share on Facebook
OnStage News & Notes - March 2013

In March, we are pleased to look forward to a top pick of 2013: MPO's spring musical Avenue Q, Reock & Roll and promote March and April Alumni Happenings.
Avenue Q
COMING MARCH 2013 to the KELSEY THEATRE
Call or Click for Tickets: 609-570-3333

DATES:
Fri. March 1 & 8, 2013 at 8pm
Sat. March 2 & 9 at 8pm
Sun. March 3 & 10 at 2pm

PRICES:


$18 adults, $16 seniors, $14 students & children




AVENUE Q is the Tony Award winning musical focusing on a group of unique 20-somethings making their way in the big city, seeking their purpose in life. Although the show addresses humorous adult issues, it is similar to a beloved children's show; a place where puppets are friends, Monsters are good and life lessons are learned.

(Rated Shocking Pink for Adult content! NOT recomended for anyone under 17!))
---
Spamalot and Shrek Headline MPO's 2013-2014 Season

Maurer Productions OnStage, the award-winning team that brought you Elton John & Tim Rice's AIDA, The Drowsy Chaperone, and Avenue Q is pleased to announce it has selected the zany musical comedy Monty Python's Spamalot and the family-friendly show Shrek The Musical to headline it's 2013-2014 season at the Kelsey Theatre.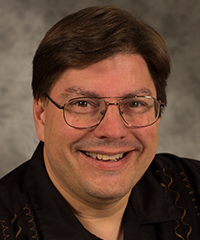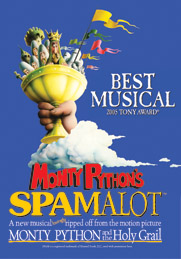 Perry Award-winning director John Maurer is thrilled to deliver another dream project when he helms Monty Python's Spamalot (Nov 15, 16, 17, 22, 23, 24, 29, 30, Dec 1). Lovingly ripped off from the classic film comedy Monty Python and the Holy Grail, the Tony Award-winning Monty Python's Spamalot tells the legendary tale of King Arthur, his knights of the Round Table and their quest for the Holy Grail. Monty Python's Spamalot features a chorus line of dancing divas and knights, flatulent Frenchmen, killer rabbits and one legless knight.
A warning to the audience: Spamalot is not exactly like the film. For example, it doesn't come in a metal canister, but it does feature many of the same characters and the same sense of Python humor. Songs include "Find Your Grail", "He Is Not Dead Yet", "The Song That Goes Like This", "Always Look on the Bright Side of Life" and "You Won't Succeed on Broadway".
Monty Python's Spamalot was the winner of three 2005 Tony Awards including Best Musical and Best Director, as well as the Drama Desk and Outer Critics Circle awards for Best Musical. (Rated PG-13)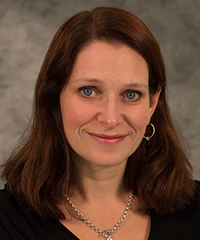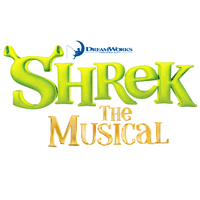 Then, in the Spring, MPO Music Director Laurie Gougher, who's recent directing credits include award- winning productions of 13 The Musical and Seussical, will trade in her conductor's baton for the director's chair to help the family favorite Shrek The Musical (May 30, 31, June 1, 6, 7, 8, 13, 14, 15). Based on the Oscar®- winning film from DreamWorks, Shrek The Musical brings the hilarious story of everyone's favorite ogre to dazzling new life on the stage.
In a faraway kingdom turned upside down, things get ugly when an unseemly ogre — not a handsome prince — shows up to rescue a feisty princess. Throw in a donkey who won't shut up, a bad guy with a short temper, a cookie with an attitude and over a dozen other fairy tale misfits, and you've got the kind of mess that calls for a real hero. Luckily, there's one on hand...and his name is Shrek.
Full of all-new songs, great dancing and breathtaking scenery, SHREK THE MUSICAL is part romance, part twisted fairy tale and all irreverent fun for everyone! (Rated G)
TOP >>
---
Avenue Q Promises the Sound of Great Music
MPO Teams with MCCC's Music Technology Students to Design and Engineer the Sound for the Musical Comedy Avenue Q

When the curtain rises on Maurer Productions OnStage's presentation of Avenue Q on March 1 at Kelsey Theatre, there will be a lot to see and hear that will impress the audience. From the custom-made puppets by Director and Puppet Master John Maurer and his puppet-construction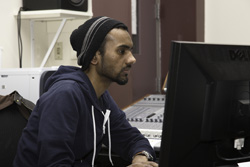 team, to the set designed and built by John Maurer and Jeff Cantor; from the amazing acting, singing and puppeteering performances by the cast, to the fantastic music courtesy of Music Director Laurie Gougher and her orchestra. But there are some aspects of all great productions that are meant to support a show while seeming invisible to the audience, things like the skilled execution of the backs stage crew's work, and the timing of key lighting cues. Chief among these critical but secret support skills is sound design and engineering. Knowing how technically challenging the acting, singing, puppeteering, and music in this production would be, MPO reached out to Bob Terrano, head of MCCC's Entertainment Technology Program to seek help from his Music Technology students.

"We've always had very capable sound design and engineering for our shows in the past, and have even been recognized with an NJACT Perry Award and several nominations for our sound work in a few of our productions," Maurer said. "But as our shows have become more complex, the demand for greater sound engineering skills has increased. And when the Kelsey Theatre invested in a new and more complex sound system, including a whole new sound board, we knew we were going to have to step up our game."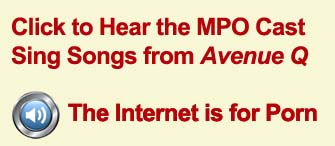 As the Music Director for Avenue Q, Gougher couldn't agree more. "This is an especially challenging production from a performance perspective, so it's very important that we get the sound right," she said. "The cast needs to multi-task at a level beyond a typical musical. To make the show work, they have to sing, maintain independent harmonies, use character voices (sometimes several characters per actor), plus manage their puppets. Ensuring that we have skilled sound engineers with experience on the new equipment is vital in helping the actors, and the orchestra, deliver their best performances."

Maurer explained that the company has been very happy with the work of past sound engineers, but the installation of the new sound board – a move taken by MCCC and the Kelsey Theatre to improve the theater-going experience – made the MPO board look to broaden their pool of sound talent.

"When we heard the phenomenal job that Bob's Music Technology students did with Pirates of Penzance, it opened our eyes," Maurer said. "But when we saw them do it again using the new sound board during Sunday in the Park with George, we knew we wanted to work with them."

The MPO Team was thrilled to hear from Terrano that students Nicholas Mastalesz and Raghavendran "Raghu" Rajagopal, who were members of the Sunday in the Park with George sound team, would be working on Avenue Q. They are skilled technicians and were among the first to break-in the new sound board at Kelsey Theatre. The professionalism of Bob Terrano and the MCCC Entertainment Technology Program's Music Technology students has been unmatched. They have even gone above and beyond to support MPO in recording songs from the show to help promote the production.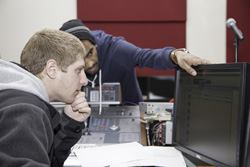 Gougher said, "I have enjoyed my collaboration with Bob's students. This is my third recording experience, once previously as an MD and once as a performer. I've learned so much from Bob, and yet we have a relationship of mutual respect regarding the process of working with singers and the aesthetic of the end product. I couldn't ask for a better collaborator. And as a professional educator myself, I'm thrilled to see the opportunities that he's giving his talented students."

Avenue Q will be performed Fridays, March 1st and 8th at 8 p.m.; Saturdays, March 2 and 9 at 8 p.m.; and Sundays, March 3rd and 10th at 2 p.m. Kelsey Theatre is located on Mercer's West Windsor campus, 1200 Old Trenton Road. A reception with the cast and crew follows the opening night performance on March 1st. Tickets are $18 for adults, $16 for seniors, and $14 for students & children and may be purchased by calling the Kelsey Box Office at 609-570-3333 or online here. Kelsey Theatre is wheelchair accessible. Free parking is available next to the theater.
---
Maurer Launches Black Rapids Press
Local Talent Tapped to Support New Publishing Venture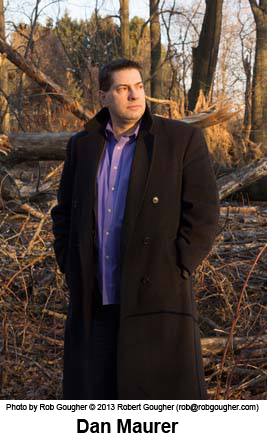 Dan Maurer, a member of the MPO board and an award-winning director and producer of plays and musicals, has announced the launch of a new publishing venture called Black Rapids Press, LLC. He plans to tap the immense talent of the Kelsey Theatre community and many other professionals as he develops a slate of four projects scheduled for publication in 2013.
Black Rapids Press, a new limited liability company Maurer has formed, will publish fiction in digital, print, audio and graphic novel formats. Projects are expected to be distributed through Amazon.com, iTunes.com, BarnesAndNoble.com, Audible.com and other major outlets. The imprint, which is completely independent of Maurer Productions OnStage, will focus on dark fiction, in particular tales of suspense, the supernatural and horror. Maurer will initially focus on writing the projects himself and teaming with other talents to bring them to fruition. In time, Black Rapids Press will explore publishing works by other authors.
"I'm excited about this new endeavor because it's another avenue for telling great stories that engage and entertain people," Maurer said. "I've always had a passion for storytelling in many forms and this is an opportunity to pool many of my skills – writing, publishing, and marketing – to that single end."
Black Rapids Press will initially pursue what it calls a "singles strategy" focusing on novella length fiction in the 17,000 to 30,000 word range that it releases every few months.
"The sea change that ebooks and the digital channel have brought to publishing has opened a whole new market for shorter works," Maurer said. "The big six publishing companies are just now scrambling to figure out how to address that market and some of them aren't thinking about it at all. That is BRP's niche."
Maurer went on to explain that distribution channels like Byliner, Amazon Singles and Barnes and Noble Quick Reads are building a market for stories told at their natural length that can be read in one sitting. Before the explosion of dedicated e-readers and tablets, such works were too short for books outside of a collection and too long for magazines. Not only will Black Rapids Press feed this growing market but each title will also receive a simultaneous ebook and audiobook release. This will allow readers to utilize the new Kindle feature that blends ebooks and audio files for a more immersive reading experience.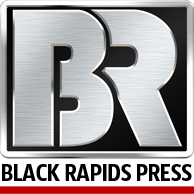 To bring his titles to market, Maurer is reaching out to members of the local Kelsey Theatre community, many of them MPO alumni.
"I'm very fortunate to have a network of very talented friends," Maurer said. "They are not just talented in the theater community, but they have many skills they bring from their day jobs as well."
Scheduled for an April 1 publication date, details of the first joint ebook/audiobook publication from Black Rapids Press won't be announced until next month, but already a team of MPO alumni are lending a hand. Vicky Czarnik (Singin' in the Rain) is bringing her professional copy editing skills to the project; John Maurer (Avenue Q) is designing cover art; Rob Gougher (The Drowsy Chaperone) conducted a photo session with the author; Musician Paul Maurer (Avenue Q) will engineer the audiobook recording session; and Perry Award-winning actor Lynn Baskin (Driving Miss Daisy) has signed on as the voice talent for the audiobook edition.
For Maurer, the launch of Black Rapids Press marks a return to his roots. After graduating from East Carolina University in 1988, he jumped into the New York book publishing scene. Maurer then spent seven years in publishing including stints in the editorial departments of both Doubleday and Houghton Mifflin. While supporting Doubleday's Editorial Director and Houghton Mifflin's Editor-in-Chief, Maurer helped shepherd many notable book projects through the production process including John Grisham's The Firm, Richard Price's Clockers, and Jim Lovell and Jeffrey Kluger's Lost Moon, which became the film Apollo 13.
---
Reock & Roll coming to Kelsey February 22-24
West Windsor, N.J. -- The Reock & Roll Revue is returning to Mercer County Community College's Kelsey Theatre for a weekend of performances of the band's latest show, "The Band and Music From Big Pink," a tribute to the classic group of the late '60s and early '70s. The theater gets rocking on Friday, Feb. 22, at 8 p.m., with additional shows on Saturday, Feb. 23 at 8 p.m., and Sunday, Feb. 24 at 2 p.m. Kelsey Theatre is located on Mercer's West Windsor campus, 1200 Old Trenton Road.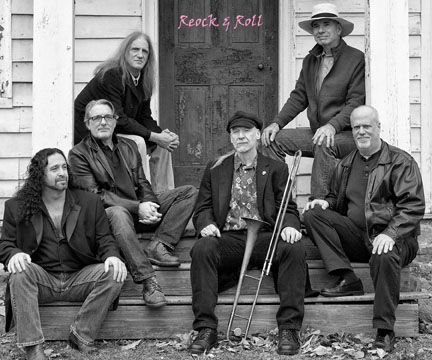 Pictured are members of the Reock and Roll Revue, from left: Joe D'Angelo, Mario DiBartolo, Tom Reock, Brian T. Leahy (center), Jerry Steele and Bud Belviso. (Photo courtesy of Tom Reock)
Reock & Roll Revue has developed a devoted following at Kelsey, having performed to sold-out crowds in the past, including last summer's performance of the Allman Brothers' "Eat a Peach" album, as well as tribute concerts for Crosby, Stills, Nash and Young, The Who, and The Beatles.
This winter's musical and video journey chronicles the collaborations between Bob Dylan and members of the group that later became known as "The Band," as they turned a house known as Big Pink into their very own recording studio. They will cover music featured in the albums "The Music From Big Pink," "The Band," and "Stagefright."
Said band leader Tom Reock: "In the history of recorded music there are only a few bands or artists that can claim to have shaped the direction of the music for their generation. It is rare when a band that receives such acclaim has gone virtually unnoticed in the popular narrative. The Band changed the direction of the recording industry without compromising their music, and changed the musical landscape for years to come."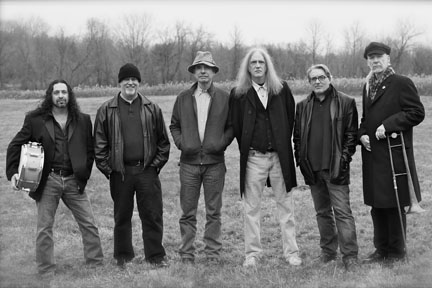 Pictured are band members, from left: Joe D'Angelo, Bud Belviso, Jerry Steele, Tom Reock, Mario DiBartolo, and Brian T. Leahy. (Photo courtesy of Tom Reock)

Reock and Roll Revue features Mario DiBartolo of Hamilton, Jerry Steele of Princeton, Joe D'Angelo of Pennington, Bud Belviso of Hamilton, and Tom Reock of Hamilton, with special guest Brian T. Leahy of Hamilton on keyboards. The horn section will feature Chandler Scales of Hamilton and Elias Argabrite of North Jersey.

The Reock & Roll Revue was formed in 2004 as an outlet for Tom Reock to perform original and other eclectic cover songs, while still performing with Trenton rock and blues legend Ernie White. In 2008, the band decided to undertake a stage presentation of The Beatles' "White Album," at Kelsey Theatre, which was so successful they followed it with tributes to several other notable bands from the '60s and '70s.

Tickets are $25 per person and may be purchased by calling the Kelsey Box Office at 609-570-3333 or online. Kelsey Theatre is wheelchair accessible. Free parking is available next to the theater.

Dates:
Friday, February 22, 2013 at 8 pm
Saturday, February 23 at 8 pm
Sunday, February 24 at 2 pm

Tickets are $25
Go to http://www.kelseyatmccc.org/ticket_series.shtml
for information on how to purchase tickets.

Go to http://www.mccc.edu/welcome_directions_wwcampus.shtml
for directions to the theater.
---
Podcasts: Talking About Avenue Q

Avenue Q: Warning Adult Content
In this Podcast we talk with the director and the cast of Avenue Q being produced by Maurer Productions OnStage at the Kelsey Theatre on the campus of Mercer County Community College. Our guests include Director John M. Maurer, Musical Director Laurie Gougher and cast members Zach Mazouat, Kyla Mostello Donnelly, Kyrus Westcott and Mark Applegate. Listen to the Podcast.

---
Alumni Happenings for March and April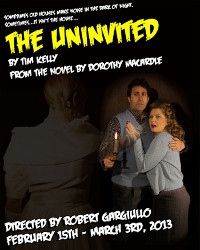 The Uninvited at Playhouse 22
Joe Zedeny (It's a Wonderful Life, Singin' in the Rain, Man of La Mancha, The Adventures of Tom Sawyer, A Few Good Men, Laughter on the 23rd Floor) is taking the stage at Playhouse 22 as Roddy Fitzgerald in The Uninvited.
Synopsis: Seeking to escape the demands of life in London, Pam Fitzgerald and her brother, Roddy, an aspiring playwright, discover a charming house in the west of England, overlooking the Irish Sea. The house, Cliff End, has long been empty, and they are able to purchase it at a suspiciously low price from crusty Commander Brooke, the village curmudgeon. The reason is soon apparent; the house has an unsavory reputation. Fifteen years earlier a murder may or may not have occurred by the gnarled tree that can be viewed from the parlor window. Slowly the Fitzgeralds begin to sense the evil spirit that still inhabits the house, announcing its presence with a sudden, bone-chilling cold.
Show Dates:
Friday, Saturday at 8 pm, February 22 and 23 and March 1 and 2 Sunday at 3 pm, February 24 and March 3.
Tickets:
Adults, $20
Seniors and students, $18
Group prices available (20 people or more)
To purchase tickets, call (732) 254-3939 or purchase online at http://www.playhouse22.org/

Location:
East Brunswick Community Arts Center
721 Cranbury Road (Middlesex County Route 535 South)
East Brunswick, NJ
For directions or more information, visit http://www.playhouse22.org/

I Love You Because at Off Broad Street Theatre
Ben Menahem (Aida) and John Bergeron (Man of La Mancha) are taking the stage at the Off Broad Street Theatre in I Love You Because.
Synopsis: A modern twist on Jane Austen's Pride and Prejudice, this hilarious new musical will have you smiling in your seat. Austin, a young, uptight greeting card writer's life is changed when he meets Marcy, a flighty photographer. Along with their eccentric friends and siblings, they learn to love each other not in spite of their faults, but because of them.
Dates and Times:
Friday, February 22, March 1, 8, 15 and 22 at 8 pm. Doors open at 7 pm.
Saturday, February 23, March 2, 9, 16, and 23 at 8 pm. Doors open at 7 pm.
Sunday, February 24, March 3, 10, 17, and 24 at 2:30 pm. Doors open a 1:30 pm.
For tickets or to make a reservation, call 609-466-2766.

Theater Info:
5 South Greenwood Avenue
P.O. Box 359
Hopewell, NJ 08525
For directions, visit visit http://www.off-broadstreet.com/.
The Normal Heart at Circle Players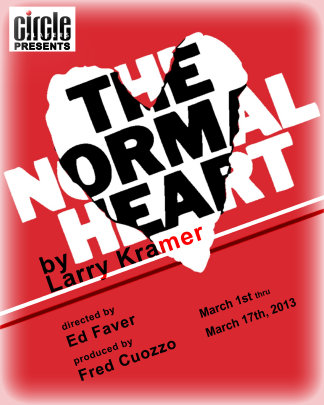 Faith Dowgin (A Few Good Men) will be performing at Circle Players in Piscataway in The Normal Heart.
Synopsis: This largely autobiographical play focuses on the rise of the HIV-AIDS crisis in New York City between 1981 and 1984, as seen through the eyes of "Ned Weeks," Jewish-American writer, gay activist, and founder of a prominent HIV advocacy group.
Weeks favors loud public demonstrations to the quieter strategies favored by his associates, friends, and lover Felix Turner, none of who desire to have the media spotlight thrown upon them. Their differences of opinion lead to frequent arguments that threaten to undermine their mutual goal.
Dates and Times:
Friday, March 1, 8, 15 at 8 pm
Saturday, March 2, 9, 16 at 8 pm
Sunday, March 17 at 3 pm.

Ticket Info:
For reservations, call (732) 968-7555, or buy tickets online at http://www.circleplayers.com/. ($1 per ticket discount online.)
Adults, $18; Seniors and Students, $17. (Sorry, no credit cards can be accepted at the theater box office, but may be used online.)
Theater Info:
416 Victoria Avenue
Piscataway, NJ
For directions, visit visit http://www.circleplayers.com/.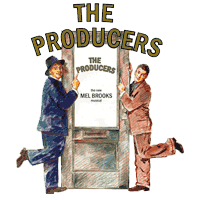 The Producers at North Brunswick High School
Christopher Guell (Man of La Mancha) and Claudine Meier (Singin' in the Rain) will be performing in The Producers in a production sponsored by the Department of Parks, Recreation and Community Services at North Brunswick High School.
Synopsis: The antics of Bialystock and Bloom provide modern, outrageous, in-your-face humor. With a truly hysterical book co-written by Mel Brooks and Thomas Meehan and music and lyrics by Mr. Brooks , The Producers skewers Broadway traditions and takes no prisoners as it proudly proclaims itself an "equal opportunity offender."
Dates and Times:
Thursday, Friday and Saturday, March 7, 8, and 9 at 8 pm

Ticket Info:
Adults,, $15; Seniors and Students, $12
Tickets may be purchased at the door.
Theater Info:
98 Raider Road
North Brunswick, NJ 08902
On Borrowed Time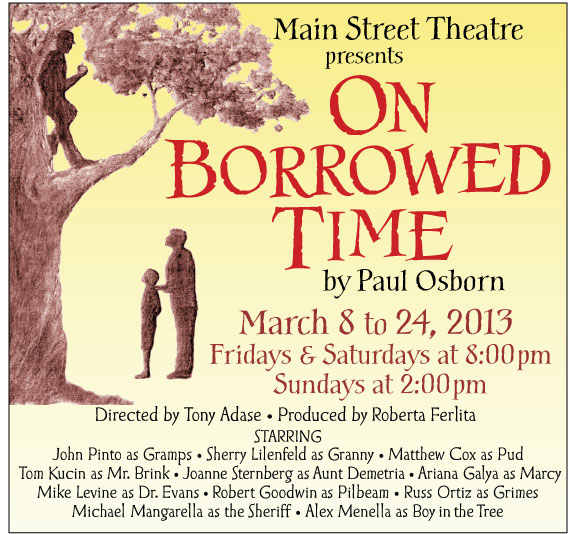 See John Pinto (Laughter on the 23rd Floor & A little Murder Never Hurt Anybody) as Gramps in the Main Street Theatre Production of On Borrowed Time.
In this classic fantasy (with generous doses of drama, humor and humanity), Gramps is the good-hearted (if a bit irreverent) guardian of his grandson, Pud. Mr. Brink is an erudite gentleman whose only responsibility is to escort any living thing out of this life when their time has come.
When Mr. Brink pays a visit to Gramps, Gramps rejects the invitation and manages to get Mr. Brink to climb the backyard apple tree, a tree from which no one can escape without Gramps' permission (the result of an idle wish and its unexpected fulfillment). Gramps feels rather proud of himself for outwitting death, and, thus, preventing Pud's aunt, Demetria, with her holier-than-thou facade and her less-than-holy intentions, from taking control of Pud's life.
However, things begin to get complicated when the story of the tree and Mr. Brink (whom only Gramps and Pud can see and hear starts to get out, and Gramps has to find a way to prove he hasn't lost his mind. Also, the fact that no one is dying anymore, forces the local doctor to confront Gramps with the realities of the unnatural condition he has unwisely unleashed on the world.
The 1939 film adaptation of "On Borrowed Time" starred Lionel Barrymore as Gramps and Sir Cedric Hardwicke as Mr. Brink. Our theatrical version is very much like the screenplay, with all the charm and the pathos of this timeless story. Ours, however, is in color.
Dates and Times:
March 8, 9, 10, 15, 16, 17, 22, 23, 24 at 8 pm

Ticket Info:
For reservations, call (732) 553 -1153, or visit http://www.smstc.org
Ticket Pricing:
$12 children 12 & under; $ students & 65 or older; $20 adults

Theater Info:
Main Street Theatre
3018 Bordentown Avenue
Parlin, NJ 08859
---
Auditions for Curtains with the Siena Players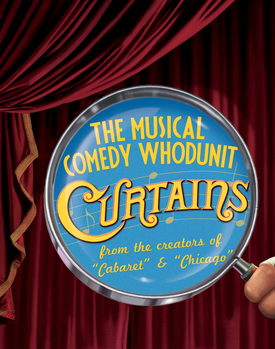 The Siena Players are doing a production of Curtains in the spring and are in need of men to fill out the cast. Interested men should contact Samantha Warner. Cell: (215)510-2557 E-Mail: swarner@nhsonline.org.
Curtains is a musical with a book by Rupert Holmes} lyrics by Fred Ebb} and music by John Kander, with additional lyrics by Kander and Holmes. Based on the original book and concept by Peter Stone, the musical is a send-up of backstage murder mystery plots, set in 1959 Boston, Massachusetts and follows the fallout when the supremely untalented star of Robbin' Hood of the Old West is murdered during her opening night curtain call. It is up to Lt. Frank Cioffi, a police detective who moonlights as a musical theater fan to save the show, solve the case, and maybe even fmd love before the show reopens, without getting killed himself.
---
MPO Theater Quiz:



Your Numbers Up - In Celebration of Avenue Q

This month's quiz is brought to you by the Letter Q and the Number 10. On March 1, ten actors will grace the stage at Kelsey Theatre and bring alive the characters of Avenue Q. In celebration of Avenue Q's opening, this month's quiz features songs and shows that include letters and numbers in them.
Try out our March edition


TOP >>