Share on Facebook
OnStage News & Notes - January 2012

In January, we're pleased to announce auditions for The Drowsy Chaperone; Laughter delivers to critical acclaim; the latest episode of BackStage Pass in which we talk with the cast of Laughter on the 23rd Floor
Neil Simon's Laughter on the 23rd Floor
COMING JANUARY 2012 to the KELSEY THEATRE
Call or Click for Tickets: 609-570-3333

DATES:
Fri. Jan.27 & Feb. 3, 2012 at 8pm Sat. Jan. 28 & Feb. 4 at 8pm
Sun. Jan. 29 & Feb. 5 at 2pm

PRICES:


All Tickets $16




It is the golden age of television, circa 1953, and you are behind the scenes of the hottest program on the air, "The Max Prince Show." Inspired by Neil Simon's real-life experiences while working on Sid Caesar's hit television program, "Your Show Of Shows," this side-splitting comedy is modeled after the real-life Kings of Comedy he worked with in the 1950s (Warning contains language not suitable for children)
---
Laughter on the 23rd Floor Delivers to Critical Acclaim
The cast in this MPO Production "...burn(s) up the stage..."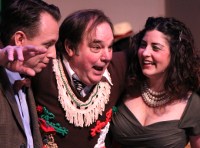 Packed Kelsey Theatre houses roared with laughter as the jokes came fast in furious in the opening weekend of MPO's production of the Neil Simon comedy Laughter on the 23rd Floor. Referring to members of the cast, Stage Magazine reviewer Terry Stern said ...[they] burn up the stage individually...but together they create a bonfire of insanities." Tickets to this smash hit are still available for February 3, 4, 5, but the show is on course to becoming the best-selling straight play in MPO's history, so get your tickets now!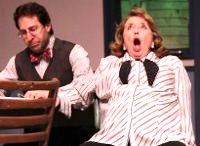 Laughter on the 23rd Floor follows the writing, fighting, and crazy antics which take place in the writers' room of a weekly variety show circa 1953. The MPO production staff went the extra mile to bring the period to life. The team took meticulous care to recreate issues of Time and Life magazines, replicate the front pages of several issues of the New York Times and doctor period photos from the 1950s to include the actors from the cast mugging with famous celebrities from the period. From props, to costumes, to set dressing and music, the team brought 1953 to life.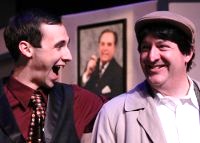 The show follows the antics of Max Prince, the star of "The Max Prince Show," and his ongoing battles with NBC executives who fear his humor is too sophisticated for Middle America. The characters in the play are based on Neil Simon's real-life co-workers when he was a comedy writer on Sid Caesar's television program "Your Show of Shows." Each of the characters in the play is based on one of the real-life kings of comedy who worked beside Simon in the 50s. To help bring this fact to life, before the curtain went up, MPO showed clips of an interview with the Sid Caesar writers including Sid himself, Neil Simon, Larry Gelbart, Mel Tolken and others. Many of the hilarious stories these old comedy writers told in the interview made their way into the script of Laughter and were played out for the audience on stage.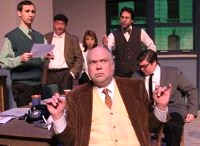 If you want to know what it was like behind the scenes of one of the hottest shows on television during the mediums golden age, you have to see Laughter on the 23rd Floor. The show contains language that is not suitable for children, but it also contains situations that will make adults laugh their asses off.

Tickets for Laughter are still available for February for this coming weekend. To order tickets call 609-570-3333, or order online at http://www.kelseyatmccc.org.
---
Open Audition for The Drowsy Chaperone, Feb 25-26
A Talk with Director John Maurer About the Auditions and the Show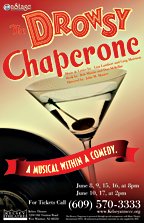 MPO is taking audition appointments for its production of the musical The Drowsy Chaperone. All roles are open. All actors are welcome. Drowsy will audition February 25 from 9am to 5pm and February 26 from 12pm to 5pm on the West Windsor, NJ campus of Mercer County Community College.

Actors may click here to book audition appointments online.
Ahead of the auditions, the show's director, John Maurer, sat down to talk about the show and what MP OnStage is looking for.
Q: For actors unfamiliar with the show, how would you describe The Drowsy Chaperone?
John: Zaney, outrageous fun -- that's how I'd describe The Drowsy Chaperone; especially for actors who enjoy poking fun at the theater. The show is really a send-up of the musical comedies of the 1920s. It both celebrates and satirizes the theater of that period. It includes larger-than-life characters, over-the-top scenes and enough song and dance to keep the energy high and the laughs coming at a good clip. It's a simple but bizarre concept really. It is a musical within a play about a lonely little man, sitting alone in his cold-water flat. He plays a recording of an obscure 1920s musical called The Drowsy Chaperone, and in an instant the show comes to life in his apartment. Pretty simple. Pretty crazy. Lots of fun.
Q: What advice do you have for people who aren't sure if they should audition for Drowsy?
John: If you can sing, dance or just "move well" and are willing to embrace fun, over-the-top characters, than this is the show for you.
Q: What are you looking for in the actors who audition?
John: The musical portion of the show is set in the 1920's and will be presented in the style of the 20's. So we are looking for musical theater performers who can carry off some very broad characters. But for the most part, you just have to be ready and willing to let go and have fun.
Q: Does the show feature a lot of difficult dancing?
John: The show will draw heavily from the musicals of the 20's and will have everything from tap dancing to leg kicks and arm swinging. We are looking for high energy and smiles. We suggest that everyone wear comfortable clothing that they can dance in. If you have tap shoes, bring them. Men auditioning for the groom and best man definitely need tap shoes!
Q: Who is Music Directing your production of The Drowsy Chaperone?
John: MPO Board member Laurie Gougher is serving as the Music Director for Drowsy. She recently completed the acclaimed Pinworth Production of Pirates of Penzance and before that she MD'd our production of Dirty Rotten Scoundrels. She's a delight to work with, actors love and respect her work.
Q: Are any of the roles in your production of Drowsy Chaperone pre-cast?
John: No, we don't believe in pre-casting. Having all the roles available means you get a wider talent pool trying out for the show. We are proud of the fact that we have helped to introduce some new talent to the Kelsey Theatre. It is a great feeling when you see someone new at auditions and they just blow you away. In our November production, Elton John & Tim Rice's AIDA, roughly half the cast was made up of people we'd never worked with before and some of those have never performed at the Kelsey before. Currently, we are running Neil Simon's Laughter on the 23rd Floor (click here to order tickets). Out of the nine actors in this play, six of them are working with MPO for the first time. We love making new friends.
---
In this Podcast we talk with the director and the cast of Neil Simon's Laughter on the 23rd Floor being produced by Maurer Productions OnStage at the Kelsey Theatre on the campus of Mercer County Community College. Our Guests include Director John M. Maurer, and actors Mark Swift, Michael Gonzalez, Joe Zedeny, Brett Molotsky, Casey Woods, Alana Caraccio, Joseph Perignat, Nicole Spadafino and John Pinto.
---
Alumni Happenings for January and February
Camp Rock at Kelsey Theatre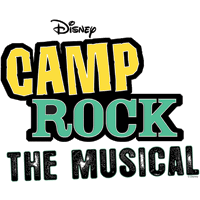 Four alumni of MP OnStage will be taking the stage again in Tomato Patch's Camp Rock at Kelsey Theatre: Melissa Geerlof (Dirty Rotten Scoundrels and Aida), Victoria Schialfa (Children's Letters to God and The Adventures of Tom Sawyer), Jeremy Barson (Children's Letters to God), and Abby Oliver (Aida). On the production staff is another MP OnStage alum, Elizabeth Rzasa (Man of LaMancha) as Musical Director.

Synopsis: Summer is about to heat up in this lively sequel as the kids at Camp Rock prepare for a musical battle with the aspiring chart-toppers at nearby Camp Star. For the talented Mitchie, that means another opportunity to make music with friends and get reacquainted with young rocker Shane Gray, who has just returned from a world tour with his band Connect 3. But things get complicated when Axel Turner, a former bandmate of Camp Rock founder Brown Cesario, opens up Camp Star in a bid to lure the most talented young performers to his side of the lake. While the kids at Camp Star have access to all the most expensive and high-tech recording equipment, the Camp Rock kids possess the drive to succeed no matter what challenges stand in their way. When the camp owners schedule a battle of the bands to determine which camp will stay in business, Mitchie begins preparing for the show that will launch her to stardom and save Camp Rock in the process.

Performance Information: Camp Rock will be at Kelsey Theatre at MCCC, 1200 Old Trenton Road, West Windsor, NJ 08550 from February 10 to 12. Performances are Friday, February 10 at 7:30 pm, Saturday and Sunday, February 11 and 12, at 2 and 4 pm.

Ticket Information:
All seats are $10. To buy tickets, visit http://www.kelseyatmccc.org/camprock.shtml.
The Wizard of Oz at Steinert High School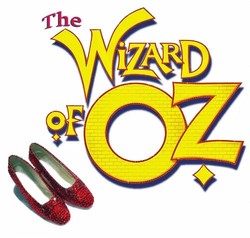 Kiernan Matts (Children's Letters to God and The Adventures of Tom Sawyer) will be taking the stage as the Tin Man in his high school production of The Wizard of Oz.
Synopsis: The beloved classic story of a young girl who travels her Kansas home to a strange new land to learn that "There's no place like home."

Performance Information: The Wizard of Oz will be at Steinert High School, 2900 Klockner Road Hamilton, NJ 08690. Performances are Thursday, February 23rd at 6:30pm; Friday, February 24th at 6:30pm; Saturday, February 25th at 2pm; and Saturday, February 25th at 8pm.
Ticket Information: All tickets are $10. Tickets will be sold to the general public in the conference room next to the main office during the following times:

Saturday, February 11th, time TBD
Wednesday, February 15th, 2:45-4:00
Thursday, February 16th, 2:45-4:00
Saturday, February 18th, time TBD
Tuesday, February 21st, 2:45-4:00
Wednesday, February 22nd, 2:45-4:00

***Saturday hours will be posted as soon as the building hours have been announced***

The box office will open 1 hour prior to each performance.

The Wizard of Oz at The Kelsey Theatre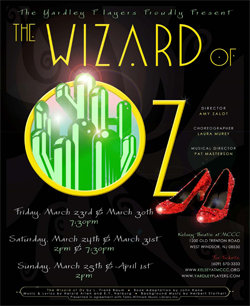 Stephen Szemis (The Adventures of Tom Sawyer) will be taking the stage as Ozian, Featured Jitterbug dancer and Winkie in the Yardly Players production of The Wizard of Oz.
Synopsis: Journey back to simpler times with The Yardley Players' musical celebration of the iconic 1939 MGM film, as Dorothy, The Scarecrow, The Tin Man, Lion and Toto, too, travel down the Yellow Brick Road to the magical Land of Oz. You'll know you're not in Kansas anymore from the moment the tornado touches down and transports you Over The Rainbow in this timeless production, featuring the classic songs and beloved characters you remember from your childhood. Bring the whole family out for this one!

Performance Information:
The Wizard of Oz will be at Kelsey Theatre at MCCC, 1200 Old Trenton Road, West Windsor, NJ 08550 from March 23 to April 1.
Fri. Mar. 23 & 30, 2012 at 7:30pm
Sat. Mar. 24 & 31 at 2pm & 7:30pm
Sun. Mar. 25 & Apr. 1 at 2pm

Note: there will also be daytime performances on Mar. 29 & 30 for school groups, call 609-570-3566

Ticket Information:
All seats are $10. To buy tickets, visit http://www.kelseyatmccc.org/oz.shtml
Broadway Bound at Off-Broad Street Theatre

John Bergeron (Man of LaMancha) is gracing the stage once again at the Off-Broad Street Theatre in Hopewell, NJ, in Broadway Bound, third in Neil Simon's autobiographical trilogy, the first of which was Brighton Beach Memoirs, done at Kelsey a few years ago by MP OnStage. This show was followed immediately by the current MP OnStage offering at Kelsey Theatre, Laughter on the 23rd Floor.

Synopsis: Eugene Jerome and his older brother Stanley are young men still living at home in the post-World War II Brighton Beach neighborhood of Brooklyn, New York. The two brothers are working together as a team, struggling to break into the comedy writing business. Their mother Kate keeps the homestead running while everyone else comes and goes—the boy's grandfather, Kate's father Ben; their aunt, Kate's sister Blanche; and their father, Kate's largely absent husband Jack. At the same time Eugene and Stanley are seeing their careers take off, their parents' marriage is crumbling. The family comedy and family drama collide when the sons use the situation at home as fodder for their first big break in radio, an experimental comedy showcase to develop new writers. Some family members don't get the joke, and others don't think it's right that the joke is at their expense.

Performance Information: The remaining two performances are Friday and Saturday, February 3 and 4, at 8 pm. The house opens at 7 pm for dessert and coffee. The Off-Broad Street Theatre is located at 5 South Greenwood Avenue, Hopewell, NJ 08525. Call (609) 466-2766 to make a reservation.


Beauty and the Beast
at Pond Road Middle School



Caroline Maurer (Winnie the Pooh and The Emperor's New Clothes) and Cynthia George (The Emperor's New Clothes) will be performing in Pond Road Middle School's production of Beauty and the Beast.

Synopsis: Disney's classic tale of a young girl who learns to see the good below the surface when she is imprisoned in a beast's castle to save her father's life.

Performance Information: Performances are Friday, February 10 at 7 pm; Saturday, February 11 at 2 and 7 pm; and Sunday, February 12 at 3 pm. Pond Middle School is located at 150 Pond Road, Robbinsville, NJ 08691. Caroline and Cynthia will be performing in the afternoon shows on Saturday and Sunday.

Ticket Information: Adults, $10; Students/Seniors, $8.
To purchase tickets, visit https://www.brownpapertickets.com/event/207371.

A Flea in Her Ear
at Villagers Theatre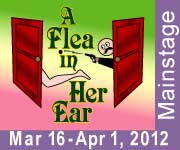 Alumnus Jack Petzko is Baptistin in the Villages theatre production of A Flea in Her Ear
The works of Georges Feydeau, the father of modern farce, have influenced the plots of countless plays, films and TV shows. In this French comedy, artfully combining bedroom farce with comedy of manners, Raymonde, suspects her husband, Victor Emmanuel, of infidelity. With the help of her best friend, Lucienne, she concocts a plan involving a perfumed letter in order to expose Victor's dalliance at the Hotel Coq d'Or and confirm her suspicions. In exquisite Feydeau fashion, the plan misfires monumentally. Additional convolutions include confused identities, revolving beds, a multitude of doors and the fact that the none-to-bright hotel porter, Poche, is an exact double of Victor. The barrage of hilarity and romantic turmoil continues non-stop until the final curtain.
Reserved seating - $16 Adult, $14 Senior/Student
Fridays and Saturdays at 8:00PM. Sundays at 2:00PM.
Reservations can be made via this web site under 'Tickets',
e-mail boxoffice@villagerstheatre.com or call 732-873-2710
begin_of_the_skype_highlighting 732-873-2710 end_of_the_skype_highlighting.
Group Rates available upon request.
---
MPO Theater Quiz: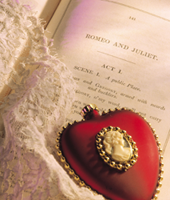 Love in the Arts!
Valentine's Day is almost upon us. To celebrate, this month's quiz is all about love. Match up these famous lovers of the Great White Way.