Share on Facebook
OnStage News & Notes - December 2011

In December, we're pleased to announce some MPO Alumni Happenings; give the gift of Laughter for the Holiday Season; MPO MD takes on G&S with PW; quiz your Neil Simon knowledge; and in the latest episode of BackStage Pass we talk with the cast of The Pirates of Penzance.
Neil Simon's Laughter on the 23rd Floor
COMING JANUARY 2012 to the KELSEY THEATRE
Call or Click for Tickets: 609-570-3333

DATES:
Fri. Jan.27 & Feb. 3, 2012 at 8pm Sat. Jan. 28 & Feb. 4 at 8pm
Sun. Jan. 29 & Feb. 5 at 2pm

PRICES:


All Tickets $16




It is the golden age of television, circa 1953, and you are behind the scenes of the hottest program on the air, "The Max Prince Show". Inspired by Neil Simon's real-life experiences while working on Sid Caesar's hit television program, "Your Show Of Shows." This side-splitting comedy is modeled after the real-life Kings of Comedy Mr. Simon worked with in the 1950's. (Warning contains language not suitable for children under 17.)
---
Laughter Comes to Kelsey Theatre
Neil Simon Channels the Kings of Comedy in Laughter on the 23rd Floor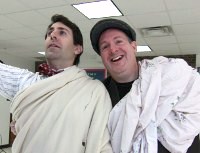 What do Mel Brooks, Carl Reiner, Sid Caesar and Jackie Gleason all have in common? These comic geniuses of television's golden age all served as the inspiration for Neil Simon's hilarious comedy Laughter on the 23rd Floor, opening at Kelsey Theatre on January 27, 2012.

Produced by Maurer Productions OnStage (MPO), the company who brought Carol Burnett's Hollywood Arms and Aaron Sorkin's A Few Good Men to Kelsey Theatre, this side-splitting comedy takes audiences behind the scenes and into the writers' room of a 1950s variety show where the laughs never stop and battles with network executives are the topic of the day.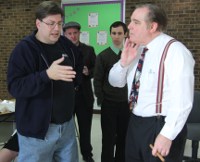 MPO's Artistic director, John Maurer, is helming this production. A versatile theatre producer and director whose credits include large scale musicals like Singin' in the Rain and Man of La Mancha, Maurer is most a home with small comedies.

"I love to make people laugh and I love a good comedy," Maurer said. "Producing or directing large scale musicals – often doing both at the same time – is a lot of fun, but doing a small intimate comedy to me is like coming home."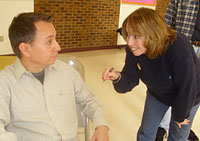 After founding Maurer Productions OnStage with his wife, Diana, in 2004, one of the first major productions Maurer directed for the fledgling company was a small comedy call The Foreigner. Neil Simon's Laughter on the 23rd Floor follows in the footsteps of that wacky comedy and the other plays that MPO has done since, including Simon's Brighton Beach Memoirs, and the award-winning Driving Miss Daisy.

Laughter on the 23rd Floor follows the writing, fighting, and crazy antics which take place in the writers' room of a weekly variety show circa 1953. The show follows the antics of Max Prince, the star of "The Max Prince Show," and his ongoing battles with NBC executives who fear his humor is too sophisticated for Middle America. The characters in the play are based on Neil Simon's real-life co-workers when he was a comedy writer on Sid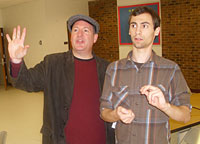 Caesar's television program "Your Show of Shows." Each of the characters in the play is based on one of the real-life kings of comedy who worked beside Simon in the 50s.

The show's cast features Mark Swift as Lucas (modeled after Neil Simon himself), Michael Gonzalez as Milt Fields (inspired by Carl Reiner), Joe Zedeny as Val Slotsky (inspired by Mel Tokin), Brett Molostky as Brian Doyle (inspired by Michael Stewart), Casey Woods as Kenny Franks (inspired by Larry Gelbart), Alana Caraccio as Carol Wyman (inspired by Selma Diamond), Joseph Perignat as Max Prince (inspired by Sid Caesar and Jackie Gleason), Nicole Spadafino as Helen, and John Pinto as Ira (inspired by Mel Brooks).

For tickets, call 609-570-3333, or click here.
---
MPO's Gougher Music Directs "Pirates" for PinnWorth
PinnWorth Productions Brings Pirates of Penzance to Kelsey Theatre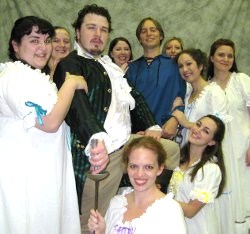 MPO Board Member and Music Director Laurie Gougher of Newtown, PA will lead a talented cast, including many Maurer Production alumnae, in the PinnWorth production of the comic opera Pirates of Penzance. This Gilbert and Sullivan classic will be directed by Lou Stalsworth, the talent behind such Kelsey Theatre productions as Amadeus, and Equus. Pirates of Penzance will be staged at Kelsey Theatre from January 13th to the 22nd, 2012. A reception with the cast and crew will be held after the opening night's performance.

"I'm thrilled to be working with PinnWorth on this production," Gougher said, "because it's a show I've always wanted to do. To get a chance to work with a director like Lou Stalsworth on a production where Kate Pinner is doing the costumes is a real treat."

Kate Pinner, nominated last year for an NJACT Perry Award for costumes in PinnWorth's production of Amadeus, is heading up both set and costume design. "Kate's work is always amazing, but I think she's really out done herself on Pirates," Gougher added.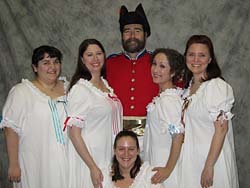 The trio of Gougher, Stalsworth and Pinner are working with some of the best acting talent in the region. "Lou, Kate and I are really blessed to be working with such great vocal talent. And the chemistry we're seeing on stage is amazing. I'm really glad we've had a chance to record some of the pieces," Gougher said. To give audiences a taste of what's to come, the PinnWorth team put together a recording sessions with sound designer Robert Terrano. Songs from the show, featuring the PinnWorth cast, are available for people to listen to online.

Many of the cast (and all of the principals) from PinnWorth's Pirates of Penzance have appeared in MPO shows over the last several years. The principals include Liz Rzasa of Lawrenceville as the young heroine, Mabel (MPO's Man of La Mancha); Jim Petro of Hamilton is the romantic, duty-bound Fredrick (Perry Award nominee for his role in MPO's Singin' in the Rain); John Zimmerman of Hamilton is the swash-buckling Pirate King (MPO's You're a Good Man Charlie Brown); Rob Gougher of Newtown, Pa. as his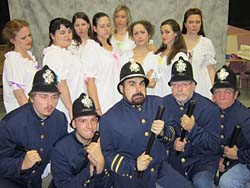 trusted lieutenant, Samuel
(MPO's Hollywood Arms); Alycia Bauch of Bordentown is the pining, middle-age Ruth whose love for Fredrick complicates everything (MPO Board member who appeared in Singin' in the Rain); Michael Schiumo of Horsham, Pa., is the bumbling Sergeant of Police (MPO's You're a Good Man Charlie Brown); and John Shanken-Kaye of Doylestown, Pa., is the nimble-tongued Major General (MPO's Lucky Stiff).

The roles of the three principal Wards are filled by Jenny Horowitz of East Windsor as Isabel; Jen Davis of Bordentown as Edith; and Jennifer Winn of Ewing as Kate. The rest of the cast includes Brian Maguire of Lakehurst (MPO's Elton John & Tim Rice's AIDA); Sally Page of Princeton; James Zimmerman of Hamilton; Dave Walter of Allentown; Katie Downey of New Brunswick; Dan Slothower of Plainsboro (MPO's Dirty Rotten Scoundrels); John Russell of Mercerville (MPO's It's a Wonderful Life); Lauren Makrancy of Florence; Jim Cordingly of Lawrenceville; KerryAnn McKenna of Branchburg; Victoria Scialfa of Robbinsville (MPO's Children's Letters to God); Collin Cenci of Hamilton; and Ben Menaham of Plainsboro (MPO's Elton John & Tim Rice's AIDA).

Pirates of Penzance is one of the most beloved works in modern theatre. Pirates is about Frederic, an orphan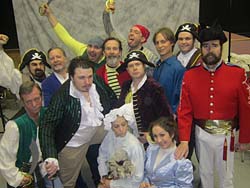 who was as a child apprenticed to a band of tenderhearted pirates by his nurse who, being hard of hearing, had mistaken her master's instructions to apprentice the boy to a pilot. Frederic, upon completing his 21st year, rejoices that he has fulfilled his indentures and is now free to return to respectable society. But it turns out that he was born on February 29, a leap year, and he remains apprenticed to the pirates until his 21st birthday. By the end of the opera, the pirates, a Major General who knows nothing of military strategy, his large family of beautiful but unwed daughters, and the timid constabulary all contribute to a cacophony that can be silenced only by Queen Victoria's name.
Gilbert and Sullivan's Pirates of Penzance is directed by Lou Stalsworth with set and costumes designed by Kate Pinner, both of Allentown; lighting and sound design by Robert Terrano of East Windsor; choreography by Janell Byrne of Princeton; stage management by Rachel Piscopo of Morrisville, Pa; and props by Dottie Farina of Hamilton.
For tickets, call 609-570-3333, or click here.
See a Trailer for Pirates of Penzance
---
Holiday Message from MPOnStage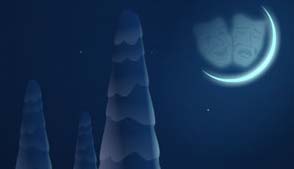 We at OnStage always appreciate the many people who come to see our shows and the volunteers who work tirelessly both on stage and off to create the magic. At this time of year we just want to show our appreciation. We hope you enjoy our Holiday Thank You card.
---
The Pirates of Penzance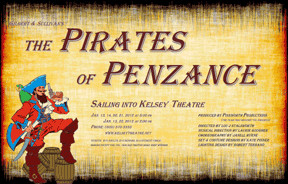 In this Podcast, we talk with the director and some of the cast of Gilbert and Sullivan's The Pirates of Penzance being produced by Pinnworth Productions at the Kelsey Theatre on the campus of Mercer County Community College. Our guests include Director Lou Stalsworth, Musical Director Laurie Gougher and actors Jim Petro, Elizabeth Rzasa, John Shanken-Kaye and John Zimmerman.
---
Alumni Happenings for December and January
The Pirates of Penzance, PinnWorth Productions, Kelsey Theater.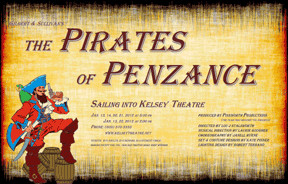 A "Rollicking Band" of OnStage alumni will take the stage at Kelsey Theater in January, from the 13th to the 22nd, in The Pirates of Penzance:
Laurie Gougher, Musical Director (Tom Sawyer, Dirty Rotten Scoundrels, OnStage Board)
John M. Shanken-Kaye (Lucky Stiff)
Elizabeth Rzasa (Man of LaMancha)
Jim Petro (Singin' in the Rain, Man of LaMancha)
John Zimmerman (You're a Good Man, Charlie Brown)
Mike Schuimo (You're a Good Man, Charlie Brown)
Victoria Schialfa (Children's Letters to God, Tom Sawyer)
Alycia Bausch (Lucky Stiff, Singin' in the Rain, OnStage Board)
Dan Slothower (Tom Sawyer, Dirty Rotten Scoundrels)
Robert Gougher (Tom Sawyer, Hollywood Arms)
John Russell (It's a Wonderful Life, Tom Sawyer)
Brian Maguire (Aida)
Ben Menahem (Aida)

Synopsis: Comic cutthroats and bumbling policemen, fair maidens in distress and a handsome young hero, a very modern major-general, and some of the wittiest lyrics ever written for the stage provide fun and entertainment for the whole family when PinnWorth Productions sails Gilbert & Sullivan's classic musical The Pirates of Penzance into Kelsey Theatre.
Performances are Friday, January 13 and 20 at 8 pm; Saturday, January 14 and 21 at 8 pm; and Sunday, January 15 and 22 at 2 pm.
Ticket prices are $18 for adults, $16 for seniors, and $14 for students and children.
Tickets may be purchased by phone, online or at the box office. For ticket information, visit the Kelsey Theatre website.
---
MPO - Theater Quiz for December.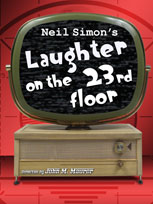 To prepare audiences for the opening of Laughter on the 23rd Floor on January 23, 2012, this month's quiz is on the huge body of work by the author—Neil Simon. How familiar are you with the works of Neil Simon?
Take the December Quiz.
TOP >>
---