Share on Facebook
OnStage News & Notes - November 2011

In November, we're pleased to present the results of the 2011 Kelsey Theatre Survey; Rave Reviews for "Elton John and Tim Rice's AIDA"; and in the latest episodes of BackStage Pass we talk with the casts of "Elton John and Tim Rice's AIDA" and "Urinetown".
Elton John & Tim Rice's AIDA
NOW PLAYING AT KELSEY THEATRE
Call or Click for Tickets: 609-570-3333

DATES:
Fri. Nov. 18 & 25, 2011 at 8pm
Sat. Nov. 19 & 26 at 2pm & 8pm
Sun. Nov. 20 & 27 at 2pm

PRICES:


All Tickets $20




Featuring music and lyrics from the Tony and Oscar-winning team that gave you Disney's The Lion King, this is the story of an enslaved Nubian princess, her conflicted Egyptian captor, and a forbidden love that rocks the ancient world to its core.
---
AIDA Rocks!
Packed Houses and Critical Acclaim Greet the First Weekend of AIDA
| | |
| --- | --- |
| | View this video to hear Meera Mohan and Tom Coppolecchia perform "Written in the Stars" from Elton John & Tim Rice's AIDA, recorded Saturday, November 19 at Kelsey Theatre. Tickets are still available for this weekend. |
After three and a half months of hard work, the cast and crew of Elton John & Tim Rice's AIDA were met with standing ovations and wide-eye amazement as they stunned audiences with an epic production not seen on the Kelsey Theatre stage in many years. The talented cast of 25 actors, singers and dancers was led by break out performances from the trio of principle performers that included Tom (TC) Coppolecchia as Egyptian Captain Radames, and Kimberly Suskind as Princess Amneris. But audiences were totally blown away and literally lept to their feet each night for the show's star, Meera Mohan, who brought the role of Aida to life.
Of Ms. Mohan, Stage Magazine wrote: "But if anyone can be said to make the show, it is Meera Mohan. From the moment she walks out on stage to the moment she takes the last bow, it is all there: the pride, the innocence, the passion, the love, the conflict, the unbreakable bond of family, the ineluctable urgings of love, all informing her voice, moves and expressions. To say that she makes every emotional turn with total clarity and force damns her with faint praise. She embodies the strength of the Nubian princess. Thank you Ms. Mohan. Your talents are of the first rank. Your performance rocked." (Read the full review here.)
25 actors, 23 musical pieces, 8 major dance numbers, more than 50 costumes, over 100 props and a set that looks like it took an army of slaves to carve from stone come together in a grand epic about love, courage and sacrifice.
Tickets are still available for the last weekend, but they are going fast. The final performances are scheduled for Nov 25 at 8pm, Nov 26 at 2pm and 8pm and Nov 27 at 2pm. All performances are held at Kelsey Theatre on the West Windsor campus of Mercer County Community College. For tickets, call 609-570-3333, or click here.
---
Two Shining Stars, Two Special Women
Meera Mohan and Kimberly Suskind, the leading ladies from Elton John and Tim Rice's AIDA, both blew audiences away with their talent and stage presence during the opening weekend of performances. The journey that brought them both to this point could not have been more different. Kim, who plays the role of Amneris, began her theater career as a pageant competitor looking for a talent. Her vocal ability soon caught the eye of local community theater directors and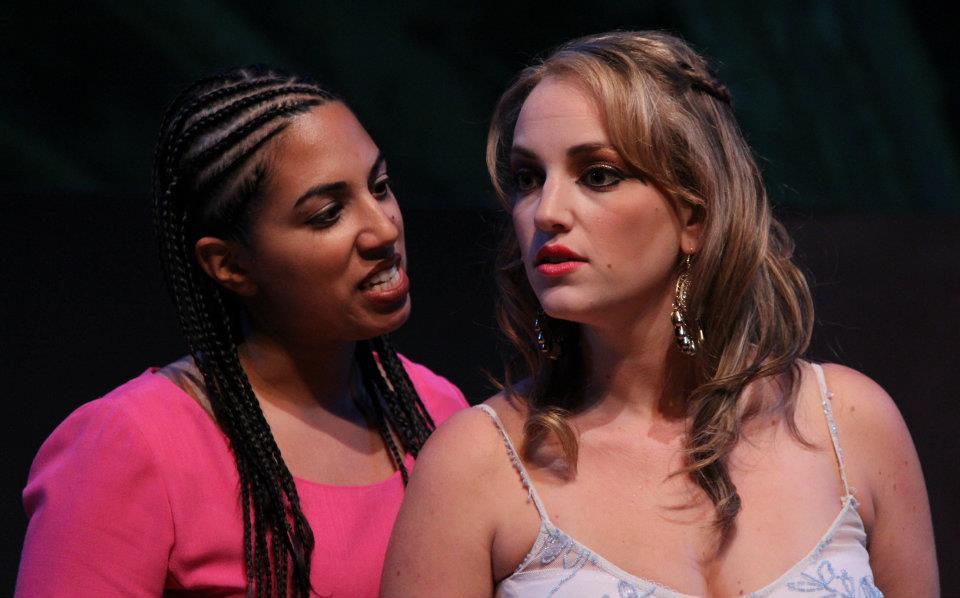 she was cast in her first role at age 6. Her favorite childhood role was Mary Lennox in The Secret Garden and she has enjoyed a steady stream of star turns since then. Kim earned her college degree in Musical Theater and spent a year living and working in Manhattan before settling in New Jersey.
Meera, on the other hand, was a shy, studious girl who enjoyed singing, but never felt particularly inclined to seek the spotlight. A middle school choral director discovered her beautiful voice and encouraged her to audition for a solo. The rest, as they say, is history. Meera's favorite role, prior to Aida of course, was Aldonza in MPO's production of Man of La Mancha. Although Kim and Meera began their journey in very different ways, they are moving towards the same bright future. Both women are actively auditioning in New York and hope to pursue professional careers in the theater. They have really enjoyed working together and each feels that the other has pushed her to excel throughout the rehearsal process. Once AIDA wraps, they intend to act as a support system for each other as they face the challenges of professional acting careers. Don't miss your chance to catch both of their electric performances this weekend at the Kelsey Theatre!
---
MPO Announces the Cast for Neil Simon's Laughter on the 23rd Floor
Maurer Productions OnStage is pleased to announce the cast for its production of Laughter on the 23rd Floor, opening at Kelsey Theatre on January 27, 2012.
MPO awed audiences and brought them to tears with their epic production of Elton John & Tim Rice's AIDA, now that same production team, led by director John Maurer, will have you rolling in the floor laughing with this hysterical Neil Simon comedy that follows the writing, fighting, and wacky antics which take place in the writers' room of a weekly variety show circa 1953. The show follows the antics of Max Prince, the star of "The Max Prince Show," and his ongoing battles with NBC executives who fear his humor is too sophisticated for Middle America. The characters in the play are based on Neil Simon's real-life co-workers when he was a comedy writer on Sid Caesar's television program "Your Show of Shows." Each of the characters in the play is based on one of the real-life kings of comedy who worked beside Simon in the 50s, including Mel Brooks, Carl Reiner, Sid Caesar and the great Jackie Gleason.
Joining the cast is mix of new faces and old friends. Rehearsals got underway this week and are off to a great starat.. Performances are scheduled for January 27 through February 5, 2012. Tickets are on sale now at the Kelsey Box Office. To order, call 609-570-3333, or order online.
We are pleased to introduce the cast of Laughter on the 23rd Floor.
CAST:

Lucas

-

Mark Swift

Milt

-

Michael Gonzalez

Val

-

Joe Zedeny

Brian

-

Brett Molotsky

Kenny

-

Casey Woods

Carol

-

Alana Caraccio

Max

-

Joseph Perignat

Helen

-

Nicole Spadafino

Ira

-

John Pinto
---
Patrons Say Kelsey Theatre Delivers Great Value

Now that we've closed the Kelsey Theatre Survey and tallied the numbers, we have a better idea of who's coming to see shows and what they are looking for. The gender of respondants leaned slightly more female (56%) and overall most people who took the survey were 40 years old or older (73.3%), with the largest age group (30.7%) coming in at 60 and older. No surprise there if you've ever seen a Kelsey show on a Sunday afternoon.
We learned that the average Kelsey Theatre patron is an avid theater goer, with 42.7% seeing six or more shows a year and they prefer musicals by a wide margin (74.7%). Something interesting we learned is that Kelsey Theatre goers are particular about who produces the shows they see. There are several different theater companies working out of Kelsey Theatre, and when asked if the name of the production company makes any degree of difference in their decision to buy a ticket to a show, many said yes. 50.6% of the people survey said that it at least affects their decision sometimes (37.3%) with some people (13.3%) saying that it always made a difference.
Overall, the people attending the Kelsey Theatre are very pleased with their experience. 94.6% of the respondants said they felt the overall experience attending a show at the Kelsey Theatre was good to very good. What's more, 97.3% of the people survey said that the value they received from the Kelsey Theatre for the price they paid was good to very good.
Finally, when asked to rate the shows from last season, the following shows ranked as the top 10 with combined ratings of Good to Very Good....
| | | |
| --- | --- | --- |
| Dirty Rotten Scoundrels | - | (70.1%) |
| Seussical | - | (64.8%) |
| Spelling Bee | - | (64.8%) |
| 13 the Musical | - | (64.7%) |
| Wedding Singer | - | (60.4%) |
| Amadeus | - | (60%) |
| Steel Magnolias | - | (60%) |
| Oklahoma | - | (56.3%) |
| Hello Dolly | - | (54.4%) |
| Annie Get Your Gun | - | (50.1%) |
TOP >>
---