Share on Facebook
OnStage News & Notes - September 2009

In our September newsletter, MP OnStage provides an update on how Hollywood Arms is coming together; talks about how the company is preparing for the upcoming Perry Awards Gala; offers two new Backstage Pass podcasts featuring interviews with cast and creative teams from Jekyll & Hyde and Hollywood Arms, and much more.
---
Carol Burnett's Hollywood Arms Shifts Into High Gear


The MPO production of Carol Burnett's comedy-drama Hollywood Arms is shifting into high-gear. Weeks of rehearsal have the cast firing on all cylinders, and with four weeks before opening night at the Kelsey Theatre (October 2), the production has just completed its publicity photo shoot.

"The team is in a groove," said the show's director, Dan Maurer. "I can see it happening in every rehearsal. The actors are shaping their characters, dramatic and comic moments are coming to life, the cast is really gelling. And when we put this cast together with this creative team, I think we have a winning recipe."

The creative team that staged 2008's five-time Perry Award-winning production of Driving Miss Daisy at the Kelsey Theatre has been reassembled to bring that same magic to Hollywood Arms. It was Dan Maurer (winner of the NJACT Perry Award for Outstanding Direction of a Play for Driving Miss Daisy) who brought the play to the attention of the MPO board of directors.

"The first time I read this play, I couldn't put it down," Maurer said. "Its theme of pursuing dreams is universal, but to see all that Burnett had to overcome — the poverty, her parents' alcoholism and illness — and to see her come out of all that with talent, drive, humor and a generous spirit is truly inspirational."
Maurer spent many long months searching for a good follow-up to the company's production of Driving Miss Daisy. He was looking for a story that delivered the same balance of humor and humanity that Daisy offered and was thrilled when he stumbled upon Hollywood Arms.

"This story has it all," Maurer said. "There are moments that will have you rolling on the floor with laughter, and there are moments that are so heart wrenching they take your breath away. That's what Burnett's childhood was like. She and her daughter Carrie don't sugar coat a thing. It is a very real and sometimes gritty story told honestly."

The show tells the story of Burnett (called "Helen" in the play) as she grows up in a poor and troubled family. It is the funny and deeply moving story of three generations of women pursuing their dreams; dreams that end in disappointment, tragedy, and ultimately – for one young girl – triumph. The show covers a period from the early 1940s to the early 1950s and follows Burnett's life from age ten through her early 20s, when she gets her big break on the Ed Sullivan Show. Along the way audiences will come to love, hate and ultimately understand the people who helped make Burnett the talented and kind-hearted person she is today.

Hollywood Arms will run October 2-11, 2009 at the Kelsey Theatre in West Windsor, NJ. To order tickets, go online at www.kelseyatmccc.org, call 609-570-3333, or stop by the Kelsey Theatre Box Office. Ticket prices are $14 for adults, $12 for seniors and $10 for students and children. The Kelsey Theatre is wheelchair accessible.
---
Hollywood's Rising Young Stars (Hollywood Arms, That Is)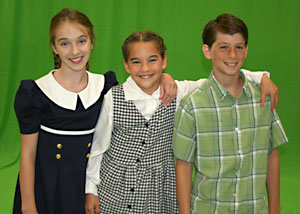 Hollywood Arms, the play penned by Carrie Hamilton and comic legend Carol Burnett opening at the Kelsey Theatre on October 2, features three young rising stars in its cast. A trio of strong young actors is critical to staging this comedy-drama about Burnett's difficult childhood growing up poor in 1940s Hollywood, so Maurer Productions OnStage made certain to cast three strong actors, some with a blend of stage and TV work to their credits.

In the show's lead role, twelve-year-old Kirsten Pasewaldt of Monroe Township plays young Carol Burnett, known as "Helen" in the play. While Kirsten may be new to the Burnett story, she is not new to theater and performing. She has performed in several community theater productions here in New Jersey and was featured in the recent Spotlight Players production of Pippin, playing the role of young Thea. She has also appeared in a television segment for Maria Bartolomo of the Wall Street Journal Report in a story about virtual worlds and social networking sites for kids. While her theater credits are growing more impressive each year, Kirsten will tell you that her favorite stage appearance happened recently at a Twilight Convention, when she was called up on stage with the actors from the Twilight movie series.

The cast also features Tommy Kouten in the role of Malcolm, young Helen's neighborhood friend and playmate. At twelve-years-old Tommy, is already an honored stage veteran. Hollywood Arms is his 15th production. Tommy's work has also been honored by NJACT, the New Jersey Association of Community Theaters. He has been nominated for the NJACT Perry Award for Outstanding Youth Actor in a Play twice. First, for his role as Luke in Somerset Valley Players' production of The Homecoming, and also for SVPs production of The Best Christmas Pageant Ever. On September 20, Tommy will be attending the 2009 Perry Awards Gala with fingers crossed. As far back as he can remember, Tommy has wanted to be on the silver screen, but now that he's discovered the stage, he simply wants to act in any capacity. Someday, he tells his friends, he'd like to become the next Jim Carrey.

Rounding out this talented threesome is eleven-year-old Kayla Vanderbilt, who plays the role of Alice, Helen's younger sister. Kayla has been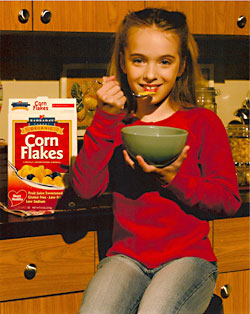 acting and modeling for several years and is madly in love with show business. She has performed in more than a dozen productions and has appeared on stage at NJPAC, Lincoln Center and various theaters around the state of New Jersey. One of her favorite stage roles was that of Baby June in Westchester Broadway Theater's production of Gypsy. One of her all-time favorite acting experiences was her appearance on the television show Law & Order: Criminal Intent. She played the role of victim Amberleigh, Liza Minelli's daughter in the episode Masquerade, which aired just recently.

Together these young stars add a lot of energy to the cast and Maurer Productions OnStage is excited to be working with them.

Hollywood Arms will run Octber 2-11, 2009 at the Kelsey Theatre in West Windsor, NJ. To order tickets, go online at www.kelseyatmccc.org, call 609-570-3333, or stop by the Kelsey Theatre Box Office. Ticket prices are $14 for adults, $12 for seniors and $10 for students and children. The Kelsey Theatre is wheelchair accessible.
---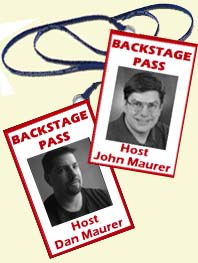 Backstage Pass, the podcast covering community theater in Central New Jersey, is starting off the new season with two podcasts.

Episode 25:
Talking About the Play Hollywood Arms
In this podcast we talk with the cast of Hollywood Arms, produced by Maurer Productions OnStage at the Kelsey Theatre in West Windsor, NJ. Host John Maurer talks with the director and the cast about the creative challenges of bringing Carol Burnett's childhood to the stage. Guests include Director Dan Maurer and actors Leta Gilbert as Louise, Laurie Hardy as Nanny, Nicole Spadafino as Older Helen, and Kirsten Pasewaldt as Young Helen.

Episode 24:
Talking About the Musical Jekyll & Hyde
This podcast features a disussion with the production team of Cheng/Ferrara's Jekyll & Hyde being produced at the Kelsey Theatre in West Windsor NJ. Guests include Director Frank Ferrara, Musical Director Nick Cheng, technical director Judi Parish and actor Meera Mohan who plays Lucy.
---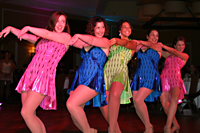 Photo From 2008 Perry Gala
The MPO team had a great time last year at the NJACT Perry Awards Gala, performing selections from Singin' in the Rain, and now they get to do it again. On September 20, the MPO team will perform selections from Man of La Mancha, an honor reserved for shows that are nominated in the Outstanding Choreography and Outstanding Production of a Musical categories.
Last year, when Singin' in the Rain was nominated, the group did selections of Make 'Em Laugh, Lucky Star, What's Wrong With Him, and the Singin' in the Rain Reprise.
The NJACT Perry Awards Gala was attended by over 800 members of New Jersey community theater last year. The ceremony offers an opportunity for networking with members of community theater all over New Jersey and to check out the competition around the state.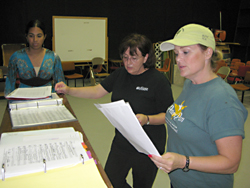 The MPO team is always amazed at how much talent there is in community theater in New Jersey. The group has already had the first rehearsal, and this year's performance promises to be great, as well as loads of fun. Participating this year are Dan Petrovich, Meera Mohan, Sam Rosalsky, Jim Petro, Liz Rzasa, Jamuna Chiarini, Laura Jackson-Jahnke, and Joe Zedeny, plus special appearances from some of the production staff! A couple of more rehearsals, then a rehearsal with the musical director and another with the orchestra, and the team will be ready for the big night. A few tickets are still available for the Gala, but for those who can't make it, the performance will eventually be posted on YouTube not too long after the ceremony.

---
The Mail Takes Wing for Children's Letters to God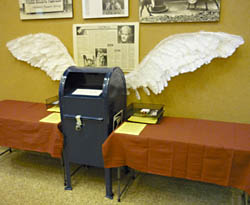 In January 2010, the musical Children's Letters to God, inspired by the international bestseller of the same name, will be produced at the Kelsey Theater and directed by Perry Award-nominated choreographer Jane Coult.
This show follows the lives of five young friends as they voice beliefs, desires, questions and doubts common to all people but most disarmingly expressed by children. Through song, dance and letters to the "Big Guy" upstairs, these children explore timeless issues such as sibling rivalry, divorce, holidays, loss of a beloved pet, the trials of being un-athletic and first love. This show delivers a universal message that transcends the boundaries of age, geography, and religion.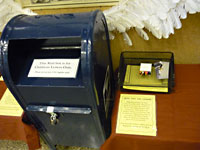 As we told you last month, MPO is offering an opportunity for children of all ages to get into the spirit of Children's Letters to God. The group arranged to get an official USPS mailbox as part of the show's lobby display. The artwork for the show is a mailbox with wings flying into the sky. So with the help of the Robbinsville Post office and Kate Pinner of the Kelsey Theatre, the company set up a Children's Letters drop box in the lobby, complete with wings and supplied with paper and crayons. Signs around the mailbox invite patrons of all ages to write their own letters and tell us about their favorite person or thing or just draw a picture. They can then drop it in the box and the letters will be posted on the walls of the lobby for everyone to see.
---
The Maurers are On the Road Again.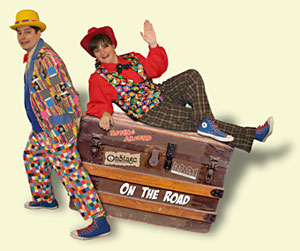 Founding members of MPOnStage Diana and John Maurer are once again returning to their roots and performing their Clown Stage shows in the Ewing area.
When Maurer Productions OnStage was just starting up, founders Diana and John Maurer produced the Nosing Around Series, a group of three original clown stage shows to help raise funds for the company. The three shows, Nosing Around with Baked Oranges, Nosing Around Circus Style and Nosing Around on the Road played at the Kelsey Theatre and in schools and libraries around the state.
Now the Maurers will be returning to the Ewing Public Library on November 14th with their Nosing Around on the Road show for one performance. This show features Mime, Magic and Mayhem and will be free to the public.
For more information, contact the Ewing Public Library at 609-882-3130.
---
Alumni Happenings in September
September starts another season for our alumni. Here is what they are up to:
Roebling: The Story of the Brooklyn Bridge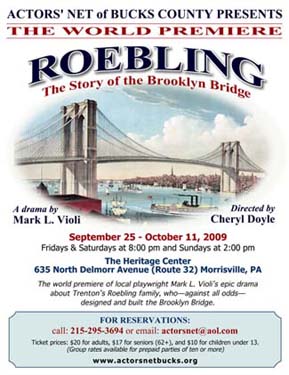 Mark Violi (The Foreigner), besides being an actor, is a playwright and enjoying the world premier of his epic drama entitled Roebling: The Story of the Brooklyn Bridge. The Roebling family name is well known in the Trenton area from a time when industry boomed and the famous logo, Trenton Makes, The World Takes, was true. Most, however, do not know much about their family story, including the story of how, against all odds, they built the Brooklyn Bridge, a magnificent structure that spans the East River between Manhattan and Brooklyn in New York City. Find out the remarkable story of this world-famous family.

Opening at Actors Net on September 25 and running until October 11, performances are Fridays and Saturdays at 8 pm and Sundays at 2 pm. Tickets are $20 for adults, $17 for seniors, and $10 for children under 13.

To purchase tickets, visit Actors Net website at:
http://actorsnetbucks.org/on_stage and click on Tickets.
Jekyll & Hyde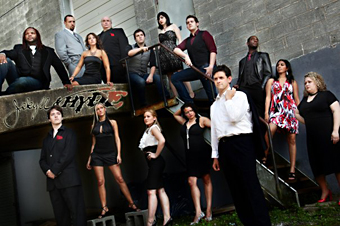 See MPOnStage alumnus Meera Mohan (Man of La Mancha), Tom Bessellieu (sound engineer), Kyrus (You're a Good Man, Charlie Brown), John Bergeron (Man of La Mancha), and Nicole Farina-Machin (Singin' in the Rain) in the Cheng/Ferrara production of Frank Wildhorn's Jekyll & Hyde, opening on September 18 at Kelsey Theatre.

"It's such a fine line between a good man and a bad." Several classic movies lead up to Frank Wildhorn and Leslie Bricusse's stunning musical based on Robert Louis Stevenson's evocative tale of romance and the epic battle between good and evil. Dr. Jekyll unwittingly unleashes his own dark side, wreaking havoc in the streets of late 19th century London as Mr. Hyde.
Performance Dates:
Fridays, September 18 and 25 at 8 pm
Saturdays, September 19 and 26, at 8 pm
Sundays, September 20 and 27, at 2 pm
Location:
Kelsey Theatre, 1200 Old Trenton Road, West Windsor NJ.
Tickets:
$16.00 for Adults, $14.00 for Seniors, and $12.00 for Students. For information on purchasing tickets, visit http://www.kelseyatmccc.org/ticket_series.shtml or call the box office at (609) 570-3333.
For more information about the show or Kelsey Theatre, visit http://www.kelseyatmccc.org/index.shtml.

Harvey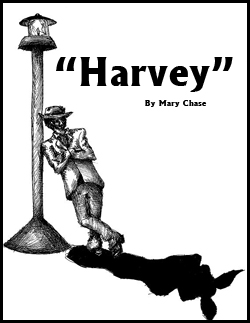 See Alumus Tess Ammerman (Man of LaMancha) as Nurse Kelly in Playmaster Presentation of Harvey the Mary Chase Classic play.
The classic story of Elwood P. Dowd who makes friends with a spirit taking the form of a human-sized rabbit named Harvey that only he sees (and a few privileged others on occasion also). After his sister tries to commit him to a mental institution, a comedy of errors ensues. Elwood and Harvey become the catalysts for a family mending its wounds and for romance blossoming in unexpected places.

ShowTimes:
Friday, Sept 18 thru Sunday, Sept 20
Wednesday, Sept 23 thru Sunday, Sept 27
Thursday, Oct 1 thru Sunday Oct 4

For Tickets and information call 215-245-7850 or visit www.playmasters.org.


Equus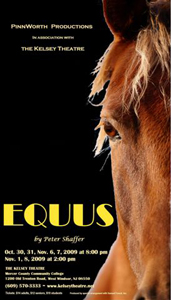 See Alumi Jean Prall Rosolino (Winnie the Pooh the Musical) and Dr. John M. Shanken-Kaye (Lucky Stiff) in the PinnWorth Production of Equus being presented at the Kelsey Theater in West Windsor NJ.
Peter Schaffer's disturbing psychological thriller loosely based on a real occurrence. Psychiatrist Martin Dysart (made famous in the film by Sir Richard Burton) is brought the most challenging case of his career by the magistrate. Alan Strang seems like a normal seventeen year old. His life appears routine and his family loving. However, Alan's passion for horses and an encounter with a female stablehand has led him to behave in the most devastating way. Dysart struggles to grasp the answer to this psychological puzzle.

ShowTimes:
Fri. Oct. 30 & Nov. 6, 2009 at 8pm
Sat. Oct. 31 & 7 at 8pm
Sun. Nov. 1 & 8 at 2pm

For more information about the show or Kelsey Theatre, visit http://www.kelseyatmccc.org/index.shtml.
Don't Drink the Water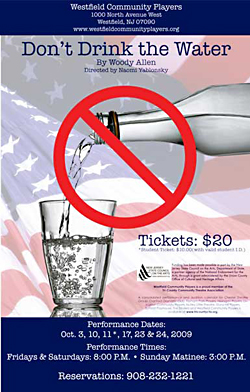 See Alumnus Sam Rosalsky (Man of LaMancha) as Father Drobney in the Westfield Community Players production of Woody Allen's Don't Drink the Water.
Don't Drink the Water is a comic farce written by Woody Allen in 1966 and was a big hit on Broadway. It takes place inside an American Embassy behind the Iron Curtain. Returning from a European tour, Newark, New Jersey, caterer Walter Hollander, wife Marion, and daughter Susan, accidentally wander into a restricted area and take photos for Walter's new hobby of photography and are caught and suspected of espionage. The tourists, however, are granted asylum in the American Embassy, temporarily supervised by Axel Magee, son of the ambassador. There they meet the the mad Father Drobney, who for six years has enjoyed sanctuary within the embassy's confines. The fun jumps into high gear as they try to plan their escape.
ShowTimes:
October 3, 10, 17, 23 & 24, 2009 @8PM
October 11, 2009 @3PM

For Reservations Call: (908) 232-1221
For more information about the show or Westfield Community Players http://www.westfieldcommunityplayers.org/
---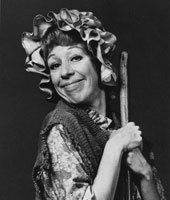 MPO Theater Quiz:
How Well Do You Know Carol Burnett?
In light of Maurer Productions staging the comedy-drama Hollywood Arms at the Kelsey Theatre beginning October 2, we thought this month's quiz should pay tribute to comic legend Carol Burnett. Test your knowledge of this amazing woman before seeing this heartwarming show, written by Carrie Hamilton and Carol Burnett..