Share on Facebook
The OnStage Newsletter - September, 2008

The September edition covers preparation for the Perry Awards ceremony, the upcoming production of Brighton Beach Memoirs, audition information for Man of La Mancha, the latest goings on at Arts YOUniveristy and lots more. Feel free to share these stories with your friends through Facebook.
---
Honored with 17 Perry Noms, MPOnStage Prepares for Awards Show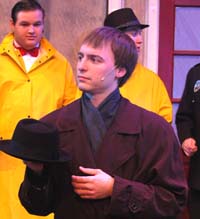 When NJACT representatives read the list of 2008 Perry Award nominees at the Kelsey Theatre last month, board members from Maurer Productions OnStage sat stunned as the company's name was mention no less than seventeen times. Emotions ran high. The initial shock turned to joy, then joy turned to fear.

"It's a wonderful feeling to have our company and our volunteers honored with so many Perry Award nominations," said John Maurer, President and Artistic Director of Maurer Productions OnStage. "We're very grateful to NJACT for the recognition of our work, but to be honest, it can also be a bit scary," he added.

Maurer was referring to the fact that NJACT (New Jersey Association of Community Theaters) will produce an awards ceremony on September 21 in the style of the Tony Awards, featuring musical numbers from the nominated productions. As a nominee for Outstanding Production of a Musical, Maurer's team has been invited to participate in the awards show by performing select songs and dances from its Perry-nominated production of...

Read Complete Story >>
---
Building a Little Piece of Brighton Beach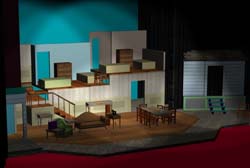 Work continues non-stop on MPOnStage's production of Neil Simon's Brighton Beach Memoirs, which opens at the Kelsey Theatre on Friday, October 3. Director Alycia Bauch-Cantor has rehearsals in full-swing, producer and costume designer Diana Gilman Maurer (nominated for Outstanding Costume Design for Driving Miss Daisy) is pulling together the actor's wardrobes, and producer and set designer John Maurer is putting the final touches on his set design. Rough 3D renderings of the site designs can be seen here.

Over the last two seasons, John has been recognized with three Perry Award nominations for Outstanding Scenic Design. His designs for Driving Miss Daisy, Singin' in the Rain, and Winnie-the-Pooh the Musical were all recognized by NJACT (New Jersey Association of Community Theaters) as ranking among the top set designs for community theatre productions in the state. For this new production,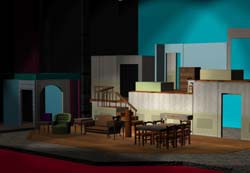 John has been working closely with Alycia to transform the Kelsey Theatre into the Jerome family home in the Brighton Beach neighborhood of Brooklyn, circa 1937.
"It's definitely a fun and interesting challenge," John said. "It's a two story set with two bedrooms and an upstairs hallway on the second level. We've been trying to design it with an eye toward keeping the stage open for better sight lines, but we still want to portray that feeling of claustrophobia that blended families sometimes get when too many people are living in too small a space," he added.
"It sounds straight forward, but any time you work with multiple levels, it can be difficult. I'm just glad I don't have to make it rain." he said with a smirk.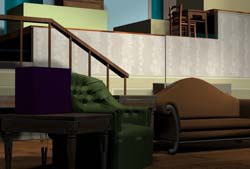 John is known for excelling in many aspects of theater production including producing, directing (he has a Perry nomination for Oustanding Direction of a Musical for Singin' in the Rain), special effects and prop design (he designed the hand-and-rod puppet for Winnie-the-Pooh the Musical). But he has become best known for his scenic design. Beginning with The Foreigner, where he raised the entire Kelsey Theatre stage and installed a trap door in the floor and finishing most recenly with Singin' in the Rain when he brought a cloud burst on stage every night, John has been transforming the Kelsey Theatre stage in different ways. Don't miss his latest project as he teams up with Alycia Bauch-Cantor to bring nostalgic Brooklyn to the Kelsey.
Maurer Productions OnStage will present Neil Simon's Brighton Beach Memoirs Friday, October 3rd and 10th at 8pm, Saturday, October 4th and 11th at 8pm, Sunday, October 5th and 12th, at 2pm in the Kelsey Theatre on the West Windsor Campus of Mercer County Community College. To order tickets, go online at www.kelseyatmccc.org, call 609-570-3333, or stop by the Kelsey Theatre Box Office. Ticket prices are $14 for adults, $12 for seniors and $10 for students and children.
---
Winnie-the-Pooh Puppets Put a Sparkle In Kids' Eyes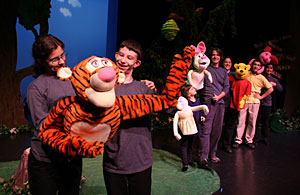 It wasn't a summer camp, but hundreds of kids got the opportunity to visit the 100 Acre Woods in August, thanks to MPOnStage and the Kelsey Theatre.
A Winnie-the-Pooh Birthday Tail drew families and smiles during it 2 week run at the Kelsey, thanks to catchy songs and the puppeteering skills of its 11 actors. "We received a lot of positive feedback from parents," said Diana Gilma Maurer, the show's director." From their first view of the wooded set with its morning mist to the bubble-filled finale they thanked us for a wonderful time and said how much the production values made the show come alive.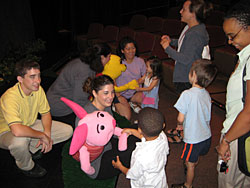 We even had an audience member who, after watching the show, returned several times bringing cousins and friends to see it!"
The show was also a learning experience as a group of girl scouts came to a performance and were treated to a special question and answer session with the cast. Their questions ranged from, "How long did it take you to learn the songs?" to "what is the hardest thing about doing puppetry?" They then took a tour of the theatre as part of their badge program.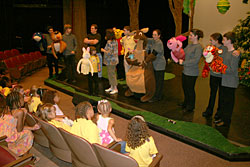 A Winnie-the-Pooh Birthday Tail was the second MPO Puppets production produced by OnStage and at this point the puppets of Pooh and his friends have been retired. "We had a lot of fun and success with our first 2 MPO Puppet productions," says John Maurer, Artistic Director of MPOnStage. "But its time to look for other stories. That is going to take a little time; since stage musicals aren't normally written for puppetry. We have to search for shows that we can adapt for our group. We have a few under consideration so keep an eye out for what's to come."
A Winnie-The-Pooh Birthday Tail ran for 7 performances from August 15th to the 24th of 2008.
---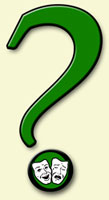 Take the OnStage Theatre Quiz Challenge

So what do you do when you aren't in a show and your looking for a little stage time? Well you try our new Theatre Trivia Quiz! You get 10 questions a month to test your theatre knowledge.
---
Arts YOUniversity Expands, OnStage Alumn Teaches Acting Classes



Want to hone your acting skills? Now is the time! Our own Dan Spalluto, who has been a fixture at Kelsey Theatre for the past ten years, is teaching an adult acting class at ArtsYOUniversity beginning this fall.

Arts YOUniveristy is a facility well known to Maurer Productions OnStage alumni. Last season the Artistic Directors of Arts YOUniversity, Michael McClure and Susanne Trani-McClure, kindly made their dance studios available as a rehearsal space for the cast of last season's Perry-nominated production of Singin' in the Rain. Michael and Suzanne's contribution was a tremendous help to the production, so we are happy to report that Arts YOUniversity is thriving and undergoing a major expansion this summer that involves the addition of new studio space, enlarging the lobby, installing flat screen TVs for parents to watch classes, and constructing a permanent 200-seat theater. This fall, new classes have been added, including a new adult program that allows...
---
OnStage Announces Audition Dates for Man of La Mancha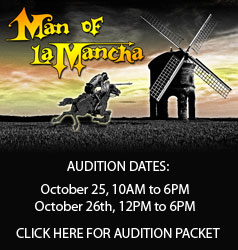 Mark your calendar! Maurer Productions OnStage is pleased to announce that it will hold open auditions for one of Broadway's most celebrated musicals -- Man of La Mancha -- which will open at the Kelsey Theatre February 6 and run through February 15, 2009.

Auditions will be held on Saturday, October 25 and Sunday, October 26, 2008 from 10AM to 6PM. Click here to learn more about the audition process and sign-up for an audition appointment.

All roles are available. Must be 17 or older to audition.

Open Roles:
Captain of the Inquisition
Manservant/Sancho Panza
Miguel De Cervantes/Don Quixote
Governor
Duke
Seven Muleteers
Aldonza
Innkeeper
Maria, the Innkeeper's wife
Fermina, a serving girl
Antonia, Alonso's niece
Housekeeper, for Alonso
Padre
Dr. Sanson Carrasco/Knight of the Mirrors
Barber
Moorish Girl, dancer
Four attendants to the Knight
Soldiers
Prisoners
Prison Guards
Gypsies (Moors)
Men of the Inquisition

---
OnStage Alumn to Appear in Moon Over Buffalo, Opening Sept. 19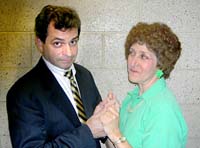 MP OnStage alumn Laurie Hardy will help kick-off the new Kelsey Theatre season when she appears in Yardley Players production of the classic comedy Moon Over Buffalo, opening Friday, September 19 at 8pm.

Laurie (pictured to the right with Kurt Penney) plays Charlotte Hay. In this rousing comedy, Charlotte and her husband George, find themselves close to the end of their less than illustrious careers. Appearing at a Buffalo theater, their repertory company is in the midst of performing two stage classics, Cyrano de Bergerac and Noel Coward's Private Lives. When rumors begin to swirl that the famous Hollywood director, Frank Capra, is coming to Buffalo to audition George and Charlotte as replacement stars for his current film, misunderstandings ensue and the merriment begins.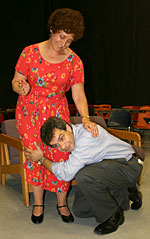 Many Kelsey Theatre regulars will remember Laurie from her role as the land lady in Maurer Productions OnStage's presentation of Lucky Stiff. She has also worked backstage on several of OnStage's productions including a stint as Make-up assistant during Driving Miss Daisy and It's a Wonderful Life, the Musical.
Also appearing in the cast of Moon Over Buffalo are Kurt Penney as George Hay, Tara Wood as Roz Hay, Mike McCollum as Paul Singer, Eric Wishnie as Howard, Jaci D'Ulisse as Eileen, MaryAnn Wylie as Ethel and Jim Cordingly as Richard Maynard. Howard Matter directs the show and Marge Swider is the producer.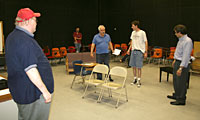 Moon Over Buffalo, is presented by The Yardley Players at MCCC's Kelsey Theatre Fridays and Saturdays, Sept. 19, 20, 26 and 27 at 8 p.m., and Sundays, Sept. 21 and 28 at 2 p.m. A reception with the cast and crew follows the opening night performance. Kelsey Theatre is located on Mercer's West Windsor campus, 1200 Old Trenton Road. Ticket prices are $14 for adults, $12 for seniors, $10 for students and children, plus a service charge. To order tickets by email, go to www.kelseytheatre.net; by phone, call (609) 570-3333 or (609) 570-3586; or visit the ticket office during box office hours (9 am to 12 pm or one hour before show time).
---
Teach Us A Song, Piano Man:
Peter de Mets Offers Voice Lessons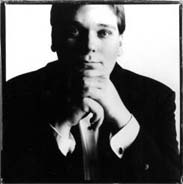 Get ready to be a better singer with MP OnStage alumn Peter de Mets. You've seen him behind the piano a lot, but did you know that he sings, too? Peter de Mets (who frequently plays the piano for MPOnStage's musical auditions and performances), is a professional singer and voice teacher who is currently accepting new students into his voice studio in nearby Newtown, PA.

If you are looking to strengthen your singing voice or want to be ready for your next audition, Peter, who has a degree in Vocal Performance and Studio Teaching can help. Weather you plan to try out for a local production, audition for college, or just enjoy singing and want to improve your skills, Peter can help you choose appropriate music, learn proper vocal technique and prepare songs for performance. Singers ages 11 and up and at all skill levels are welcome! For information, feel free to email Peter at voiceteacher@peterdemetsmusic.com.