Share on Facebook
The OnStage Newsletter - November, 2008

The November edition talks about the casting of Man of La Mancha, the final performances of Brighton Beach Memoirs, some new additions to the OnStage website and takes a look at what past Alumn are doing now and more. Feel free to share these stories with your friends through Facebook.
---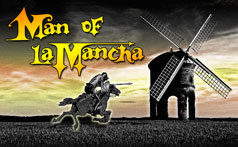 Man of La Mancha Cast is Announced

Auditions for Man of La Mancha were a long two-day journey as the production staff interviewed over 80 potential cast members. We want to thank all the actors who came out and offered their talents to the production. We wish we could have found a place in the production of everyone, but the number of roles are limited.
Here is the cast of Man of La Mancha:
Don Quixote (Cervantes) .......................

Daniel Petrovich

Sancho Panza ........................................

Sam Rosalsky

Aldonza (Dulcina) ..................................

Meera Mohan

Innkeeper/The Governor .....................

Joe Zedeny

The Duke/Dr. Corrasco/
Knight of the Mirrors ............................

John Bergeron

Padre/Prisoner .....................................

Jim Petro

Barber/Prisoner ...................................

Butch Burger

Antonia/Prisoner .................................

Elizabeth Rzasa

Housekeeper/Prisoner ........................

Debbie Ryan

Pedro/Prisoner ....................................

John Ragazzo

Anselmo/Prisoner ...............................

Keith Nielsen

Tenorio/Prisoner .................................

John Russell

Jose/Prisoner ......................................

Chris Guell

Paco/Prisoner ......................................

Robert Rasczyk

Juan/Prisoner .......................................

Marc Flicker

Quito/Prisoner .....................................

Eric Wishnie

Maria/Prisoner ....................................

Toni Campbell

Fermina/Prisoner ................................

Tess Ammerman

Moorish Dancing Girl/Prisoner ............

Jamuna Dasi

Captain of the Inquisition ....................

Allen Kasham

Ensemble ..............................................

Krystal Vozza

...............................................................

Melissa Rittman
---
New Episodes of BackStage Pass Available
Hosts John and Dan Maurer have been busy recording new episodes of Backstage Pass, the podcast that offers a behind-the-scenes look at community theatre in Central New Jersey. Recent episodes cover topics like the Rocky Horror Show playing at the Kelsey Theatre, a round table discussion about children in theatre, and lots more. Check out the latest episodes below.

You can listen to Backstage Pass right from the MPOnStage website, or subscribe to our free podcast through iTunes.

Episode 9:
Talking About The King and I

Episode 8:
Talking About The Rocky Horror Show

Episode 7 (Part 2):
Talking About Children in Theatre

Episode 7 (Part 1):
Talking About Children in Theatre

Episode 6:
Talking About Dames at Sea
---
MPOnStage Alumni Update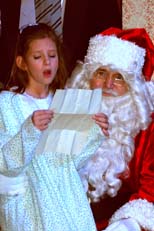 MPOnStage alumni (people who have worked on or performed in our shows in the past) are busy people! Many of them are busy working on shows both at Kelsey and at other theaters:
As we approach the holiday season, Kelsey Theatre is preparing its annual production of 'Twas the Night Before Christmas, and several MPOnStage alumni are leading the way. Appearing as Charity Moore, the sick little girl who's letter attracts the attention of Santa Claus, will be Caroline Maurer. You may remember Caroline from her appearance in the ensemble of MPOnStage's production of The Emperor's New Clothes last season. Joining Caroline are several other Emperor cast members including Cindy George as little Sallie McGillicutty and Kathy Kutalek as Mrs. McGillicutty. Public performances of 'Twas are scheduled for December 5 at 7pm, December 6 at 2pm & 4pm, December 7 at 2pm & 4pm. Tickets are $10 for adults and $8 for seniors, students and children.
If you didn't catch Dames at Sea by Peroit Productions at Kelsey, you missed the boat and some great performances by Jim Petro (Singin' in the Rain), Joe Zedney (Singin' in the Rain and It's a Wonderful Life), and Melissa Rittman (Singin' in the Rain).
Currently on stage at Kelsey Theatre is The Rocky Horror Show by Cheng/Ferrara Productions, with MPOnStage veterans Kyrus and Michela Alyse Tomcho (You're a Good Man, Charlie Brown), Ileana Hernandez (It's a Wonderful Life), and Nicole Spadafino (Winnie the Pooh, Lucky Stiff, and A Winnie the Pooh Birthday Tail). It ends on November 9, so get your tickets now! Performances are Saturday, November 1 and 8 at 8 pm; Sunday, November 2 and 9 at 2 pm; Friday, November 7, 2008 at 8 pm; and a special presentation at midnight on Saturday, November 8.
Another current production not to be missed is The Investigation, featuring two MP OnStage Alumni, Fred Bartlett (Singin' in the Rain, Lucky Stiff) and Steve Pie' (Singin' in the Rain, It's a Wonderful Life). This riveting drama by Peter Weiss takes you inside the Nazi war crime trials stemming from the horrific atrocities at Auschwitz. This show is produced by Actors'Net of Bucks County and is appearing at the Herritage Center in Morrisville, PA. It runs through November 9. Tickets are $20 for adults, $17 for seniors and $10 for children under 13. For tickets or information, call 215-295-3694.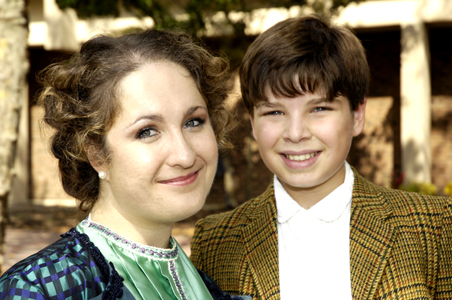 Coming up in November, Lynn Baskin (Perry Award-winner for Driving Miss Daisy), Keith Nielson (Lucky Stiff) and Zachary Levine (who worked with us in It's a Wonderful Life) and future OnStage alum Elizabeth Rzasa (Man of La Mancha) will be performing in The King and I by Playful Productions at Kelsey. Performances are Friday, November 14 and 21 at 8 pm; Saturday, November 15 at 2 and 8 pm; Sunday, November 16 and 23 at 2 pm; Thursday, November 20 at 8 pm; and Saturday, November 22 at 8 pm.
Also in November, Kristin Bennett (Brighton Beach Memoirs) will be performing in the College of New Jersey's production of Seussical. Performances will be at the Kendall Hall Mainstage, Thursday through Saturday , November 20 to the 22 at 8 pm and Sunday, November 23 at 2 pm. Ticket prices are $12 for general admission, $9 for Faculty/Alumni/Seniors, and $7 for Students/Groups.
Another holiday treat not to be missed is The Bishop's Wife, produced by Over the Rainbow Productions. The show features MPOnStage Alumn Joe Zedney, who appeared in our productions of Singin' in the Rain and It's a Wonderful Life. The show will run at the Eatontown Playhouse in Eatontown, NJ from December 5 through December 21. For tickets call 732-888-0339.
Coming up in January 2009, MPOnStage alumn John Shanken-Kaye (Lucky Stiff) will appear as George in Pinworth Productions presentation of Who's Afraid of Virginia Wolf. Funny and intelligent, Edward Albee's classic play reveals a marriage with more honesty than almost any relationship can stand. Performances are scheduled for January 9 & 16 at 8 pm, January 10 & 17 at 8 pm, and January 11 & 18 at 2 pm. Tickets prices are $14 for adults, $12 for seniors, and $10 students & children.
Getting ready for the next big tap musical are alumni who are taking Jane Coult's (OnStage's resident choreographer) beginning-intermediate tap class at Kelsey: Eric Leiggi (The Emperor's New Clothes), Caroline Vassallo (Singin' in the Rain), and Susan Schwirck (The Foreigner).

---
Brighton Beach Memoirs Just a Happy Memory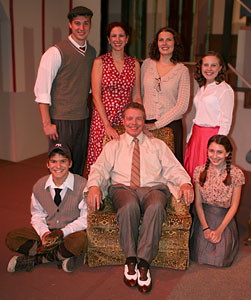 Stu Duncan of the Princeton Packet called the show "a superb revival by one of the finest theater teams in the area," but we just called it a hell of a lot of fun. We're talking, of course, about our production of Brighton Beach Memoirs, directed by Alycia Bauch-Cantor.

In case you didn't see it, here are a few links that will give you an idea of what you missed...

---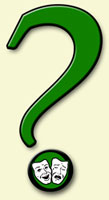 MPOnStage Theatre Quiz Goes Musical

This month we take a musical turn and give you something to listen to. In This months Theatre Trivia Quiz you have to listen to a song and guess what show it's from and who the composer is. You get 10 questions to test your theatre knowledge.
---
New Stage Craft "How To" Case Studies Available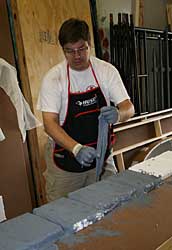 John Maurer wears many hats in OnStage shows: producer, director, set designer . . . the list is long. A lesser-known role he plays is the maker of the magic. For many years, he has been designing and executing solutions to problems on stage. In every show, there seems to be that "problem" prop or set piece. Can you buy it, make it or borrow it? How do you make it rain on stage or make a safe trap door that people won't fall through. These are problems we have needed to solve in the past, and over the years we have documented the work we have done to solve them. We are now making this documentation available on the web site as a series of multimedia "How To" case studies.
Check out the Case Studies section of the website under Stage Craft. John explains in detail how to create realistic, safe, inexpensive solutions for creating props and set pieces. This month he shows you how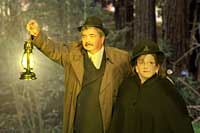 to make the detonator device from the comedy The Foreigner and a quick and easy way to electrify a hurricane lamp to make it flame free and safe.
More case studies will be added in time, so check the site whenever you have a prop need or if you love checking out how things are made. And if you have any prop solutions, tips or tricks you have used and would like to share, contact John at casestudy@mponstage.com.

---
Meet the Board of Directors of Maurer Productions OnStage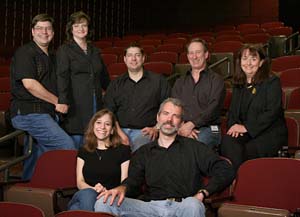 Maurer Productions Onstage is a non-profit theatre company based in Ewing, NJ. The quality work produced by the company results from the contribution of many volunteers contributing hundreds of hours of work. These volunteers are led by a small, award-winning creative team that forms our board of directors. Visit the Company section of our site to learn more about our company's leadership team.