Share on Facebook
OnStage News & Notes - June 2010

In our June newsletter, we anounce the 2010-2011 season; say good bye to Tom Sawyer; have a chat with the cast of Sordid Lives; catch up with some alumni happenings; and give you a chance to show your theatre knowledge.
---
MPOnStage Announces it 2010-2011 Season

Maurer Productions OnStage is pleased to announce that it has selected three new productions for it's 2010-2011 season. The company's season will kick off in July with the return of our popular interactive children's show Nosing Around. That will be followed by the classic play A Few Good Men in January 2011; and anchoring OnStage's season will be the Broadway musical Dirty Rotten Scoundrels in May 2011.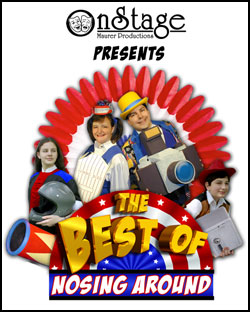 The Best of Nosing Around
John and Diana Maurer return to the Kelsey stage bringing interactive magic, fun and laughter with their popular Nosing Around series.
Originally conceived in 2004 the Nosing Around shows have always been a family affair with Diana, John and their two oldest children Stacy and Hunter presenting both classic and original interactive clowning and magic. Their goal is to get the audience involved and the Nosing Around team involves and entertains audiences of all ages.
This eddition contains all the best loved moments from the past shows including the Clown Cycle, The World's Greatest Mind Reader, the world's best Whip Cracker and the magical Human Cannonball.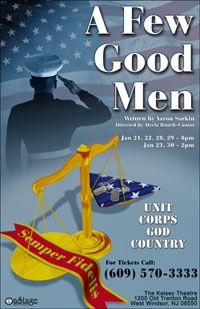 A Few Good Men
In January 2011, Alycia Bauch-Cantor, who directed last seasons heartwarming tale Brighton Beach Memoirs, will bring Aaron Sorkin's classic play, A Few Good Men, to the Kelsey stage.
This Broadway hit about the trial of two Marines for complicity in the death of a fellow marine at Guantanamo Bay sizzles on stage. It tells the story of military lawyers at a court-martial who uncover a high-level conspiracy when a rookie Navy lawyer is assigned to defend two Marines on trial for the murder of one of their platoon members. He expects a plea-bargain and a cover-up of what really happened. But, prodded by a female member of his defense team, the lawyer eventually makes a valiant effort to defend his clients and, in doing so, the play raises the questions of what it means to have honour, dignity and humanity in an increasingly complex world.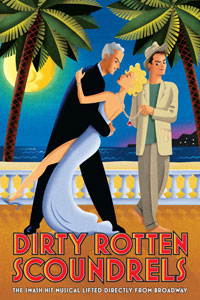 Dirty Rotten Scoundrels
OnStage Artistic Director, John Maurer, will anchor OnStage's new season with his direction of Dirty Rotten Scoundrels, the halarious musicial comedy Based on the popular 1988 film, DIRTY ROTTEN SCOUNDRELS.
The story centers on two con men living on the French Riviera. The first is the suave and sophisticated Lawrence Jameson, who makes his lavish living by talking rich ladies out of their money. The other, a small-time crook named Freddy Benson, more humbly swindles women by waking their compassion with fabricated stories about his grandmother's failing health. After meeting on a train, they unsuccessfully attempt to work together only to find that this small French town isn't big enough for the two of them. They agree on a settlement: the first one to extract $50,000 from a young female target, heiress Christine Colgate, wins and the other must leave town. A hilarious battle of cons ensues, that will keep audiences laughing, humming and guessing to the end!
Audition dates will be scheduled in the fall - keep and eye on the web site for more information. Tickets will go on sale this summer.
---
The Adventures of Tom Sawyer closes to Audience applause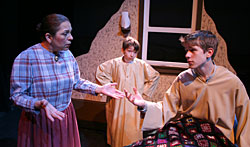 On March 21st 2010 the last performance of The Adventures of Tom Sawyer played to a packed house at the Kelsey theater. The show, which brought together over 50 local actors and technicials, was a musical version of Mark Twain's immortal novel about the adventures of a fourteen-year-old boy growing up in the heartland of America in 1840.
Audience reaction to the musical was overwelmingly positive, with many adults commenting on how the show brought back the wonder of the story, reminding them of what it was like when they read the book as a child.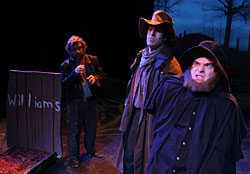 The cast, under the musical direction of Buzz Herman, the choreography of Jane Coult and direction of John Maurer, really bonded during the weeks of rehearsal and worked hard to put all of Mark Twain's down home humor on stage. Even though they have moved on to other productions, many lasting friendships were made. Keep an eye on the MPOnStage Alumni calendar to see what shows they will be next.
The cast was made up of some OnStage Alumni and well loved Kelsey Theater regulars as well as some talented newcomers who made their Kelsey debut with this production, including Ryan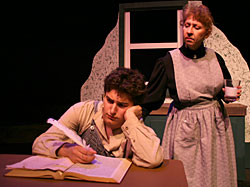 McCloskey as Tom Sawyer, Albert Scerbo as Huckelberry Finn and Rachael McCleary as Becky Thatcher. The fun and adventure will be non-stop in this unforgettable family favorite.

The event was produced in 2010 marking the 175th anniversary of Mark Twain's birth, the 125th anniversary of his pinnacle work Adventures of Huckleberry Finn, and the 100th anniversary of his death.
This production was presented at Kelsey Theatre on the West Windsor campus of Mercer County Community College.
---
"Get Out the Vote" - The Kyrus Awards 2010 Edition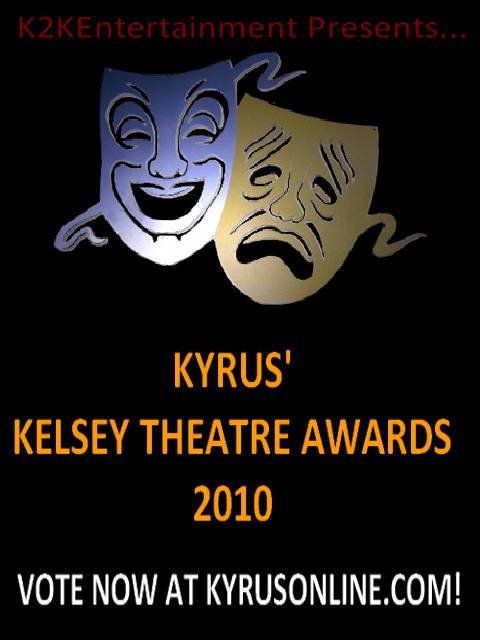 Well ladies and gentlemen! It is about that time! Kyrus' Kelsey Theatre Awards 2010 are here and it is almost time to begin voting!
Just like last year, the voting will take place over two rounds. The first round will be used to choose the nominees. The three choices with the highest amounts of votes will be officially nominated for a Kyrus Kelsey Theatre Award.
This voting period will take place between June 13 and June 19. Once the nominees are selected, you will then vote for the winners of each category. This voting period will take place between June 20 and June 27. The winners will then be announced on June 29!
---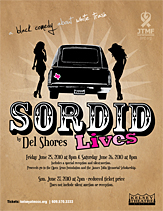 Backstage Pass, the podcast covering community theater in Central New Jersey, this month with a southern twang.
Episode 33:
A Talk with the Cast of Sordid Lives
In this Podcast we talk with the director and some of the cast from Sordid Lives being presented by the James Tolin Memorial Fund. Our guests include Producer Tracy Antozzeski, Director Brian Bara, actors Tracy Hawkins and Nicole Patrick and Assistant Stage Manager Matty Daley.

---
June has us seeing double as our alumni take part in two different productions of the same show.
Ragtime (Kelsey Theater)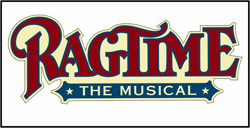 See alumni Matthew Blazejewski, Michael Schiumo,Vicky Czarnik, Kyrus Westcott, Lynn Baskin, Laurie Gougher, Mychaela Alyse Tomcho, Tom Bessellieu, John Bergeron, Marc Flicker, John Russell and Samantha Gougher in this wonderful Ahrens and Flaherty Musical being presented by the Pennington Players.
Based on the 1975 novel by E. L. Doctorow, Ragtime tells the story of three groups in America in the beginning of the 1900's, represented by Coalhouse Walker Jr., a Harlem musician; Mother, the matriarch of a WASP family in New Rochelle, NY; and Tateh, a Latvian Jewish immigrant. Historical figures such as Harry Houdini, Evelyn Nesbit, Booker T. Washington, J. P. Morgan, Henry Ford, Admiral Peary, Matthew Henson, and Emma Goldman also appear. The music includes marches, cakewalks, gospel and ragtime.
ShowTimes:
Fri. Jun. 4 & Jun. 11, 2010 at 7:30pm
Sat. Jun. 5 & Jun. 12 at 7:30pm
Sun. Jun. 6 & Jun. 13 at 2pm
Tickets:
For Reservation Call: 609-570-3333
or go online at http://www.kelseyatmccc.org/ragtime.shtml
Location:
The Kelsey Theatre at MCCC
1200 Old Trenton Road
West Windsor, NJ 08550 U.S.A.
Ragtime (Villagers Theater)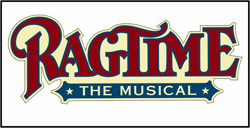 See alumni Sam Rosalsky, Joe Zedeny, E. Nicole Spadafino and Peter DeMets in this wonderful Ahrens and Flaherty Musical being presented by Villagers Theatre in somerset, NJ.
This epic musical by the award-winning composer/lyricist team Stephen Flaherty and Lynn Ahrens (Lucky Stiff, My Favorite Year, Once On This Island, Seussical) paints a nostalgic and powerful portrait of life in turn of the century America. Based on E.L. Doctorow's distinguished novel, Ragtime intertwines three distinct stories that poignantly illustrate history's timeless contradictions of wealth and poverty, freedom and prejudice, hope and despair, and love and hate.
The score is just as diverse as the Melting Pot of America that it seeks to recreate. It draws upon traditional Jewish folk sounds to color the haunting music and yearning lyrics of the immigrants, Vaudeville's outrageous style to capture the spectacle of Evelyn Nesbit, and Joplin and Jazz to invoke the enlivened spirit of Harlem.
This 1998 Tony award winning show for best score, book, and orchestrations, features such show stopping songs as "Getting Ready Rag," "Your Daddy's Son," "Wheels of a Dream," "Till We Reach That Day," "Back To Before," and "Make Them Hear You." This momentous musical is sure to inspire is the perfect choice as the exclamation point on our 50th season and the launching pad for our next 50!
Show Dates:
June 11-27th
Tickets:
For Reservation Call: 732-873-2710
Email boxoffice@villagerstheatre.com
or go online at http://www.villagerstheatre.com/
Location:
Villagers Theatre
475 DeMott Ln.
Somerset, NJ 08873
Love Sex and the IRS
See Alumnus Tess Ammerman as Kate Dennis in this comic look at love and taxes being presented by the somerset Valley Players in Hilsborough, NJ.
A daffy disguise brings chaotic comedy to the stage as a pair of screwball musicians attempt to bamboozle an IRS auditor with the madcap scheme of dressing up and pretending to be married – without counting on visits by a meddling mother and a clueless ex-girlfriend trying to figure out all the farcical fuss.
Show Dates:
June 4th - June 19th
Tickets:
or go online at https://www.ticketturtle.com/index.php?theatre=svp
Location:
Somerset Valley Players
689 Amwell Road
Hillsborough, NJ

15 Reasons Not to Be in a Play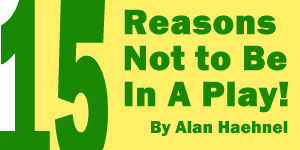 See Alumnus Kiernan Matts as he plays numerous characters in this Alan Haehnel show being put on by Teens Against Cancer. This show is a fundraiser to raise money for for the American Cancer Society.
"This is a play about not being in a play, ironically expressed through a hilarious series of monologues, duets, and ensemble scenes. From early traumas involving a glory-seeking elementary school teacher to possible disturbances in the global climate, 15 Reasons Not To Be in a Play keeps the audience guessing just what scenario will be next."
Show Date:
June 19th at 7PM
Tickets:
At the door before the show at Kelsey Theatre
Location:
The Kelsey Theatre at MCCC
1200 Old Trenton Road
West Windsor, NJ 08550 U.S.A.
Evita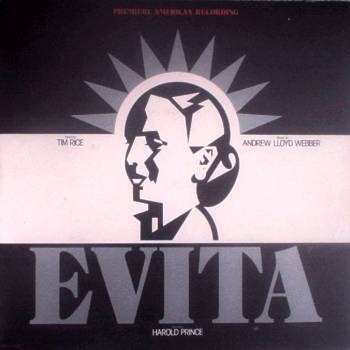 Alumnus Daniel Petrovich will be understuding Hollywood actor Dan Roebuck (Matlock, Lost) in the part of Juan Peron in Evita, being presented by Revelation Productions.
Andrew Lloyd-Webber and Tim RIce bring the story of Argentina's Eva Peron to the stage. This show is being produced as a vehicle to raise funds for a scholarship in honor of a local high school theatre student who passed away last fall. Holly wood actor Dan Roebuck, a native of Bethlehem PA will play Peron. Dan Petrovich has been asked to understudy Mr. Roebuck in the event that a schedule conflict arises.
Show Date:
July 23,24, 30, 31 @ 8:00 pm
July 25th @ 2:00 pm
Tickets:
evita2010@mail.com
Location:
Bethlehem Catholic High School Auditorium
Bethlehem PA
I Love New York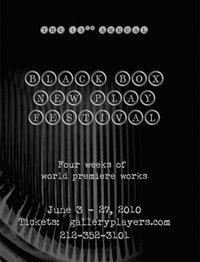 See Alumnus Brian Gildea in a wonderful performance and see 6 other one acts in the same night.
' I Love New York' by Corey Pajka. Directed by Chad Yarborough. John Done is an underground poet, or so he likes to think. In reality, he's an everyday working stiff riding the subway. He finds solace in his mp3 player. The interior of the train takes on John's inner visions, as his imagination takes control. John spends much of the play trying to work up the courage to really talk to anyone. Can he resolve his fantasy with reality?
Show Date:
Thursday, June 10th at 8pm
Friday, June 11th at 8pm
Saturday, June 12th at 8pm
Sunday, June 13th at 3pm
Tickets:
Buy Tickets Online at www.galleryplayers.com
(212) 352-3101
Location:
The Gallery Players
199 14TH St (Between 4th & 5th ave)
Brooklyn, NY
13 the Musical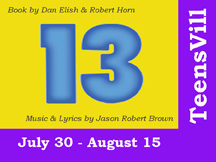 See Alumnus Zach Levine as Archie in 13 the Musical being produced by Villager's Theater
This high energy rock musical follows Evan Goldman, a nice Jewish boy from NYC's upper east side who is forced to move to Nowhere, Indiana, with his mother after his parents get a divorce. To make matters worse, Evan is on the verge of being Bar Mitzvahed and has to plan a party in a town where he knows no one. The chaos that ensures is truly hilarious, real and heartfelt. The story of teenage transformation is brought to life on stage as 13 shares dilemmas we can all relate to, young and old. 13 is your typical middle school semester with a heart-warming message . . . perhaps cool is where you find it, or where you least expect it.
Show Date:
July 30, 31
August, 6,7,13 and 14 at 8pm
August 1,8 and 5th at 2pm
Tickets:
For Reservation Call: 609-570-3333
or go online at https://www.ticketturtle.com/index.php?theatre=svp
Location:
Villagers Theatre
475 DeMott Ln.
Somerset, NJ 08873
The Constant Wife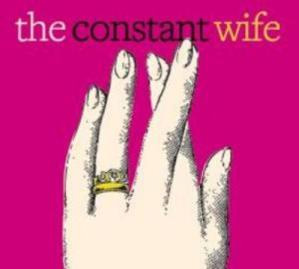 See Alumni Laurie Hardy as Mrs. Culver and Jack Bathke as Bernard Kersal in this drawing room comedy being produced and by the Somerset Valley Players
A drawing room comedy by Somerset Maugham, where Constance tries every way possible to avoid her "helpful" friends and relatives' disclosing her husband's affair with her best friend. Complications ensue (of course) and subtle wit and manners carry the day!
Show Date:
August 13-29, 2010
Fridays & Saturdays at 8 p.m.
Sundays at 2 p.m.
Tickets:
Theater box office (908) 369-7469, email: reservations@svptheatre.org
Website Address: www.svptheatre.org
Location:
Somerset Valley Players
689 Amwell Road
Hillsborough, NJ
If you are an Alumni and have and event you would like to get in the newsletter and on the calendar then click over to our Alumni Submission Form and fill it out.
We are waiting to here from you!
---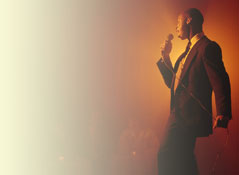 MPO Theater Quiz:
Who's line is it anyway?
Many of us have a favorite song from a favorite show that somethings gets stuck in our heads. Well this month we let you put that knowledge to good use. You have 10 chances to match the song line with the show in our June Theater Quiz.
---