Share on Facebook
The OnStage Newsletter - July 2009

In the July edition of the OnStage Newsletter, MP OnStage announces expanded auditions dates for Hollywood Arms; a team road trip to the Perry Award nominations meeting in Chatham; new BackStage Pass Podcasts featuring Joseph and Assassins, and much more.
---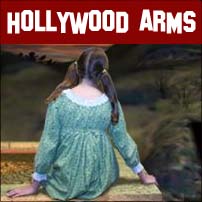 MPO Expands Audition Dates
for Hollywood Arms — Men Needed!


Due to overwhelming interest, Maurer Productions OnStage has expanded its audition dates and times for Hollywood Arms. The group is especially seeking more men to audition.
Auditions will now be held Thursday, July 9 from 7pm to 9:30pm; Friday, July 10 from 6pm to 9pm; Saturday, July 11 from 9am to 6pm; and Sunday, July 12 from 11am to 6pm. Presented by the team that brought you the Perry Award-winning production of Driving Miss Daisy, this show will open on October 2 at the Kelsey Theater on the West Windsor campus of Mercer County Community College.
Hollywood Arms is a comedy-drama written by comic legend Carol Burnett and her daughter, Carrie Hamilton. Six women and five men (including 3 children) are needed to pull off this stage play based on the true story a young girl's journey from hardship to Hollywood legend.
All roles are available. All experienced actors are encouraged to audition.
CLICK HERE TO LEARN MORE ABOUT THE AUDITIONS, or...
Read these articles about Hollywood Arms.


---
NJACT Goes Digital with the Help of Maurer Productions OnStage
NJACT and the Perry Awards are going digital! With a great deal of help from MPOnStage Artistic Director John Maurer, NJACT's 2009-2010 season will not only see the launch of a redesigned and expanded NJACT website, but the organization is also beefing up its presence elsewhere on the Internet. The new season will find NJACT and the Perry Awards on Twitter and Facebook. The group has even launched a YouTube Channel with video clips from the Perry Awards Gala.
John Maurer donated his multimedia talents to the NJACT web development effort, teaming up with his brother, Dan, to build the website. Dan Maurer is currently serving as the NJACT Marketing Director and has been leading the charge to beef up the organization's online presence. The two teamed up on the large development effort with Dan handling the copywriting and design work and John handling a lot of the coding, flash animation and video editing.
Even Jane Coult, who serves double duty as both the NJACT Recording Secretary and as a member of the MP OnStage board, got into the act by proof-reading the large site. Meanwhile, Donnie Cooper, a volunteer application developer has been burning the midnight oil to expand the NJACT review scheduling system so reviewers will eventually be able to submit their reviews online. Finally, the development team was even able to launch the NJACT Theater Forums as part of the new site, a place where the general theater loving public can share posts.
The entire theater community is encouraged to participate in the NJACT Theater Forums. They can also to follow NJACT on twitter and become "fans" on Facebook and YouTube. The new website even has a feature called "Share." When visitors to the website find information they want to share with their friends, they need only click the share button found in the top right-hand corner of every page and tool will appear allowing them to submit links to their favorite bookmarking or social media site.
NJACT will be experimenting with releasing information through these services over the next few months. They are great ways the theater community can stay abreast of what the organization is doing and find out how people can get involved. They are also an excellent way for you to be among the first to get the news about who has been nominated for what award.
---
MPOnStage Cast me System Running 129 Strong

As of July 1st the MpOnstage CastMe 1-2-3 System, has 129 members and is coming up to it's first fullscale test with the auditions of Hollywood Arms starting on July 9th.
The CastMe 1-2-3 system is an online resume and audition system develped by MPOnStage to help streamline the process of auditioning for a show. You only need to created your online profile once then every time you wish to audition for an MPOnStage show you just have to pick and audition slot and your information is automaticly filled in. And you can easily update or ammend your profile at any time.
The system is designed for performers and technicions. If you are looking to help out backstage with props, costumes, sets and lighting just create your profile and it will be available to the production team.
Even if your not going to audition for Hollywood Arms you can still sign on and create your profile. We have more great shows coming up later in the season and as a member you sign up to audition with just a click of the mouse.
Register and Create Your Profile Now!
---
MPOnStage Podcasts the story of Joseph and Assassins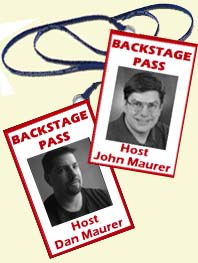 Backstage Pass, the podcast covering community theater in Central New Jersey, is going strong with two new episodes hot off the digital presses, so to speak.
In Episode 21, we talk about the musical Joseph and the Amazing Technicolor Dreamcoat being produced by Yardley Players at the Kelsey Theatre in West Windsor, NJ. Our guests include Director Marge Swider, Walter Smyth who Plays Potiphar, Laurie Gougher Musical Director and the Narrator and Rob Gougher who plays Simeon.
In Episode 22, we a talk about the musical Assassins being produced by Cheng/Ferrara productions at the Kelsey Theatre in West Windsor, NJ. Our guests include Director Frank Ferrara, Technical Director Judi Parrish, Kyrus Westcott who plays the Balladeer, John Zimmerman who plays Charles Julius Guiteau, Jennifer Devenio who plays Sara Jane Moore and Andrew Young who plays the Proprietor.
Episode 21:
Talking About Joseph and the Amazing Technicolor Dreamcoatl
Episode 22:
Talking About Assassins
---
Maurer Productions Plans Road Trip to
Perry Award Nominations Meeting - Join Us!
Members of the Maurer Productions OnStage team are planning to attend the Saturday, August 1 Perry Award Nominations meeting at Chatham Playhouse in Chatham, NJ. The meeting starts at 2pm, is open to the public. Please join us!
Members of the MPO team plan to drive up early for a casual lunch with theater friends at Charlie Browns in Chatham. MPO Alumni and Kelsey Theatre regulars are encouraged to attend, especially those who participated in our 2008-2009 shows.
The group will lunch from 12pm to 1:30pm, then it's over the the theater for the start of the meeting at 2pm. The event will begin with a meeting where the present and future direction of NJACT is discussed. Then after a short break for refreshments, the 2009 Perry Award nominations will be announced. Come spend an afternoon with friends and find out if you or your pals have been nominated for a Perry Award.
If you're an MPO alumni, or a Kelsey Theatre regular, and you're interested in join us, please contact John Maurer for details. The nominations presentation will run from 2:00-5:00 PM at the Chatham Playhouse, 23 North Passaic Ave, Chatham, NJ 07928. Tickets are $5.00 per person and will be sold at door. For directions, please visit the Chatham Community Players website.
---
Cruising with Kelsey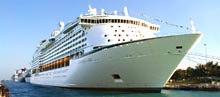 Each year, Kelsey Theatre holds a Theatre Appreciation Cruise in partnership with CruiseOne. A portion of the proceeds goes to Kelsey Theatre. This will be their 6th annual cruise and will be sailing on Aug. 15, 2009 on Royal Caribbean's Explorer of the Seas for a 5-night cruise to Bermuda round-trip from Cape Liberty, New Jersey. This year's cruise promises to be very exciting with many extras included. So, whether you've participated in shows at Kelsey Theatre, have been an audience member, attended Tomato Patch (or know someone who did) or have never been to Kelsey, come join us on this fun-filled cruise and help support Kelsey Theatre. And bring your family and friends, what a great time for a reunion!
Prices are:
Interior Stateroom--$850
Promenade View Stateroom--$899
Oceanview Stateroom--$1099
Balcony Stateroom--$1139

There are some freebies included, and if you're a senior, you get a discount!

For more information, go to: http://www.cruiseone.com/crobinson
You can contact the trip coordinator, Colleen Robinson at RobinsonCruiseO@comcast.net
or give her a call at (609) 275-0335.
---
July will be another busy month for our alumni. Here's what they're doing:
Joseph and the Amazing Technicolor Dreamcoat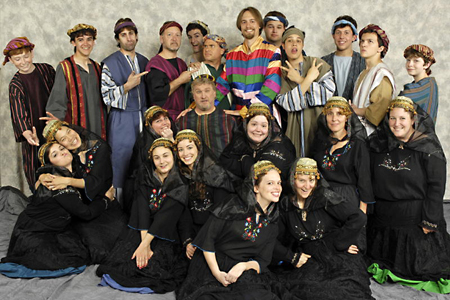 Joseph and the Amazing Technicolor Dreamcoat will be presented by Yardley Players Theatre Company at Kelsey Theatre. The Biblical saga of Joseph and his coat of many colors comes to vibrant life in this delightful musical parable. Set to an engaging cornucopia of musical styles, from country-western and calypso to bubble-gum pop and rock 'n' roll, this Old Testament tale emerges both timely and timeless. Among the cast will be MPOnStage alumni Meera Mohan (Man of La Mancha), Jim Petro (Singin' in the Rain and Man of La Mancha), Laura Murey (Singin' in the Rain),Andrew Clark (Singin' in the Rain), and Matt South (Singin' in the Rain).
Performances will run Friday, July 10 and 17 at 8 pm; Saturday, July 11 and 18 at 2 and 8 pm; and Sunday, July 12 and 19 at 2 pm. Tickets are $16 for Adults, $14 for Seniors, and $12 for Students/Children (plus a service charge).
To purchase tickets, visit Kelsey Theatre web site.
Assassins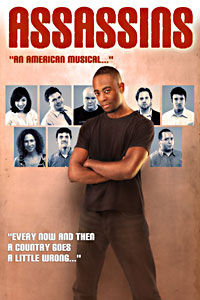 Assassins will be presented by Cheng/Ferrara Productions at Kelsey Theatre.
Bold, original, surreal, disturbing, thought-provoking and alarmingly funny, "Assassins" is perhaps the most controversial musical ever written.
This most American of musicals lays bare the lives of nine individuals who assassinated or tried to assassinate a President of the United States, in a one-act historical "revusical" that explores the dark side of the American experience. From John Wilkes Booth to Lee Harvey Oswald, Stephen Sondheim and John Weidman bend the rules of time and space, taking us on a nightmarish rollercoaster ride in which assassins and would-be assassins from different historical periods meet, interact and in an intense final scene inspire each other to harrowing acts in the name of the American Dream.
Among the cast will be MPOnStage alumni John Zimmerman (You're a Good Man, Charlie Brown); Tom Besselieu (MPOnStage Soundtech); Jennifer Devinio (Brighton Beach Memoirs); and Kyrus (You're a Good Man, Charlie Brown).
Performances will be Friday, July 24 and 31 at 8 pm; Saturday, July 25 and August 1 at 8 pm; and Sunday, July 26 and August 2 at 2 pm. Tickets are $16 for adults, $14 for Seniors, and $12 for Students and Children (plus a service charge).
To purchase tickets, visit Kelsey Theatre web site.

Finian's Rainbow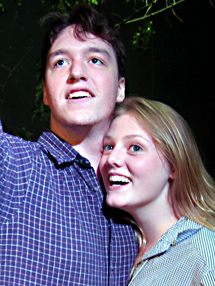 Finian's Rainbow at Actors' Net, Morrisville, PA.
The immortal musical comedy! An Irishman with a stolen crock of gold comes to the U.S. to bury it near Fort Knox in hopes it will grow in value. When the leprechaun he stole it from follows him to these shores, you can be sure bedlam and great music abound. Music by Burton Lane and book by E.Y Harburg and Fred Saidy. Lyrics by E.Y. Harburg. Featuring such classic songs as "Old Devil Moon," "If This Isn't Love" and "How Are Things In Glocca Morra?"
MPOnStage alumni appearing in this production are Tess Ammerman (Man of La Mancha), John Bergeron (Man of La Mancha), and Laurie Hardy (Lucky Stiff)
Performances run from July 10 to July 26 and perform Thursdays (2nd and 3rd weeks), Fridays and Saturdays at 8 p.m. and Sundays at 6 p.m. Special 2 p.m. matinees on Saturdays during the third weekend.
Opening Night features a Wine & Cheese Reception with Actors' NET Cast and Crew. Second Fridays are "Talk Back Fridays," when cast members gather onstage after the show to answer audience questions. For information, call 215-295-3694 or email actorsnet@aol.com.
Ticket prices are $20 for Adults, $17 for Seniors, and $10 for Children under 13. Advance tickets available by credit card at www.brownpapertickets.com (search for "actorsnet").
Or you can call the box office at 215-295-3694 or email actorsnet@aol.com with your reservation request.


http://www.actorsnetbucks.org/

---
MPO Helps NJACT Launch Online Theater Forums
NJACT is getting into the community building game by launching its own theater forum on NJACT.org. Amidst all the web development work that was going on for NJACT, MPOnStage Artistic Director John Maurer still found time to help the organization launch the new NJACT Theater Forums.
The NJACT Theater Forums are available to everyone in the theater community; you don't have to be an NJACT member to use the system. The NJACT Theater Forums is expected to become a great resource for the theater community as users share information about upcoming auditions, needed props, set design challenges, casting challenges, or just general theater news and gossip.
The NJACT system offers a lot of advanced features not found in the other popular NJ Theater bulletin boards. The NJACT Theater Forums will offer the ability to…
Upload your photo or icon and have it appear alongside your posts.
Subscribe to a specific forum topic so the system will send you an automatic email when someone posts there.
Conduct a poll in a forum to find out what your peers are thinking about a topic.
Change fonts, include pictures and include links to other websites and resources in your post.
These and many other cool features will make the NJACT Theater Forums a fun place to connect with your theater colleagues.
---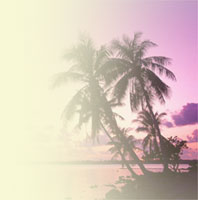 Theater: It's a Shore thing.
MPOnStage Theatre Quiz

It's July, and this month's theatre quiz hits the beach and takes to the water as we salute shows with a "down the shore" theme. So get on your swim trunks and bathing cap and jump right in. You have 10 questions to check your theatre knowledge. Good luck!
---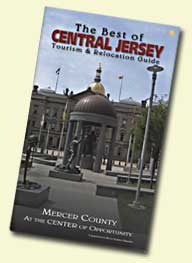 Bringing in the Tourists!

Occasionally we at MPOnStage are asked by publications to supply photos of some of our productions. They may be doing a story on local theater or are putting out their annual theater season review. We are always happy to supply these companies with photos. Who wouldn't want to see a photo from their show in glossy print?

Recently, we were approached by the Mercer County Champber of Commerce about supplying images from our past production of Man of La Mancha. We chose 6 images and, after contacting the actors involved, we sent them along.

Well, "The Best of Central Jersey Tourism and Relocation Guide" has just been released and on the top of page 8 right above the Arts and Entertainment banner are our own Sam Rosalsky as Sancho and Meera Mohan as Aldonza.

We want to thank Sam and Meera for allowing us to show one of the many magical moments that they helped create on stage.