John M. Maurer, President & Artistic Director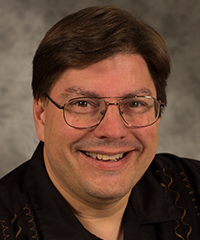 John Maurer is President and Artistic Director of Maurer Productions OnStage. He founded the company with his wife, Diana Gilman Maurer, in 2004. Since that time he has directed several sucessful shows on the Kelsey Theatre stage, including Singin' in the Rain, Winnie the Pooh, Itís a Wonderful Life, Lucky Stiff, Youíre a Good Man Charlie Brown, and The Foreigner. John has also served as executive producer on the critically acclaimed productions of The Emperorís New Clothes, A Winnie the Pooh Birthday Tail, and the five-time Perry Award-winning production of Driving Miss Daisy.
A member of the Screen Actors Guild, John started his entertainment career at the age of 10 and has been working in front of the public for over 30 years. His skills as an actor, magician, clown, juggler, balloon sculptor, stilt-walker, and mime have helped him as an actor specializing in comedy and improvisational theatre. John is also an accomplished set designer, lighting designer, make-up artist, and prop master. He has designed sets or created specialty props and stage effects for all of his shows as well as productions by other community theater groups at Kelsey Theatre, including Thoroughly Modern Millie, Breaking Legs, Godspell, Inspecting Carol, One Flew Over the Cuckooís Nest, and Dracula. Over the years, John has been honored by NJACT (New Jersey Association of Community Theatres) with 10 Perry Awards and scores of nominations for various oustanding achievements in community theatre.
John and his wife Diana also own and operate Standing Tall Promotions, which offers clowning services for corporate and private events. John and Diana are members of R&R Productions, an interactive theater company, and are internationally produced playwrights, having written three interactive plays that have been produced in England, New Zealand, and around the US.