Share on Facebook
OnStage News & Notes - February 2010

In our February newsletter, we update you on our production of Children's Letters to God, we announce the cast of The Adventures of Tom Sawyer, talk about an how OnStage helps out, speak with the cast of Pygmalian and highlights books that live forever in this month's quiz.
---
Children'S Letters to God Closes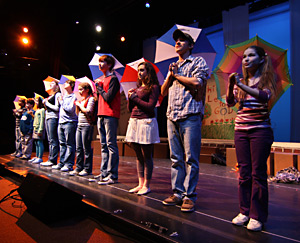 Take ten amazingly talented kids, their incredibly supportive parents and families, and the best production staff and backstage crew anyone could ask for, and you have Children's Letters to God. Starting with the read-through on November 1st, the cast began to bond. It continued as rehearsals progressed and by the opening on January 8, the cast had become a family. This closeness resulted in an amazing show.

The audiences loved the show, and many audience members expressed amazement at the level of talent the cast displayed. Many adults commented on how the show brought them back to their childhoods and the many questions they had as children—many of which adults could not satisfactorily answer. Children had fun picking out the characters to which they could relate.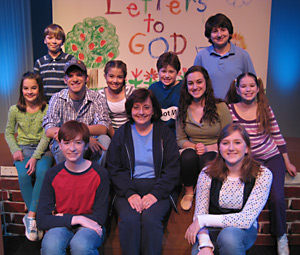 The closing performance was a sad occasion for all as the set was torn down, props packed up, and the stage cleared for the next show. Many of the cast are moving on to new projects: three cast members, Dominick Sannelli, Victoria Schialfa and Kiernan Matts, will be in MP OnStage's next production, The Adventures of Tom Sawyer, opening March 12. Other cast members moved on to their school spring productions. But they all know that what they experienced will never happen again, and they will all keep in touch with each other to relive the memories and great times they had doing this magical show!
For those who aren't familier with the show, it is inspired by the international bestseller of the same name, Children's Letters To God. The musical version follows the lives of several young friends as they voice beliefs, desires, questions and doubts common to all people, but most disarmingly expressed by children. Sixteen tuneful songs and assorted scenes (some based on actual letters published in the book) explore timeless issues such as sibling rivalry, divorce, holidays, loss of a beloved pet, the trials of being unathletic and first love. This entertaining show carries a universal message which crosses the boundaries of age, geography, and religion.
As in the best-selling book, the musical is not specifically religious in nature. It's about kids and various events in their lives that lead them to ask a lot of questions -- some funny, some serious, some surprising.
---
Rehearsals for The Adventures of Tom Sawyer the Broadway Musical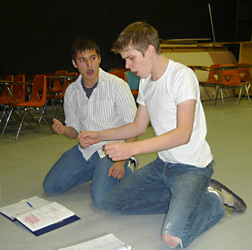 Rehearsals have begun on the musical version of Mark Twain's immortal novel about the adventures of a fourteen-year-old boy growing up in the heartland of America in 1840. The cast under the musical direction of Buzz Herman, has been learning the exuberant pop-rock musical score in preparation of opening night. Choriography Jane Coult has everyone on their feet and moving and director John M. Maurer has been working put all of Mark Twain's down home humor on stage.
The cast is made up of some OnStage Alumni and well loved Kelsey Theater regulars as well as some talented newcomers who will be making their Kelsey debut with this production, including Ryan McCloskey as Tom Sawyer, Albert Scerbo as Huckelberry Finn and Rachael McCleary as Becky Thatcher. The fun and adventure will be non-stop in this unforgettable family favorite.
This event being produced in 2010 marks the 175th anniversary of Mark Twain's birth, the 125th anniversary of his pinnacle work Adventures of Huckleberry Finn, and the 100th anniversary of his death.
This production will be presented at Kelsey Theatre on the West Windsor campus of Mercer County Community College.
DATES:
Mar 12, 13, 19, 20, 2010 at 7pm
Mar 13, 14, 20, 21, 2009 at 2pm
For Tickets call (609) 570-333 or online.
---
MPOnStage Helps Bugsy Malone get a piece of the action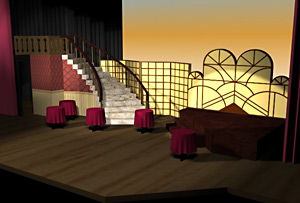 Set Rendering of Fat Sam's Grand Slam

When we were approached by the producers of the musical Bugsy Malone, they made us an offer we couldn't refuse. Well actually, they asked if we could help with the set. So our Master Builder, Jeff Cantor and Artistic Director and Set Designer John Maurer took it on as a challenge.

For those of you who haven't had the pleasure, Bugsy Malone is a stage musical based on the '80's movie musical staring Scott Baio and Jody Foster. The original film had a typical 1920's gangster storyline but was cast completely with child actors in the lead roles. With music by Paul Williams and direction by Alan Parker the film was a light hearted look at the prohibition era. The production that graced the Kelsey stage was the junior version of the '90's British stage adaptation. This version contains most of the original songs from the movie and an extra song for the character of Dandy Dan.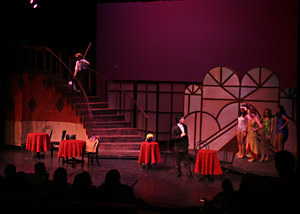 Photo from the Kelsey Theatre Production
After speaking with the director it was decided that many of the locations would be done with backdrops and that most of work on the set would be on the largest and most used location, Fat Sam's Grand Slam Speakeasy. The speakeasy set was to include an elevated office, grand staircase, small nightclub stage and seating for patrons; and all of it had to role out of the way to clear the stage for other scenes. After John Maurer developed the designs and created the 3D renderings, it was then Jeff Cantor's job as master builder to make the structure safe. As an added bonus, the staircase was designed to be modular so that it could be stored and reused in other shows. In the end the production went very well, everyone involved had a great time and the set worked as expected. The cast has fond memories, several cartons of silly string didn't go to waste, and the theatre now has added a grand staircase to it's inventory.
As Fat Sam would put it… "Not bad for a couple of crumb bums!"
If you want to see how the staircase was built, check out our Case Study next month!
---
New Alumni Calendar Submission form.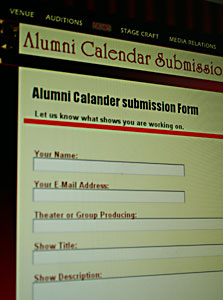 If you are a regular to our newsletter you know that we try to maintain an Alumni calendar. We want to let our readers know where they can see those actors that they enjoyed watching in our shows as they perform in other venues. This is also a service to our Alumni since we have a large readership.
Up to this point we have been filling the calender with information that has been emailed to us or we have found while surfing the web. This tends to slow the process of listing an event because we have to track down all the information ourselves.
In order to speed up the process and to get all the information we need at the same time we have setup an Alumni Calendar Submission form that asks all the right questions and will allow us to speed up postings.
If you are an Alumni and have and event you would like to get in the newsletter and on the calendar then click over to our Alumni Submission Form and fill it out.
We are waiting to here from you!
---
Backstage Pass, the podcast covering community theater in Central New Jersey,
this month speaks with Great Diction.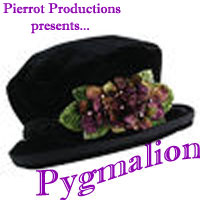 Episode 32:
A Talk with the Cast of Pygmalion
In this Podcast we talk with the director and some of the cast from Pygmalion being presented by Pierrot Productions. Our guests include Director Ruth Markoe and actors Scott Fishman, Lee Benson, Lonnie McCullough, Alycia Bauch-Cantor and Laurie Hardy.
---
February begins the upswing of the spring theater season. see what our Alumni are up to.
Pygmalion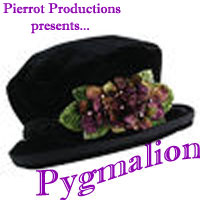 See Board Member Alycia Bauch-Canter (Lucky Stiff, Singn' in the Rain) and Alumni Lee Benson (The Foreigner, Lucky Stiff) , Lonnie McCullough (Driving Miss Daisy) Laurie Hardy (Lucky Stiff, Hollywood Arms) Kitty Getlik (lighting designer) and Eve Connolly (Driving Miss Daisy) in the Pierrot Productions presentation of Pygmalion.
Winner of the 1938 Academy Award for Best Picture, this George Bernard Shaw play remains a classic of the stage. Having had audiences in fits of laughter since its premier in 1914 the play tells the tale of Eliza Doolittle, a common flower-girl in Covent Garden, who is transformed by Henry Higgins into a lady fit for a king. Updated and brought into present day New York, you will thoroughly enjoy this witty play and will be entranced later on in the season when Pierrot Productions presents the musical version of the same story in Lerner and Loews classic musical My Fair Lady.
ShowTimes:
Fri. Feb. 12 & 19, 2010 at 8pm
Sat. Feb. 13 & 20 at 8pm
Sun. Feb. 14 & 21 at 2pm
Tickets:
For Reservation Call: 609-570-3333
or go online at http://www.kelseyatmccc.org/pygmalion.shtml
Location:
The Kelsey Theatre at MCCC
1200 Old Trenton Road
West Windsor, NJ 08550 U.S.A.
Fiddler on the Roof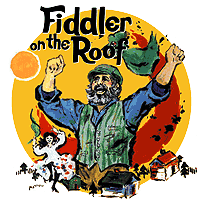 See Alumni Jack Petzko (Tom Sawyer, Hollywood Arms) Jeremy Barson (Children's Letters to God), Judy Berwick (It's a wonderful life, The Emperors New Cloths, Singin' in the Rain), Marc Flicker (Man of La Mancha, Tom Sawyer) and Tom Bessllieu (sound engineer) in the Playful theater production of Fiddler on the Roof.
Tevye, poor milkman, invites audiences into his little village of Anatevka. Here, there is a tradition for everything -- how to eat, how to wear clothes, how to pray, how to marry… but what to do when the ways of the world begin to change those traditions??? Never has any other musical so magically woven music, dance, poignancy and laughter into such an electrifying and unforgettable experience. It won Tonys on the Broadway stage and Oscars on the silver screen. Based on the stories of Sholom Aleichem, this timeless classic features such favorite songs as Tradition, Matchmaker, Matchmaker, Sunrise, Sunset and If I Were A Rich Man.
ShowTimes:
Fri. Feb. 26 & Mar. 5, 2010 at 8pm
Sat. Feb. 27 & Mar. 6 at 2pm & 8pm
Sun. Feb. 28 & Mar. 7 at 2pm
Tickets:
For Reservation Call: 609-570-3333
or go online at http://www.kelseyatmccc.org/fiddlerontheroof.shtml
Location:
The Kelsey Theatre at MCCC
1200 Old Trenton Road
West Windsor, NJ 08550 U.S.A.
Guys and Dolls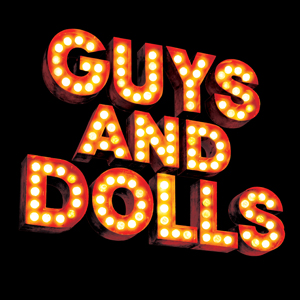 See Alumus Joe Zedney (It's a Wonderful Life, Man of La Mancha, The Adventures of Tom Sawyerl) as Sky Masterson int the Passion Players Production of Guys and Dolls.
Set in Damon Runyon's mythical New York City, this oddball romantic comedy - considered by many to be the perfect musical comedy - soars with the spirit of Broadway as it introduces us to a cast of vivid characters who have become legends in the canon: Sarah Brown, the upright but uptight "mission doll," out to reform the evildoers of Time Square; Sky Masterson, the slick, high-rolling gambler who woos her on a bet and ends up falling in love; Adelaide, the chronically ill nightclub performer whose condition is brought on by the fact she's been engaged to the same man for 14 years; and Nathan Detroit, her devoted fiance, desperate as always to find a spot for his infamous floating crap game.
ShowTimes:
February 19- 28
Fri.'s & Sat.'s @ 8 PM, Sundays @ 3 PM
Tickets:
$20.00 General; $15.00 Seniors & Students Wheel Chair Access
For Reservation Call: 732-706-4100 Middletown Arts Center Box Office
Location:
The Middletown Arts Center
36 Church St, Middletown, NJ 07748
(Across from the railroad station)
The Vagina Monologues
See Alumus Jennifer Barron DeVenio (Brighton Beach Memoirs) in the Center Players Production of The Vagina Monologues.
The Vagina Monologues is a poignant and hilarious tour of the last frontier, the ultimate forbidden zone. It is a celebration of female sexuality in all its complexity and mystery. This award-winning show has given voice to a chorus of lusty, outrageous, poignant, brave, highly original and thoroughly human stories. PROCEEDS from this production will be DONATED to Claudia Lives On Memorial Scholarship Fund, an offshoot of 180 -Turning Lives Around, supporting women who have been victims of domestic abuse.
ShowTimes:
Friday, February 19, 2010 at 8:00pm
Saturday, February 20, 2010 at 8:00pm
Sunday, February 21, 2010 at 2:00pm

Tickets:
$30.00 General
For Reservation Call: 732-462-9093 Center Players Box Office
or go online at http://www.centerplayers.org/tickets.shtml
Location:
Center Players at Applewood Estates' Performing Arts Center
One Applewood Drive Freehold, NJ
If you are an Alumni and have and event you would like to get in the newsletter and on the calendar then click over to our Alumni Submission Form and fill it out.
We are waiting to here from you!
---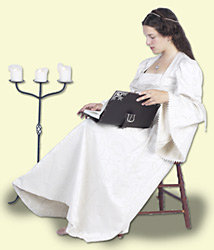 MPO Theater Quiz:
Have You Seen Any Good Books Lately.
Most books are written, published, sold, and then fade into obscurity. Some, however, survive long past the life of the writer and continue to be enjoyed by many for centuries. Some of those are reworked into other formats, such as films, plays and musicals. Here are few of them. How much do you know about the "classics"?
---