The OnStage Update - February 2008
---
Don Quixote, Carol Burnett, Winnie the Pooh Headline New Season

Maurer Productions OnStage is pleased to announce that it has selected three new productions for itís 2008-2009 season. The companyís season will kick off in August by offering A Winnie the Pooh Birthday Tail, a fun-filled family show once again featuring a cast of actor/puppeteers. That will be followed by the comedy-drama Hollywood Arms, based on the true story of comedienne Carol Burnettís childhood and early show business success. And anchoring OnStage's season will be the heart-stirring musical favorite Man of La Mancha.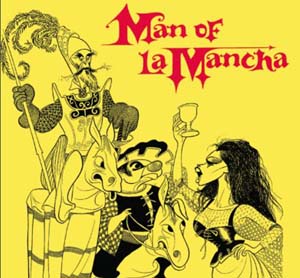 As it has in the past, the OnStage board of directors went through a difficult and lengthy research, reading and voting process. At OnStage, each board member has the privilege of pitching shows and directors to the board for consideration. This year a new crop of shows were pitched. These were added to the shows that had been pitched last year but not selected. The board also solicited suggestions from the local theatre community. In total, the consideration list numbered over 50 plays and musicals including more than 20 titles that were recommended by local actors. After much review and discussion, the list was trimmed and voted on. Additional discussion and reading was then required. After a week of back-and-forth among the board members, the three shows were finalized.
A Winnie the Pooh Birthday Tail will be directed by Diana Gilman Maurer, who will be making her directorial debut. One of the founders of Maurer Productions OnStage, Diana has been an actress, producer, and stage manager for many years. This follow-up to OnStageís smash hit Winnie the Pooh, The Musical will also be presented in the Japanese puppet style of Buraku in which actors operate muppet-like hand and rod puppets. Both the puppets and the actors operating them were visible on stage resulting in a hybrid performance between the actors and the characters they portray/operate. In this childrenís musical, Eeyore has lost his tail, and just in time for his birthday! Lucky for him, Pooh, Pigglet and the rest of the gang from the Hundred Acre Wood have formed search parties to find it in time for the celebration. This enchanting musical is a whimsical celebration of friendship, and true dedication.
From Dan Maurer, the director who brought you this seasonís acclaimed production of Driving Miss Daisy, comes the unforgettable play Hollywood Arms, scheduled for October. Written by comic legend Carol Burnett and her daughter Carrie Hamilton, this moving comedy-drama is based on Burnettís best-selling memoir One More Time. Set in California in 1941 and 1951, it tells the story of a young girl growing up in a deeply flawed family. Ultimately, this is the funny and deeply moving story of three generations of women pursuing their dreams; dreams that end in disappointment, tragedy, and ultimately -- for one young girl -- triumph. Described by some as one part Neil Simon, one part Mamaís Family and one part Tennessee Williams, Hollywood Arms is a wholly originally story of humor, heartbreak, love and courage. It is a tale of true life, and knowing the truth.
OnStage Artistic Director, John Maurer, will anchor OnStageís new season with his direction of Man of La Mancha, a remarkable musical and one of the great theatre successes of our time. Scheduled to go up in February 2009, La Mancha is a play-within-a-play, based on Cervantes' Don Quixote. It is a poignant story of a dying old man whose impossible dream takes over his mind and the audienceís hearts. Winner of 5 Tony Awards when it originally premiered in 1965, the show features unforgettable songs like Man of La Mancha (Iím Don Quixote), It's All the Same, Dulcinea, and of course, The Impossible Dream. Man of La Mancha will remain in your thoughts and in your soul well after the curtain falls and the theatre lights go dim.
Audition dates will be scheduled in the next few weeks. Tickets will go on sale in the spring.
---
Driving Miss Daisy Delivers!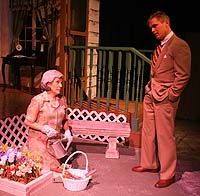 Driving Miss Daisy opened at the Kelsey Theatre on February 1 to critical acclaim. Itís short run left audiences talking about the powerful performances handed in by the showís trio of stars Ė Eve Connolly as Daisy Werthan, Allwyn Baskin as Hoke Coleburn, and Lonnie McCullough as Boolie Werthan. Audiences were also talking about how set designer John Maurer found a way to completely reshape the Kelsey Theatre stage and design a set that was both visually stunning and yet afforded the show the intimacy it required. Local theatre reviewers overlooked the show entirely, however audience reaction was strong and several who saw the show posted their comments to the company blog.
To read what people said about the show, click here.
To view a photo album of the production, click here.
To read the director's blog about the show, click here.
To view a photo album of the set design, click here.
To learn more about the show in general, click here.
---
Singiní in the Rain Is In Full Swing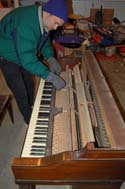 Rehearsals are in full swing for Singiní in the Rain. A great cast of actors are learning lines, blocking, songs, and dances, and being measured for costumes. The sets are laid out on paper and will soon start being built. Making it rain on stage is in the testing stages. One thing is clear: Singiní in the Rain promises to be a smash!
Check out this early peek behind the scenes on set construction. In this picture Master Builder Jeff Cantor (the man who constructed the car for Driving Miss Daisy) is disassembling an old piano. The show calls for a piano to be moved around stage for use by Cosmo Brown and others. But moving a real piano on cue can be back-breaking work. So Jeff got his hands on a real piano, which was donated by Dottie Farina and the Farina family.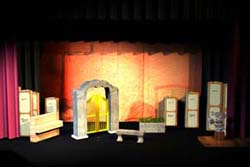 He is gutting the piano to remove most of its weight. Heíll then mount the shell on to rolling platform. When heís done, it will look like a real piano, the keys will move like a real piano, but the whole thing will be light as a feather.
Mark your calendars: Singiní in the Rain runs for two weeks beginning Friday, March 28. To order tickets, go online at www.kelseyatmccc.org, call 609-570-3333, or stop by the Kelsey Theatre Box Office.
---
Don't Miss My Favorite Year!

The Pennington Players has mounted an exciting production of the musical comedy My Favorite Year. The show features our very own Mike Schiumo, who played Snoopy in the OnStage production of Youíre a Good Man Charlie Brown. Mike is said to practically steal the show as Allan Swann, the boozing, womanizing washed-up screen legend. Other OnStage alumni appearing in the show include Tess Ammerman (Wonderful Life), Keith Neilsen (Lucky Stiff), Kyrus Westcott (Charlie Brown), Stephanie Zimmerman (Charlie Brown), and John Russell (Wonderful Life and Emperor). Working behind the scenes as director and choreographer on the show is John Zimmerman, who also appeared in the title role of our production of Youíre a Good Man, Charlie Brown.
My Favorite Year plays through Sunday, February 24 and tickets are still available. To order tickets, go online at www.kelseyatmccc.org, call 609-570-3333, or stop by the Kelsey Theatre Box Office.
---
Maurer Provides Designs for Thoroughly Modern Millie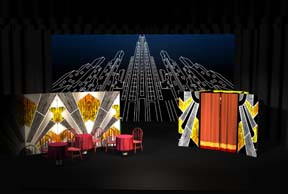 John Maurer, nominated for a Perry Award for his design of the set for Winnie the Pooh the Musical, has signed on to provide the set design for Playful Theaterís fun-filled tap show Thoroughly Modern Millie, opening at the Kelsey Theatre on February 29th . Amidst designing sets for The Emperorís New Clothes, Driving Miss Daisy, and Singiní in the Rain, Maurer sat down with the folks at Playful and together they cooked up a fantastic looking set that is sure to complement the production. Here are few rough images showing the designs of the set. Construction will begin in earnest next week.
When you settle in to your seat to see Thoroughly Modern Millie, you'll also recognize some of the cast. The show features OnStage alumni Tess Ammerman (Wonderful Life), Katie Correll (Pooh and Emperor), Ellen LaCorte (Wonderful Life), and Keith Neilson (Lucky Stiff).
Tickets for Thoroughly Modern Millie runs from February 29 through March 9. To order tickets, go online at www.kelseyatmccc.org, call 609-570-3333, or stop by the Kelsey Theatre Box Office.
---
One More Time -- Tap Class for Actors Plans Revival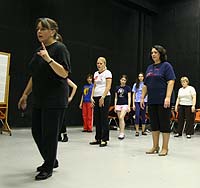 Last yearís tap class for actors lead by Jane Coult was such a success, plans were made to hold it all over again. Some of you may recall talk of that new class starting in January; however the start date had to be postponed due to scheduling problems. Look for the class to start up again in April.
In case you didnít know, this beginning tap class for adults is designed to teach the basic steps and many common intermediate steps, arming the students with a sufficient tap foundation to perform in musical theater. All actors and non-actors are welcome. The class is highly recommended for those who plan to audition for any dance shows in the future, or as a fun way to keep in shape!
More information will be published here when it becomes available.