Share on Facebook
OnStage News & Notes - December 2009

In our November newsletter we report on the cast of Children's Letters to God, see who is in the MCCC News, speak with the production teams of Equus, Groucho and the Producers, see what our Alumni are up to, discuss the controversy of smoking on stage, and much more.
---
FRIENDSHIPS FORM DURING CHILDREN'S LETTERS TO GOD

"Dear God, are you really invisible, or is that just a trick?"
"Dear God, please make my sister prettier so she can get married."
"Dear God, do plastic flowers make you mad? I would be if I made the real ones."
"Dear God, how come you did all the miracles in the old days, and you don't do any now?"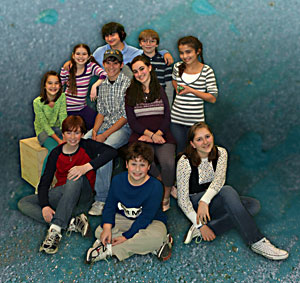 These are just a taste of the brief but thoughtful letters kids have written to the big guy upstairs and share in MPO's upcoming production of Children's Letters to God, opening at the Kelsey Theatre on January 8.
With dream team of local young actors cast to bring this international best-selling book to the stage, director Jane Coult considers herself very lucky.
"We have a great bunch of talented kids," she said one day after rehearsal. "They are bringing some wonderful voices and some high-energy performances to the show."
Jane is especially excited about the chemistry that she sees developing within the cast. "These young actors are really bonding, forming friends much like the characters they are playing, and those real bonds are making the experience especially fun for the cast," Jane said. "There isn't a day that goes by that they aren't chattering away in between scenes, laughing amongst themselves, or posting updates on Facebook about how much fun they are having a rehearsal." She added, "and all that positive energy is really showing through in their performances."
Inspired by the international bestseller of the same name, Children's Letters To God is a musical that follows the lives of several young friends as they voice beliefs, desires, questions and doubts common to all people, but most disarmingly expressed by children. Sixteen tuneful songs and assorted scenes (some based on actual letters published in the book) explore timeless issues such as sibling rivalry, divorce, holidays, loss of a beloved pet, the trials of being unathletic and first love. This entertaining show carries a universal message which crosses the boundaries of age, geography, and religion.
As in the best-selling book, the musical is not specifically religious in nature. It's about kids and various events in their lives that lead them to ask a lot of questions -- some funny, some serious, some surprising.
"It's a very special show because we have some very special actors," Jane said, "and I'm eager to show their great work to the community."
Children's Letters to God runs from January 8th through the 17th at the Kelsey Theatre.
Tickets are $16 for adults, $14 for seniors and students, and $12 for children.
For tickets call 609-570-3333
---
Open Auditions held for The Adventures of Tom Sawyer, the Broadway Musical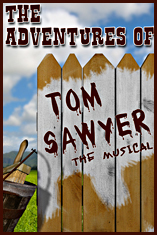 Maurer Productions OnStage has just held auditions for the full-length family musical The Adventures of Tom Sawyer, the Broadway Musical We will be announcing the cast soon.
Perry Award winner John Maurer, the man who brought the smash hits Man of La Mancha and Singin' in the Rain to the Kelsey Theatre, will direct this exciting musical romp. This is a musical version of Mark Twain's immortal novel about the adventures of a fourteen-year-old boy growing up in the heartland of America in 1840. With an exuberant pop-rock musical score to accompany him, Tom matches wits with his stern Aunt Polly, falls in love with the beautiful, feisty Becky Thatcher, and goes on the adventure of his life with Becky and that irresistible renegade, Huckleberry Finn. The fun and adventure are non-stop in this unforgettable family favorite.
This event being produced in 2010 marks the 175th anniversary of Mark Twain's birth, the 125th anniversary of his pinnacle work Adventures of Huckleberry Finn, and the 100th anniversary of his death.
This production will be presented at Kelsey Theatre on the West Windsor campus of Mercer County Community College. The show will include 25 roles and will be directed by John M. Maurer.
If you have any questions, please contact us at info@mponstage.com.
Auditions were held on December 12 & 13 on the Campus of Mercer County Community College.
---
Young Hollywood Arms Actress Cast in Billy Elliot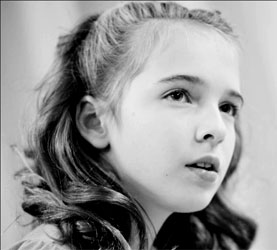 Maurer Productions OnStage is thrilled to report that 11-year-old MPO alum Kayla Vanderbilt has been cast in the ensemble of the Chicago production of Billy Elliot, which opens in March of 2010. Kayla most recently appeared in a supporting role in MPO's production of Hollywood Arms, the comedy-drama based on the true story of Carol Burnett's difficult childhood growing up in Hollywood. Kayla won acclaim for her strong portrayal of Burnett's younter sister (called "Alice" in the play).
"Across the board, we had a phenominally talented cast," said Hollywood Arms Director Dan Maurer, "but everyone knew Kayla was something special. She not only has the talent, but the passion and the drive to make it in professional theater. We're really thrilled that she has this opportunity with Billy Elliot."
At the young age of eleven Kayla has already been acting and modeling for several years and is madly in love with show business. She has performed in more than a dozen productions and has appeared on stage at NJPAC, Lincoln Center and various theaters around the state of New Jersey.
Billy Elliot, which features an amazing score by Elton John, is the most celebrated Broadway show of the year. This musical has captured hearts worldwide, delighted the critics and swept the awards - winning ten 2009 Tony Awards® including Best Musical.
Called "...the best show you will every see..." by the New York Post and "...the most inspiring show I've seen in years..." by Ben Brantley of The New York Times, Billy Elliot is a joyous, exciting and feel-good celebration of one boy following his heart and making his dreams come true.
"Kayla is a very versitile performer, a true triple threat" Maurer said. "She took on a very challenging role in Hollywood Arms. In just a few scenes, she needed to show a realistic transformation in her character -- from a cheery 10-year-old, to a bitter and wild 13-year-old -- a change brought on by her mother's alcoholism and neglect. That's not easy for a child to do. She really hit it out of the park, and I'm sure she'll do the same for her role in Billy Elliot."
The Chicago production of Billy Elliot opens in March 18, 2010 at the Oriental Theater.
---
New Alumni Calendar Submission form.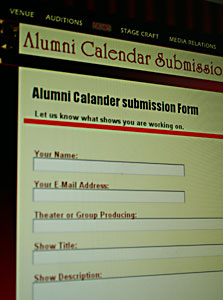 If you are a regular to our newsletter you know that we try to maintain an Alumni calendar. We want to let our readers know where they can see those actors that they enjoyed watching in our shows as they perform in other venues. This is also a service to our Alumni since we have a large readership.
Up to this point we have been filling the calender with information that has been emailed to us or we have found while surfing the web. This tends to slow the process of listing an event because we have to track down all the information ourselves.
In order to speed up the process and to get all the information we need at the same time we have setup an Alumni Calendar Submission form that asks all the right questions and will allow us to speed up postings.
If you are an Alumni and have and event you would like to get in the newsletter and on the calendar then click over to our Alumni Submission Form and fill it out.
We are waiting to here from you.
---
Backstage Pass, the podcast covering community theater in Central New Jersey,
this month speaks to a horse, a grouch, and a producer.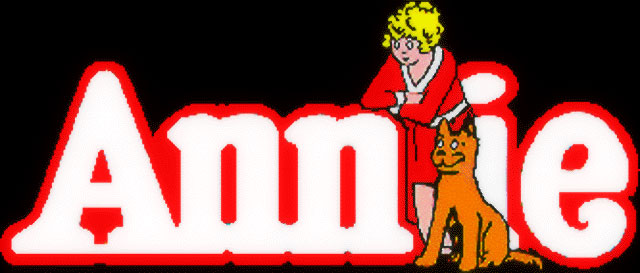 Episode 30:
A Talk with the Cast of Annie
In this Podcast we talk with the director and some of the cast from Annie being presented by Arts YOUniversity of Hamilton NJ. Our Guests include Director Lisa Gaunt and actors Scott Karlin (Singin' in the Rain), Jessa Bedser and Kacey Burke.
---
Alumni Happenings in December
December brings on the holiday cheer and the thoughts of a new year so lets celebrate our alumni. Here is what they are up to:
Twas the Night before Christmas
See Alumi Caroline Maurer (A Winnie the Pooh Birthday Tail) in the Kelsey Theatre production of Twas the Night Before Christmas.
In the true spirit of giving, Kelsey Theatre is participating in the Toys for Tots drive; unwrapped, new toys may be dropped off in the theatre's lobby through Dec. 21. Theater-goers will also enjoy caroling in the lobby prior to the show. Then Clement Moore takes the stage as his beloved poem, "A Visit from St. Nicholas," comes to life. Audience members will be encouraged to sing along with more favorite carols as Santa arrives at the end of the show.


ShowTimes:
Friday, Dec. 11 at 7 p.m.
Saturday, Dec. 12 at 11 a.m., 2 p.m. and 4 p.m.
Sunday, Dec. 13 at 2 and 4 p.m.

For more information about the show or Kelsey Theatre, visit http://www.kelseyatmccc.org/index.shtml.
It's A Wonderful Life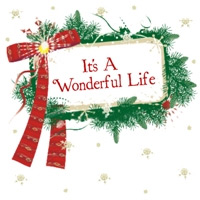 See Alumnus Brian Gildea (Hollywood Arms) as Clarence in the SVP Production of It's A Wonderful Life. A great holiday show for the whole family.
The traditional and heartwarming holiday classic comes alive on stage, as George Bailey, guided by his devoted wife Mary and the bumbling but lovable Clarence the Angel, finds love and redemption in the small town of Bedford Falls. This timeless story, and all its familiar and colorful characters, captures the Christmas spirit. Start the season with this loving family saga which touches the heart and enriches the soul.
Performances:
Fridays, December 4th - December 20th
Location: Somerset Vally Players, 689 Amwell Road (Rte 514), Hillsborough NJ 08844-3317
Tickets: Purchase online at Ticket Turtle.
For reservations and other information,
please email them at reservations@svptheatre.org, or phone 908-369-7469 .
The Characters of Christmas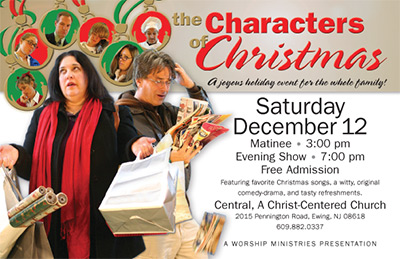 The Characters of Christmas is an original comedy-drama written by Kerry McClintock and Toni Campbell (It's a Wonderful Life, Winne the Pooh, Man of La Mancha). Musical interludes feature soloists, duets and trios singing contemporary and standard Christmas songs.

The story follows Jim Long (Marty Berrien-It's a Wonderful Life, A Winnie the Pooh Birthday Tail) and his wife Linda (Toni Campbell) through a typical stressed-out day of coping with the holidays. Throughout the day, they encounter a number of "characters" - a "helpful" store clerk, pushy jewelry salesperson (Vicky Czarnik- Lucky Stiff, It's a Wonderful Life, Singin' in the Rain), over-spending kids, a nosy mother-in-law, an overly zealous house-decorating neighbor and more. When Linda ducks into a church for a few minutes of quiet, she encounters an unexpected message of hope and love.

Admission to "The Characters of Christmas" is free and open to the public. Performances take place at Central Church, 2015 Pennington Road in Ewing, across from TCNJ, at 3pm and 7pm Saturday, December 12th. Refreshments will be served after each performance.

Annie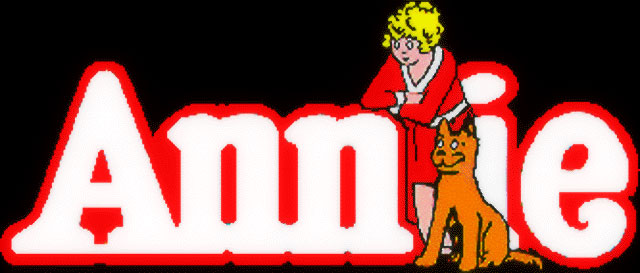 See alumnus Scott Karlin (The Emperors New Cloths, Singin' in the Rain) and Elizabeth Rzasa - (Man of LaManch) in the family musical Annie being presented by Arts YOUniversity on December 19th and 20th.
An orphan, Annie, and her dog Sandy are placed in the lap of luxury for a week as a part of a publicity campaign for Oliver Warbucks. However, Annie's stay turns out to be much more than anyone had bargained for as she works her way into everyone's hearts and learns a few things for herself.

For tickets call the Arts YOUniversity office at 609-586-3008.
For more information: www.artsyouniversity.com
A Christmas Carol in repertory with
The Christmas Carol Conspiracy, Scrooge's Revenge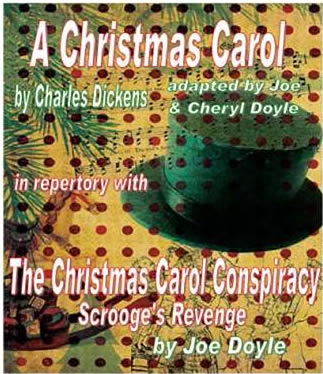 See alumnus Kelly Allen, Tess Ammerman (Man of La Mancha) and John Bergeron (Man of LaManch) in a special event being produced by Actors Net of Morrisville PA.
On alternating nights, they present two shows: First, a faithful rendition of Charles Dickens' immortal heart-touching tale of Scrooge, adapted by Joe and Cheryl Doyle. No gaudy special effects; the magic is in the script. Second, Joe Doyle's silly 1996 send-up of the original — lampooning that it was all a trick in the first place. Scrooge learns he'd been duped and plots revenge! Sparks fly, laughs abound! Season ticket holders see both shows for the price of one!

Advanced tickets available for purchase with credit card online at Brown Paper Tickets.
$20 Adults, $17 Seniors, $10 Children under 13. Prepaid group rates available.
For more information:
www.actorsnetbucks.org or call 215-295-3694
If you are an Alumni and have and event you would like to get in the newsletter and on the calendar then click over to our Alumni Submission Form and fill it out.
We are waiting to here from you.
---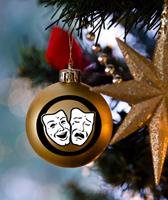 MPO Theater Quiz:
Theater for the Holidays.
Holidays reign in December, and MP OnStage is celebrating! Also, the holidays and the many ways of celebrating them are depicted in Children's Letters to God, opening on January 8 at Kelsey Theatre. In honor of the holidays and the opening of Children's Letters to God, this month's quiz features shows that celebrate December holidays and religious questions. You have Ten questions to see if you can "Get some Holiday Cheer!"
---