Share on Facebook
OnStage News & Notes -January 2011

In our January newsletter, we check in on rehearsals for A Few Good Men; see what side projects the group has been working on; spotlight a real clown; talk to the casts of It's a Wonderful Life the Live Radio Play, Amadeus and A Few Good Men; and see what our alumni are up to.
---
Attention to Detail is the Name of the Game for the Costuming Team Behind A Few Good Men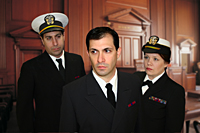 When the MPO team chose to kick off its season with the riveting courtroom drama, "A Few Good Men," at the Kelsey Theatre on January 21, they looked forward to seeing a drama on the stage, not in the dressing room. But once the show's costumers and co-producers Diana and John Maurer began work on dressing the 25 member cast, it became clear that the authenticity needed to make the show work would turn "A Few Good Men" into one of most challenging the company has ever staged.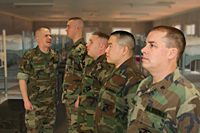 The Aaron Sorkin legal drama about deception and conspiracy at high levels of the military has been a favorite with audiences. But it's not without its producing challenges. A veteran of countless productions and a past Perry Award nominee for Outstanding Costume Design, Diana Maurer said: "'A Few Good Men' is a bit deceptive from a production stand point. You think because it's an awesome script with asimple set that all you need is to cast some great actors like we have and the result is a great production, but that's only half the battle. The costumescan make or break this show."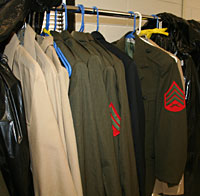 "It's all about authenticity," added Diana's husband and partner John Maurer. "You can't make or fake these uniforms. In fact, they're not really costumes at all but actual military surplus uniforms."
In most plays produced by local theatre companies, the set is often the most expensive item in the budget, but for "A Few Good Men", it's the costumes. The show requires the team to dress 25 actors representing 2 branches of the military, some in both dress uniforms and daily fatigues. What's more, all the uniforms will have to be specifically tailored to each actor.
Authentic military surplus uniforms aredifficult to come by. The Maurer's, together with Director Alycia Bauch-Cantor have traveled from Connecticut to the Carolinas and scoured the Internet for uniforms needed to bring the drama to life.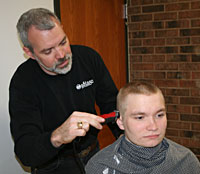 "With the U.S. military at war over seas and remaining vigilant for terror threats at home, authentic uniforms are difficult to come by," John said. "Needless to say, we've gotten a lot of suspicious looks every time we ask for something like an authentic Marine Colonel's dress jacket."
"A Few Good Men" stars Mark Violi of Hamilton as Lt. j.g. Kaffee; Joe Zedeny of East Windsor as Lt. j.g. Weinberg; Faith Dowgin of Spotswood as Lt. Cmdr. Galloway; Fred Walker of Trenton as Colonel Jessep; Brett Molotsky of Camden as Major Markinson; Derek Capre of East Windsor as Capt. Ross; Chris Scharnagle of Williamstown as Lt. Kendrick; Robert Fisher of Chesterfield, as Lance Cpl. Dawson; and Justin Drach of National Park as Pfc. Downey.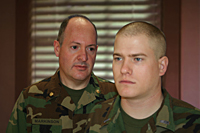 Supporting cast members include Scott Karlin of Plainsboro, Judy Berwick, of Lawrenceville, Fred Gropper, of Yardley, Pa., Steve Decker, of Morrisville, Pa., Jesse Dubin of Lawrenceville, Joshua Waldorf of Yardley, Pa., Eric Tow of Belford, Ricklin Harmening of Bordentown, Tim Kline of Ewing, Shaquille Sanderson of Trenton, and Syreeta Washington of Ewing.
"A Few Good Men," runs at the Kelsey Theatre on Fridays, Jan. 21 and 28 at 7:30 p.m.; Saturdays, Jan. 22 and 29 at 7:30 p.m.; and Sundays, Jan. 23 and 30 at 2 p.m. Kelsey Theatre is located on the West Windsor campus of Mercer County Community College, 1200 Old Trenton Road.
Tickets are $14 for adults, $12 for seniors, and $10 for students and children. Free parking is available next to the theater. Tickets may be purchased online or by calling the Kelsey Box Office at 609-570-3333. Kelsey Theatre is wheelchair accessible and free parking is available next to the theater. Kelsey Theatre is wheelchair accessible.
---
Auditions Open for Dirty Rotten Scoundrels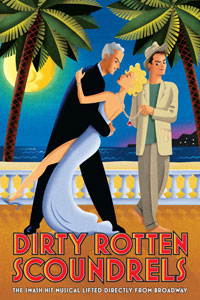 Based on the popular 1988 film, DIRTY ROTTEN SCOUNDRELS centers on two con men living on the French Riviera. The first is the suave and sophisticated Lawrence Jameson, who makes his lavish living by talking rich ladies out of their money. The other, a small-time crook named Freddy Benson, more humbly swindles women by waking their compassion with fabricated stories about his grandmother's failing health. After meeting on a train, they unsuccessfully attempt to work together only to find that this small French town isn't big enough for the two of them. They agree on a settlement: the first one to extract $50,000 from a young female target, heiress Christine Colgate, wins and the other must leave town. A hilarious battle of cons ensues, that will keep audiences laughing, humming and guessing to the end!
This production will be presented at the Kelsey Theatre on the West Windsor campus of Mercer County Community College. The show will include 20 roles and will be directed by John M. Maurer.
AUDITION SIGNUPS ARE OPEN
Saturday February 5th 2011 from 10:00am to 5:00pm
Sunday February 6th 2011 from 12:00pm to 5:00pm
---
The MPO Puppets Take on the Far East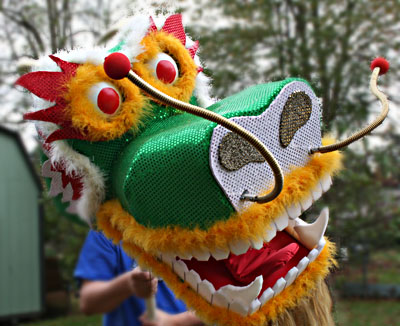 The MPO Puppets are on the move again. After popping up in the Pennington Players production of Seussical they have been asked to represent the Orient.
MPO Artistic Director John Maurer was approached by Danielle Tucci-Juraga of the Downstage Center's Musical Theater Workshop to help with her December 'Round the World production. "Dani asked me if I could make a Chinese Festival Ceremony Dragon Dance Costume for her upcoming performance," said John Maurer, MPO's Artistic Director. "I had always wanted to learn to make one of these masive costumes in the traditional style and had tried to find any reference on how they were made. I couldn't find any books, DVD's websites or classes in dragon construction. All the traditional dance groups that I contacted told me the same thing: 'We purchase ours from China.'"
"Without any traditional building instructions to go by," said John, "I was on my own and had to build it using standard puppet making technices. When finished it was 18 feet long and require 4 dancers to operate it."
John has been taking photos of the entire process so look for another case study to pop up soon.
---
A clown grows at the Kelsey Theatre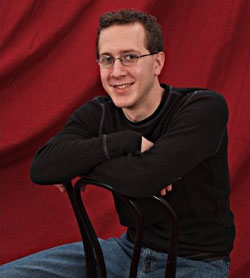 If you have been around the Kelsey Theater the past few years you may have run into, worked with backstage or seen onstage Jeff Branin. Jeff has been a fixture in the theater and has worked with several theater companies and with Maurer Productions OnStage since our production of It's a Wonderful Life back in 2006. Jeff is a wonderful comic actor and an accomplished dancer, having appeared as one of the featured dancers in Singin' in the Rain in 2008 and in last year's production of Tom Sawyer. When not at the Kelsey Theater, Jeff worked as a performer at Great Adventure and is a regular as part of their Fright Fest shows every year.

One of the parts that Jeff has had the longest is that of Moldee the Clown. Seen here in his early costume and makeup while attending Clownfest, an international clown convention, in 1996.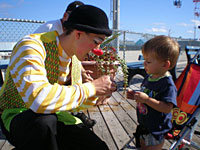 Last July, Jeff had the opportunity to audition for Ringling Brothers and Barnun & Baliey Circus and test his skill as a clown and performer along with 72 other hopefuls. A short time later he was contacted by the Feld Entertainment Group that runs Ringling and was offered the opportunity to join the Greatest Show on Earth - one of only 8 performers choosen from that audition.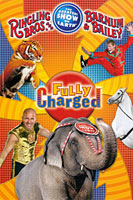 Orginally scheduled to join the Blue unit, touring the middwest, Jeff was transfered to the brand new show Fully Charged, that was still in development. This marks the 141st edition of The Greatest Show On Earth and is billed as an electrifying show that powers up audiences with acts from all over the globe featuring breathtaking dare-devilry, superhuman stunts, never-seen-before performances that spark the imagination and Clowns from the world-famous clown alley (Yeah - Jeff!). The Ringling Bros. and Barnum & Bailey Fully Charged show will be coming up the east coast and will be in our area in February and May. For tickets and information go to www.ringling.com. And ... WAY TO GO JEFF!

---
It's a Wonderful Life the Live Radio Play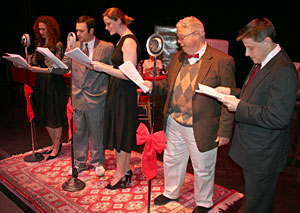 If you had attended the Kelsey Theater in December, you may have had the opportunity to witness a special event. It's A Wonderful Life the Live Radio Play was presented by the James Tolin Memorial Fund. The show was done in the style of a 1940's live radio play.
The cast of 6, decked out in period costumes, stood in front of period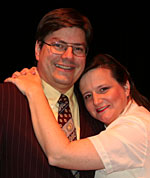 microphones and with scripts in hand portrade over 25 characters. To keep in the style of the early broadcast all the sound effects were done live by a foley crew of 3. From the wind effects and car doors to the breaking glass and snowy footprints the foley crew, led by foley captain Judi Parish, followed the script and provided atmosphere to the production.
If you are a regular to the MPOnStage website, you would have also noticed a few familiar faces on stage. MPOnStage Artistic Director John Maurer was one of the 6 actors and MPO Co-Founder Diana Maurer was one of the Foley Artists. "It is always fun working with the JTMF crew," said John. "They always strive to put on a good show to help raise awarness and money to benefit organizations like the Open Arms Foundation."
---
Amadeus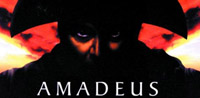 In this Podcast we talk with the cast and crew of AMADEUS by PinnWorth Productions. Our guests for this podcast were Director Lou J Stalsworth and actors John Shanken-Kaye & Matty Daley.
A Few Good Men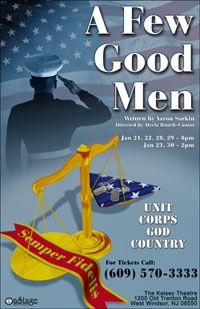 In this Podcast we talk with some of the cast and crew of MPOnStage Production of A Few Good Men being presented at the Kelsey Theatre on the campus of Mercer County College in West Windsor, New Jersey. Our guests for this podcast were Director Alycia Bauch-Cantor and actors Mark Violi, Faith Dowgin and Robert Fisher.

Listen Now.
It's a Wonderful Life the Live Radio Play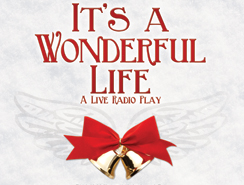 In this Podcast we talk with the cast and crew of the JTMF production of It's A Wonderful Life the Radio Play. Our guests for this podcast were Director Brian A. Bara, actors Sean McGrath, Glenn Calhoun, Damian Gaeta, Jennifer Baron, Foley Captain Judi Parrish and her team of Shelly Snyder and Diana Maurer.

Listen Now.
---
As we move out of the Holiday Season, let's see what treats our Alumni have in store for the New Year.
Amadeus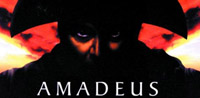 See Alumni John Shanken-Kaye, Matty Daley,Rob Gougher and Elizabeth Rzasa in Amadeus, coming to the Kelsey theatre in West Windsor, NJ.

ABOUT THE SHOW:
Set in 18th century Vienna, a city brimming with beauty, brilliance and mystery, "Amadeus" offers a fictionalized narrative of two men whose fates are regrettably intertwined: Mozart, the brilliant, manic genius who composes inspired symphonies, and Antonio Salieri, the less-gifted court musician who observes Mozart's successes with envy and rails against a God who has bestowed such talent on this feckless boy. As Salieri's spiritual disillusion and blinding resentments deepen, the stage is set for Mozart's downfall.


SHOW TIMES:
Fridays, Jan. 7 and 14 at 7:30 p.m.
Saturdays, Jan. 8 and 15 at 7:30 p.m.; and
Sundays, Jan. 9 and 16 at 2 p.m.

TICKETS:
Call (609) 570-3333,
Or go online at http://www.kelseyatmccc.org/amadeus.shtml

Theater:
The Kelsey Theatre at MCCC
1200 Old Trenton Road
West Windsor, NJ 08550 U.S.A.
(609) 570-3333


The Wedding Singer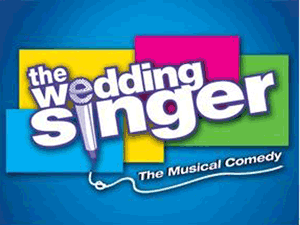 Dates and Times:
See MPO Alumni Lynn Baskin, John Boccanfuso, Ellen Rose LaCorte and Dominick Sannelli in the Cheng/Ferrara production of the Wedding Singer.

ABOUT THE SHOW:
Travel now, not far - New Jersey in the 80s. There on the stage is Robbie Hart, beloved wedding singer and life of the party. But it all spirals downwards as his fiancée leaves him at the altar and he is left drowning his sorrows and living in his grandmother's basement. But hark, what light through yonder window breaks? It is the east and Julia is the sun! Can he woo her from her wealthy Wall Street broker fiancé? Can Cheng/Ferrara Productions help Robbie pull off the performance of the decade and win the fair Julia's heart? With all the music and charm of the original movie, this musical is sure to win your heart.

SHOW TIMES:
Fri. Feb. 11 & 18, 2011 at 7:30pm
Sat. Feb. 12 & 19 at 7:30pm
Sun. Feb. 13 & 20 at 2pm

TICKETS:
Call (609) 570-3333 ,
Or go online at http://www.kelseyatmccc.org/weddingsinger.shtml

Theater:
The Kelsey Theatre at MCCC
1200 Old Trenton Road
West Windsor, NJ 08550 U.S.A.
(609) 570-3333


A Streetcar Named Desire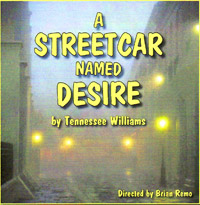 See Alunus Sam Rosalsky as Steve Hubble In The Fellowship Theater's production of A STREETCAR NAMED DESIRE
About the Show
Widely considered a landmark play, A Streetcar Named Desire deals with a culture clash between two iconic characters, Blanche DuBois, a fading relic of the Old South, and Stanley Kowalski, a rising member of the industrial, urban working class. The play presents Blanche DuBois, a fading but still-attractive Southern belle whose pretensions to virtue and culture only thinly mask alcoholism and delusions of grandeur. Her poise is an illusion she presents to shield others (but most of all, herself) from her reality, and an attempt to make herself still attractive to new male suitors.
SHOW TIMES:
January 20,21,22,27,28,29
February 3,4,5 all at 8pm

TICKETS:
Call (732) 585-9515 ,


Theater:
The Fellowship Theater of Chathem
United Methodist Church
460 Main Street, Chatham


If you are an Alumni and have and event you would like to get in the newsletter and on the calendar then click over to our Alumni Submission Form and fill it out.
We are waiting to here from you!
---