Diana Gilman Maurer, Vice President & Business Manager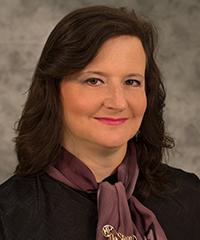 Diana is a mom, actress, theater producer, and professional clown. She co-founded Maurer Productions OnStage with her husband, John and together they have produced several sucessful shows on the Kelsey Theatre stage, including Singin' in the Rain, Winnie the Pooh, Itís a Wonderful Life, Lucky Stiff, Youíre a Good Man Charlie Brown, The Foreigner, The Emperorís New Clothes and the five-time Perry Award-winning production of Driving Miss Daisy for which she was nominated for best costume design. She made her directorial debut with the critically acclaimed children's production of A Winnie the Pooh Birthday Tail.
She has many acting credits and was last seen on the Kelsey Theatre stage in 'Twas the Night Before Christmas, Inspecting Carol, Arsenic and Old Lace, and the well received Nosing Around series of shows. Diana is also a member of R&R Productions Theatre To Go, an interactive theater company that performs regularly throughout the year. She and her husband are internationally produced playwrights, having written three interactive plays that have been produced in England, New Zealand, and around the United States.

John and Diana also own and manage Standing Tall Promotions, bringing joy and laughter to children of all ages with balloon art, face painting, magic and general clowning around.

When not in the theatre, Diana enjoys time with her wonderful children, Stacy, Hunter and Amanda. She is Amanda's Girl Scout Troop Leader and is the Cookie Manager of the Lawrence-Ewing Girl Scouts. She owes her mom a great big thanks for guiding her through life with love and affection.