Share on Facebook
OnStage News & Notes - October 2009

In our October newsletter we report on the opening of Hollywood Arms, announce open auditions for Children's Letters to God, give an update on winners at the NJACT Perry Awards, and much more.
---
Carol Burnett's Hollywood Arms Opens to Standing Ovation; Powerful Acting Performances Lead the Way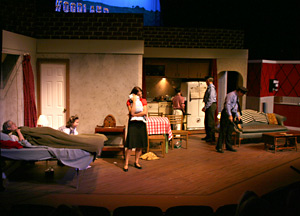 When the curtain came down on the opening night performance of Hollywood Arms, the audience was on its feet. The standing ovation was no doubt in appreciation for some stellar acting performances delivered by the entire cast. Leading the way was Leta Gilbert as Louise, Laurie Hardy as Nanny, Nicole Spadafino as Older Helen, and Kirsten Pasewaldt as the younger Helen. Tickets are still on sale for the final weekend of this fascinating blend of comedy, drama and Hollywood autobiography.
Hollywood Arms is a comedy-drama written by Carrie Hamilton and Carol Burnett. Set predominantly in 1941 and 1951, the play is based on Burnett's best-selling memoir One More Time and tells the true story of Burnett's childhood growing up in a poor and troubled family. It is ultimately the riveting and emotionally moving story of three generations of women in pursuit of their dreams.
Some audience members confessed to being stunned at the emotionally powerful content of the show and the thought that Carol Burnett has reported that it is all true, much of it verbatim. Over the weekend, several actors reported being approached by audience members they don't know, who wanted to thank them for their performance and talk about the show. Laughter and tears came easy to many audience members.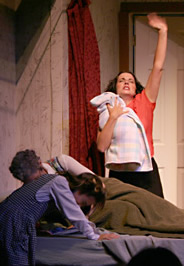 Leta Gilbert delivers a tour de force performance as Louise (Carol Burnett's mother), who slides into alcoholism as her dreams of love and Hollywood fame slip away. Leta's work allows the audience to become invested in Louise's dreams and heartbroken as her tragic life unfolds. Meanwhile, Laurie Hardy's performance as Nanny (Burnett's grandmother), is equally remarkable. Those who are familiar with Laurie's wonderful work on the Kelsey stage will be amazed to watch her completely change her acting style and her looks to create a wholly original and multi-dimensional character that people love, hate, laugh with, and ultimately understand and appreciate.
Meanwhile, the role of Carol Burnett (called "Helen" in the play) is split between 12-year-old Kirsten Pasewaldt in the first act, and adult actress Nicole Spadafino in the second act. Together they bring to life one of the iconic figures of the entertainment business. They do it not as "Carol Burnett the entertainer", but as a young girl named Helen who learns how to dream from her mother, learns how to survive hardship from her Nanny, and learns to how love with a generous heart from her father. These two talented actors take us on a young girl's journey from a frightened and abandoned young child to a strong, intelligent, talented and protective young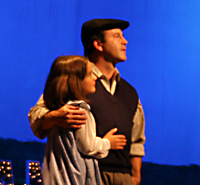 women on the brink of stardom.
These amazing leading actors are backed up by an equally amazing supporting cast. Brian Gildea's portrayal of Jody, Burnett's alcoholic and tubercular father, is touching, real, and truly helps us understand the origins of Burnett's generous nature. Rob Gougher's performance as Bill, Louise's second husband, is both comic and tragic as his blind affections and sincere efforts to help Louise only further fuel her alcoholism. Meanwhile, Kacie Mixon turns in a wonderful performance as Dixie, the landlord and Louise's best friend. As a fellow single mother and sounding board, Kacie's fun and likeable Dixie helps us gauge Louise's slide more clearly and feel it more deeply.
The supporting actors are joined by some fine young talent that include young Perry Award-winning actor Tommy Kouten as Malcolm (Burnett's neighborhood playmate), and Kayla Vanderbilt as Alice (who represents Burnett's younger sister). Kayla's performance is both fun and troubling. Audiences will see the affect Louise's alcoholism starts to take on young Alice's life, and will be moved to see the steps the grown Helen takes to stop it.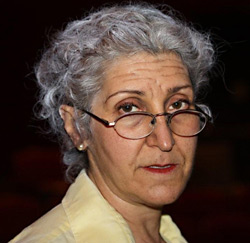 Rounding out the cast in cameo roles are two MPO regulars, Buzz Herman and Jack Petzko, who do a fine job as two cops who pay a hilarious visit to Louise and Nanny.
Hollywood Arms will run Oct 9 at 8pm, Oct 10 at 2pm and 8pm and Oct 11 at 2pm at the Kelsey Theatre in West Windsor, NJ. To order tickets, go online at www.kelseyatmccc.org, call 609-570-3333, or stop by the Kelsey Theatre Box Office. Ticket prices are $14 for adults, $12 for seniors and $10 for students and children. The Kelsey Theatre is wheelchair accessible.
---
Open Auditions for Children's Letters to God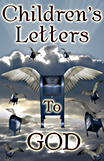 Maurer Productions OnStage is now scheduling audition appointments for the full-length family musical Children's Letters to God, based on the international best-selling book of the same name. Five speaking/singing parts (two girls, three boys) are joined by a chorus of four children (boys and girls) in this up-beat musical about the questions and challenges that face children. The character ages range from 9 to 13, but older actors may audition if they feel they look close enough to the character's age.
Auditions are scheduled for October 24 and 25. Presented by the acclaimed production team that brought you the Perry Award-nominated productions Man of La Mancha and Singin' in the Rain, this show will open on January 8, 2010 at the Kelsey Theatre on the West Windsor campus of Mercer County Community College.
All roles are available. All experienced actors are encouraged to audition.
CLICK HERE TO LEARN MORE ABOUT THE AUDITIONS
---
Getlik, Maurer Honored by NJACT for Their Many Contributions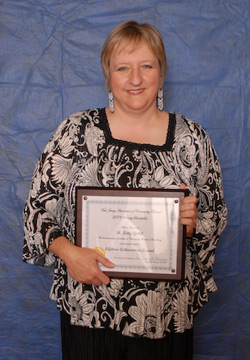 Two Kelsey Theatre regulars were honored last month by the New Jersey Association of Community Theaters (NJACT). Kelsey Theatre Artistic Director, Kitty Getlik, was awarded the NJACT Lifetime Achievement Award. John Maurer, Artistic Director of Maurer Productions OnStage, received NJACT's David P. McMenemie Award, which is given to celebrate a special individual who has made a significant, lasting and invaluable contribution behind the scenes of community theater.
Both Getlik and Maurer each have over 30 years of experience in theater, much of it dedicated to the New Jersey theater community. Their commitment was rewarded by NJACT when their names were announced at the annual NJACT Perry Award Gala, which was held September 20 at the Doubletree Hotel in Somerset, NJ with 730 in attendance. Neither Getlik nor Maurer had any clue they were candidates for their awards and were taken completely by surprise.

Though thrilled, Getlik acknowledged that, "it was kind of scary because it's a 'lifetime achievement'award, and it made me realize how long I've been here."
Getlik was nominated for her award by members of the many theater companies who perform at the Kelsey Theatre. Those nomination letters were sent to the NJACT board of directors, who recieve such nominations from theaters across the state. After receiving the award, Getlik was approached by William "Perry" Morgan, who founded the awards program over 30 years ago and now lives in Louisiana. After hearing the award presentation outlining Getlik's impact on community theater, Morgan congratulated her and thanked Getlik for her important contributions.
Maurer was equally pleased and shocked to receive the David P. McMenemie Award. Maurer was honored for contributing many hours to develop a new NJACT website, for publishing a regular podcast to promote community theater in Central New Jersey, and for the many efforts he has lead in support of theater companies beyond his own. Helping to design and build sets, coordinating members of different theater companies in support of joint projects, and generally being there to support the theater community are just a few of the contributions Maurer is known for.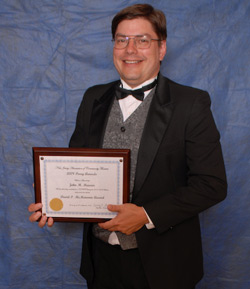 "I was speechless," Maurer said, "I was honored, but absolutely speechless. I didn't even have a pithy comment to toss off. I've just been going about my business trying to produce the best theater I can, and to help others do the same, never thinking of getting any notice like this. So when it came, it was a pleasant surprise."
Both Getlik and Maurer are keeping busy since collecting their awards. Getlik is slated to direct the family comedy A Christmas Story, produced by Pennington Players and playing at the Kelsey Theatre from November 27 to December 6. Meanwhile, Maurer is producing and designing the set for the Carol Burnett comedy-drama Hollywood Arms, which runs through this weekend. He will then produce and design the set for the full-length family musical, Children's Letters to God, which opens at the Kelsey Theatre on January 8. And finally, he will direct The Adventures of Tom Sawyer: The Musical, which opens at the Kelsey Theatre on March 12, 2010.
---
Maurer Productions Hits the Red Carpet at the NJACT Perry Awards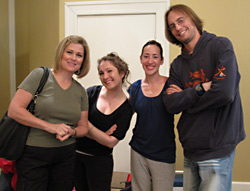 Laura, Liz, Jamuna & Jim backstage
Once again the MPO team had a great time at the NJACT Perry Awards Gala, performing selections from Man of La Mancha and presenting awards for Outstanding Properties, Outstanding direction of a play and Outstanding production of a play. On September 20, the MPO team performed selections from Man of La Mancha, an honor reserved for shows that are nominated in the Outstanding Choreography and Outstanding Production of a Musical categories.
The selections included,I Am I, Don Quixote; What Does He Want of Me; To Each His Dulcinia; and the Impossible Dream Finale.
The NJACT Perry Awards Gala was attended by close to 800 members of New Jersey theater community. The ceremony offered an opportunity for networking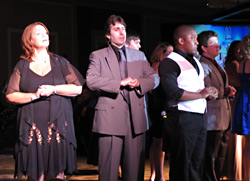 Joe Zedeny in the opening number.
with members of community theater all over New Jersey and to check out the competition around the state.
The MPO team is always amazed at how much talent there is in community theater in New Jersey and how busy they are. But schedules were arranged and the group had several rehearsals in preparation for this year's performance, which turned out to be loads of fun. Participating this year were Dan Petrovich, Meera Mohan, Sam Rosalsky, Jim Petro, Liz Rzasa, Jamuna Chiarini, Laura Jackson-Jahnke, and Joe Zedeny, plus special appearances from some of the production staff and even Pooh and Piglet! See you at the ceremony next year.
---
Tommy Kouten, Outstanding Youth Actor.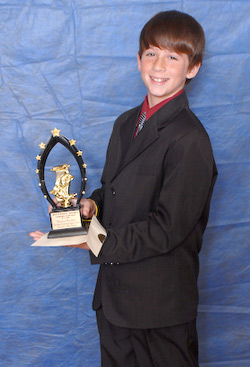 Tommy Kouten, who wowed audiences this past weekend in Hollywood Arms and will, no doubt, do the same this coming weekend, has wowed other audiences in the past also. He received recognition at the Perry Awards for one of his shows this past year by being nominated and winning the award for Outstanding Youth Actor in a Play for his role as Charlie in The Best Christmas Pageant Ever at Somerset Valley Players.
Tommy has been nominated twice for the NJACT Perry award for Outstanding Youth Actor in a Play. The first time was for his debut in The Homecoming at Somerset Valley Players where he was the youngest cast member (age 8) and played the character of Luke.
Tommy is no newcomer before the footlights. Tommy has been seen on the stage at Mount Saint Mary's Academy in The King and I (Louis), The Best Christmas Pageant Ever (Charlie), and in The Sound of Music (Kurt). He has also appeared at Alliance Repertory Company in Cheaper by the Dozen (Bill), SVP and Bucks County Playhouse Pippin (Theo), Circle Players The Velveteen Rabbit (Rabbit), BCP Willie Wonka Jr (Charlie), NJRT Oliver, and BCP The Music Man. In December 2007, Tommy had the privilege of performing in the original play Humbug (Timmy and young Phil) at Premiere Stages. Humbug has since been published and Tommy is credited as part of the original cast. He has also appeared in several NYU student films. Don't miss you chance to see this amazing young performer, as well as the rest of the outstanding cast in Hollywood Arms this weekend at Kelsey Theatre.
---
We Got Letters...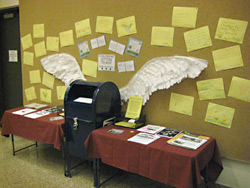 In January 2010, the musical Children's Letters to God, inspired by the international bestseller of the same name, will be produced at the Kelsey Theater and directed by Perry Award-nominated choreographer Jane Coult.
In order to raise awareness about the show, MPOnStage has placed a winged mailbox in the lobby of the Kelsey Theater. Signs around the mailbox invite patrons of all ages to write their own letters and tell us about their favorite person or thing or just draw a picture. We are happy to report that our crayons and paper have been put to good use, as children and adults alike have written numerous letters. In order to show off the many talents of our patrons, MPO has started displaying the letters on the lobby wall.
The next time you are in the kelsey theater, why don't you pick up a crayon or two and ask your question or just let us know what you are thinking about.
---
Alumni Happenings in October
October brings on the cold but our alumni are hot. Here is what they are up to:
Roebling: The Story of the Brooklyn Bridge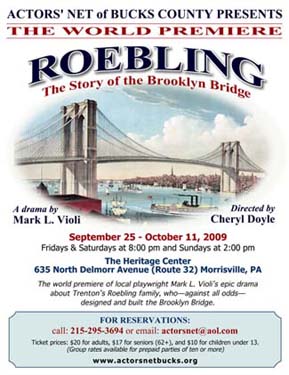 Mark Violi (The Foreigner), besides being an actor, is a playwright and enjoying the world premier of his epic drama entitled Roebling: The Story of the Brooklyn Bridge. The Roebling family name is well known in the Trenton area from a time when industry boomed and the famous logo, Trenton Makes, The World Takes, was true. Most, however, do not know much about their family story, including the story of how, against all odds, they built the Brooklyn Bridge, a magnificent structure that spans the East River between Manhattan and Brooklyn in New York City. Find out the remarkable story of this world-famous family.

Opening at Actors Net on September 25 and running until October 11, performances are Fridays and Saturdays at 8 pm and Sundays at 2 pm. Tickets are $20 for adults, $17 for seniors, and $10 for children under 13.

To purchase tickets, visit Actors Net website at:
http://actorsnetbucks.org/on_stage and click on Tickets.
Equus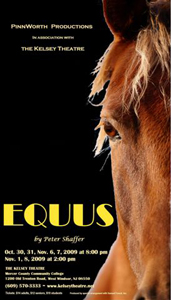 See Alumi Jean Prall Rosolino (Winnie the Pooh the Musical) and Dr. John M. Shanken-Kaye (Lucky Stiff) in the PinnWorth Production of Equus being presented at the Kelsey Theater in West Windsor NJ.
Peter Schaffer's disturbing psychological thriller loosely based on a real occurrence. Psychiatrist Martin Dysart (made famous in the film by Sir Richard Burton) is brought the most challenging case of his career by the magistrate. Alan Strang seems like a normal seventeen year old. His life appears routine and his family loving. However, Alan's passion for horses and an encounter with a female stablehand has led him to behave in the most devastating way. Dysart struggles to grasp the answer to this psychological puzzle.

ShowTimes:
Fri. Oct. 30 & Nov. 6, 2009 at 8pm
Sat. Oct. 31 & 7 at 8pm
Sun. Nov. 1 & 8 at 2pm

For more information about the show or Kelsey Theatre, visit http://www.kelseyatmccc.org/index.shtml.
Don't Drink the Water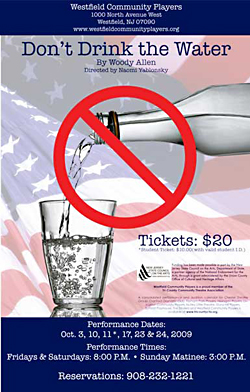 See alumnus Sam Rosalsky (Man of LaMancha) as Father Drobney in the Westfield Community Players production of Woody Allen's Don't Drink the Water.
Don't Drink the Water is a comic farce written by Woody Allen in 1966 and was a big hit on Broadway. It takes place inside an American Embassy behind the Iron Curtain. Returning from a European tour, Newark, New Jersey, caterer Walter Hollander, wife Marion, and daughter Susan, accidentally wander into a restricted area and take photos for Walter's new hobby of photography and are caught and suspected of espionage. The tourists, however, are granted asylum in the American Embassy, temporarily supervised by Axel Magee, son of the ambassador. There they meet the mad Father Drobney, who for six years has enjoyed sanctuary within the embassy's confines. The fun jumps into high gear as they try to plan their escape.
ShowTimes:
October 3, 10, 17, 23 & 24, 2009 at 8PM
October 11, 2009 at 3PM

For Reservations Call: (908) 232-1221
For more information about the show or Westfield Community Players http://www.westfieldcommunityplayers.org/
Bus Stop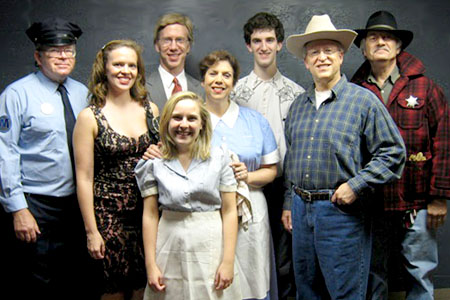 Kristin Bennett (Brighton Beach Memoirs) will grace the Kelsey stage again in Yardley Players' Bus Stop, opening on October 16. In this American classic by William Inge, eight vivid characters reach out to each other during an unexpected weather-enforced layover in a small town diner outside Kansas City. In a mix of comedy and drama, the action centers on romantic connections--between an aspiring nightclub singer and brash cowboy, the diner's owner and the bus driver, and the diner's young waitress and an aging former professor. The local sheriff and a wise old cowboy preside over the shenanigans, adding measured words to the messy human emotions on humorous and sometimes painful display.
Performances:
Fridays, October 16 and 23 at 8 pm
Saturdays, October 17 and 24 at 8 pm
Sundays, October 18 and 25 at 2 pm
Location: Kelsey Theatre, 1200 Old Trenton Road, West Windsor NJ (map)
Tickets: $14.00 for Adults, $12.00 for Seniors, and $10.00 for Students.
For information on purchasing tickets, visit http://www.kelseyatmccc.org/ticket_series.shtml or call the box office at (609) 570-3333.
---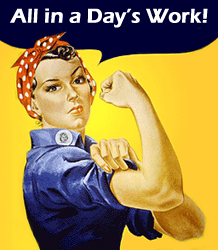 MPO Theater Quiz:
It's all in a days work.
As October rolls around and teachers and children are back to the classroom for another year of education, we take a look at what the characters in many musicals did for a living. Were they the butch, baker or Candel stick maker. You have 10 questions to see if it "Works" for you.