The OnStage Update - October 2007
---
AUDITIONS: Singiní in the Rain and Driving Miss Daisy

Maurer Productions OnStage, the company that brought you Itís a Wonderful Life, Lucky Stiff, and The Foreigner, is holding open auditions for its upcoming productions of Driving Miss Daisy and Singiní in the Rain on November 10th from 10AM to 6PM and November 11th from 12pm to 6pm. Both auditions will be held simultaneously in the Communications Building on the West Windsor campus of Mercer County Community College.
Singiní in the Rain is a stage musical based on the classic MGM movie staring Gene Kelly, Debbie Reynolds and Donald O'Connor. The show is a rare opportunity for local singers, actors and especially dancers to strut their stuff in a lavish musical production that will feature amazing dance sequences, complex set pieces, an integration of live theatre and video production -- and yes, a real rain storm, live on the Kelsey stage. The show, which will include includes 26 speaking roles and a cast almost 30 performers, will be directed by John Maurer, with choreography by Jane Coult.
Meanwhile, Driving Miss Daisy, the winner of the 1988 Pulitzer Prize, is a warm-hearted, humorous and affecting play about the unlikely relationship between an aging, crotchety white Southern lady, and a proud, soft-spoken black man. This 90 minute comedy-drama is a rare opportunity for three actors looking to bring fascinating, multi-dimensional characters to life while exploring themes of race, prejudice, friendship and aging.
Visit the audition section of our website for more information, then schedule your audition appointment online now.
---
The Emperorís New Clothes a Royal Success




OnStageís recent production of The Emperorís New Clothes was a big success that left young audiences smiling, parents raving and actors talking about the cast party and how much fun they had.
Following on the heels of the puppet-filled smash hit, Winnie the Pooh, Emperor continued the OnStage tradition of making childrenís productions big and beautiful for young audiences, despite the fact that they only run for one weekend. Directed by Alycia Bauch-Cantor, the show featured a two story castle set designed by John Maurer, a host of colorful period costumes by Ruth Rittmann, and a wonderful cast of 24 actors that included a mix of both adults and children.
This version of the classic childrenís tale was written by Broadway's hot creative team of Lynn Ahrens and Stephen Flaherty (Seussical, My Favorite Year, Lucky Stiff, Ragtime). The challenging but entertaining score was deftly handled by Musical Director Buzz Herman, and a splash of choreography was thrown in by Jane Coult to keep the fun quotient high for actors and audience members.
After all their hard work, actors both young and old had a blast as they partied almost every night of the three day run. Unoís was typically the locale of choice, but on Saturday night cast members, their families and friends (more than 50 in all) descended on the Robbinsville home of OnStage Producer Dan Maurer. The food kept coming, the booze was flowing for the adults (thanks to Scott Karlin and Judy Berwick and their dueling blenders), while all the time pianist Peter deMets was playing a medly of tunes on Maurerís grand piano.
---
Maurers Present at the Perry Awards

OnStage Producers John and Dan Maurer were honored to participate in the 2007 Perry Awards ceremony. Invited by NJACT board member Joe Schreck, the brothers were asked to present the award for Best Costume Design for a Musical.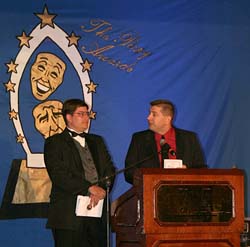 The two producers were attending the awards ceremony to represent Maurer Productions OnStage, which received two Perry nominations for its production of Winnie the Pooh — Best Set Design (John Maurer) and Best Lighting Design (Kitty Getlik). They were also there to show support for friends and fellow actors Nick Palmieri, who was nominated for best Ensemble Actor in a Play for his performance in Like 40's Breaking Legs; and Vicky Czarnick, who was nominated for Best Featured Actress in a Musical for her work in the Cheng/Ferrara's production of For the Glory.
Several OnStage board members and their friends shared a table at the dinner and awards ceremony including Musical Director Buzz Herman, Emperorís New Clothes Director Alycia Bauch-Cantor, Master Carpenter Jeff Cantor and Producer Diana Maurer. Also seated at the table were Kelsey Theatre Artistic Director Kitty Getlik, actor Nick Palmieri and actress Jillian Ritchie. Both Palmieri and Rithie were last seen performing various roles in Arts YOUniversityís Short Play Festival this past summer.
Even though no one in the group walked away with any hardware, a good time was had by all.
---
Schools and Scouts Enjoy the Show Ė And Then Some

Maurer Production OnStage held Q&A sessions and a tour of the Kelsey Theatre following productions of The Emperorís New Clothes. Using the play as an opportunity spread the religion of theatre to youngsters, OnStage Producer Dan Maurer, Director Alycia Bauch-Cantor and Musical Director Buzz were joined by actors Scott and Rosie Karlin, Monica Nordeen, Eric Leiggi and Dominick Sannelli as they met with school children and girl scouts in separate sessions.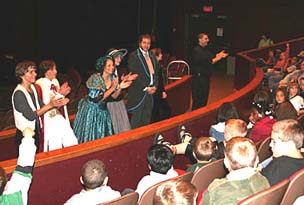 Maurer served as moderator during the Q&A in which students from Manor Elementary School and a local Girl Scout troupe asked questions and offered opinions about the show they had just seen. Students and scouts alike asked about acting, auditioning, and about some of the details regarding what it takes to produce a musical. Many of the students were interested in learning about how they could get involved, so Herman and Bauch-Cantor offered recommendations in preparing for an audition.
Following one of the Q&A sessions, the Girl Scout troupe was given a tour of the Kelsey Theatre lead by Maurer. The tour/discussion covered the parts of the stage and the house, the set, the backstage area, a tour of the catwalks above the stage, and a visit to the lighting booth, where Maurer (assisted by Jeff Cantor) spoke to the scouts about the use of the lighting, and how lighting cues are executed during a show.
Feedback from both Manor Elementary School and the Girl Scout Troup was extremely positive, with some chaperones commenting that their visit to the Kelsey Theatre was one of their best field trips in a long time.