The OnStage Update - May 2008
---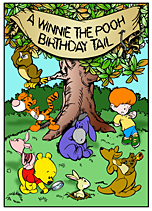 Casting is Announced

MPOnStage has cast A Winnie-the-Pooh Birthday Tail. This all-new fun-filled family show will once again be featuring a cast of local actor/puppeteers. Sharing the stage this time are Toni Campbell as Pooh, Nicole Spadifino as Piglet, Jesse Dubin as Eeyore, Rosie Karlin as Kanga, Molly Karlin as Roo, Thomas Martella as Christopher Robin, Jake Bazel as Tigger, Marty Berrien as Rabbit, David Miller as Owl, Stacy Maurer as Sunny Bunny, Hunter Maurer as Funny Bunny and Amanda Maurer as Honey bunny. To get the scoop on the show, visit the Birthday tail section of the website.
---
Fur and Foam, All this and Tigger too...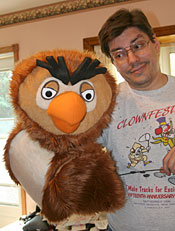 Pre-production has begun on this summer's children's show A Winnie-the-Pooh Birthday Tail. Based on A. A. Milne's famous characters, the story focuses on friendship, the search for Eeyore's tail and his big birthday party. Diana Gilman Maurer will be directing and John Maurer, artistic director of MPOnStage will once again be designing and building the sets and puppets. "We will be using most of the puppets from last year's production," said John, "but after last year's high energy performances and a year in storage they have to be checked over and any needed repairs done." The show is also adding a new character this year. "Last year's show was based on a story from the first book, and Tigger wasn't in the first book," John explains. "This story is from a later book and Tigger has a prominent role in the story, so I get to build a Tigger as well as create a new body for Eeyore so that he can have a tail in this show.
Performances of A Winnie-the-Pooh Birthday Tail are August 15th at 7pm and August 16,17, 23, 24 2008 at 2 pm and 4 pm. For tickets, call (609) 570-3333 or order online at Kelsey Theatre's A Winnie-the-Pooh Birthday Tail.
---
Brighton Beach Memoirs to replace Hollywood Arms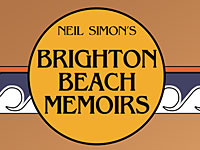 Dan Maurer, a founding member of MPOnStage, was slated to direct Hollywood Arms this fall, but due to a change in his schedule, Dan feels he will not have the time to do the work justice. In its place, Alycia Bauch-Cantor, who directed last season's The Emperor's New Clothes, will step up to direct Neil Simon's Brighton Beach Memoirs.

Brighton Beach Memoirs is part one of Neil Simon's autobiographical trilogy: a portrait of the writer as a Brooklyn teenager in 1937 living with his family in crowded, lower middle class circumstances. Eugene, the young Neil Simon, is the narrator and central character. His mind is full of fiercely fantasized dreams of baseball and dimly fantasized images of girls. The play captures a few days in the life of a struggling Jewish household that includes Eugene's hard working father, his sharp tongued mother, his older and vastly more experienced brother, his widowed aunt and her two young daughters. As Eugene's father says, "If you didn't have a problem, you wouldn't live in this house." It is a deeply appealing play that deftly mixes drama with comedy.

Mark your calendars: Brighton Beach Memoirs runs for two weeks beginning Friday, February 6. To order tickets, go online at www.kelseyatmccc.org, call 609-570-3333, or stop by the Kelsey Theatre Box Office.
---
THE LITTLE RED HEN comes to the Kelsey Theatre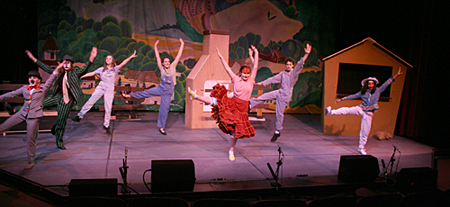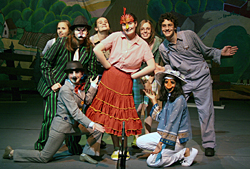 The Kelsey Players production of the Little Red Hen will be playing at the kesley theatre on Saturday May 31 & June 7th at 2 & 4pm. This all singing and dancing childrens musical is making it's American premiere at the Kelsey Theatre. It is an hour-long show filled with catchy songs and gentle lessons about the meanings of responsibility and friendship, the Little Red Hen will beckon her friends to help her with the various steps involved in making bread - from growing to harvesting to baking. This colorful, new version was written by Brian Seward, co-founder and artistic director of the Singapore-based ITheatre, with music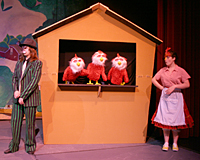 by Bang Wenfu. It is directed by MPO's good friend and alumnus, Tom Bessellieu, with musical direction by Patricia Bartlett and choreography by Pam Pisani
The cast includes Arden Walker as Eglantine R. Hensworth, Rosalie Graziano as Charles Cheeseworthy III, Jessica Getlik as Zebo Kool, Prita Sinha as Esmée Chukkabutti, Jesse Dubin as Egbert Seedly/Ivor Bunn, Amy Slothower as Puppeteer/"Bert"/Chorus; Shannon Spiegel as Puppeteer/"Piccalilli"/Chorus; and Madison Glassman as Puppeteer/"Chickabiddy"/Chorus.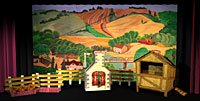 John Maurer, nominated for a Perry Award for his set design for Winnie-the-Pooh, the Musical, has signed on to design and build the set as well as used his puppetry skills to create three little chick puppets for the production. The Puppets, named Piccalilli, Chickabiddy and Bert, are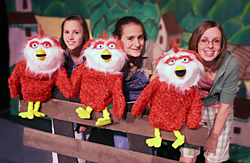 standard hand puppet but with ventriloquist lever controls in the head to operate the mouth, eye lids and eye brows. It took yards of foam and fabric and 40 hours of work to create the three puppets for the production.

For tickets, call (609) 570-3333 or order online at Kelsey Theatre's Little Red Hen.
---
Singin' in the Rain takes the Kelsey theatre by storm.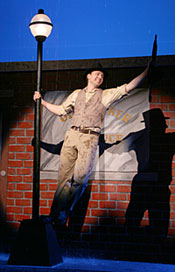 For two short weeks, the stage at Kelsey Theatre sparkled with talent and an occasional rain storm as Singin' in the Rain sailed through its run. After two rave reviews (The Times of Trenton and the Princeton Packet), tickets became a hot commodity. Unfortunately, the second week sold out quickly and many people who waited until the last minute to get their tickets were found sadly leaving the box office.
"It was a wonderful group effort by the entire cast and crew that really put the show on its feet" said John Maurer, the shows director. "Everybody involved was really excited to be a part of it, and gave 110 percent."
From the moment the audience entered the theatre they knew this production was going to be special. On stage right was an elevated platform that housed a 17 piece orchestra which not only highlighted the musicians but allowed for cast and set entrances from underneath. "It not only looked great but with the number of cast and sets in this show, it was a necessity" said John.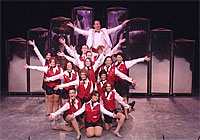 The show featured 26 actors, 17 musicians, over 25 set pieces and, of course, it had to rain. In the cast were some of the very best talent in the area. "We had a wonder cast," John explained. "We had people who had been tap dancing all their lives and some that learned especially to be in this production. Come opening night, everybody was right in step." Some of the most interesting aspects of the production were never seen by the audience. "Our production and backstage crews worked hand in hand to keep the show running smoothly. Most people don't realize the amount of work that happens behind the scenes. From the year-long research into creating the rain system to the building of set and coordinating scene changes, our crew was up to the challenge."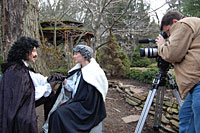 What added to the challenge, was the need for several videos that were integral to the plot and that played on screen during the production. Each of these videos required their own costumes and props and had to be visualized from only a short description in the script. In total 15 minutes of video was created for the production.
On closing night, as the amazing set was dismantled and the powerhouse cast packed up their tap shoes, we realized sadly that all good things must come to an end.
---
The Full Monty shows Kelsey Theatre audiences the goods.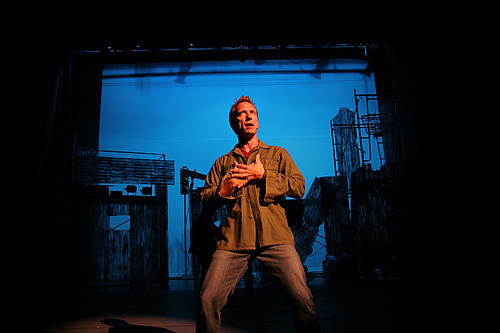 I just saw the Cheng/Ferrara Production of "The Full Monty" at the Kelsey Theatre and I would highly recommend it to anyone looking for a fun evening. It is the sympathetic story of six unemployed steelworkers from Buffalo, New York, whose lives are beset with various personal and financial difficulties. When they observe their wives' enthusiasm for a group of touring exotic male dancers, they decide to make some cash by developing their own male striptease show. The men gain unexpected benefits along the way, as they connect with each other, address their fears, and overcome anxieties and self doubts. Written by Tony Award winner Terrence McNally with music by David Yazbek,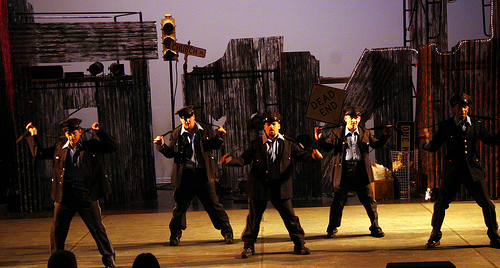 the musical is the American adaptation of the 1997 British film by Simon Beaufoy. The show premiered in 2000, playing on Broadway for 770 performances, and was the winner of the 2001 Drama Desk Award for Outstanding Music. The cast includes Allwyn L. Baskin (MPO Alumni) as Noah "Horse" Simmons, Shannon Ferrara as Joanie Lish, Don Gerecke as Tony Giordano, Edgard A. Garcia as Dance Instructor, Fred Gropper as Harold Nichols, Kristin Heiser as Susan Hershey, Kristin Keenan as Molly MacGregor, Andy Mahaney (MPO Alumni) as Jerry Lukowski, Elizabeth Martiinetti as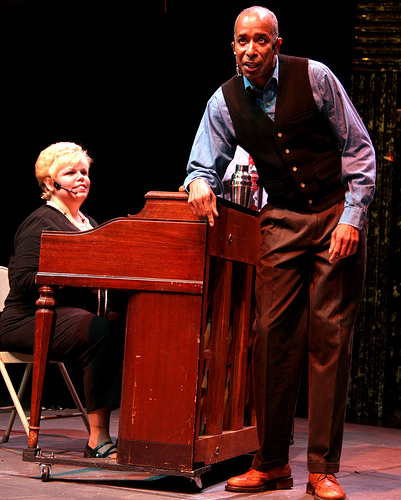 Pam Lukowski, Brian Meltzer as Malcolm MacGregor, Ransom Meltzer as Nathan Lukowski, Rachel Messler as Estelle Genovese, Nicholas Pecht as Dave Bukatinsky, Jeffrey Scharf as Reg Willoughby, Michael Schiumo (MPO Alumni) as Ethan Girard, Lynn Shelton as Vicki Nichols, E. Nicole Spadafino (MPO Alumni) as Georgie Bukatinsky, Brigid Trapani as Jeanette Burmeister, and Eric Wishnie as Marty. The show is directed by Frank Ferrara, with musical direction by Nick Cheng and choreography by Jill Potash.
Photos of "The Full Monty" courtesy of Mark Krajnak
Tickets for "The Full Monty" may be purchased online or by calling the Kelsey Box Office at 609-570-3333.
Note: This show is not recommended for young children.

---
One More Time--the Kelsey theatre once again Schedules a Tap Class for Actors workshop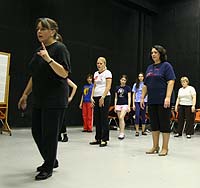 Last yearís tap class for actors, lead by OnStage board member and choreographer Jane Coult, was such a success, That the Kelsey theatre has scheduled another session.

In case you didnít know, this beginning tap class for adults is designed to teach the basic steps and many common intermediate steps, arming the students with a sufficient tap foundation to perform in musical theater. All actors and non-actors are welcome. The class is highly recommended for those who plan to audition for any dance shows in the future, or as a fun way to keep in shape!
The Workshop has already begun, and will run for 10 weeks, every Thursday from 6 to 7 pm ending on July 31st. If you are still interested give the theatre a call at 609-570-3566.