Share on Facebook
OnStage News & Notes - July 2010

In our July newsletter, Nosing Around returns to the Kelsey Theatre; the location of the Perry Awards nominations are announced; we display our 7 Kyrus' Kelsey Awards; catch up with some alumni happenings; and give you a chance to show your theatre knowledge.
---
Nosing Around Returns to the Kelsey Theatre


The Maurer Family returns to the Kelsey stage bringing interactive magic, fun and laughter with their popular Nosing Around series.
Originally conceived in 2004, the Nosing Around shows have always been a family affair with Diana, John and their children Stacy, Hunter, and Amanda presenting both classic and original interactive clowning and magic. Their goal is to get the audience involved and the Nosing Around team involves and entertains audiences of all ages.
This eddition contains all the best loved moments from the past shows including the Clown Cycle, The World's Greatest Mind Reader, the World's Best Whip Cracker and the magical Human Cannonball!
Click here to see the Video for our 2004 show.
---
NJACT Perry Awards Nominations are Just Around the Corner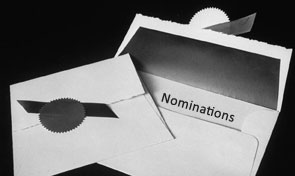 The 2010 NJACT Perry Awards nominations will be announced on July 31. Triple H Productions at Hernandez Theater Workshop will host at South Amboy Middle HS Theater, 200 Governor Hoffman Plaza South Amboy, NJ 08879
http://www.triplehproductions.org/
732-654-5565 or 732-654-5565

Theater membership meeting will start at 2:00pm and announcements to follow after a short lunch break and a surprise!

$5.00 at the door. Tickets will be on sale for the 2010 Perry Awards to be held at The DoubleTree Inn in Somerset on September 19, 2010. They are $65.00 per person.
---
"The Votes are In" - And it is Lucky Number 7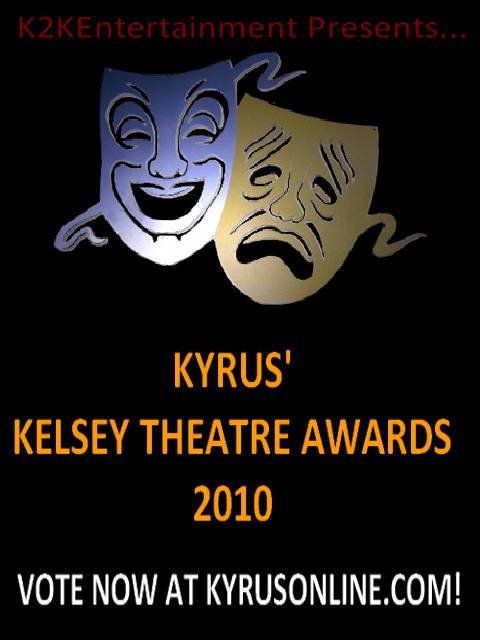 The Votes are all in for the 2010 Kyrus' Kelsey Theatre Awards
and once again Maurer Productions OnStage is a big winner.
MPOnStage, it's productions, cast and crew were honored
with 7 awards!
Best Young Actress in a play or musical
Gabriella Green
Victoria Scialfa
(Children's Letters To God)
Best Young Actor in a play or musical
Jeremy Barson
Dominick Sannelli
Matthew Blazejewski
Best Production for Children
Children's Letters To God
Best Actress in a Play

E. Nicole Spadafino
Kirsten Pasewaldt
(Hollywood Arms)

Best Director for a Play
Dan Maurer
(Hollywood Arms)
Production Company
of the year
Maurer Productions Onstage Inc.
Best Production of a Play
Hollywood Arms
Several MPOnStage Alumni were also honored with Kyrus' Kelsey awards for their work this year.
Best Actor in a Play
John Shanken-Kaye
(Equus)
Best Choreography
Nicole Machin
(Ragtime)
Best Actress in a Musical
Vicky Czarnick
(Ragtime)
Best Actor in a Musical
Kyrus
(Ragtime)
We would like to thank all the actors, crew and production staff who worked so hard to bring our shows to the Kelsey Theater audience. We would also like to congradulate all the production companies and their volunteers for all the work they do to make the Kelsey Theater a family and the center of community theater in Central New Jersey.
A special shout out to Kyrus who has helped to put a little more community back in community theatre and picked up everyones spirits with his end of season awards.
Looking forward to KA-2011!
Visit Kryus Online and watch the Video Highlights.
---
We take our hats off and salute July as our alumni play it cool in the summer heat.
Evita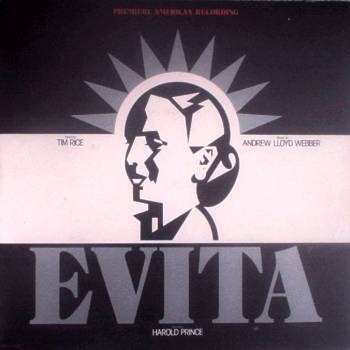 Alumnus Daniel Petrovich will be understuding Hollywood actor Dan Roebuck (Matlock, Lost) in the part of Juan Peron in Evita, being presented by Revelation Productions.
Andrew Lloyd-Webber and Tim Rice bring the story of Argentina's Eva Peron to the stage. This show is being produced as a vehicle to raise funds for a scholarship in honor of a local high school theatre student who passed away last fall. Hollywood actor Dan Roebuck, a native of Bethlehem PA, will play Peron. Dan Petrovich has been asked to understudy Mr. Roebuck in the event that a schedule conflict arises.
Show Dates:
July 23, 24, 30, 31 @ 8:00 pm
July 25th @ 2:00 pm
Tickets:
evita2010@mail.com
Location:
Bethlehem Catholic High School Auditorium
Bethlehem PA
13 the Musical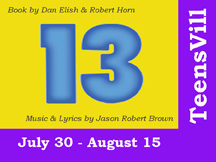 See Alumnus Zach Levine as Archie in 13 the Musical being produced by Villager's Theater.
This high energy rock musical follows Evan Goldman, a nice Jewish boy from NYC's upper east side who is forced to move to Nowhere, Indiana, with his mother after his parents get a divorce. To make matters worse, Evan is on the verge of being Bar Mitzvahed and has to plan a party in a town where he knows no one. The chaos that ensures is truly hilarious, real and heartfelt. The story of teenage transformation is brought to life on stage as 13 shares dilemmas we can all relate to, young and old. 13 is your typical middle school semester with a heart-warming message . . . perhaps cool is where you find it, or where you least expect it.
Show Dates:
July 30 - Aug 15
Fridays and Saturday at 8:00PM, Sundays at 2:00PM.

Tickets:
For Reservation Call: 609-570-3333
or go online at https://www.ticketturtle.com/index.php?theatre=svp
Website Address:
www.villagerstheatre.com


Location:
Villagers Theatre
475 DeMott Ln.
Somerset, NJ 08873

The Constant Wife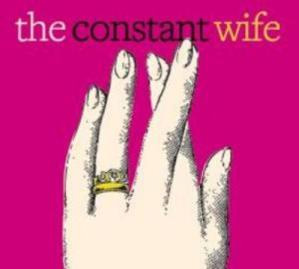 See Alumni Laurie Hardy as Mrs. Culver and Jack Bathke as Bernard Kersal in this drawing room comedy being produced and by the Somerset Valley Players.
A drawing room comedy by Somerset Maugham, where Constance tries every way possible to avoid her "helpful" friends and relatives' disclosing her husband's affair with her best friend. Complications ensue (of course) and subtle wit and manners carry the day!
Show Dates:
August 13-29, 2010
Fridays & Saturdays at 8 p.m.
Sundays at 2 p.m.
Tickets:
Theater box office (908) 369-7469, email: reservations@svptheatre.org
Website Address: www.svptheatre.org
Location:
Somerset Valley Players
689 Amwell Road
Hillsborough, NJ
Cinderella (Prince Street Players' Version)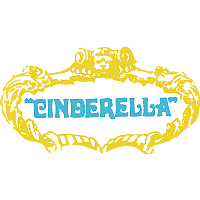 See Alumni Marc Flicker as King Darling, III in Cinderella being presented by Stars in the Park at the Kelsey Theatre in West Windsor NJ.
This beloved fairy tale is retold in the style of English pantomime. A young woman triumphs over her nasty, abusive Stepmother and Stepsisters and marries her Prince Charming, thanks to a zany Fairy Godmother, a trip to the Royal Ball in an enchanted coach, and a glass slipper. The Fairy Godmother's two comical helpers keep things moving along in this delightful version of a classic known the world over.
Show Dates:
Friday, July 30th - 7PM;
Saturday, July 31st - 7PM;
Sunday, August 1st - 2PM;
Friday, August 6th - 7PM;
Saturday, August 7th - - 7PM;
Sunday, August 8th - 2PM.
Tickets:
For Reservation Call: 609-570-3333
or go online at http://www.kelseyatmccc.org/ticket_series.shtml
Location:
The Kelsey Theatre at MCCC
1200 Old Trenton Road
West Windsor, NJ 08550 U.S.A.

Into the Woods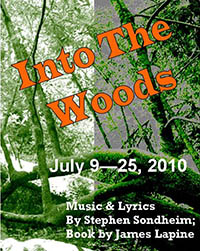 See Alumni Eric Wishne, Chris Guel,l Jim Petro, John Bergeron, Tess Ammerman, Vicky Czarnik, Jack Petzko and Jack Bathke in Into the Woods being presented by Actors Net.
An ambivalent Cinderella? A blood-thirsty Little Red Riding Hood? A Prince Charming with a roving eye? A Witch...who raps? They're all among the cockeyed characters in James Lapine and Stephen Sondheim's fractured fairy tale. When a Baker and his Wife learn they've been cursed with childlessness by the Witch next door, they embark on a quest for the special objects required to break the spell, swindling, lying to and stealing from Cinderella, Little Red, Rapunzel and Jack (the one who climbed the beanstalk). Everyone's wish is granted at the end of Act One, but the consequences of their actions return to haunt them later, with disastrous results. What begins a lively irreverent fantasy in the style of "The Princess Bride" becomes a moving lesson about community responsibility and the stories we tell our children.
Show Dates:
July 9 - 25 2010
Tickets:
For Reservation Call: 215-295-3694
or go online at http://www.actorsnetbucks.org/on_stage/index.html
Location:
The Actors' NET of Bucks County
Morrisville Heritage Center
635 N. Delmorr Avenue
Morrisville, PA 19067


If you are an Alumni and have and event you would like to get in the newsletter and on the calendar then click over to our Alumni Submission Form and fill it out.
We are waiting to here from you!
---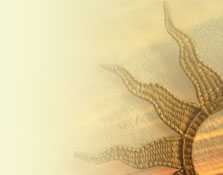 MPO Theater Quiz:
Hot Songs with Hot Titles!
It's Summer and the sun is out and the weather is hot, hot, hot! Well, this month we see if you can match these hot sunny songs to the show they are from. You have 10 chances to match the song line with the show in our July Theater Quiz.
---