Share on Facebook
The OnStage Newsletter - December, 2008

The December edition looks into the production of Man of La Mancha, a new Podcast talking about 'Twas the Night Before Christmas, some new additions to the OnStage website and takes a look at what past alumn are doing now and more. Feel free to share these stories with your friends through Facebook.
---
Man of La Mancha In Production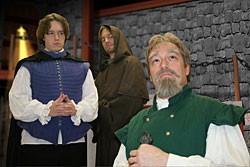 Production on MPOnStage's winter show began just one week after auditions. At the moment rehearsals are sporadic due to working around holiday schedules, but the cast has jumped into production with a lot of energy and exitement.
Music is being learned, blocking and dances are being set, and lines are being memorized. Measurements for costumes are being taken, and the final design details are being made to the set. The talented cast members are getting to know each other and camaraderie is building. As rehearsals progress, it is becoming clear that Man of La Mancha is going to be a special evening of entertainment!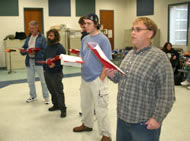 Man of La Mancha opens Friday, February 6 and runs through Sunday, February 15. Performance times are 8 pm on Friday, February 6 and 13, Saturday, February 7 and 14; 2 pm on Saturday, February 7 and Sunday, February 8 and 15. Tickets are adults, $16; seniors, $14, and students and children, $12.
Don't miss what promises to be a memorable trip to the theater, and don't forget that theater tickets make great holiday gifts!
---
New Episodes of BackStage Pass Available
As the holidays approach it's time to look at a perennial favorite at the Kelsey Theatre. In this new episodes of Backstage Pass, host John Maurer talks with the director and cast of 'Twas the Night Before Christmas. This is the 10th Podcast in the Backstage Pass series which offers a behind-the-scenes look at community theatre in Central New Jersey.

You can listen to Backstage Pass right from the MPOnStage website, or subscribe to our free podcast through iTunes.

Episode 10:
Talking about Twas the Night Before Christmas

---
Maurer Youth and Other Alumn Meet Santa This Season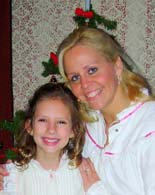 Ten-year-old Caroline Maurer will lead several MP OnStage alumn and an enthusiastic cast this holiday season as the Kelsey Players present the classic children's tale 'Twas the Night Before Christmas. The show opens Friday, December 5, at Kelsey Theatre on the campus of Mercer County Community College in West Windsor, NJ.
You'll remember Caroline (as Charity Moore pictured here), Cindy George (as Sallie McGillicutty), and Kathy Kutalek (as Mrs. McGillicutty) from their performances in MP OnStage's production of The Emperor's New Clothes. Now they, and a large cast of characters, all take the stage to bring Clement Moore's beloved poem, "A Visit from St. Nicholas" to life. Children of all ages will be encouraged to sing along during in this interactive tale of how Mr. Moore was inspired to write his poem.
The cast also includes Ken Ambs as Clement Moore, Diane Wargo as Eliza Moore (pictured here with Caroline), Madison Glassman as Margaret Moore, and John Costello as Mr. Kringle. Also featured are Kaitlyn Bader, Mary Rose Brendel, John Burke, William Burke, Emily DeLia, Felicia Duch, Devon Fitzgerald, Cindy George, Sarah Gorski, Devon Hittleman, Pierce Hittleman, Kristin Kianka, Marissa Marciano, Paige McVay, Andrew Millin, Jamie L. O'Leary, Skyeler Paparteys, Carol Potocki, Kristin Potocki, Ashley Rakow, Becki Rosenthal, Selena Scialfa, Meghan Shannon, Alyssa Stanley, Stephen Szemis, Sarah Thomas, and Elizabeth Rzasa - who will soon be featured in MPO's Man of La Mancha.
The production is directed by Diane Wargo, with musical direction by Pat Masterson and choreography by Chelsea Wargo.
Heart-warming performances for the whole family will take place Friday, Dec. 5 at 7 pm; Saturday, Dec. 6 at 11 am, 2 pm and 4 pm; and Sunday, Dec. 7 at 2 and 4 pm
Tickets are $8 for children, students and senior citizens, and $10 for adults. Tickets may be purchased online or by calling the Kelsey Theatre Box Office at 609-570-3333.
---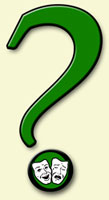 MPOnStage Theatre Quiz is Original

This month we look at Broadway originals. You may love a character in your favorite musical or play but do you know who first created the part on Broadway? In this month's Theatre Trivia Quiz you'll see a picture of an actor in their original role and have to guess who it is and what the show was. You get 10 questions to test your theatre knowledge. Good luck!
---
New Case Study "How To Make a prop Turkey"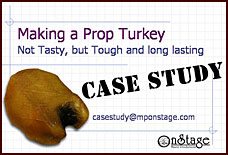 Yet another "Case Study" from the OnStage Archives. John Maurer takes you through creating a turkey prop for a production of Inspecting Carol. The prop is lightweight and tough as... well - overdone turkey. And the technique that is demonstrated could be used to create any freeform prop.
More case studies will be added in time, so check the site whenever you have a prop need or if you love checking out how things are made. And if you have any prop solutions, tips or tricks you have used and would like to share, contact John at casestudy@mponstage.com.