Share on Facebook
The OnStage Newsletter - August 2009

In the July edition of the OnStage Newsletter, MP OnStage announces expanded auditions dates for Hollywood Arms; a team road trip to the Perry Award nominations meeting in Chatham; new BackStage Pass Podcasts featuring Joseph and Assassins, and much more.
---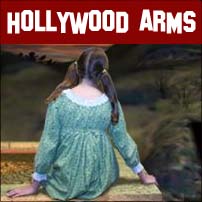 MPO Introduces the Cast of Hollywood Arms


After conducting more than four days of auditions and seeing over 100 actors, the MPO production team concluded the casting of its upcoming comedy-drama Hollywood Arms. Joining the award-winning production team will be a mix of new faces and familiar friends.
Rehearsals are already underway and going well. Performances are scheduled for October 2 -11. Tickets are on sale now at the Kelsey Box Office. To order, call 609-570-3333.
We are now please to introduce the cast and creative team of Hollywood Arms.
CAST:
Nicole Spadafino* as Older Helen
Kirsten Pasewaldt as Young Helen
Laurie Hardy as Nanny
Leta Gilbert as Louise
Brian Gildea as Jody
Rob Gougher as Bill
Kayla Vanderbilt as Alice
Kacie Mixon as Dixie
Tommy Kouten* as Malcolm
Buzz Herman as Cop #1
Jack Petzko as Cop #2

PRODUCTIN TEAM:
Director, Producer, & Sound Designer -- Dan Maurer*
Executive Producer & Set Designer -- John Maurer*
Producer, Stage Manager & Costumer -- Diana Gilman Maurer*
Lighting Designer -- Kitty Getlik*
ASM, Properties & Set Dressing -- Alycia Bauch-Cantor*
Makeup and Wigs -- Erin Leder
Sound Engineer – Chris Ghaffoor
Master Builder -- Jeff Cantor
Music Director -- Buzz Herman
Board Member -- Jane Coult*

(* NJACT Perry Award Nominee or Winner for past productions)
---
MPOnStage Podcasts the Musical of Musicals (the Musical)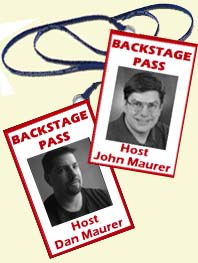 Backstage Pass, the podcast covering community theater in Central New Jersey, is stepping to the lighter side with this off-center episode of Back Stage Pass as the cast of The Musical of Musicals, the Musical do the entire podcast as their characters from the show.
In Episode 23, this podcast features a light hearted talk about The Musical of Musicals, the Musical a parody of musical styles being produced by the Pennington Players at the Kelsey Theatre in West Windsor, NJ. Our guests include Director Kyrus Westcot, Stage Manager John Boccanfuso, Musical Director Wayne Irons, Choreographer Talia Shumsonk, and from the cast, Dave Destro, Rachel Tovar, Katie Sheffer-Vicari and Andrew Young.

Episode 23:
Talking About The Musical of Musicals, The Musical
---
The Art of Theater, MPOnStage 2009-2010 Poster Designs
Every year we struggle with trying to find the right poster designs to help market our season. We strive to be original in concept and execution and try to create images that will make people think, "That looks interesting, I want to see that." This season we have another 3 wonderful shows and have spent a good amount of time on finding just the right look for each of them. So now we would like to unveil the artwork for our 2009-2020 Season.
Hollywood Arms
This show is a thoughtful look back at the childhood of Carol Burnett during her time living in California. The thought of a a child contemplating her future in Hollywood is the inspiration for this poster.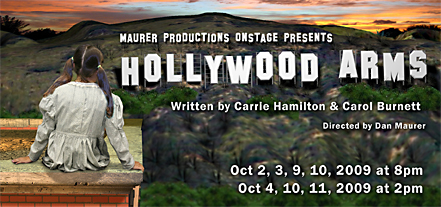 Children's Letters to God
This tunefull show for children is based on the bestselling book and deals with subjects like the loss of a pet, friends moving away and the awkwardness of growing up. So for this poster we turned to a higher authority for inspiration, the US Post Office.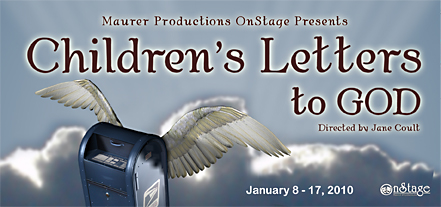 The Adventures of Tom Sawyer: The Broadway Musical
Mark Twain's classic story comes to life on the stage and with it comes all the best loved moments. Who doesn't remember Tom trying to get out of white washing a fence for his Aunt Polly. That classic moment became the inspiration for this poster.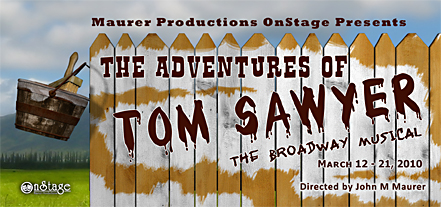 ---
Between a Prop and a Hard Place
Network your way to a better show.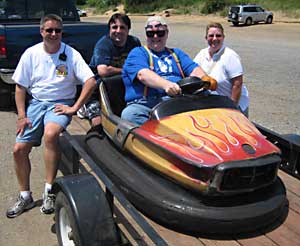 Anyone who has had to prop a show knows that if the director says, "It would be great if we had a ???????" If you don't happen to have that item, you either have to borrow it, make it, rent it or buy it. With that in mind, having a good network of friends in the theatre community it helpful when you need to put out the call, "Hey, does anyone know where to get a ???????" That call went out earlier this month when Cheng/Ferrara Productions went looking for a amusement park bumper car for their production of Assassins. "Our goal "says director Frank Ferrara "was to make each element of the set have a dual function: it would be a carnival ride/attraction, and then something else. So there would be a dunk tank that doubled as an electric chair, and a stage that doubled as a gallows, and so on. One of the hardest scenes in the show to stage is a scene late in the show in which Sam Byck is driving to the airport where he will attempt to hijack a plane and kill Richard Nixon. He's in a car. It occurred to us that a bumper car would look great and suit the concept of the rest of the set."

Now MPO doesn't have a bumper car in their prop closet, but they do have some friends down at the Keansburg Amusement Park here in New Jersey. A few weeks later, after a flurry of emails, phone calls, IMs, and a promise of a safe return, a vintage 1970's bumper car, complete with flame detailing, was procured. So on a bright and sunny Saturday morning, members of the Cheng/Ferrara production team, along with MPO Artistic Director John Maurer
Click video for a Larger view
traveled down to Keansburg Amusement Park to pick up their prize. Even with its motor and wheel carriage removed, the car weighed in at over 200 pounds and had to be lifted over a retaining wall and walked through sand and gravel to reach the trailer for it trip to the Kelsey. Once strapped down to the trailer, it turned a few heads as it made its way down the Parkway towards its new home for the next few weeks. Since another show was running at the time, there wasn't any room to store it back stage, so the car was locked up in a rehearsal room for a few days till load-in. "It worked out perfectly for what we wanted it to be," said Judi Parrish, technical director on Assassins." I work with 3 or 4 theater groups and when you can work together and help to find things that someone else doesn't have you can combine your knowhow and help to create things that one group on its own may not be able to accomplish. And that kind of interaction helps to make all of our productions better.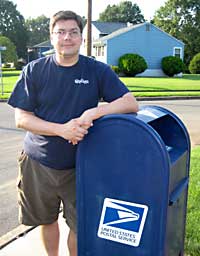 Another novel prop that MPO was on the lookout for, this time for their own production of Children's Letters to God, was a post office drop box. The artwork for the production shows post office drop boxes with wings flying up to the clouds as if delivering letters. The thought was that it would be nice to have one on stage for the show as well as in the lobby leading up to opening night. "We hoped," says John Maurer, Artistic Director of MPOnStage, "that if we could have a drop box in the lobby with wings attached like the poster art, then we could put out paper and crayons and have visiting children write letters or draw pictures of their own. Then we would display the letters on the walls for patrons to see." After checking our community connections and the local prop house, the call went out for anyone who might have a box or a connection with the post office. We got a few names and made contact but this time they couldn't help us, so it was time to make some connections of our own. As it turns out it isn't easy to reach people at the post office; they are only available by phone for a short time each day, so there were a lot of early morning phone calls. In the end, the Robbinsville postmaster took pity on us and allowed us to use one of their old boxes that was sitting in storage. They were even nice enough to give it a fresh coat of paint before we picked it up. The box is now locked up in the prop area waiting for its wings. Check out our September newsletter to see it on display in the Kelsey Theater lobby.


---
August will be another busy month for our alumni. Here's what they're doing:
Once on this Island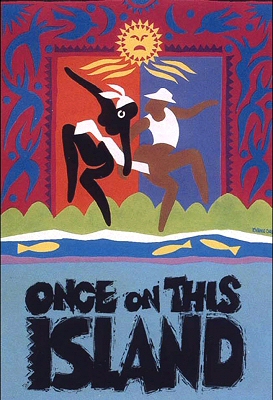 See Alumnus Nicole Spadafino (Lucky Stiff and Winnie the Pooh) in Spotlight Players' production of Once on This Island. Set on a Caribbean island, a group of storytellers tell the tale of the young girl who was saved from a flood by the gods. Inspired by the sight of a handsome boy, she prays to the gods to grant her wish for a grander life. The gods cause the boy to crash his car, and as the girl nurses him back to health, she falls in love with him. When the gods demand the boy's life, she pledges her soul in exchange.
Where:
First Presbyterian Church Route 34 and Franklin Street Matawan, NJ 07747 (map)
Performances Dates:
Saturdays and Sundays, August 1 and 2, and August 8 and August 9 at 3:00 pm Thursday, August 6; Friday, August 7; and Saturday, August 8 at 8:00 pm
Ticket Prices:
$18.00 general admission and $15.00 seniors and students For tickets, call 732-583-7874.
For further information, visit http://www.spotlightplayers.org.
Musical of Musicals: The Musical

See MPOnStage veteran Vicky Czarnik (Lucky Stiff, It's a Wonderful Life and Singin' in the Rain) in Pennington Players' upcoming production of Musical of Musicals: The Musical! This production will be directed by OnStage alum Kyrus and stage managed by John Boccanfuso (both from You're a Good Man, Charlie Brown).

The Musical of Musicals: The Musical! is a musical about musicals! In this hilarious satire of musical theatre, one story becomes five delightful musicals, each written in the distinctive style of a different master of the form, from Rodgers and Hammerstein to Stephen Sondheim. The acts are based around the theme "I can't pay the rent!"

Where:
Kelsey Theatre
Mercer County Community College


To purchase tickets, visit Kelsey Theatre web site.


Jekyll & Hyde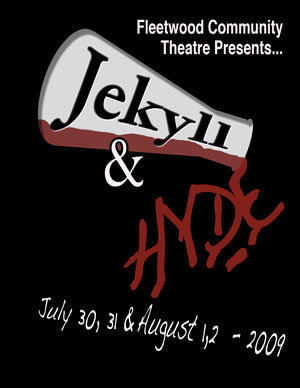 Miller Center for the Arts
Alum Daniel Petrovich (Man of La Mancha) has just played the title character in the Frank Wildhorn musical Jekyll & Hyde. Adapted from Robert Louis Stevenson's 1886 novella "The Strange Case of Dr. Jekyll and Mr. Hyde," Jekyll & Hyde tells the story of Dr. Henry Jekyll, a brilliant young doctor and research scientist who, distraught over his father's mental illness, embarks upon a quest to isolate the dual elements of good and evil that are constantly struggling for supremacy inside every human being. However, when his experiment backfires, Jekyll inadvertently gives life to Edward Hyde, his evil alter ego, a murderous being who will let loose a reign of terror on the city of London and those who had ridiculed Jekyll's research.
For information go to.

http://www.racc.edu/MillerCenter/JekyllHyde.html

---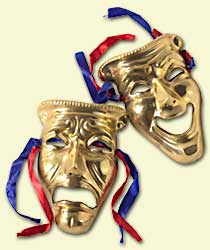 Theater: And the Nomination Go's too......
MPOnStage Theatre Quiz

It's August, and this month's theatre quiz looks at the "Bling" as we ask questions about shows that have won nominations or recognition during their runs, including a Perry nominations for Outstanding Musical or Play Production for 2008-09 for its NJ community theater run. So put on your sun glasses, duck the paparazzi and hit the red carpet. You have 13 questions to check your theatre knowledge. Good luck!