The OnStage Update - August 2008
---
MPOnStage Receives 17 Perry Award Nominations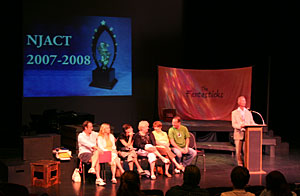 The votes are in and the nominees are.....
In what turned out to be a very laid back presentation the board of NJACT gathered at the Kelsey Theatre to announce the nominees for the 2008 Perry Awards. The afternoon began with a general meeting on what's happening at NJACT and Its plans for the future, then after a short break for cake and sandwiches the announcements began in earnest.
All told, MPOnStage received 17 nominations, 9 for Driving Miss Daisy and 8 for Singin' in the Rain.
We want to thank all the people who gave their time and energy to make both shows the best they could be. Without their dedication and love for theatre we wouldn't be here.
Here are the highlights
Driving Miss Daisy
Eve Connolly

Outstanding Lead Actress in a Play

Allwyn L. Baskin

Outstanding Lead Actor in a Play

M. Kitty Getlik

Outstanding Lighting Design for a Play

Diana Gilman Maurer

Outstanding Costume Design for a Play

Alycia Bauch-Cantor

Outstanding Properties

John Maurer and Amy Foris

Outstanding Scenic Design for a Play

Dan Maurer

Outstanding Sound Design

Dan Maurer

Outstanding Direction of a Play

John, Diana and Dan Maurer

Outstanding Production of a Play
Singin' in the Rain
John M. Maurer
Outstanding Scenic Design/Musical
Jane Coult
Outstanding Choreography
Jim Petro
Outstanding Lead Actor in a Musical
Nicole Farina-Machin
Outstanding Lead Actress in a Musical
Vicky Czarnik
Outstanding Featured Actress in a Musical
Ray Murphy
Outstanding Ensemble Actor in a Musical
John M. Maurer
Outstanding Direction of a Musical
John, Diana and Dan Maurer
Outstanding Production of a Musical
We also want to acknowledge:

Costume designer Ruth Rittman who worked with us on Singin' in the Rain for her two nominations for 3 Penny Opera and Clue.
Melissa Rittman who helped back stage with Singin' in the Rain for her nomination for Outstanding Featured Actress in a Musical for 3 Penny Opera.
Kyrus Westcott on his nomination for Outstanding Original Play for NKD Sex. Lies. Life.
And a special shout out to E. Nicole Spadifino, who is presently appearing as Piglet in our production of A Winnie-the-Pooh Birthday Tail, for her nomination for Best Lead Actress in a Musical for Throughly Modern Millie.
To see the Full list of Nominations Click Here.
Remember to mark your calendars - the 2008 Perry Awards Ceremony will be Sunday, September 21st.
---
Winnie-the-Pooh Ready to Open and Promises to be fun for the whole family.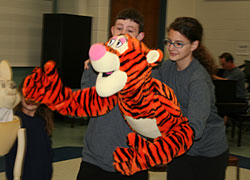 The fur and foam is flying as Winnie the Pooh moves into it's final weeks of rehearsal. The cast has been working on their songs, blocking and their biceps. Even though the puppets are lightweight foam it takes a lot of upper arm strengh to hold them up and give an energetic performance for an hour. Who needs a gym membership when you have a puppet on your arm for a few hours? The show opens on August 15th and will be fun for the whole family... get your tickets now.
To get the scoop on the show, visit the Birthday Tail section of the website.
---
Meet the Cast of Brighton Beach Memories.
After four days of monologues and scene readings by over 80 auditioners, MPOnStage and Director Alycia Cantor are proud to announce the cast of Brighton Beach Memoirs.
Eugene ................ Dominick Sannelli
Stanley................ Robert Fisher
Kate .................... Jennifer DeVenio
Jack .................... James Houston
Blanche ............... Leta Brehme
Nora ................... Kristin Bennett
Laurie .................. Delia Bannon
Mark your calendars: Brighton Beach Memoirs runs for two weeks beginning Friday, October 3.
---
He's Singin' in the Rain.... Jr.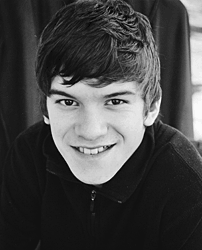 Dominick Sannelli, at 13 years of age, is already showing signs of being a serious contender as a triple threat. He has done numerous semi-professional and community theater shows in New Jersey over the past several years, including playing the scrub boy in MP OnStage's production last year of The Emperor's New Clothes. This fall, Dominick will be taking center stage for MP OnStage again as Eugene Jerome, the lead in Neil Simon's Brighton Beach Memoirs at Kelsey Theatre.

This summer, Dominick had the time of his life in New York City working on a theater project few children get the opportunity to experience.
---
History of the Chesterton Windmill from Man of La Mancha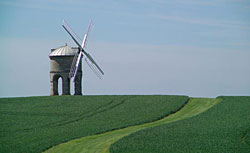 After hanging the banner for Man of La Mancha in the Kelsey theatre lobby, we have been asked a lot of questions about the image. Is it a picture or a drawing, is it real or some thing out of our imaginations? Well, the image is of a real windmill in Warwickshire England and you can view a history of the Windmill on our site. The photo we used was taken by Macki Haer, a photographer from the UK.
Mr. Haer was gracious enough to give us permission to use his photo and we hope you'll visit his online gallery and see some of his other impressive work. Visit http://www.pocketropolis.com/mackigallery/ and sign his guest book.
---

So what do you do when you aren't in a show and your looking for a little stage time? Well you try out our new Theatre trivia quiz. You get 10 questions a month to test your theatre knowledge.

Try out our August addition
---
Your Suggestions have been pouring in for MPOnStage's 2009-2010 Season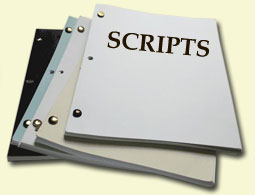 Since last months newsletter we have been flooded with emails suggesting shows for our 2009-2010 Kelsey Season. Thanks to everybody who has emailed us. but don't stop now, we still need more. Is there a show that you like that isn't normally produced in community theatre? Have you seen an original production somewhere that you think would work at the Kelesy? If so then let us know and we'll add them to the list for consideration. email us with your suggestions.


---
The Fleet hasn't sailed yet, New Auditions Scheduled for Dames at Sea At the Kelsey Theatre.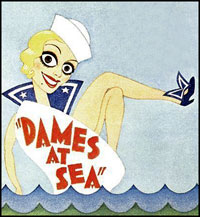 PIERROT PRODUCTIONS are still looking for a few good men... and women to round out the the cast of Dames at Sea. They are planning a second round of auditions on Sunday August 17th at 12:00 noon
They are still looking for one woman (Joan; mid-20s-mid-30s; mezzo; tapper) and two men (Dick; early 20s-early 30s; tenor and Hennessey; late 30s-late 40s; baritone).
Dames at Sea is a delightful, small-cast musical that spoofs the movie musicals of the 1930s and will be presented at The Kelsey Theatre on October 17-19 and 24-26.
Please note: While they are beginning the casting process now, rehearsals will not begin until after Labor Day.
Interested applicants are to come prepared with a song from any musical theater work and a one- to three-minute monologue. Female roles require tap dancing skill, you will be asked to improvise a brief tap routine.
To make an audition appointment, email your contact information to pierrotinfo@aol.com as soon as possible. Appointments will be scheduled in the order that people apply.
For more information go to: http://www.kelseyatmccc.org/auditions.shtml